Lumia Denim update begins its rollout to Lumia 1020 and 925 in Europe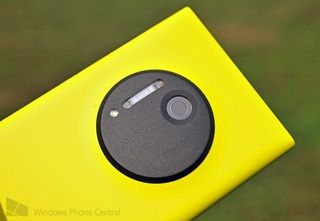 Microsoft has confirmed that it has started rolling out the Lumia Denim software update to the Lumia 1020 and the Lumia 925 smartphones in select European markets. This news comes as O2 in the UK have confirmed their versions of both phones will receive the OTA update to Denim later tonight.
As usual, this rollout will take days or even weeks to complete, thanks to the different update schedules of wireless carriers around the world. For example, the Lumia 1020 is an exclusive in the US for AT&T and so far there's no word on when Denim will be launched for that device. We will, of course, post the word when the update is available for the AT&T Lumia 1020.
Details of the update were provided by Microsoft for both phones.
Latest software release for Nokia Lumia 925 is Lumia Denim (3051.50009.1451.10xx/8.10.14226.359)
Cortana, the most personal digital assistant, is now available also in the UK and China. New features for Cortana include improved natural language, car kit integration for contacts using Bluetooth, snooze reminders, and calendar improvements. Cortana even does character impersonations upon request.
Organise and further personalise your start screen easily. Group apps into a folder on the start screen, rename the folder, and rearrange tiles inside the folder for greater personalisation.
Improved Glance screen with Bing Weather or Bing Health & Fitness data, in addition to time and date, notifications, and app data.
Updates to the Lumia Storyteller and Lumia Selfie apps. Available from Store.
Connect and browse even faster with improved download speeds on mobile websites.
Install phone updates more easily by scheduling them for a time that works best for you.
Additional improvements to stability, battery performance, push notifications, WiFi connectivity, consumer VPN support, Apps Corner, merging and forwarding text messages, custom snooze times in the Alarms app, Store Live Tile (available in the US only), and more.
Latest software release for Nokia Lumia 1020 is Lumia Denim (3051.50009.1451.1xxx/8.10.14226.359)
Cortana, the most personal digital assistant, is now available also in the UK and China. New features for Cortana include improved natural language, car kit integration for contacts using Bluetooth, snooze reminders, and calendar improvements. Cortana even does character impersonations upon request.
Organise and further personalise your start screen easily. Group apps into a folder on the start screen, rename the folder, and rearrange tiles inside the folder for greater personalisation.
Improved Glance screen with Bing Weather or Bing Health & Fitness data, in addition to time and date, notifications, and app data.
Updates to the Lumia Storyteller and Lumia Selfie apps. Available from Store.
Connect and browse even faster with improved download speeds on mobile websites.
Install phone updates more easily by scheduling them for a time that works best for you.
Additional improvements to stability, battery performance, push notifications, WiFi connectivity, consumer VPN support, Apps Corner, merging and forwarding text messages, custom snooze times in the Alarms app, Store Live Tile (available in the US only), and more.
Source: Microsoft; Thanks to Vicky for the tip!
Lot of news on Denim today

Tears* Att subscriber here, with a 1520.....

ATT 1020 here... Although, I'll take W10 preview over Denim.

i wouldnt go for W10 preview because its a beta... lots of bugs... i only have 1 lumia phone so not good to install beta OS in the main phone :) NL1020 :)

I'm dumb enough to do it, so we'll see. I'll report back.

Yeah, we 1020 users don't appear to be in line to get much from Denim. I'm also waiting for Win10! I had a small pause about loading it up right away, but the rollback feature takes a good chunk of my apprehension away. Let's do it!

There are 2 here, waiting for Denim
RM-940
I don't wanna install W10 Tech Prev without Denim :S

I wouldn't want the Windows 10 preview without Denim either. Denim is a firmware update that brings a bunch of behind the scenes improvements to the OS. Over and over you see people here saying "Denim doesn't do anything for my phone," just because they aren't getting Lumia Camera or Hey Cortana. It's really dumb, you'd think they'd learn something after hanging out here everyday.

That's because they are getting ready to release Windows 10 to Lumias!

not going to release W10 yet lol its only a beta

Is this going to FINALLY fix the power/software freezing issues on our 1020's?!
I do hope so...!

Yupp! They even confirmed it in the forum! :D

Brilliant!! It was becoming a bit embarrassing....trying to keep my mum in the Windows Phone fold whilst her 1020 suffered constant glitches and freezes!

I have my Lumia 1020 for a year and 2...3 months. I have never ever had any freezing. Maybe some live tileyou have is buggy?! Rm-875_EU_HU_298 / Cyan

Nope! I guess you've been lucky then! :) From the forum "it turned out to be a power regulator logic failure where in combination with multiple reasons the device fails to power up the CPU and peripherals after idling into a deep sleep state."
http://answers.microsoft.com/en-us/winphone/forum/wp8-wpupdate/lumia-pho...

Nope. It's a fault that happens on my own 1020 at night predominantly (when it goes into a deep sleep state). It will sometimes freeze out of the blue...even when I'm using it. But mainly, it is when it has been 'asleep' for a long time. My mum's phone on the other hand has been a sea of glitches and frustrations. It has been to Nokia Care before. I figured the renewed glitches were software related. However, despite having just updated to denim, the same glitches have recurred. So it's time to go back to Nokia Care and hopefully get a replacement handset (or ideally, an upgrade to a 930!)

I guess we won't see win 10 TP today, with all these denim updates...

Rich cam why don't have on 1020?

Because of the hardware in the 1020

Because the SoC is to slow.

Because Microsoft could not be bothered to invenst time in making it work on the 1020. Features like HDR or better photo processing algorithms are in no way limited by older hardware, but Microsoft just does not care to implement it for the 1020.

This. Posted via the Windows Central App for Android

This is true, but probably because they're focused on Windows 10 and this would be a waste of time. It was rolled out to only 3 devices as a way of testing it before implementing it in Windows 10, I'm guessing.

Hope you are right and the 1020 gets all improvements not limited by the older hardware with the W10 update.

Agreed! Older and lower devices got denim cam improvements already. This is only sound a MS strategy to me, 'cause 1020 cam is good enough! If they'd make it even better no 1020 user's gonna consider replace their old device for next flagships in the future. Honestly, I don't really believe an hardware that can manage 41mpx pic and RAW is too old to get this update.

As far as I understand, it's not that the hardware is too old. It's that the processor offloading is written specifically for the newer Snapdragon processors. It sounds like to get the improvements they would have to write a lot of code to support the older processors. Obviously, this is a lot less attractive of an option to them given the limited number of users on those platforms. I agree with that from a business perspective, though as a 1020 owner I am certainly disappointed as well.

I don't think its a good business move to ignore users of existing devices, simply because it would be too much hassle to implement the update. It might save them some development money in the short term, but I am sure it will cost them some customers, who are just fed up with this attitude from Microsoft, especially for flagship devices.

What I don't think people remember is that we are talking about over two year old flagship devices that sold very few, and has even less people still actively using it. Nothing is broken... nothing even works worse than when you got it. It's just that they don't receive the new imaging optimizations. While I definitely wish the 1020 got the improvements, there is a point where they need to move on... at what point that is can certainly be argued. What about in another two years? Should they still be rewriting major portions of the OS to accommodate a low selling phone with almost no current users? Then you have to factor in that the majority of users don't even know what they're missing. They go to the phone store, buy a phone, and that's what it is. They don't expect life changing feature updates to happen. I suspect they looked at the usage data and decided that it wasn't worth the effort with everything else going on. I wish it was different, but I can understand the decision.

No FFS, it's not because Microsoft didn't want to take the time to implement Rich Capture on the 1020. Rich Capture works by merging multiple images with auto HDR, Dynamic Flash and fancy exposure settings, and the SOC on the 1020 isn't capable of handling this. PERIOD. Some of the boo hoo conspiracy crap you guys come up with is ridiculous.

Exactly......at least AT&T could keep up with what's going on with the update on social media or its own forums. What's the big deal about keeping things so secretive on software updates for phones you've already released to market.

Exactly. Can we still get Denim if you update to W10 preview? Because if not then my excitement for the impending W10 preview just took a major hit.

Denim is not the OS update. They are independent. Also Gabe with MSFT confirmed that Denim part has nothing to do with 10 preview.

You would be incorrect. Denim is hardware AND software. If you are already on PFD then you have the software part already but for anyone else it is BOTH

Denim is only firmware, but the bundled update with Denim and 8.1.1 for non-PFDs is called the Denim update because that's easier to say that "the denim and WP 8.1.1 update".

If you are confused like that, I'm sure you not install Windows 10

Well, for peace of mind I've settled on waiting for Denim and then install W10 preview. Installing the preview and then installing Denim sounds like it could complicate things. But what do I know. I wouldn't even be concerned about this if AT&T wouldn't be dragging it's ass with Denim.

LUMIA 1520 DIDN'T GET IT !!!!

Many didn't. Only the Fins get it

And italy on all carriers

Denim today Windows 10 tomorrow may be

We once again couldn't go 5 comments...

Well, until they do something about their update story... Hopefully 10 will centralize at least is updates and patches for phone. Nice would be firmware and drivers like they have on Surface family

After ATT and Verizon, although Verizon unexpectedly proved me wrong last time.

I don't believe the TMO 925 gets anything new with the Denim update if you're already on the DP. I am and I already have all those features listed. If you're not on the DP, why not??? :-)

because I don't wanna have to convert back to older versions of the os like we always have to do every so often it's pathetic

I guess, Friday is the day of win10.

920 pleeeeeeeeeeeeeeeeeeeeeeeeeeeeeeeeeeeeeeeeeease

Wont help ye, move along. 920 gets no improvements to get as excited as ye seem.

For normal user yes, it does.

The most important thing you get with official firmware update is battery life imporvements. That is why it matters. Rest everything was already part of the generic preview for developers update

But not the great and fantastical stuff, you know what I mean. I also jeep telling other, not you, morons, denim will be helpful with 10. Though they are different updates, they work in tandem...like an engine and transmission in a car.

Surely Denim on 920 unlocks Cortana in the UK?

Got strep throat right now, head feels heavy, can't think about that part, someone will answer.

this pic seems brazilian flag

AT&T keeps me on "Resuming..."

Denim does no help sadly :/

That there is funny. Think about it people. Resuming...

Maybe required for win 10.

Denim is NOT required for Win10... Microsoft confirmed that already

Not required, but helpful. Please notice difference.

If you're not familiar with the difference between the OS and firmware, dont you think its a good idea to not install test software...

Honestly I was just babbling. Win10 is close and suddenly denim gets attn

You are correct. Not required, but helpful.

Does nothing for Lumia 635 and any less than snapdragon 800 and below im not intrigued at all

You mean below snapdragon 800 not 800 and below because it has significant improvements for the 800 chipset.

Yea that lol I can't speak today lol

Christ, Lumia 830 RM-985s continue to get the cold shoulder. You'd think the massive auto-reboot problems would make getting a stable firmware version to these phones a priority, if being misled into thinking the Lumia 830 came with full denim out-of-the-box didn't already.

What about 920? :) i'm not a troll i'm just asking because i'm still a little confused with the rumors i have heard in comments, so what's the deal with 920? :)

That's an old phone, don't expect it to get the update very soon.

I don't actually think 920 is that much older than 925 since the 920's release date is 2.11.2012 and 925 was released 7 months and 11 days later, so it's a bit more than a half year gap between those devices' release dates so i think 920 should still be getting this denim update :/

Actually the 925 and the 1020 has the same hardware that the 920. So maybe soon the update will come to you!

The 520 was one of the first to get it so age of device doesn't seem that relevant

Downloading on my CV CZ SK HU Nokia Lumia 1020.

Please, tell us about lumia camera start time.

Ya killin me AT&T lol. 1520 here

Exact same boat. I'm dying here.

Yep, I've got this expensive flagship and can't use the camera to its fullest.

It seems like 920 got forgotten a long time ago

How do I even get cyan? I am on DP on 3 network and never got the update

Good question. But, if you are on pd, your ok. Battery may take a hit. My 1520 is on cyan with pd and battery takes a beating, but then again I have a lot going on in the background and I'm always on it. Come to think of it, my thumb gets a bit sensitive from use....

Today Denim for 1020 on Friday Win10 preview.. Superb!

Why other phones is not getting the update of denim ? Microsoft said that all phone will get this update in January but now February ia going to finish.

They said Q4 2014 first, then "early 2015".

Still nothing for Indian version of Lumia 1520.... Thanks for giving such a treatment ...

And here I am sitting with my Lumia 830 without full Denim, that was advertised with this new lumia camera with rich capture and stuff.......

c'mon att, my 1020 is waiting

Oh god!! That means no win 10 today :( msft busy with denim.

No, MS done with denim. We are stuck waiting on carriers.

Downloading on my Finish Lumia 1020 now!

Just one question pls..when are u guys planning to release denim for 1520 India...

Lemme just knock on Satya's door for you. Won't take a mo.

Seriously?! This before 1520????

Come on Three pull your finger out!

1520 Cv Hong Kong please...

The joys of being a pfd user, had Denim & Cortana on my L925 for ages now thanks to the pfd program.

PFD does not have Denim. There is a change to the way the info and extras diplays things. Unless you get this update even though it may say denim it is still Cyan.

The joys of having no idea of how things work.

I have a 1020, but had the same issue with random reboots thruout the day. It happened alot when I was at work. So, there is a developer tool that lets you see the running processes while phone is hooked up via USB to PC. What I noticed was that the WiFi (currently not connected), would keep climing to where it was using over 100% of the processor, then it would reboot. So, what I started doing was turning off WiFi when I was not using it, and Bluetooth for that matter. Since I have done that, my phone hardly ever reboots on its on, but every time it does, either the WiFi or Bluetooth is turned on. Another thing that I have done was reinstalling "Storage Check" app found in Settings, and installed with Lumia System Updater if your on 8.1. This allows me to stay on top of Temp Files. I clean them up about once per day.

Twat developer tool? I have said tools, I believe, as I am a developer who doesn't develop, so I probably have it.

Have you updated to denim yet?
Your findings correlate with my experience. Bluetooth and WiFi will often go unresponsive before the phone freezes. Switching off both radios brings much better stability.
I hope the denim update I have just received will have finally fixed the problem.

AT&T you iPhone fan bitch!!!!

Available for 1020 in Bosnia and Herzegovina. :)

Nice. Good to hear from other countries

Hi, i'm also from Bosnia but still didn't get Denim update on mine 1020. When did you get it? What are first impressions (especially regarding battery life)? Thanks in advance.

When will Denim be available in Russia for 1520? Is there any news in that?

You folks drive crazy over there. Entertainment for YouTube!

Still waiting for it on my 830 like alot of people >

That's already pushing out in Europe. Obviously depends if you're using a carrier locked phone or an unlocked one.

Shouldn't be to much longer then for cv gbie then

It was said that 1520 would get Denim in December 2014........ And it is February 2015 now

Yep, they swept that statement under the rug and pushed it the mighty, mighty 520..

At&t where are you... (in my car 54 voice)

I just checked out their twitter and they're also dealing with the rollout of the galaxy S5's android lollipop update so I'm assuming once that's out, we'll get Lumia denim.

Hey Chris can you please post the twitter handle you follow for AT&T. I'm new to Twitter and want to keep up with the update

Just search ATT in the search bar or use @ATT

Well if I, 1520 - RM 937 user, still waiting for this, then bring WIN 10 already

Waiting for it still on my 925!!!!!

AT&T just replied me a twitter...it says Lumia Denim update is coming soon.

Soon could be a week or 2 smh

Just see the last twitters of AT&T. Too many people asking for the update.

Vodafone UK on the 1020 finally has it..... at last...

Just downloaded onto 925 from EE.

Lumia 925 indian variant, waiting...

Why would Verizon provide that update?

Sweet, seeing some changes on the os and firmware number, from the one we have here (preview for developers) I just hope it came with the fix for the sleeping sickness experienced on the 925 and 1020

Woooooooooooooooot, been waiting for 925 update for AGES! Now let's see if Slovakia is among the "select markets" (I don't really think so but at least it could be in the near future).

Lumia 1020, country variant, release: Denim .

There is no update available in Switzerland :(. Does anyone know why?

My Hungarian 925 is updating

Just been experimenting with Cortana for the first time. At last!

try it. You gonna love it. W10 is right around the corner but this update is fast and worth making.

Denim unfortunately brings nothing to the 1020 amazing camera : (

You can thanks the lazy pricks at Microsoft for that. Expected a lot better for the current photography flagship device. They did not even bother to implement the better photo processing algorithms, just ridiculous. Its also incredibly funny to watch MS fanboys trying to justify this lack of support by BS excuses.

I'd say Nokia did a very stupid decision by putting a dual CPU without discrete GPU in the
1020. It's sad to admit it, but the 1020 is heavily crippled by its CPU

Yes, its not ideal, but that is still no excuse to skip on update features that could work on the 1020 and are not limited by the older hardware.

I partially agree, but they know very well the 1030 is one of the most anticipated devices. The flagship they talked about might actually be the 1030, so they're probably ditching the 1020 for a future phone.

The only BS excuses being spouted here is from you. Please though, continue to rage on about the cell phone you own that you don't understand.

You again. Every single one of you 50 something comments that you have posted since you signed up for this site on 2/11/15 has been negative. You are the ultimate troll. Nobody cares to hear you negative garbage You are immature and obviously have some soul searching to do. Good luck with that now please either 1) leave or 2) shut your fucking mouth. Sincerely, The rest of the members here

Vodafone UK is pushing the updates too I got it on my 1020

Anybody here in Finland seeing Denim update for Lumia 925?

I downloaded OTA denim yesterday as country variant in Finland. OS 8.10.14226.359 Fw 3051.5009.1451.1001 Pfd was unticked.

So ATT is again last in putting out the Demin update for the 1020. You know you suck if even Verizon beats you with updates for all their WP devices.

Well, it took more then expected. Hack, i'm joking, it took more then my last two jobs...this is how slow this updates come. Toooooo slow microsoft, tooo slow. At first i tought you are doing this because you just want to kill the greatest brand in the world. Well you did it and now you are acting the same, a bit faster then a snail.

In other words "useless update rolls out to 1020 and 925" Posted via the Windows Central App for Android

Why useless? Live folders man!

It's useless to him because he's not smart enough to understand how important a firmware update is to a device.

Live folders comes with 'Windows Phone 8.1 Update' or '8.1.1', Lumia Denim is camera improvements for the Nokia Lumia 1520, 930 and 830 ​only.

Got mine with Developers Preview app last week directly from Microsoft. Core build 351.50009.1424.10362 No changes to Lumia Camera app. One noticeable new feature is App folders (I find it really useful to mention). You just drag livetiles into groups and each tile gets updated within the folder tile (or parent tile, not sure how they call it). When you touch on a group tile, it expands into separate app tiles of the same size as you dragged them into that group. Touch again and group collapses into one folder tile with updating tiny tiles. Nifty.

PFD does not include the firmware part of Denim

Isn't that WP 8.1?! I've had that for over a year.

Got cyan on my 925 3 UK four weeks after O2 got it last year. So I'll look forward to the 2nd week in March.

Join the Preview For Developers Program & you'll be able to get Denim without having to wait for Three to roll it out.

Stop telling people that.

lumia denim is rolling out in Italy lumia 1020 pfd (vodafone)

If my 920 doesn't get the Denim update. . . I'm getting a iPhone sorry Microsoft. At least with IOS everyone gets it at the same time not this BS of 3 months after each other wtf??? Mayynnn

Totaly agree.I gave MS a chance after the WP7.x ---->WP8 fiasco by upgrating to HTC 8X witch was suffering from overheating after changing 2 devices i re-upgraded to 920 and realised that WP has overheating issues no matter the device.Hopefully it will be upgradable to WP10,if not bye bye MS and i will go back to Apple.

Seriously, I understand the feeling of neglect but put your frustration towards the real company holding the update back. Your carrier. If you get a new phone are you going with the same carrier? If so you've done nothing to teach the company holding the update back a lesson. Microsoft is paying for the carriers neglect to these an update.

Is it the same with unlocked phone not with any carrier. A CV phone wait just as long.


That's because apple only have 1 phone to update not dozens of different ones...... !

If I change my location to Europe would I get update?

No I think it's carrier-determined. I've unlocked 1020 in Estonia but local Elisa still has no Denim. I used Developer Preview App to install release from MS and upgraded to Denim. There's no camera enchancements for Lumia 1020 if you're looking for that. Some UI improvements though. .

I will say it again. PFD does not include the Denim firmware. It is an issue with the extras and info settings app.

It doesn't matter how many times you say it, they're not listening.

Changing locations will do nothing. Flashing your phone with the country variant which you have in mind will.

WHERE IS WINDOWS 10 TECHNICAL PREVIEW ?????????????????????????? where is that video they promised ? :O


1520.3 RM 938 still waiting for Denim. I'd like to start shooting some 4k video and pics sometime before my phone is obsolete.

Just checked my 925 CV in the UK and the Denim update is available.

Mine is a 925 CV from UK but has no update available. What's wrong with my phone?

My 925 CV just got it in the UK. Came out of PfD a while ago, aren't really bothered about Denim but glad to have folders and Cortana for quiet hours again. Aren't using my 925 at the moment anyway, currently using a oneplus one. 925 is still a cracking phone! J. Posted via the Windows Central App for Android

I have 925 UK CV too. I checked for the update minutes ago, but no luck. Although MS has already listed that it got Denim.

Maybe the denim updates are just a must have to get wp10

Microsoft really messed up with their phone business though. From the start really. This is what happens when you give your OS to hundreds of OEMs and then let them do what they want with it. Look at how successful Apple is and how they never release more than 2 phones a year. Apple doesn't release its OS on any other device but Apple and that's smart. All their devices get all the updates, on time. They don't make a thousand different phones in six months and then completely ignore all other devices. They keep older devices updated with the new ones as much as physically possible. They provide every device for EVERYONE on ALL carriers. It's completely idiotic to think that Microsoft WOULDNT do this. If they don't come out with a 1020 successor by the Summer, I'm actually going to jump ship. I'm so fed up with all this crap.

Completely agree; I was a huge supporter of WP ever since WP7 on my old Samsung Focus, but there comes a point where you realise you should not be the one that cares more than Microsoft about their failing phone platform and the idiotic update model they adopted. If something mojor does not change with W10, I don't know if I'll continue with WP.

Agree. I really not understand why MS can't deliver the updates at the same time for all device for all country. Its been too long since their announcement till now and I still have to wait again and hope every morning that my device will get the update today.

@HM02, if Apple is so successful, why is Android the most used mobile phone OS world wide? Apple caters only to high end users and that's it. That may spell success for that specific group, but it doesn't spell success for the person paying full price for a phone that doesn't want to spend $900. As for the people that don't like the long roll out for updates. Would you rather MS just hold on to the update for all models until every carrier and model is completely tested? Yeah it sucks not being the first one to get the update, but why make those users wait just because you happen to have a device at the bottom of the test schedule?

I'm guess it's "the most used mobile OS world wide" because like MSFT, Android puts their crappy OS on hundreds of OEMS too. But I mean, you may or may not like Apple and all but it IS the most valuable company in history...that's already been established. More than MSFT now.
The thing about phone pricing is that 95% of people who buy a phone, whether it's Apple, Nokia, whatever, they pay subsidized pricing. So like 99, 199, etc. NOT the whole retail price. Now with carriers doing early upgrades, "NEXT" etc, you can literally get them for free upon activiation and pay for them monthly, at like $30. As for Apples other devices like Macs and stuff, yeah those are high end for a niche customer group.
I would rather MSFT take note of the company that surpassed them in success and do what they do. They got that success from a strict business code. They roll out updates for all their devices, going back 5 or 6 generations, all at the same time.

95%? Even if every American pays subsidized pricing which is far from the truth, that would mean that the US is responsible for 95% of the mobile phone population world wide. That's not even close to being accurate even in the US. Few carriers outside of the US subsidize their phones. Your comments show how narrow your view is of this topic. You're thinking only of the US, but their is an entire world of people outside of the US, and Apple is losing in most of those countries because they cater to a single segment of people. I am one of the other 50-60% of people that refuse to pay top dollar for a phone that is behind other cheaper phones in terms of hardware. The Lumia 1520.3 compares very favorably to the iPhone 6+ from a hardware perspective, and it is nearly half the price. Whether your phone is subsidized or not, you're still paying more for that iPhone. But the consumer blindly plods along with their head in the sand which is the primary reason why Apple continues to win in the US. Actually, I would rather Microsoft not do what Apple is doing. Apple is the opposite of Microsoft. Apple really doesn't listen to their customer, so they pretty much do what they want to do and try to force it down the consumers' throat. When is the last time you saw Apple release a preview OS for any of their products for the purpose of getting consumer feedback to make the product even better than they envisioned? Sure they release pre-release products strictly to developers for the purpose of app development and bug testing, but that is far from the same as what Microsoft is doing with their preview OS's when the product is still so early in the dev cycle that they have an opportunitiy to make changes to the product. The only reason Apple is winning the mobile phone battle in the US is because they released the best smartphone first. They carried that momentum for a couple of years, and people continue to blindly buy iphones either because they don't want to start over with apps, don't want to learn something new, or because they assume it is still the best. It's really that simple, and it will be a long hard battle for Microsoft regardless of what they do and regardless of what Apple does, because people won't switch easily unless they are frustrated with the product. The rabbit is winning, but they lost their visionary, and products are suffering because of it. Microsoft is releasing products like HoloLens while Apple is putting the same camera in their primary phone for the 3rd year in a row. The tortoise is catching up.

The way these rollouts are fragmented by carrier there may soon get to be a rollout announcement a day as the number of phone models increases.

Confirmed L925 CV SRB, L1020 VF DE.

Have had denim for weeks. Never even got a notification, it just self updated. Pretty much confirms there's nothing new here. UK Country Variant

Just received denim on my 1020, cv, Portugal. Had to disable Preview for Developers thought... Strangely, if I enable it again, extras+info show Cyan..! Disable it again: Denim!

This is really making me angry. They are not able to release it for their flagship (1520) on certain markets (still waiting for HK), but now thei are rolling out for old phones. First low-ends now old phones. Gooooosh.

Yes, finally!!! *Goes to "Availability in Europe page"* YESSSSS, FINALY!!!

So only 820 CV and 920 CV remain. Sigh... 920 is always last...

Had this update a month and a half ago 1020 via T-Mobile no D.P.

Now in Australia for 930 across Telstra, Vodafone, Optus and country variant.

Just finished updating my CV-DE 1020.

925 in Sweden got Denim update.

"Hey Cortana" doesn't work on the Icon even though it's listed in the Verizon features list.

Why the hell would they put the Hey Cortana in system settings rather than in Cortana? SMH.

Got it at last, Lumia 925 Germany Country Variant.

Agree with newguru. Also had to disable PFD for the update to show up. Weirdly, after completing the update, reenabling the PFD shows Cyan, lol.

;). I have disabled PfD for now.. Don't think it will be of any use in the foreseeable future, anyways.. Next stop: windows 10 (no, I'm not an insider) and that one is still a long way out!

Yeah I probably should disable it too. I'm an insider and plan to try out win 10!

Meanwhile down here in good ol Trinidad, we're still awaiting Denim... Bastards! Lol

Cool, I'm Trini too, Stefan. Got denim because my 925 was manufactured in Germany.

I'm getting denim now via developer preview app. Hopefully I wont be needed cyan anymore.

Ok nothing still. Stuck on cyan update

Where is the update for 1520 Hong Kong model? This is really stupid of Microsoft. I have had 5 Windows Phone and 1520 will be last. Tired of waiting when the rest of the world has already received the update.

Still no love in canada! L1020 Rogers

Is this another 1020 successor hoax ? http://www.jbgnews.com/2015/02/nokia-lumia-1020-successor-info-leaks/034...

I'm probably the only one here to want them to wait with the 1030. My 1020 is only nine months old.

Still I am not understand why they can't deliver the updates for all device in all country at the same time. The update has been announced for months and i have to wait for how long?

You would be waiting even longer.

Downloading Denim update now for 1020 on Vodafone Portugal :D had to uncked Previw for Developers :D

Honestly I think that... (resuming...)

My 1020 is updaten right now. Dit NOT use the developers preview.

When will it come to asia :) Em waiting for it

Hi WP friends...im using lumia1020..client VOD-Italy....but I didn't get any denim updates on ma phone....!!..

Thank god! Just updated my Lumia 925! Welcome live folders!

Denim for 925 available in Sweden. Still waiting on update for my 1020

I can't be the only 1020 user disappointed that there are NO camera improvements, I mean I knew we would not get 4K recordings and all of the denim camera update, but to get NONE is an insult, surely they college improved start up time and at least try to bring algorithm improvements over the the 1020, and maybe some rich capture features! (I'm sure I read somewhere that we'd still get some updated camera features but I guess they couldn't be bothered)

According to 3Uk Support there is no set date for the denim update. We will get update eventually. Typical of them. They promote iphones and Samsung galaxy S whatever the latest is. The staff admit they know nothing about windows phones at all so cannot help when there's a problem. Just wish I could afford to buy a phone not tied to any carrier

I have a 925 on 3UK. My sister has one on O2. She got cyan 4 weeks before me last year.

Alright I have a L925 UK CV and I had to unenroll it from PfD to get Denim. GIMME YO DENIM MSO!

Downloaded & installed this morning on my 925, Vodafone UK, but only after disabling Preview for Developers.

When it will release for 1520 in India. ????

My Lumia 925 updated to Denim and bricked. I was able to do a full wipe and restore. But it was annoying and time Consuming. can't see any changes so far. Am waiting to install Windows 10. I know I am a traitor writing this on an Android phone. LOL Posted via the Windows Central App for Android

if you go back and enable preview then extras + info changes back to CYAN!!!! weird!

Got it this morn in the UK on my 1020, I'm with 3 but my phone is factory unlocked. I have Cortana at last! But no Hey Cortana, which I assume isn't coming to the 1020.

Hey Cortana did not appear immediately for me. Try a couple of soft reset's then look at the bottom of settings.

Got the update this morning, Lumia 1020 Germany non-branded phone. The phone reported the update as "a critical update" with no further details, which made me think I am getting some kind of hotfix. After the update was done, the phone said it's now running the Denim software. The way these updates report themselves as has always been kind of fuzzy.. why can't it just say "You're getting the Lumia Denim update with tons of cool new features"? That would be better PR. Well I'm happy to have it anyway!

No lumia camera 5 right? or any camera enhancement

I'm not getting this update.. I've been checking periodically since yesterday, but nada :/ Maybe I should take myself off the PfD.. Not sure. Everyone else seems to have got it now. Althought not seen anyone commenting here from Poland yet, although the Microsoft page says it's on Denim now too. /confused

Hi, I have a Lumia 1020 and got the denim update but not cortana. Is there anything I can do ?

Set your location to USA maybe

Downloaded and installed Denim on my Lumia 925 this morning on T-Mobile in The Netherlands.

I wonder when it's going to roll out for lumia 820(denim)...on the other hand I guess people are more excited about win10...

What about lumia 820 :( ?....

The article contains a factual error: The 1020 isn't exclusive to AT&T in the US. There's a USA country variant also, the unbranded/unlocked one sold at the Microsoft Store.

Anyone having the "slowdown issue" after Denim update on 1020? Connecting with wifi seems lag...

havent noticed anything, did you get cortana with the update ?

Denim update available on lumia 1020?

Hey John. Hongkong CV is now out! :)

Denim for 1020 in Sweden rolled out this morning

Release date for Belgium please (lumia925)

When this page was created the Europe update tracker page also showed denim for Lumia 925 CV in Finland. But I have been checking my phone ever since and no denim update so far. Today when I checked the European tracker page for Finland 925 CV, it now shows Cyan instead of Denim which it was before. I don't know what's really going on?

#Lumia1020 Denim with firmware update in Estonia for Elisa mobile core built 3051.50009.1451.10458 dated 31.01.2015 but there's no Lumia camera 5 for it, so not much of a news, since I'd been using Developers Preview of Denim for some while. I opted out of it to get official update hoping for firmware update enabling Lumia Camera v5 but in vain. It's just a name, like I suspected for #Lumias1020.

I got one hour ago here in Finland loaded and installed Denim update to Lumia 925. Update succeeded well. No problems. Lumia 1020 can be updated here now. I have preview for developers installed in my phone, but i ticked it out.

Why has, as others have also reported, my 925 revered to Cyan after the latest Extras & Info update?

For Lumia 920, when update came in Kuwait

So for the mega-premium flagship 41-megapixel Lumia 1020 they don't include the camera improvement! Really?
Windows Central Newsletter
Get the best of Windows Central in in your inbox, every day!
Thank you for signing up to Windows Central. You will receive a verification email shortly.
There was a problem. Please refresh the page and try again.