O2 UK Denim updates starting for Lumia 1020 and Lumia 925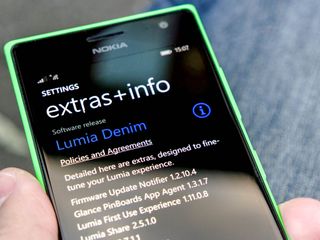 British carrier, O2, has been pretty forthcoming with news on the rollout of Lumia Denim to its devices, and now we're learning details on a couple more. As of this evening, February 11, O2 has confirmed that its Lumia 1020 and Lumia 925 devices will start receiving the Denim update OTA.
The news has been published in the O2 community forums:
For owners of both devices Denim is sadly less exciting than it is for those on the Lumia 830/930, as the awesome new Lumia Camera 5 features aren't available. For the 1020/925 it's just OS updates, Nevertheless, that it's here is good, and no doubt O2 customers on either phone will be happy tonight.
Source: O2
Thanks Elliot for the tip!
Richard Devine is an Editor at Windows Central. A former Project Manager and long-term tech addict, he joined Mobile Nations in 2011 and has been found on Android Central and iMore as well as Windows Central. Currently you'll find him covering all manner of PC hardware and gaming, and you can follow him on Twitter and Instagram.
Seems like update day!! Give us win X

Now lumia 1020 in the rest of world :D

In fairness: Barely (if any) difference between Denim and DP for non-Snapdragon 800 devices (w/ the exception if the Lumia 830). Maybe some minor firmware optimizations for specific carriers and the such, but for most: The Developer Preview brings with it anything that Denim would, the 1020 included. They should instead focus more on the devices that actually benefit. ;) (Which in fairness: They haven't been too bad about, with a notable exception of the US, which only got its first taste of Denim with Verizon today. And I'm sure some other countries are still hungering for it as well.)

When will they release denim for Lumia 620! (not asking just wondering)

denim for 620 was released months ago

Only mine went back in name alone to Cyan. Never got an answer why tho.

Just updated my O2 1020 to Denim. All the version numbers match, but in name also still Cyan.

Crap.. Rich capture would have been nice to see on the Lumia 1020.. Time to move on unless WP 10 does some magic

It wont do any magic on your 1020. You need newer hardware to get magic

Anyone updated denim on 1020????

Is dat freezing
Thing fixed?

Hopefully Three will hurry up with the update for my 1020.

Sadly doesnt look like it - ive requested confirmation for a 925 Denim update several times within the last 3 weeks at 3 network and they either ignore me or have said that its not planned ! Shocking Customer service, especially when ive pointed out o2 and Vodaphone are releasing it - My experience so far with 3 is they dont give a Toss. sadly my contract is for another year ;o(

hopefully the rest of Europe is next

Forget all those mediocre updates just hurry with windows 10 for phones

No hope for some of us here in Africa

I heard that Microsoft is supposed to be doing something big for Africa in the near future

They are pushing big on low-end devices to the continent in the near future. WC had an article the other day on it

Who said we want low end devices? We can afford flagships too. When it comes to updates these no love for some of us in Botswana

I didn't say that Africa wanted low-end devices, I simply said what was reported earlier this week

If Ms really wants to increase their market share here then they should invest more on advertising rather than flooding the market with low end devices. Iphone 6, everyone knows it here, crappy Samsung android devices, everybody knows all about them here

Absolutely correct. Same goes for here in Denmark. But its not just MS it's also the retailers. Here in Denmark virtually no one advertises their WP phones. It blows my mind how it can be good for business to have a product in stock and then hide out it out back so no one knows about them...

Suc a shame that Microsoft does see the power of advertising... And they wonder why they have a low market share

If I recall correctly they did away with their entire global marketing team and want to focus on partner networks.... https://sg.finance.yahoo.com/news/microsoft-fired-entire-global-advertis...

I am getting a feeling that denim will soon be available to 1020 India. Confused, win10 or denim.. Kewl! However Microsoft has provided rollback feature. First 10, then denim :D

I want denim. I want windows 10. Blaaaaa. Sleepy...zzzz

Does the "denim"-update for 925/1020 contains the fix mentioned here, or is there any new word on this fix: http://www.windowscentral.com/struggling-lumia-925-lumia-1020-freezes-mi...

I'm just downloading the update on my mum's 1020 64GB, which is suffering from random freezes & WiFi instability (where the WiFi module becomes unresponsive and requires a restart for it to work).
If this fix doesn't deliver the goods, I think my mum is going to buy an iPhone 6. Euurgh...
Still, she wants a reliable phone - and her 1020 is far from reliable!!
(Mine suffers from random freezes too - but not nearly as much).

i never ever had this freeze problem with my 925 ever since i bought it about a year ago... and i have updated to this denim but it still says my WP has Cyan update... i dont know what is wrong with that ? but this update is ok i guess. i do see a smoother sharper menu movement and the top shortcut bar moves down smoother too ... but thats just me :)i dont really see ANY difference in this update... camera is same everything is same...

My 1020 with Hungarian ROM (country variant) is being updated right now too. Probably, is Lumia Denim.

Where's Yodafone? They're usually on the ball.

My 925 Vodafone Spain was updated tonight. Yes!!

I'm surprised that Network locked phones are getting it before people with unlocked Country Variant phones. Especially as the general opinion is that its the networks that hold the updates back usually

Yes, and if they're holding back CVs to make carriers look slightly less bad, shame on them. The only approvals we need are the OEM and OS manufacturer, of wait they're the same company! Posted via the Windows Central App for Android

Yes it really doesn't make much sense that fx 1520 CVs around the world doesn't get the update at the same time. The only difference is the frequency they operate at... If Apple can do it then so should MS also be able to...

Wooppee dooo I have a sim free lumia 630 CV its so good at updates I had to flash it with the polish demin firmware with Nokia care suite till thedemin ever reaches the UK .not happy .

My mum has a 635 and has received the Denim update on O2.

So has my brother 635 on three network uk

My Lumia 925 GB CV also has an update!
Version 8.10.14226.359

My UK country variant 1020 is also getting an update. Not sure what it is yet...

Denim not yet released in India to L630

Verizon doesn't care about that!

I feel it is a slow roll out. Still waiting for my Lumia 1520 Hong Kong cv.

Same here with 1520 CV in Denmark

Surprised no AT&T 1520 comments yet LOL

Is this a developer preview or the official release?

Updates from carriers are always official...

Logical thinking now says that T-Mobile should roll it out to my L925 as well right? *sigh* Wishful thinking.

Do we need to uninstall preview for developers to get denum update does anyone no?

When will release Lumia denim for Lumia 1520 in India, its highest variant still waiting.

In the mobile world windows phone has acquired very less place due to this they would not want acquired more and more areas, working very slow, I hate windows phone, now I am going to sale my Lumia 1520 (India) because they would not update Lumia denim what is the use of utilizing highest CV.

Yeah? And you think Android high end devices see updates faster? Pick any Android device from 2013 and tell me how many of them will get updated to lollipop. None.

And for the former flagship 920? and when comes to Mexico, i think this market is being left out :s hope to see this update soon

Start in India- Denim update 625

Man I can't see update on my Lumia 925

I have changed the region to uk still nothing to win

Why lumia 1020 have not 4k video?

It's not fast enough. There's more to it than a big sensor I'm afraid. I'm sure they'll release a new fancy camera phone soon(ish) though.
Windows Central Newsletter
Get the best of Windows Central in in your inbox, every day!
Thank you for signing up to Windows Central. You will receive a verification email shortly.
There was a problem. Please refresh the page and try again.