Lumia Knockout on Wheels – Microsoft India's new initiative to showcase budget Lumia phones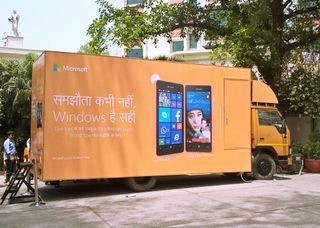 As Microsoft India announced the launch of Lumia 430, the most affordable budget Lumia device as yet, it also leveraged the opportunity to announce the company's first ever outreach campaign in smaller cities and towns of India for Lumia devices.
The Lumia Knockout on Wheels has been conceptualized to demonstrate the uncompromised and unparalleled smartphone experience on the Lumia 430. The drive flags off from New Delhi, and will cover over 20 cities across the country taking the Windows Phone experience to tier 2, tier 3, and tier 4 towns in the country for the first time.
As part of this experiential initiative, consumers will be challenged to a face-off between their existing smartphone and the newly launched Lumia 430 to showcase the superiority of the Windows Phone experience. Consumers will be asked to perform the most common operations on the Lumia 430 as well as their existing phones, to showcase the superiority – hardware and software – of the Windows operating system and the Lumia 430.
Acknowledging the diversity of the country, the company shared that the marketing collateral for the activity has been created in nine different languages.
At the launch of the initiative, Ravi Kunwar, Director-North, Nokia India, a subsidiary of Microsoft Mobile Oy, said:
The innovative, offline medium to showcase the uncompromised Windows experience offered on the Lumia 430 and other budget devices is a great initiative, and reminds me of Nokia's similar efforts almost a decade ago, playing a key role in the mobile phone boom in the country.
Nice thinking... But we do want something more than 430, even few bucks to pay extra, like 5mp primary. Anyone will give away ₹6000 fr that

Luvking05 but it's priced above 8k.

No, its price is 6k in local market

I only see ads from Microsoft on English Channels, agar Hindi mein denge toh badiya hoga.

Advertisement is there but not properly. It says office inbuilt, and lagoid user say they can download it from gplay. Show something they cannot do. Like no hang, no virus, much better touch and user interface. Only price don't matter.

Exactly bro, I was just thinking this today .. They were showing Lumia 640 xl add in nat geo .. I was thinking this exactly why would any one buy Lumia for skype office n all that while they can also download it in their android ... I donno how they missed to highlight the 13 mp carl zeiss optics in it n showing worthless advertisements ...

Yeah Microsoft's marketing makes no sense.. They are just highlighting software like Skype office without highlighting the hardware.. They just say it takes good photos.. And has an out dated built in office..(facepalm) Everytime they make an ad it's the same for every phone.. Nokia was better in that aspect ....five tasks in two minutes using Lumia 520 ad was good.. For the people India specs matters..

Ya right bro they should show cortana and other stuff like halo people in india need nothing but apps even if they cant download it all lagdriod got billon apps from which millions are completely useless I don't know when will people understand.

Aman2901, I went to see f&f 7 & there it was advertising, Lumia 535 on 75mm screen.

I was invited to watch the pre-screening of Avengers: Age Of Ultron by----Skype Team.

Really... Lol... Very good & m impressed.

This is something interesting...another good way to publicise windows Phones apart from ads..
Finally they are trying out something new...otherwise until last year MS simply sucked at this...no ads no publicity

Correct me if I'm wrong. Ads and promo are good but last year it seems WP devices selling only in India according support, ads, promos and etc. And of coooourse it's not because MS CEO have Indian origins.

Its been already 2 3 weeks!

Way to go MS.... I smell the future :)

Nokia did something similar during the launch of Lumia 820 or 800 I think...

Market share (and apps) are coming!

Launch a lumia 330 with 3.5 inch, 512 mb ram, 4 gb rom, vga front and back camera with no sensors(like ambient light sensor etc), micro sd upto 32 gb

Lumia 030 without screen like iPod shuffle , 512KB RAM , 1 GB internal storage without SD expansion . Battery backup 1 year and support Windows 10 . Ask like this..... .
.
One button access to Cortana... With brilliant Microphones ever Feel it as a Smartband

They are launching "nothing" for "free". Lol

1,000₹= 15$ . Yeah its good price

They might as well pay you to get the phone. Desi had to bargain everything! Cheap!

At last. Some advertising at least!

Finally some good promotion, cause the ads just suck.

Exactly, all they showed for the 640 and the 535 were the Skype experience, built in office suite, OneNote, OneDrive, etc. All of them ironically happen to be superior in competing platforms.
They should have been the advertising points for W10, not 8.1.
So advertising the OS itself is something to be appreciated.

Malcolm, I'm surprised by this perception. I'm curious: is there a comparison article you saw and could share a link to, or one or two specific advantages you can point to? I think many of us reading this may not have tried competing platforms in a while, and a reality check is always good.

Let me take OneNote for example, we already know that the app has been redesigned for Windows 10 for phones and PCs and it seems that it has great functionality. Same can be said for the Android or iOS counterparts, they're comparable. But no way on earth can you compare it to the current Wp8/8.1 versions. I personally wouldn't want MS to advertise specifically these apps as they did with L535 and 640/xl, but rather the beauty of the OS, the colourfulness and the live tiles which are the main reasons why many of us actually chose WP.
Still need a comparison article?

Its the experience, for me, yes I don't have a android device, but all of my friends do, I don't have to buy one to compare. The skype for example is horrible(Very Slow startup, hangs a bit,sometimes unable to call someone and receiving calls is another issue.) when compared with the android counterpart. No, there is nothing wrong with my device, thats how skype is at the moment for win8.1. This experience might not be same for you, but at atleast my 520 and 1020 don't work as expected.

Prob they'll get robbed..

Indian traffic is too busy to escape easily. Even Family Pack big stomached grandfather can chase thief in Indian traffic

Wow for this reply to the thief above

Indian traffic in metros and other big cities is too busy.. This promotion is for tier 2,3,4 cities with too busy traffic

Unless they are Verizon , At&t and T-Mobile exclusives

Things I see:
1• What you did there.
;)

People should be made popular with flagships.Then only they will be moved and buy anything within their range.Flagships are crowd puller.Yes you can show your budget but it should be complementary to flagships.Like hey look at this..bla bla..etc..etc..what?you cant afford it.Take this instead,same OS.Dont believe my words,try this.430,435,530,535.,,,,,,,,...(nth order)

This! makes sense! Which is why I can't for the life of me don't understand why Microsoft doesn't concentrate more on the flagship side. Look at the S3/S4 mini. Both were not that great and S3 was utter rubbish. But in my area they sold quite well. Why? Because people thought they were getting a version of the real flagships at a cheaper price. The flagship phone has pull power.

"Consumers will be asked to perform the most common operations on the Lumia 430 as well as their existing phones" ... Opens snapchat.....waits... :D

Honestly , in India , sbapchat is not very popular outside the metros and tier 1 cities.. No one in my contact list uses snapchat.. Maybe 1 or 2 (at max)

Snapchat is popular amongst youngsters but still not widely popular then insta, and obviously fb and WhatsApp.

India is full of WhatsApp and Hike.... I have 280 contacts in WhatsApp but not even one in Snapchat

Bcoz snapcht isn't meant for work. Whatever till now I have seen,on snapchat with my some stupid friends till now is rubbish. Sharing photos just what u do in social network with other friends with just a auto burst and deletion feature. I wont use snapchat even if it comes to wo officially. Even though many ppl demand it.

I second that. Snapchat literally doesn't exist in my friend circle, either. And I'm glad.

Share it app or else wifi direct or office

that's an ftp client. I need WiFi-direct

Finally. I just hope this gets world wide!! I see people coming with their new shinny Iphones and getting knocked out :p

I hope they don't get robbed! :P

Look at the box like thing for Advt... Candy crush icon is enough for more audience

Yup, just show them what they want & they will.

MS should do that Cortana Vs Siri ads in movie theatres in India. That is going to create some awareness.

Nice idea!
India's a huge movie industry, hence this will work for sure!

And camera comparisons as well!!..

They are busy enough to show No Smoking and MUKESH who died with cancer due to tobacco.... Then when will they time for Advertising TECH

Smoking is a choice made by an adult. Yeah, you can say not to smoke indoors or when in a crowd, but you can't force people to stop smoking by showing disgusting cancerous lungs in cinema where people came with families to have some fun.

@sholokov : I think their aim not just the adults. It is good that children also get to see the bad part of smoking and i don't think there is anything wrong with it.

@Abhishek1320: I don't know where you watch movies, but wherever i watched movies till today, they always had time to show Brand advertising, Upcoming movie trailers and last but not the least the nowfamous 'Mukesh ad'. So all MS has to do is to have a tie up with some multiplex brands like PVR,INOX etc.

Its should have been 4300₹ but still people will buy it as it is an awesome phone with a decent hardware so thumbs up but I would rather buy a 1GB ram phone which is slighly expensive.. Btw nice phone btw Lumia 730 user (y)

That's a good initiative ...
Msft India should promote high end devices too ..

I want what Ben Rudolph used to do with his caimpaign few years earlier with windows phone mango update. He was amazing showing wp features integrated those days. Used to watch his videos it was fun. That campaign was called windows phone challenge maybe.

Yep, those were the days when the People and FB messaging Hubs were integrated into WP 8.0. Plus the offline mapping on Here Drive and music streaming and paid downloads on Nokia Music (now Mix Radio). And that could b advertised for the humbl 520 as well, which is why I bought the L520 as my first WP.
Today though, they cant showcase those features. What remains is battery life and relatively smooth UI and the functionality of live tiles.

Is there any picture of the truck driver?

Thank god you didn't asked about Truck driver's Name and family details

Better drive with an armed guard

Wen in smaller cities and towns in India?

Now you're talking Microsoft!
I say bombard the urban and suburb streets with advertisement banners, boards, posters, campaigns and every possible thing! (by keeping in mind):
1. Make people realize WP exists and that it'll soon have Windows 10
2. Make them realize WP can do much more than their average phones. Then show them the benefits of features like Cortana, xbox games, exclusive Lumia camera apps, word flow, live tiles, universal apps etc.

Just dream about it.......

Advertising Cortana , right now , when its still in aplha stage(in India) may backfire.. They should launch beta version first, then adverstise Cortana ..

What a creepy line on truck

It's not cool to write Hindi just because you are campaigning in India

ओ! अंग्रेजों की चुदी हुई औलाद। वहाँ मोदी .भारत domain को प्रमोट कर-कर पागल हो लिया और तू हिंदी को Ban करवाने पर तुला है।
And it makes more sense to use regional languages to promote a product .और हर दूसरा आदमी पढ़ा लिखा नहीं होता।

Pls don't do this ppl gonna troll you :(

Hope they do that here in the Philippines. Im a Nokia/MS fan and im having trouble getting my friends in the platform because it isnt popular here.
All in all, I only converted a dozen friends and family members to jump inwith Windows Phone. And that's counting.....

Now this is marketing done right I'd say.

This reminds me of Narendra Modi's Election Campaign
मित्रो ! :P
भाई और बहनों ये देश.... :D
Windows Central Newsletter
Thank you for signing up to Windows Central. You will receive a verification email shortly.
There was a problem. Please refresh the page and try again.