Microsoft launches the Lumia 430 in India for INR 5,299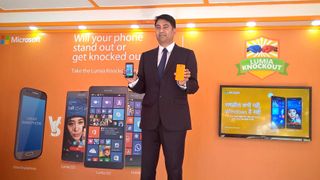 In a closed media round-table, Microsoft India announced the launch of the Lumia 430, the company's most affordable Windows Phone device as yet.
The Lumia 430 is an entry-level Windows Phone, but doesn't cut too many corners in the crucial areas. There's 1GB of RAM and 8GB internal storage with micro SD card expansion. It also packs in a front camera. The 4-inch dual SIM device attempts to hit all the right notes for both affordability and desirability.
The Lumia 430 in a way, looks like a 'fixed' Lumia 530, which is missing a front-facing camera, ambient light and proximity sensors, and sports only 512 MB of RAM.
Microsoft Lumia 430 Dual SIM Specifications
Qualcomm Snapdragon 200 1.2 GHz dual-core processor
4-inch WVGA (800 x480) LCD at 235 PPI
1GB RAM
8 GB internal storage; micro SD up to 128 GB
2 MP fixed-focus rear camera; 0.3 MP VGA front-facing camera
Sensors: Accelerometer, Proximity, Ambient Light Sensor
1500 mAh removable battery
Size: 120.5 x 63.19 x 10.63 (volumetric) mm
Weight: 127.9 g
The Lumia 430 is available in two colors – orange and black. The phone goes on sale today at a best buy price of ₹5,299, and there are a few promotional offers as well which makes it a good value for money device.
₹1,000 cashback of recharges and bill payments through the Mobikwik app
₹1,500 worth of discounts on bus tickets over 6 single trips booked through the RedBus app
500MB free data per month for a period of 2 months
The Lumia 430 is slated to get Windows 10 later this year when it is released, and packs in decent specifications for a budget device. What do you think of the device, and would you be looking forward to pick or recommend one?
Go get a GLASSES . It's launched in India only . Ask when in " your country name "

Chill out dude, he just forgot to put the "/s"...

Even then, it stopped being funny a long time ago, now it's just stupid.

"When in India" is the new "Seems faster".

Oh common! This has become so irritating now. Stop trolling!!!

Please don't show us your stupidity. Even u don't know the correct spelling of WHEN. Shut up!

"Wen" is the part that shows sarcasm. If you don't get it, then don't call others stupid.

And that means, that there isn't any sarcasm when you say "India", so that means that you all are disrespecting us. So that means he was right in calling you a stupid. I'll add idiot too.

Believe me, we get it, but people saying it now sound like stupid trolls.

How does it stand against L435?? Everything is just the same except for the battery I guess.

Isn't the 435 a single sim higher battery variant?

I think 430 wont get Lumia Camera, microsoft said that. Unfortunately, I can't give you the link, I'm in mobile, go to Lumia 430 forum and you can find one.

"On" mobile. Not making fun, just correcting what seems to be direct translation from Hindi/Urdu.

Haha, I'm sorry, I use swipe and did not notice this. Thanks.


Sholokov, what is your nationality? Just asking out of curiosity, that you know some Hindi.

Seems nice enough. Not bad at all! This from a 1520 owner.

Our 1520 hardware seems outdated to run all the cool features of windows 10.. I didn't want to upgrade this soon I love this phone!

Eh? Its not outdated. Only 2 features will not run. Continuum & hello.

My new tip is waiting.........

Yes I think we should wait.....bcz windows continuum is available only for few devices and also joe said that it requires new hardware so we should wait

Take my money and get me thise devices!!!

Lumia 630 is now available for this price!! What is the point of 430?

+ front cam + extra sensors.

L630 is available at 5k only online. L630s market price is still 7.5k

The 635 is also available. But the 435 gets the extra 512MB RAM, front camera and front sensors. The downside is that the 435 is using the Snapdragon 200 series, whereas the 635 uses the 400 series.

Will the U.S. Be getting any of these new budget devices besides the L640?

Most likely not. Even the 535 didn't make it here. A lower device has less chances.

there is a (hidden) link to the 435 on Microsoft store's North American site. I wouldn't count on the device making an appearance though.

That battery might last a day or less, no❔

Like the higher end Lumias then ;-) (and all other high end smartphones really)

For comparison, L430 has 1500 mAh, and L520 was 1430 mAh. I found that my 520 lasted a day comfortably, but that would depend on how its used I suppose.

What? . R u mad? It last 5hrs. Di u switch off ur data all the time?

Could you repeat that in English please?

With moderate usage, almost a day I guess. The 1430 mAh battery in my 520 lasts for about 65-70% of the day, with moderate usage.

Disable auto search for WiFi and battery life will improve.

Ok, enough with the low-end devices now Microsoft! Lets make way for the big boys.

+940 +15xx +AnythingButAnotherBudgetPhone For now

No more budget phones this year, I hope. Make way for Windows 10 flagships! :D

True that...!! But I strongly believe the "Flagship" phone should be declared after Windows 10 is completely ready for all platforms.

They are not done yet, they haven't announcing Lumia 440. Haha But I think MS should release fewer phone lineup next time, like only:
6xx (with XL version) for lower-midrange,
7xx for midrange+selfie,
8xx for upper-midrange+great pureview camera (or with 41mp version)
9xx for flagship (with XL version) No more for affordable

Is that a good price then in India?

Its not that cheaper. Around 90 USD.

If we see 630 & 530 near it . It seems overpriced

It's a darn good price for 1 gig of memory, FFC and the sensors.

Well its costly considering its specs...for sub ₹6000 xiaomi would be a better choice overall. I guess Lumia is better only when price range is a little higher i.e. upto ₹15000 Lumia 730 and 640XL provides far more competitive and better user experience among other devices in that range

Let me tell you something, Windows Phone can work hell lot better in those specs. Android OEMs need more specs than Windows Phones.

The Xiaomi phones have good enough specs to run Android comfortably. I've seen many Android phones too & have not seen much lag.

He is talking about specs such as camera, screen size/resolution, etc. Not just SoC or RAM size.

At 5600 is the 435 why would anyone buy this

Yes someone pointed out yesterday, 2MB rear / main camera could be potential show stopper here , rest all look very good for the price. MS must keep in mind they are in race with Chinese Android OEMs for their " low budget high specs " stiff competitive prices

IMHO, Lumia 530 should be discontinued asap

Another rubbish phone , just get 735, is that in India

L730 is available here. Selling good.

Lumia 730 is available for 11800 on two websites today. 640 official price is now 9999, wait a month street price will be 8500. Both of those carry SD 400 and mid range specs as compared to 430/435/530/532 which carry SD 200 and entry level specs Even the Lumia 535 and Xolo Win Q1000s at an online price of 6999 make way more sense than this. Both are real beauties too !!

Same pricing mistake , which Samsung did with z1.
Z1 should have been of ₹2999/- ,but Samsung missed.
Same for L430, its price should have been ₹4300/-, they miss it too.
Any way , best wishes to MS for its bumper Sale.

How can the 430 be better than the 530 and also having more features for less money? Can anyone explain?

More memory (RAM). Front camera. Ambient light and proximity sensors. The 530 has none of these.

I was referring to the 4xx beeing better hardware than the 5xx . I see no logic

He is adding to your comment, not contradicting.

Exactly my dilemma. I think they realised that 530 was a half baked launch, and are now fixing that. Adds so much confusion this silly nomenclature !!

hello guys, any one can give Microsoft India Media (PR) conatct details ...

Worth only 4300 rs,but price announced 5300 rs,wtf going on

So they can discount it later like 25-30% off.

Where on earth did you get that price of Rs 4300 ??

Need exchange offer with Lumia 520

How can i purchase MS Gift card in India? Pls suggest me. I'm from Lucknow & i asked at Priority dealer but they denied they dnt know about this.

Online. Code will come in an email.

Bro I'm from Lucknow too. Rest assured they've announced carrier billing yesterday :-)

Yes they have but dnt know exactly wen it'll surely come & that too in BSNL.

Hmm..ambient light sensor in just 5200.. Great

Can Windows Central run a piece on the difference between all these low-end smartphones. They can have whatever strategy they want, I just don't see the differences and why it's worth having so many models. Don't we already have a 435 and 432?

Sure,price will go down to somewhat 4300 to 4600 in near days.good msft.

Too high for that price..... One can get Moto E 1st gen which has a 5MP camera sensor........

Flipkart(Snapdeal,etc.) will definitely provide this at lower prices

Rear Camera Placement looks awkward.

Hey Rubel Rebelray! What's your take? Leave a comment.
me..Roy_Rubel

Hai Microsoft pls give us windows 10 update for Lumia 430 we are waiting....
Windows Central Newsletter
Thank you for signing up to Windows Central. You will receive a verification email shortly.
There was a problem. Please refresh the page and try again.