Lyft finally makes its way to Windows 10 PC and Mobile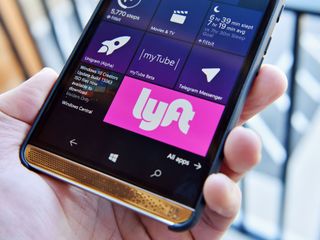 If Uber just isn't your cup of tea, its main ride-hailing competitor Lyft is finally coming to Windows 10 PC and Mobile. Word of the universal app's release comes by way of Microsoft's Paul Britton on Twitter. And though the Store listing (opens in new tab) is currently live, the app doesn't appear to be live for everyone just yet.
From the Store listing:
The app is quite zippy and it looks great, but there are a few bugs with it that may make initial usage a bit odd. Fingers crossed a few updates will give it some polish, but at least it's here.
Download Lyft from the Windows Store (opens in new tab)
Windows Central Newsletter
Get the best of Windows Central in your inbox, every day!
Dan Thorp-Lancaster is the former Editor-in-Chief of Windows Central. He began working with Windows Central, Android Central, and iMore as a news writer in 2014 and is obsessed with tech of all sorts. You can follow Dan on Twitter @DthorpL and Instagram @heyitsdtl.
I love their app description.

I didn't even realize uber is also on wp. Lol. I have no use for them, but good for people who hate riding public trans

This article makes me feel like I'm back in 2014 when these big name app announcements were common place around Windows Phone Central....... Sigh. Those were the days.

I give it 6 months tops before its pulled.....

We haven't seen many UWP apps pulled, just older 8.1 ones.

this is amazing fantastic out of the blue news for windows especially phones. it gives me a glimmer of hope that maybe microsoft does have something in store fo rmicrosoft phones alas in 2018.

I wouldn't say this gives me any hope for Microsoft's efforts, Lyft have likely had this in development for a while and just decided to launch it, irrespective of what other actions people have done to close their apps.

You do know, that even if they were developing this for a while. It would be far cheaper to scrap it all together. Then to publish it. Because now, they have to spend money for maintenance of the app.

That money is already spent

Your analysis doesn't hold very much merit.... So, a big company like Lift, who invest precious resources to develop, and maintain, an app for a failing platform decides to just release one "just because"??....
.....
I seriously doubt that. The only reason they would do it is if they had some hope, idea, or confirmation, they would get some sort of ROI in some fashion, at some point.

Yes, Daniel, but the bigger issue is more of our wanted apps were the older 8.1 version apps.

And, where in the world have you been??????????????????

hey hey hey...c'mon man.. don't jinx it.. -_-

I'm still pissed we don't have Groupon anymore... That's a new low.

Oh wow. Didn't see this coming. I looked into lyft about a year and a half ago when i went to san Francisco for two weeks and they seemed to be Apple only at that time. So i went with uber instead. But i liked the looks of lyft better, glad to see it finally coming to W10M

Wow, yea same here. I messaged Lyft about a Windows phone app about a year ago and they were like, sorry, no plans for Windows at the moment :) #nope

I'll be going to Omaha next weekend. I'm thinking about trying out the app to see how stable it is. I was able to put in a location and destination and set up my payment info, and I could see about 10 lyft drivers moving around in range of where my GF lives, so far so good :)

They must really be beating themselves now, invested all that time and energy in a windows app only to find out that MS has committed itself to android.

You do realize that Windows 10 on PC is a thing right and the world doesn't revolve around phones?

The world does revolve around phones, everyone under twenty don't even know there is such a thing as windows. They use chrome books or ipads in school and iPhone or android outside school.

"everyone under twenty don't even know there is such a thing as windows." In the Himalayan Mountains maybe. Can you play League of Legends on a Chromebook? Kids under 20 tend to play games you know...

"They use chrome books or ipads in school and iPhone or android outside school." United States != World, where chromebooks are absolutely not a thing and most don't have the money to buy Apple products.

Ignore the navel gazing Americans. Just talk to the more enlightened Americans.

Where do you live. Mars? Overhere I still have to see the very first chromebook. In school it's 100% Windows laptops/2in1.

How do you run compilers on iPads? Or CAD tools on your Chromebook? Or you know other real stuff like chip design, architecture, 3D modeling, animation, Games development etc. Le me know when an iPad or a Chromebook can compile its own OS. I wonder what kids you're referring to are doing in CS and related disciplines.. watching youtube? or scrolling through facebook??
The world certainly does not revolve around phones, though it may appear so simply because those actually making the world revolve are too busy creating stuff for consumers to gorge themselves on (while they get rich along the way)

You then clearly do not understand the Universal Windows Platform model.

Wonder if it will be unable for drivers as well

Couldn't even tell it was a web wrapper. Works great for me.

This is good news for the platform.

If anything you could say this app was ported. But, even that isn't true. Since it's missing a few features. Just a few of them. So this is a true, naive, Universal Windows Platform app.

Looks to be a native app, not a web wrapper. Going to the help menu brings up the browser. Seems smooth so far to me. Alas, there are no drivers near me so I can't fully test 😊

Agree, article has been updated.

I think its a Cordova native hybrid app and built with HTML5 like Untappd. The screenshots show "ride.lyft.com". So I think the UI is based on that website.

Just in time for my trip to Vegas 👍

Tried to use it but was not able to receive verification code.

I hate to say it, but this almost embodies what's wrong with UWP. It's a big deal that this daily use app for many is getting an an app. For Apple and Android it's a granted, it's why I had to leave the platform.

Getting an app is what's wrong with UWP? I don't get it.

I get Jordan's point but not how it connects. You're not alone in not getting it.

I may have phrased that wrong, I mean it's a big deal when UWP gets basic app like this. It's a clear example of the app gap.

Or you could go hangout on the apple or android sites and quit trying to be so smug.

Very happy about this. I don't like what I've been reading about Uber as a company.

Wonderful news! I'm an uber user but am concerned that they are getting a lot of bad press especially here in London. Always worried that there wasn't an alternative... no there is. Just hope it works in the UK...

Don't think it's available in UK yet - no download option

MS update offline maps fed up writing everywhere about this since 2015

It raining outside here. I like raining apps better than literal rain at this moment. O sunshine, sunshine, wherefore art thou sunshine?

Doesn't look to be available in Canada on Mobile yet...will check back leter.

Yes...you are correct. The 'download' icon is missing, and it says 'not available' for me too....

Ugh, doesn't work on 950 XL. Freezes when it gets to updating address... what else is new....

Same here, 735 on 14393.953

I drive for both in NYC. Where available, try to use Lyft and support the more ethical company. Uber's disgusting practices at the top trickle all the way down to some sneaky little tricks they use to cheat the driver. This new Lyft app freezes when finding my location on my L830 but I look forward to using it when it's working.

I don't drive for either, but have installed the Lyft app several times, uninstalling each time due to the app freezing after entering the validation code (at the location screen). Would use Lyft only if it worked on my Lumia 950. The phone is up to date too............

Lyft? First time I heard about them. Nice to see the app arriving for those that use the service.

Ya...even in here California they don't seem to be very well know

Oh its not a wrapper? Even better!

Smart designing a Windows 10 app that works on Mobile and desktops. That's the strength of UWP and what Microsoft needs to really push harder than it already does. It doesn't matter so much about the hardware, rather it pulls in their strength ... desktop applications and mobile is "lyfted" (pun intended) alongside. :) For Lyft, the potential benefits are huge! When you are competing with somebody (Uber) and you find a location the competition does not reside in (Windows 10 UWP) then by getting into that technology you have access to that market. Last I saw, Windows 10 is doing pretty well in the desktop market, and most companies don't run on smartphones. But by taking advantage of UWP and thus including Windows mobile (without a lot of effort) you access customers mostly out of reach of the competition. So this makes good business sense.

And I was searching the other day and couldn't find it. *Narf*. Great, no I can finally test this service out! *happiness*

Cool stuff! Keep them coming!

It would be nice if Lyft and Uber released their partner apps on Windows 10 Mobile. But, I'm glad to see these apps, though.

Partner as in the apps for the Drivers?

Yep, that would be the one.

Is this a US only service? Says it's not available in Australia, yet Uber is huge here.

Nothing to see here, US only service. Shame that information could not of been more clearly expressed in the article.

I agree. It is 'unavailable' in the Canada store....

Thanks god lyft exists avoiding uber monopoly!

If it's only US bound that isn't much competition for Uber.

So is this Paul Britton guy the we can complain to about why apps are being pulled lol

Good news. Now I'll try Lyft to support their efforts.

Yep, all of you W10M users in the US should support this, or it'll be pulled like the rest.

This is great news... Now if only Lyft would come to my city.....

With these new apps coming for our platform, majority of us should consider installing the app at least once in order to show some kind of interest for it even if we may not end up using it. There aren't that many of us.

I wish more of us were loyal and made an exceptional effort to prove to developers that this small group is worth it.
We need to make it worth their time and effort.

I downloaded it just for that reason.

It's crazy how easy an action like that is but the vast majority will not do it. We don't have the luxury of passing on app acknowledgement, we have to show that we really do want apps. If devs pour time and money into providing an app for us and we don't use it, they will just pull it and more bad press for us resulting potential devs being swayed.

Far out! They finally see that even people sitting at home at their W10 PCs want to hail a ride from home once in a while and having 100s of millions of them was just the right remedy, so even with a tiny market share of W10M devices, this must have been enough of critical mass to compel Lyft to make an app. I don't use Lyft, but am very happy to see this news.

Holy crap! I can't believe it's a new app... Even one that appears weekly on T-Mobile Tuesdays!

Ok...this may bring me back to W10M As a person who lives in the city without a car, this is HUGE! So excited!

This is now making me mad I sold my 950. If this app were out 2 months ago I never would have sold it. Err!

Installed. I own a car and take the bus to fill the gaps normally, but I'll use this at least once to show support. Had uber installed but could never bring myself to use it.