MailShadow for Gmail Makes Gmail Look Like Exchange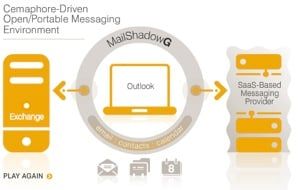 Answering a question for the WMExperts Podcast last night (going up later today!) got me looking around for the best solution for consumers for push email on Windows Mobile. The first bet is usually going to be Live Mail -- it's free and easy to set up. What if you don't want to change your email address, though? Well, there's forwarding to Live mail (or to a hosted exchange service like Sherweb), but there's hassles there. What I want is my Gmail email, calendars, and contacts pushed out. No, what I want is Exchange. Heck, I want Gmail to look and act like an exchange server to my phone.
Glory be: just such a service is coming soon from Cemaphore: MailShadow for Google Apps. Mailshadow acts as an intermediary between your devices (Windows Mobile, Outlook, etc) and Gmail -- and intermediary that acts just like a standard Exchange server but is actually just a conduit to your Gmail account.
Sign me up. Actually, don't - I just signed up myself. The bummer is that the service is just starting their beta now. Want in? Sign up here and let us know if you get into the beta. Fingers: crossed.
wait - there's free push mail with windows live services?! I was just all over the live.com site and can't find anything in their materials on push email. Is is through hotmail? Do I need to set up a hotmail account?

Hi Jason -
You'll need a live.com email or a hotmail.com email. You'll also need Windows Live set up on your device. If it wasn't pre-installed, you can get the "lite" version which still does push email. more info here:
http://www.wmexperts.com/articles/windows_live_lite_now_availabl.html

This service looks promising. One reason our company went with AppRiver hosted exchange was really because of the need to stay with full Outlook support, but we waned to use Google Apps.
Also, iPhone 2.0 software support exchange activesync. If this product supports EAS, you could essentially use Google apps as if it were hosted exchange, syncing calendar, contacts, and email through the exchange support on iPhone and WM.

Not having access to a real exchange server I set up z-push (http://z-push.sf.net) on my linux box:
* is server based (no 3rd party sync apps on my pda!)
* works with gmail / any imap with Imap idle
* FREE!
* calendar/contacts with zarafa server (not free)
* under GPL
* works with every activesync enabled phone (ie Nokia E-Series, iPhone 2.0 ?)
- need access to a linux box
- need rudimentary linux command line skills
I tried hotmail/live before that. The big downside is that it simply drops mail without bouncing them. So forwarding my primary email account to my hotmail account did not work IRL eventhough I really gave it a looong try (senderID, ...) Troubleshooting is close to impossible - canned responses and ignorance.

I am trying to find a version of Windows Live that is closer to Microsoft Exchange Labs with the calendar and mail all on one page. The regular Windows Live doesn't have the calendar and the one with the calendar has crappy mail. The MEL is just right but how do I get a personal account?
Thanks
Aaron
Windows Central Newsletter
Get the best of Windows Central in in your inbox, every day!
Thank you for signing up to Windows Central. You will receive a verification email shortly.
There was a problem. Please refresh the page and try again.