Make objects float like magic with Levitagram for Windows Phone (Hidden Gems)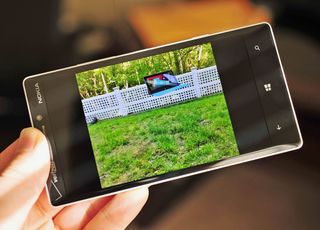 Want to pick up a cool photography app for your Windows Phone? Check out Levitagram, which arrived a few days ago for Windows Phone 8 devices. Levitagram (www.levitagram.com) is made by PixoMobile, based out of Redmond, Washington, and it's on iOS and Windows Phone at the moment (sorry, Android!). Not only that, it's free for a limited time.
Because of all of that, Levitagram is today's Hidden Gem. Remember, by leaving a comment, you're entered into our contest to win a new phone or tablet!
What is Levitagram? It lets you remove objects from photos to make them look like they're floating. Sure, you can do such trickery in Photoshop, but that presumes that you own that app and that you know how to use it. Levitagram lets you create those illusions with nothing more than your phone and finger.
Levitagram works by taking two photos, the first with the object and the second with the object removed. It then combines them into layers, and with your finger you can either erase or re-create the layer. As a result, you can erase objects – any object – by just swiping your finger like a paint brush over it. If you make a mistake, just chose the other brush and bring it back. The final result lets you create a photo where objects look like they're floating, falling or people are hovering.
When editing in Levitagram, you control brush size and its coarseness. You can also manipulate the brightness, contrast and coloring of the area where the object was removed, letting things blend in and hiding lighting changes.
Like HDR, I can't imagine using Levitagram all the time, but every once in a while you can create a startling and hilarious image.
This isn't a party trick
I should point out that there are a few guidelines in order to create a convincing Levitagram, some of which take the spontaneity out of the app:
Tripod + smartphone mount will help greatly
Have good lighting but watch out for shadows
Use the 15-second timer
Patience
Practice
A tripod helps because you need to take two photos with removal of only the intended objects. The steadier the two photos, the better they will overlay, much like how true HDR works in photography. Shadows can be tricky, as you can see in my photo below: to the right you can see the shadow of the ladder. In hindsight, I could have edited that using the app, but I missed it. The timer is on a 15 second countdown and lets you snap a photo, run in, remove the object and it'll snap the second photo automatically in 15 more seconds. Makes everything a lot easier and you don't have to touch the camera, possibly causing a misalignment.
That's where practice and patience comes in. You'll want to zoom in to the max when working around edges and go almost pixel by pixel. The cleaner and straighter the removal, the more convincing the image. Practice is important too. The images you see here, while not bad, are my very first attempts. They improved as I went along, but I know I can do even better the next time. Watch the video below to get an idea of how it works.
Isn't that tedious?
Not at all! Besides the setting up part, which is easier if you have a second hand, the actual process of creating the Levitagram was fun, cathartic and a little bit like magic. It's probably the most fun you can have editing a photo on your phone.
Where it can be better
There are a few areas though were Levitagram can improve, and one of them is huge. The app right now needs the physical camera button to snap a photo. Levitagram can tap-to-focus, but it can't take a photo without the physical shutter key to get the process started. That's super lame for ATIV SE owners on Verizon or Lumia 630 owners as well. The good news is that's simple for the Levitagram developers to fix, and if enough of you leave a polite review requesting it, I'm sure they'll oblige.
Another feature I'd like to see would be to re-edit previous creations. The app can optionally save both images separately, in addition to the third creation, but it can't go back. This inability to go back means you get once chance. It's not a deal breaker by any means, but it'd be nice if that could be achieved.
Wrapping it up
Levitagram is a fun app, and I enjoyed playing with it. Creating those images is something of an art, and I really like the creative possibilities and chances for improving my skills in it, like a game. Sure, it's a tad gimmicky, especially if you post 20 photos all doing the same thing to Instagram, but on occasion, you'll create a photo that will confuse and bewilder.
Levitagram is free for a limited time, so snatch it up now. Let me know what you think of it in comments, where it could be better and maybe share your own Levitagrams!
Daniel Rubino is the Executive Editor of Windows Central, head reviewer, podcast co-host, and analyst. He has been covering Microsoft here since 2007, back when this site was called WMExperts (and later Windows Phone Central). His interests include Windows, Microsoft Surface, laptops, next-gen computing, and arguing with people on the internet.
Remember: Leave a helpful comment about this app, you're entered into our daily contest! Helpful comments include what you like, what you don't like and how it could be made better. **For clarification, entries are not judged on content, so you're free to say whatever you want. We'll be choosing winners for each article randomly, so long as they meet the criteria of being thoughtful i.e. more than a 'first!'. Winners will be announced at the end of the month, so you can enter in at any time. Multiple comments allowed, but only one will be picked. Contest is open worldwide and the prize will be a Windows Phone of your choice! Need more info about our Hidden Gems series? Read our announcement post here.

Cool idea, I think ill make some cool stuff with it ;)
Well the idea of the app is pretty clear, clean and neat!
Maybe more features ?like adding shadows Otherwise 10/10

Yeah I like your 'shadow' idea dude.

Very clever, would recommend watching the in app video first showing how to use it, will save time.

Used it several times. No complaints. Tried to impress my GF with a few edited photos, but she just beh'ed (doesn't understand the awesomeness of this app)... What I would ask the developer for is to polish the process of deleting unnecessary objects. One thing that could be of a great help is a half-transparent initial photo on top of the viewfinder when you make a second shot, just to make sure two pictures match perfectly.

Tried it a few times but only once it was able to match the two images. But maybe a real tripod does a better job than my collection of books. Cool app though, but better image alignment (from my few experiments I learned that it works better when the object is smaller and fails completely when using glass objects) and an auto-brightness/contrast mapping would be cool.

Levitagram lets you create those illusions with nothing more than your phone and finger . if it capture the motion of image : for few seconds from starting to end or something similar would be great + few fantastic filters and integration to other social apps

This sort of app can look frivolous at first but with some imagination you can spice up a blog or your social media accounts. It's fun, slick & very easy to use. Give it a go!!

I wish there were a way to select/detect objects without manually brushing it out with your finger on the screen. I've always been terrible at that, like with selected blur in Nokia Creative Suite.

This. My finger is so huge

Maybe add better support for 512Mb phones? Keeps crashing on my W1 :/

Introduction please!
Ladies and gentlemen, one and only! Meeee!
Alright, lets go..
Woke up this morning, live tiles poking, something new showing, hidden gems growing, chance to win I'm noting, but I'm just beats throwing, new app coming, levitating storing, what my phone won't opening, my mind blowing, it's getting boring, like the app is bugging, I'm not able to stop it, it just keeps quitting, so my review is missing!

Shadows that's a great idea

Its a Definite try! Reminds me of the old Face Swap from MS. It needs some tweaking in case of shadows part. it appears odd when there are no shadows on a heavy one sided lighted images.

Guess its time to say goodbye Photoshop express... Hello to Levitagram...

I really wanted to write a full review but couldn't get the app to work for me ;_; P.S:-My photography skills are really poor so that's probably the main reason

when are the results coming out??

It looks pretty interesting, but a like the article said unless you have a tripod you're going to have some trouble. It would also look nicer if they had the ability to add a shadow under the object

Great Idea. Add more features.. And it is recommended for Hidden Gems. ;)

It's usful app. and has high quality output. But UI is boring and tile should be a little flat

I guess it has probabl y been already said , but well I'm saying it anyway : it would be great if this was a universal app ; also the capability to edit the photos once they've been saved would be great too.

This app is a very clever/smart "Hidden Gem"! It is very well thought and in my books, the ultimate pranking app 3:)

Tried this app yesterday. If you don't have a tripod of any sort, you should have another person make the adjustments to the photo subject while you stay as still as possible. Also, be aware of the different sizes of ' brushes' when you edit the final product.

The next step maybe is to explore same magic in video making, that would make this more fun. Or create videos using multiple levitagrams.

Using a second person is actually what even I thought of. Its not always that one carries a tripod, however another person is almost always there. :)

This app is amazing, downloaded it day before yesterday. Love the layout, and it is very simple to use.

I've always wanted to make Dan into a magician but didn't have PhotoShop. Lol.

I can now make it appear as though alcohol is floating in front of me. I'm watching the NHL draft right now and will need plenty when the Hawks make some stupid trade (was that helpful enough? I like free stuff)

It's LevioSA. Not LevioSAR! ;P

There's no wand waving here, its the Force.

Very kewl concept! Love ❤ that we got it before Android!

Haha, it is a bit interesting to see it on WP and iOS first before Android. Glad to see you guys at least got it. Looks interesting, now I just need it to come to Android, since it doesn't look like this app is available in the Surface store. Posted via Surface

Levitagram (Levitation Photography) for Android Mobile Phone. Make Objects float like magic with Levitagram for Android.
https://play.google.com/store/apps/details?id=com.socialcurrency.levitation

Yes, yes, I will be making very many things float with this app!! I can't wait❕

It's quite a good app however its hard to keep the camera still without a stand or something. However it does try to aline the photos. So it does create quite a good floating effect.

Its really nice. Does the magic as described.

I want the bloody SP3 not the app! lol

Nice app but you have to be very patient though

This is a perfect app to prank your friends :)

Wow, it is really cool!, so see ya. I gotta levitate for a while :D

I like this app. Funky idea, and I use it more than I thought I would! 5 stars!

Now I must buy that tripod I've had my eyes on...

You could always just use a couple books to keep I upright lol

Watching the NHL Draft myself and I would want to levitate Claude Lemieux's son to the Devils, I don't think the Hawks will make a stupid deal have faith I sure do

I'd say that's my Surface Pro 3 levitating in that pic except that I chose the black keyboard. Downloading this app now. Thanks WPC.

I have this app and I am already thinking about how I can make the best UFO hoax picture ever!


Isn't the idea of an app to make things vanish?

I like the simplicity of using the app... Though cannot be as accurate as Photoshop but still a much better app for beginners... I am thinking to make a Mountain Diving scene with this...

I feel like it isn't very convincing without some simple shadows, otherwise it just looks like the objects were enlarged.

I like how it has detailed instructions on how to operate the app. I was first worried about the outcome, but I was impressed, the trick works well.

Sweet. Downloaded and testing now. For another hidden gem Please check out Tonality : http://www.windowsphone.com/s?appid=7ac59477-9b21-41a7-9433-9f9f602e8f77

Great app and a Great hidden gem. Every cam app needs this function but this app did it first.

Looks like a cool app, going to download it now

App is great, the on screen instructions make it easy to know how to perfect a photo with the levitation illusion. As someone else said, good for pranks!

Huh, doesn't it appear the subject might just be sitting on the ground, just a different size at times? Then again, as is the plight of 2D.

This is actually the first Hidden Gems that's caught my eye due to how much creativity the average Joe can do. Nice find, I'll gladly give this photo editing app a go. :D

I like this man, for remembering that awesome ad.

I guess I'll buy a tripod.

Been looking for an app that does it, mainly to remove people from pictures lol.
I'll have to test it out in the wild soon & see how it goes ... The Hold Steady part gonna be tricky ... Especially without a tripod lol.
A few notes,
- It Does not scale properly on my HTC 8X.
- I'd love to have an option to import preexisting photos & make things "Float"
- A Double-Wide & a Live tile would really cool.
- The picture resolution is kinda odd ... Never seen it before, according to my phone its 1365x1024. Anyway, it's a great app with a lot of potential . Thanks guys, I love the Hidden Gem series!

Did you know that you can remove people from pictures since years ago, when Nokia Smart Cam was announced? You can try it! ;) This kind of trick can't be made with old pictures just because you don't have 2 versions of this same pic; the trick stands on overlaying 2 pictures and pulling out the objects that weren't on the other one. Unless you luckily took these 2 pictures randomly on another moment of your life, which I think is almost impossible to happen. I found this a must have photo editor, like Nokia Smart Cam. They do one simple, but neat and useful trick! Not a magic, but it looks like magic for the ones that don't know that much about software possibilities.

The Nokia app is ... Well, exclusive to Nokia devices ;)
I do take multiple pictures of the same shot :P

Nice app.....looks like I can make a few friend think I am doing some sort of magic......5/5 for this app

I use this app almost daily.

Downloading. This looks like a promising app.

Yes I read the article... But by reflex I kept touching the screen for the image to be captured. It focuses and I got irritated. And then I used the camera button and it worked.

Love this app. Now I need to find my tripod and phone attachment. My wife misplaced them. :(

Now you can always make your wife vanish lol

Nice!!! I will have lots of fun with this!

I really like this app! Seems like an easier version of how to do this in Photoshop! :D

Maybe time to say Goodbye Photoshop and Hello Levitagram... App is a brilliantly built with all those simplicity...

Im already toying with the idea of levitating my car, my house....my office building?

Another good idea that I don't get how to use :-(

What!! this app is awesome! Tripping my friends out

The app should be smarter and require less manual work by the user, the results don't look very reslistic. I achieved better results by simply throwing my object into the air and taking a photo of her during flight.

im going to have a ghost of a time with this app

With a little work, getting the shots right, you can do nice images! Nice App Edit: Acctualy, if there was a transparent overlay of the first shot when taking the second, to get a perfect alignment, would be alot easier.

Beautiful idea mate..+525..

Perfect use for my camera grip and tripod. Too bad I can't make my cats stay still!

Cool, don't need to do this in Ps anymore.

i had to levitate myself to get the second shot!!! but i did it!!

I used to spent a lot of time doing this in my laptop with photoshop. Now I can do it from my phone. What an awesome idea..

Sounds like a good app to make ghost photos...

Really nice app. Tried it and it's awesome for the intended functionality. Gonna keep using it to make some pranks.

After fiddling about with it for a bit, its ok, but without the addition of shadows it just looks like you've pasted an object onto a canvas. It's missing depth of field. Good to mess about with though, and really good that you can do it all on your phone. Cheers

Huh. The variety of camera apps on Windows Phone 8 never fails to impress me. I'll certainly be fiddling with this on my 1020.