Make your house more comfortable to reside in with the official Netatmo apps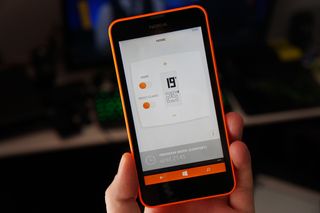 Netatmo produces neat home connected products enabling owners to monitor indoor temperature, relative humidity, sound levels and even CO2 readings to live in a healthier home. Weather stations monitor both inside and outside the home, while a smart thermostat ensures the house remains at a comfortable level. We're covering Netatmo because official Windows Phone apps are available for both the weather stations and Netatmo Thermostat, perfect for those who have the units installed at home.
The Windows Phone apps, as one would expect, enables consumers to connect and manage Netatmo Weather Stations and the smart thermostat. All relevant data is displayed in an easy-to-digest view, automatically recording measurements to the connected Netatmo account for further viewing. Graphs can be manipulated to really dive deep into seeing just what the stations have been monitoring, not to mention the alerts that can be configured to alert you when values peak (CO2 concentration, temperatures, etc).
You then have the 7 days weather forecast with the outdoor unit, making this quite the solution indeed. As an added bonus, the app looks gorgeous on Windows Phone. They're easy to use and contain little clutter to get in the way of glance information.
As noted above, Netatmo has also launched a companion app for its smart thermostat solution. With the app installed, consumers are able to:
Control heating systems directly from the smartphone to optimize comfort while saving on energy bills
Intuitive and easy navigation - set home temperature in one easy gesture
Save energy when away
Input information into the thermostat for it to adapt and take care of comfort levels, and help save up to 25% on energy bills
Modify the planning whenever desired, thanks to intuitive navigation
Record home temperature
Analyse and understand energy consumption in beautiful and intuitive graphs
For more details on Netatmo and its products (or to make a purchase), we recommend you check out the official website.
Thanks, Ewert, for the tip!
Get the Windows Central Newsletter
All the latest news, reviews, and guides for Windows and Xbox diehards.
Rich Edmonds was formerly a Senior Editor of PC hardware at Windows Central, covering everything related to PC components and NAS. He's been involved in technology for more than a decade and knows a thing or two about the magic inside a PC chassis. You can follow him on Twitter at @RichEdmonds.
Yup Official again , when Microsoft will release official wp 8.1 bill gates only knows

What in the world has Bill Gates got to do with 8.1?

Then u will tell the official release date of wp 8.1 , I m sick of all news here n there of release dates still no word from Microsoft

I can't give you an official date because I don't work for Microsoft. The last bit of news posted on WPC was a Tweet from a MS employee that stated 8.1 will be available during the first two weeks of July. So you only have another week to go. Besides, the preview has been available since April and there is nothing stopping you from installing it.

Except for the fact that the preview is kind of a bad beta. It sucks. If you don't wanna have problems with your phone, you better wait for the OTA update.

@Juan,
That's not a fact at all. I have been running the preview since the beginning and have experienced zero issues. There are many others who will agree with me and can tell you that it is not a bad beta, as you put it.

Lumia 630 looks really good in orange

And is doing well here in India as an enterprise phone. My aunts company has ordered many 630s as it has a great performance and is dual sim.

Not as good as you think in performance...... Two of my friends got it last week. Both got stuck once within two days of use :( I made them convert from lagdroid and they lost total impression within two days :(

They shouldn't expect much from a budget smartphone. Some of my friends bought the phone and they seem to like it so far.

I really think one should not expect much less regarding speed on windows phone when choosing the Lumia 630. Maybe on Android but not on windows phone. :(

Yup...... I second you.....:)

Read my words as an enterprise phone I told

Hey,why wpc don't hold a ballot about whether Microsoft should use its own brand on new WP device? I don't want the Nokia logo any more.

Nokia by Microsoft will be the new branding strategy.

Agree... And this isn't a bad idea.

People's belief and disbelief, which are important factors.

I think removing Nokia's name from the devices would be a good idea as people are having bad impression of Nokia in their minds. Microsoft has a better impression because of Windows.

Hahahaha....... You sound so funny...... You have no idea !!!

LOL. Yeah that's completely backwards. Not sure if trolling or serious.

So this or Insteon? Insteon seems to have the edge thus far. Really looking forward to getting in to these. I just love the idea of all this data & monitoring

I just woke up and thought this said official Nintendo apps.
I grabbed my megaphone, roused the neighborhood, and danced in the street, all the while declaring that Windows Phone had won.
Coldplay and U2 swapped lead singers and put on a private concert for my street. Then Beyoncé tried to perform but I told her I was tired of her crap, and she should bring out Solange if she had any chance of staying at our party.
Hugh Hefner even stopped by and dropped off the keys to his mansion, told me he was retiring and had chosen me as his successor... So long as I liked blondes. I said I'd think about it.
Then that crotchety old guy down the street opened his window and produced a megaphone and said,
"It says Netatmo, you a__holes!"
:(

You have won this section,sir...

Official is always better. Thanks Netatmo devs.

When will 1025 or 1030 will be released and Microsoft should also offer trade 1020 in for free :)

What planet are you from? Why would any company do a free swap for a brand new phone by giving your old one in?

Oh they'll trade it in for free but no company gives new phone for a phone over a year old... Negatory. Wishful thinking tho. Lol... Wish it all worked like that.

The Land of Rainbows and Lollipops!

...and chocolate bunnies smoking crack :D

I'm from the era of "if you can't afford it, you can't have it!!" I can't understand why everyone wants something for nothing. It's not how life works.....

Bingo... Gotta work for what you want... Some ppl have the luxury of not having to do so. I've had to work for everything I get so... Appreciate things you have to work towards anyways.

@misfitpierce,
Could not agree more. Some people are born lucky but the rest of us have to work hard for the things we want.

So which home automation system should I get? There should be a WPC article about that.

Seconded. Would love to see a connected thermostat comparison between this, Insteon, Nest, etc. Does this support multiple thermostats in a house? Does it do geofencing? I don't see references to either anywhere on its web site. The design / style of this looks great, but I'm wary of its feature set.

Talk about a gorgeous UI Edit - Philippe Starck is why it looks so good.