Maluuba for Windows Phone 8, a natural language personal assistant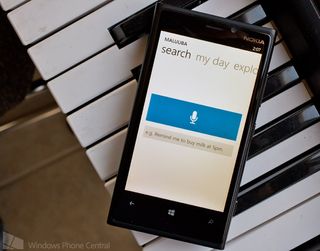 We mentioned the release of Maluuba for Windows Phone 8 the other day and had the opportunity to tinker with the voice controlled personal assistant over the past few days. Maluuba is a "Siri (opens in new tab)"-like app that lets you initiate searches, set alarms, check your schedules, and other core functions with your voice.
While Maluuba is a nice first step there is still room for improvement. If you're looking for a voice command app for your Windows Phone, Maluuba is worth trying.
Maluuba's main pages includes a Search Page where you initiate voice commands, a My Day Page that shows your schedule for the day, and a Explore Page that has a series of shortcut tiles that includes the weather, movies, navigation, and restaurants.
The tiles can pull up attractions in your area or call for input. For example, the Restaurant Tile will pull up restaurants in your area and break the results down in general, fast food and coffee shop categories. The Navigation Tile on the other hand asks for your destination and will generate directions to get there.
Each page generated by the shortcut tiles will have a microphone button in the upper right corner to let you initiate voice commands. If you don't see the business you're looking for, tap the microphone and search by voice. The My Day Page has a nice feature that offers options to search for dinner, movie, or attend a show for dates you don't have anything scheduled. It's an easy way to add a social appointment to your calendar.
At the bottom of the Explore Page you'll find Maluuba's settings tile. Settings for the app includes preferences (measurement options, search engine options, language choices), an About screen and a page to send the developer feedback. There is also a Help tile that will walk you through the various search options, creating alarms, appointments and reminders, as well as connect features such as making a call, pulling up contact information, send an email, or text someone.
As far as email and texting is concerned, I can say "Send email to Dan Rubino about vacation" and Maluuba will search for Dan in my contacts, allow me to choose the email client I want to use (if you have multiple clients on your Windows Phone), generate an email to that particular address with the subject being "vacation". From there you'll have to take care of entering the body of the email. Maluuba takes text messages a little further in that you can say, "Send John Doe a text message, Pick up Bread" and a text message will be created to John Doe that reads "Pick up bread" and all you need to do is tap send.
Voice recognition worked rather well with Maluuba. There were a few instances (mainly with the lengthier voice directions) that it had trouble picking up my Southern accent but rarely missed twice.
Maluuba worked nicely as advertised. The biggest downside to the app is that you have to be in the app to use it. You can't press/hold a hardware button (though Maluuba isn't the easiest name for our Windows Phone to recognize) or set a Live Tile to initiate the voice interface. But that downside will likely be the case for any voice directed, personal assistant styled app.
Another downside is that the app launches where you left things. In other words if you were viewing the screen to add a new appointment when you left Maluuba, that's where you would return. This can be a little frustrating when you are wanting to do a voice search and have to back out of things until you reach the main pages. I think it would be more productive to launch the app and see the main search page.
Maluuba offers a nice selection of search and command functions that goes a little further than the native voice commands do. Native speech commands are more directive in nature; "Open app", "Call Home", "Search for whatever". While Maluuba handles the directives, it also lets you be a little more inquisitive. You cannot can open a weather app, but you can ask Maluuba, "What's the weather like?" and it will pull up the forecast.
One advantage the native speech commands have over Maluuba is the ability to launch apps or games. I can press and hold the Start Button and say "Open Wordament" and Wordament will launch. With Maluuba, I get a message saying that launching applications is not yet supported. And that falls in line with what we've learned in discussing Maluuba with the developers prior to launch; that is the app is a work in progress. As is, Maluuba has established a fairly decent foundation to grow on with application launch directives and other features should be a part of future updates. We'll keep an eye out for future updates and see how things improve.
Maluuba may not be for everyone but for those looking for more voice guidance for their Windows Phone, it's worth a try. Maluuba is a free app for your Windows Phone 8 device and you can find it here (opens in new tab) in the Windows Phone Store.
Windows Central Newsletter
Get the best of Windows Central in in your inbox, every day!
George is the Reviews Editor at Windows Central, concentrating on Windows 10 PC and Mobile apps. He's been a supporter of the platform since the days of Windows CE and uses his current Windows 10 Mobile phone daily to keep up with life and enjoy a game during down time.
is skydrive not good enough?:O
id even prefer mega

SkyDrive is already built in to OS and the app is good too for almost every OS. BOX also has very good WP support.

Because I share files with friends on dropbox, I use SkyDrive for personal files dropbox for friends, and box for other misc stuff. Why don't we need it?

SkyDrive has a public folder that you can share with. You can probably do the same with Box.

Downloaded this the other day just to take a look. I quite like the interface overall, but have yet to really test the voice functions (I am an interface designer, so I like seeing nice apps, even if I don't use them). I never use voice functionality on my phone (and doubt I will any time in the near future), but am always interested to see how it progresses. From an interface standpoint, this looks like a pretty great app.

My main question from the article was simply: what benefit is there to using this app over native voice commands (when the voice commands also have the same functions). For example, sending a text. Is there any reason to fire up Maluuba to do so rather than using the native voice command system?

Not available for my device,:S Nokia Lumia 920.

"Maluuba may not be for everyone" You can bet on that! In Portugal it does not allow me to download to my Nokia Lumia 920! No matter what region I got configurated, so I suppose the developers didn't release the app for all the existent countries.

This is THE functionality I was waiting for with Windows Phone. Unfortunately, voice dictation through TellMe is horrible for me, making this app useless. If I click the microphone while in a text message, it works flawlessly at understanding me. It's when I hold start, or use Maluuba, or anything where the actual windows that says "Listening" (with the question mark) is where it always fails. Saying things like "Note, pay the dish bill" ALWAYS results in "hey douchebag" or "hey the dish bill", if it even gets that part right (not exaggerating, not once has it gotten this right). This is amongst four different devices, including store Lumia 920 units and 8x units. If they would just fix TellMe, this platform would be 97% perfect for me....

I've noticed this too - the longer the phrase that you feed TellMe, the more likely it is to mangle the phrase.

Agreed! They need to stop playing around and fix TellMe too be like Siri but better..

Sadly it never understands me either. :( I don't even ahve a hardcore Texan accent either. I found Maluuba frustrating to use. I tried things like "Play Cam'ron" or "Play T.I. G Season" and neither works for me. I also tried "how many miles to Dallas" and got nothing helpful at all. Just using the hold down Windows Key doesn't work for me that well either.

Is the app not available for India?

I like it so far. I plan to dig into the app this weekend to see if it can fit in to my daily grind.

Hey George. I noticed in the pic the white on the Lumia is not very white. its actually brownish. Is that from the camera taking the photo or is that the display? I just got a second 920 and compared to my first the white is not that white. there is a forum thread about this saying that the colours on some lumias are warmer than others. i think the whites are not just warmer but bordering brown as shown in the photo in this article. just wondering if you guys can investigate and if this is an issue we need to send our phones back for, or perhaps this will get fixed in an up coming update you gus wrote about yesterday with the colour temp options. thanks.

It's a color cast in the photo. One the most challenging things to photograph is a smartphone. The environment generates it's own color cast while the screen often generates a second hue. Finding a balance can be tough.

Would be nice if the weather icons designed to be something like the Weather Flow.

Ok, finally decided to give this a whirl, and I can say that it was cool setting up a reminder for today at 1 pm. Worked first try and have trained myself to speak very clearly with Tellme. Now, here is a simple problem: I wanted to send an email to Garry, but after it "thought" about it, it only provided me with those contacts named "Gary" in my db. That's a problem that doesn't make sense to me.

The app is only as good as the sum of its parts. Would like to see support for multiple languages and countries.

I uninstalled it. It didn't recognize over 80% of my voice attempts. I gave it an honest try. Oh well.

Can't download...supposedly not available for my Lumia 920..am looking forward to an app like this one...

Cute with another voice app ... IN English! There is a built in voice recognition already. Is there no business developing for other language which would make sense.

How the hell do you pronounce it? mAl-U-ba? it is useless if i can't even say its name... they should just call it a$$hole and atleast TellMe will know what app i am talking about.

I use this app every day since I downloaded it, really nice voice-controlled assistant, and for early release it's already so polished, can't wait for the updates!

And for those that had trouble with it, im not sure why but English is not my first language but I was able to set up alarm, appointment, ask for weather details, play music, and even ask about movies with this app pretty easily

Not available in Singapore

A function like this should have been built into Windows Phone 8. Microsoft should buy this app, before it is too late. Microsoft has the technology to make this app work even better.
Windows Central Newsletter
Thank you for signing up to Windows Central. You will receive a verification email shortly.
There was a problem. Please refresh the page and try again.