Maluuba for Windows Phone 8, a natural language personal assistant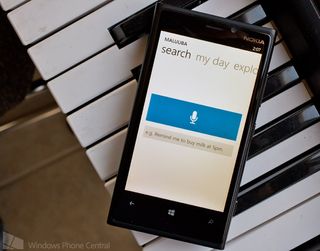 We mentioned the release of Maluuba for Windows Phone 8 the other day and had the opportunity to tinker with the voice controlled personal assistant over the past few days. Maluuba is a "Siri"-like app that lets you initiate searches, set alarms, check your schedules, and other core functions with your voice.
While Maluuba is a nice first step there is still room for improvement. If you're looking for a voice command app for your Windows Phone, Maluuba is worth trying.
Maluuba's main pages includes a Search Page where you initiate voice commands, a My Day Page that shows your schedule for the day, and a Explore Page that has a series of shortcut tiles that includes the weather, movies, navigation, and restaurants.
The tiles can pull up attractions in your area or call for input. For example, the Restaurant Tile will pull up restaurants in your area and break the results down in general, fast food and coffee shop categories. The Navigation Tile on the other hand asks for your destination and will generate directions to get there.
Each page generated by the shortcut tiles will have a microphone button in the upper right corner to let you initiate voice commands. If you don't see the business you're looking for, tap the microphone and search by voice. The My Day Page has a nice feature that offers options to search for dinner, movie, or attend a show for dates you don't have anything scheduled. It's an easy way to add a social appointment to your calendar.
At the bottom of the Explore Page you'll find Maluuba's settings tile. Settings for the app includes preferences (measurement options, search engine options, language choices), an About screen and a page to send the developer feedback. There is also a Help tile that will walk you through the various search options, creating alarms, appointments and reminders, as well as connect features such as making a call, pulling up contact information, send an email, or text someone.
As far as email and texting is concerned, I can say "Send email to Dan Rubino about vacation" and Maluuba will search for Dan in my contacts, allow me to choose the email client I want to use (if you have multiple clients on your Windows Phone), generate an email to that particular address with the subject being "vacation". From there you'll have to take care of entering the body of the email. Maluuba takes text messages a little further in that you can say, "Send John Doe a text message, Pick up Bread" and a text message will be created to John Doe that reads "Pick up bread" and all you need to do is tap send.
Voice recognition worked rather well with Maluuba. There were a few instances (mainly with the lengthier voice directions) that it had trouble picking up my Southern accent but rarely missed twice.
Maluuba worked nicely as advertised. The biggest downside to the app is that you have to be in the app to use it. You can't press/hold a hardware button (though Maluuba isn't the easiest name for our Windows Phone to recognize) or set a Live Tile to initiate the voice interface. But that downside will likely be the case for any voice directed, personal assistant styled app.
Another downside is that the app launches where you left things. In other words if you were viewing the screen to add a new appointment when you left Maluuba, that's where you would return. This can be a little frustrating when you are wanting to do a voice search and have to back out of things until you reach the main pages. I think it would be more productive to launch the app and see the main search page.
Maluuba offers a nice selection of search and command functions that goes a little further than the native voice commands do. Native speech commands are more directive in nature; "Open app", "Call Home", "Search for whatever". While Maluuba handles the directives, it also lets you be a little more inquisitive. You cannot can open a weather app, but you can ask Maluuba, "What's the weather like?" and it will pull up the forecast.
One advantage the native speech commands have over Maluuba is the ability to launch apps or games. I can press and hold the Start Button and say "Open Wordament" and Wordament will launch. With Maluuba, I get a message saying that launching applications is not yet supported. And that falls in line with what we've learned in discussing Maluuba with the developers prior to launch; that is the app is a work in progress. As is, Maluuba has established a fairly decent foundation to grow on with application launch directives and other features should be a part of future updates. We'll keep an eye out for future updates and see how things improve.
Maluuba may not be for everyone but for those looking for more voice guidance for their Windows Phone, it's worth a try. Maluuba is a free app for your Windows Phone 8 device and you can find it here in the Windows Phone Store.
Get the Windows Central Newsletter
All the latest news, reviews, and guides for Windows and Xbox diehards.
George is the Reviews Editor at Windows Central, concentrating on Windows 10 PC and Mobile apps. He's been a supporter of the platform since the days of Windows CE and uses his current Windows 10 Mobile phone daily to keep up with life and enjoy a game during down time.