MapFactor GPS Navigation, a mapping system for your Windows Phone with potential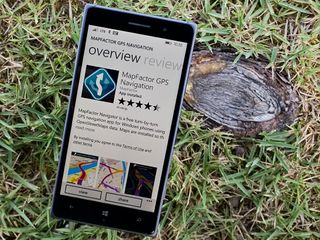 MapFactor GPS Navigation hit the Windows Phone Store late last month and delivers a feature rich option to help you find your way around town or across the country.
Some of the key features of MapFactor GPS Navigation include voice guidance, downloadable maps, free map updates, unlimited number of waypoints for your routes and a vast collection of Points of Interest.
While MapFactor GPS Navigation does a good job of things on the road, navigating around the app can be a little clunky. Still, the Windows Phone app has potential and worth trying if you are still in search for a navigation app for your phone.
The first order of business, when you launch MapFactor GPS Navigation, is to install your maps. The Windows Phone app uses OpenStreetMap data and offers maps for a boat load of countries. Coverage includes the Continents of Europe, the Americas, Asia, Australia and Africa with countries ranging from Algeria to Zimbabwe.
Once you have your maps installed, MapFactor GPS Navigation will send you to the main menu where you will find options to:
Search: You can search for a specific address, point of interest or by map coordinate.
Navigate: This launches the navigation feature based on the waypoints you have stored in your route and sends you to the map view. Should you back out of the map view, this button will be replaced with a Stop Navigation button.
Route Information: This screen will list any routing or waypoints you have created, offer the ability to add more routing points and view your itinerary. Controls are present to allow you to see the route from a map view, as well as launch the navigation feature. From the thee-dot menu, you can reverse the route, optimize the route, save the route as a favorite, pin the route and delete the route.
Favorites: Here you will find a listing of your favorite routes and places.
Tools: A Speedometer and Odometer (marked as coming soon) feature.
Map: This will launch a 2D map that will center around your current location. The map view has zoom and compass buttons at the bottom of the screen.
Map Manager: Here you can add, delete or update your installed maps.
The app lacks a "home" button to send you back to the main menu and instead relies heavily on the Windows Phone Back button to bounce you around the app. This can be a little cumbersome at times. Along with the above features, the main menu offers access to MapFactor GPS Navigation's settings. They are broken down by category and span five pages that include:
App: These settings impact how the app itself performs. The options cover display always on, turning on/off analytics, allowing your location to be used, an option to send feedback to the developer and the customary About screen.
Vehicle: Here are the options for how you are traveling. This will cover your vehicle type and route optimizations (fastest, shortest, toll roads, pathways, etc.).
Navigation: This includes over speed warnings, speed camera warnings, U-turns allowed and detailed instructions.
Map: These are display options that cover day and night themes, route colors, map scale, points of interest displayed, zoom buttons, system bar display and compass display.
Language: This settings page offers language options for the application, voice guidance, map labels and your units of measurement.
One glaring omission in the settings (at least for me) is the inability to toggle between 2D and 3D maps. Your non-navigation map view will be in 2D while your navigation map view is in 3D. You do have the compass button that will place north always to the top of the screen, but not everyone likes the 3D maps.
Creating a routing point is simple. If you do not have a routing point already established, just tap the Navigate button off the main menu to create one. Alternatively, you can tap the Route Info button to begin creating a routing point as well. You can create a routing point by address, POI or coordinates. Your search history will also be displayed to allow you easy access to a previously used address.
If you create a routing point that you no longer want in the navigation queue, tap and hold on the address displayed to pull up an options menu. Here you can add to your places, delete or move down on the itinerary list.
The downside to things is that if you tap the Stop Navigation button, the routing points remain active. The button acts more like a pause than a stop button. To stop the navigation completely and start a new, you will need to manually delete the destination points from the list. You can then create a new route. It would be nice if they were automatically removed or if you were given the option to delete them when you stop navigation. It just felt cumbersome to have to manually delete a route destination every time you wanted to go somewhere else.
So how does MapFactor GPS Navigation perform?
While MapFactor GPS Navigation has plenty of features, they won't be worth a toot if the app fails miserably on the road. The navigation map view will display your next turn at that top of the screen. Your distance to the turn, distance to your destination, time to your destination and speed will be displayed at the bottom of the screen.
I found my location displayed on the map to be spot on with my actual location. I did not notice any lag time in updating my movements on MapFactor GPS Navigation's map view. Voice guidance was good and while I'm not a fan of 3D mapping, the routes were clearly displayed.
Re-routing when I missed a turn was done promptly and only relied on "turn around when possible" guidance when no reasonable option was available. I do not have speed cameras in my area so I cannot comment on how accurate that information is but the app is suppose to give you audible warnings as you approach the camera locations.
The Windows Phone app lacks any warnings on traffic issues such as wrecks, construction or congestion.
Overall Impression
In a nutshell, MapFactor GPS Navigation is a nice Windows Phone navigation app, but still has some room for improvement before it can compete with HERE Drive+, NAVIGON, Streetpilot or any of the other established navigation apps.
The map selection is extensive and that the maps (along with the updates) are free doesn't hurt. The developer also appears to be responsive to requests for new maps. I would have liked to have seen the option to choose between 2D and 3D maps though. I also think the navigation within the app could have a better flow. Add a home button here or there and let the routing points go inactive when you stop navigation would help.
MapFactor GPS Navigation isn't a terrible navigation app for your Windows Phone. I don't think you will go wrong in using MapFactor GPS Navigation, I just think there are better options out there. Early on, the app is pulling down a 4.5 Star rating in the Windows Phone Store which may be about half a star too high in my opinion.
Navigation apps are a lot like photography and weather apps. There are a lot of solid options out there and what you prefer may differ slightly from what the next Windows Phone user prefers. One size doesn't fit all and luckily we have a nice selection of apps to choose from. If you have tried MapFactor GPS Navigation, let us know what you think of the app in the comments below.
Download MapFactor GPS Navigation for Windows Phone (Free)
Windows Central Newsletter
Get the best of Windows Central in in your inbox, every day!
George is the Reviews Editor at Windows Central, concentrating on Windows 10 PC and Mobile apps. He's been a supporter of the platform since the days of Windows CE and uses his current Windows 10 Mobile phone daily to keep up with life and enjoy a game during down time.
Pakistan supported? Edit: Don't bother. Just checked the list in the app description. No dice. Just gonna have to stick with Sygic then...

Yes, it is supported - the maps are based on OpenStreetMap.org, i..e the whole world.

So, here+ supports multiple waypoints? Is it just me, unable to figure that out?

I always like seeing map reviews that show Birmingham.

Better than Here Drive+?? Ah.. didn't seem so.


The developer must know how to do to get his app stands out

tested this few days back and found the seach isn't as good as Here. So uninstalled.

No way is this as good as here+. Don't even bother.

Error file cannot be downloaded. No internet connection or enough space.
I have both internet connection and way more of enough space...

Wouldn't install for me either. Gives me an 80073cf9 error.

Email them and got this answer
"our servers seemed to be fine, please try again, possibly from another hotspot you can also download maps using our PC version:
http://navigatorfree.mapfactor.com/
once maps are downloaded, copy them to your device, navigator/data folder. regards
Tomas #" Hmmmm WP don't give you access in app folders...
Tired of this here drive for me.

Better map provider needed. You get what you pay for.

does the software still lists Greece as part of the euro zone ?

First of all it says Europe geographically. Other than that there is the European Union and euro zone is something else. Do your homework and educate yourself before you speak.

2D navigation is supported - during navigation please click on the arrow icon on the bottom right.

How often will the maps be updated?

The updates are available every month from planet.osm

Nice. Question, I'm running Windows 10 for phones and I have this app installed. I launch it and the splash screen then nothing. Am I not waiting long enough or has this not been tested on Windows 10 for phones?

Is it better than Here+ ?

The one major issue I have is it doesn't support address/street numbers unless they have been already entered in the open street maps website. You can search for the nearest street intersection, but that is it. I contacted the publisher and they mentioned about bringing commercial maps from TomTom into the program which would then incur a cost to use. No date was given other than "future update". One thing I definitely like is it seems much easier on my battery when compared to Here Drive.

True that. Without street number in a long street, the main purpose of a GPS app is not fulfilled; granted it's the maps issue.

Thanks for the app support Dev. I appreciate your efforts.

Bearing in mind that MapFactor Navigation is free, I consider it as an excellent application! I love its large fonts on the screen, which is very important to mature drivers. This characteristic is missing from much more heavy apps like my generously paid Navigon Europe (top app, in my opinion). I wish Navigon offered its customers this advantage some day. . .

Installed a week ago, found this app very interesting, Openstreetmap base is a bit strange... Much more detailed than Here in some cases, but from time to time some home numbers is not exists on the street. Original OSM data contains non-existent houses as well... OSMand for android is still better solution with openstreetmap data at all, but MapFactor very close to it
Windows Central Newsletter
Thank you for signing up to Windows Central. You will receive a verification email shortly.
There was a problem. Please refresh the page and try again.