MapKaro is a simple Windows Phone app to capture Longitude and Latitude coordinates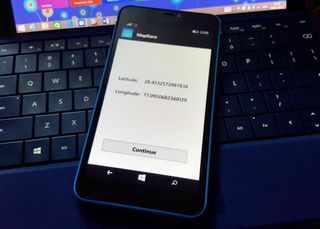 MapKaro is a pretty useful geo-mapping Windows Phone app to capture the latitude and longitude coordinates of a location. Developed by an Indian dev studio, MapKaro loosely means 'Map It'.
You need to specify a name for the location, address and mobile number, to find out the geo-coordinates of your location. You can share the coordinates via email configured on your device.
While quite useful, the user experience of the app is terrible really. The name to be specified is called 'Company Name' which is awkward since I could also want to find the coordinates for my home, or anything. It's also a mandatory field for no valid reason. Next up, the address and mobile number to specify is also mandatory, and only form the text of the mail that goes out if you wish so. I don't get the need to include it as a step in the app.
If you proceed to share the coordinates, you need to choose the email account that you want to use, and the app creates a template draft with the coordinates and other details included.
MapKaro is a free app and there are no ads. It might come handy when you want to know the exact coordinates of a location for mapping or some similar purpose. It could have been far better, but it does what it is supposed to do. Try it, and let us know how you like it.
This is going to be just like The Interview. My friends will hate me

Sounds useful for hunting, fishing, or marking where you left some treasure or something.

When is it released in India yaar

That is so coooooooooooool:D

Can anyone please suggest a good app for compass.

Check out "Metro Compass" for Windows Phone http://www.windowsphone.com/s?appid=783d6b05-ff95-4042-846c-220ec4748bb0

Compass 8.1 (http://www.windowsphone.com/s?appid=a34b7214-3223-474f-8d26-e1382b54af4e). My best compass app. Some good facts about dis app are......
1. Fully functional (work accurately)
2.Very simple n cool ui.
3.Very light app (less battery consume)
4.Transparent tile
5.Prevent automatic screen lock
6.No ads.

I'm using "Compass Deluxe'' on my NOKIA 1520. I have no problems here (Europe).

Ive got privacy issues with this app as it asks for my phone no

This is a cool app! But checkout my app Trackinator.

My approach was and will be to make a foto in the location I want the coordinates from and then use Picture Info to get this info out of the picture xD

GeoSense works similarly to this app but better in my opinion.

What is the point of this badly made app....just use GPS satellite, 10X better.

Is this app worth an article ??
Windows Central Newsletter
Thank you for signing up to Windows Central. You will receive a verification email shortly.
There was a problem. Please refresh the page and try again.