Marketplace down for NoDo phones; outage worldwide? [Update]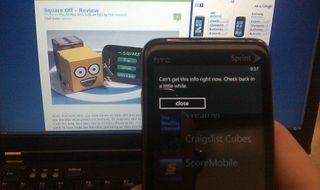 Users around the globe are reporting, and we have confirmed, that the Windows Phone Marketplace is unavailable. It's been hours now, and users from the US to the UK are unable to download apps or update apps that are already installed. Early on it was believed that all users were affected equally, but many people are reporting that it only applies to NoDo phones (version 7930 and above). The outage also appears to apply to Zune Pass.
Microsoft is aware of the issue but has yet to comment on it. With all of the prior woes associated with NoDo, this is just what Microsoft doesn't need. We will keep you posted as more information comes to light.
Hey, WPCentral users, what's happening amongst the rank and file?
Source: WinRumors Thanks Peter for the tip!
Update: It appears the Marketplace is back in action. We just got a few update notifications that were processed without problem. We aren't sure the Marketplace is up across the board but progress is being made to resolve the issue.
Windows Central Newsletter
Get the best of Windows Central in in your inbox, every day!
Anon targeting Microsoft next? I hope not.

I am located in Canada, running NoDo on the AT&T Branded Samsung Focus and the Telus HTC Surround. Both on the Rogers network.The marketplace is not down for me.

Yeah, it's been down for me for at least five hours here in the US. Sucks because I got a notification that three of my apps had an update available, one of which is SuperTube which has been crashing when I try to download videos. I'm on a Focus running NoDo officially though I've yet to get even the notification for the security update.

No updates at all on my Panther so Marketplace isn't down for me.

ATT Focus, US-Chicago, no, NoDo (read that is pre NoDo). MarketPlace has never worked better for me! heh

Lovely. Just started my NoDo update on my HTC Surround this morning...

Lovely. Just started my NoDo update on my HTC Surround this morning...

Sounding off..AT&T Samsung Focus with NoDo - Marketplace works fine.AT&T LG Quantum with NoDo - Marketplace is down.Only two phones I have access to..

I am from Czech Republic (O2 as the provider), running post NoDo (7392) update and Marketplace is just fine...

A Walshed AT&T Samsung Focus, I can search for apps but no luck downloading them.

i dont have a Walshed ATT Focus but i have the same issue can search but no download.

On an HD7 in the UK, and Marketplace isn't working....no PSN and now this!

I'm on AT&T, Samsug Focus, NODO, Marketplace is up and running for me.

AT&T... HTC Surround.. NODO, everything is fine....

US based T-Mobile HD7 user with the NODO update and I've been unable to download updates all morning.

Mozart, Italy here... Marketplace was working this morning, at 8.30am (gmt+1), but now it's down here too. :/

Well i feel a little bit better now that this is out, I thought I was the only one with this problem this morning.

I saw this very same problem just a couple of hours ago, though it was just me or maybe the app that I was trying to download.Guess not!

Unbranded, LG Optimus 7, 7390, Holland.Can browse, but cannot install any apps what so ever.as in pic:'Can't get this information at the moment. Check again in a little while'

AT&T Focus with NoDo, and the Marketplace has been down for me all morning.Disappointing, my new game was just published today and the majority of people won't be able to download it while it's on top of the "New" list.Hope MS gets it figured out soon.

US-Alabama-Samsung Focus-NoDo Update.I can access marketplace, cannot install from market place.

LG Quantum Post NoDo.Same message as in photo for several hours now.

ATT HTC Surround marketplace working just fine with Nodo update.

HTC HD7 on O2 UK, marketplace not working here too :(

Works on my Walshed phone!!!!

HTC HD7 O2 UK Marketplace not working all morning.

When I updated, I couldn't access marketplace or xbox live, but all I did is manually restart the phone and everything went back to normal.

It's not just NoDo having problems.I have an Omnia 7 build 355 (so pre-NoDo, which is 390); and MP stopped working for me this morning. This is in the Netherlands.

Huntsville, AL [FOCUS] can browse, but can't download.

Still available for me.Germany LG Optimus 7 O2 Germany

I am on NoDo on my ATT Samsung Focus, marketplace and Zune working fine. Official nodo too.Maybe it's regional? I'm in the Phoenix Area of AZ

Samsung Omnia 7 UK user here on 3UK - Marketplace has been down all day, even more interesting is that I used to have 2 updates available, now one of them (Snooker HD) seems to have been pulled...

mines down and my zune pass doesnt work :(

I have a LG Quantum on Bell and I live in Toronto, Ontario and I can't download any apps right now. I get the same message about coming back later. I hope this doesn't become like a Sony issue, where they leaves us in the dark for so long. BTW, I have the latest software (NoDo plus the update on top of that - 7392).

On t mobile in UK and the market place is still working for me fine. But i dont have th nodo yet so that could be something to do with it

HTC - Arrive, NYC...can browse but cannot download from marketplace.

Same here, HTC Arrive in Baltimore.

Dell Venue Pro, unable to connect Marketplace in Hong Kong. = =

ATT - Focus - NoDo updatedNo Marketplace for me. Went to get a couple of well-reviewed apps and the Weather Channel update, both a no-go. Or should I say Nodo-go.--------------------------Update, 10:37 am PDT: I can now get marketplace updates and new applications.

Glad to know it's not just me. I was trying to download both a new app, a full version of an app I had been running a trial of, and an update. Oh well, guess I'll have to wait til whenever whatever this is is over.

Here are the limits of all these phones, such as iPhone or WP7, totally locked down and tied to Zune/Marketplace or iTunes.As soon as the system is down, your phone just become as shitty as a stone. Plus you give all your identity info and credit card numbers to MS or Apple, and later any hacker can steal your info and money (see Sony)...Seriously WinMo was a better system, a better philosophy after all.

Eh, maybe. Android has pretty much taken the place of WinMo in today's marketplace. Same system, same philosophy.

Same here (Trophy with NoGo and the May security update, Vodafone UK).Can access Marketplace, but can't download or update anything. Definitely a pain because my Zune- **** that I pay £8.99 a month for won't work! Who'd be an early adopter, eh? :)Huh? Why did it block out "pass" from "Zune- **** ?And again?

The Marketplace is back online here. Open-EU Optimus 7 in Brazil.

Yep! Just downloaded and installed Flickr. HTC Arrive/USA.

Back online in NY on T-Mobile. Now downloading updates I couldn't a couple of hours ago.

AT&T - Focus w/NODO (updated normally, not hack). All working fine, downloading app now and also able to stream music via zune pass. No security patch available yet though.Location - USA/midwest

Yeah, I think the article should be updated now. AT&T Surround, Marketplace is fine.

back up and running in NYC

back up in Boston too, on my Arrive it worked.

Been up for me for about an hour in Houston

Back up for me in CT, HTC Arrive

There's a post here: http://windowsteamblog.com/windows_phone/b/windowsphone/archive/2011/05/...However, marketplace is back!

Works fine for me. Looks like new backgrounds, maybe some other enhancements???

It is back online, it seems a bit faster then before.Maybe some tweaks on server took longer then expected.Unbranded, LG Optimus 7, NoDo update, Holland
Windows Central Newsletter
Thank you for signing up to Windows Central. You will receive a verification email shortly.
There was a problem. Please refresh the page and try again.