Halo: The Master Chief Collection patch detailed, coming later today [Update: is now live]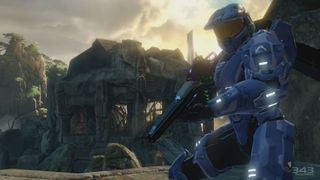 Update: As of 7 pm ET, the MCC patch is now available and comes in at 1437 MB in size. Thanks, Thomas W., and others!
343 Industries, the developers behind Halo, have published the massive changelog that's coming in today's patch update to The Master Chief Collection.
The game launched last week but has had severe matchmaking issues for the majority of players. A patch was scheduled for yesterday but was delayed until today (11/20). Today's patch should alleviate all issues that resulted in extended matchmaking times and low matchmaking success rates. Plus there's a bunch of fixes for the different campaigns and a few UI tweaks.
Here's your full changelog for today's update going out to Halo: The Master Chief Collection on Xbox One:
Matchmaking
Addressed a number of issues that resulted in extended matchmaking times and low matchmaking success rates.
Made a number of updates to how matchmaking progress is communicated to the player. With this update, you'll see better, more frequent and more informative status updates throughout the matchmaking flow – so "Players Found" for example, will be displayed to let players know where they are in the matchmaking process instead of simply wondering if it's going to connect.
The improved matchmaking flow is as follows:

Searching
Searching for more players
Players found
Finalizing matchmaking process
Connecting session

Made an update to ensure that parties stick together when returning from the post-game carnage report
Prevented the ability for players "kick" other players from matchmaking games
Made an update to ensure that the Roster correctly displays the "searching" UI rather than "My Game Session" while searching for players
Removed the possibility to boost ranking through a custom games exploit
Made an update to ensure that players cannot get stuck in the matchmaking screen during map voting
Made an update to ensure that the "Connecting to your game" message no longer incorrectly displays in the lower right of the screen during gameplay
Made an update to the "team creation" phase that allows players to be grouped by team
Made an update to prevent players from seeing the "connection failed" dialogue if disconnected during the map voting screen
Improved roster / matchmaking lobby stability
Made improvements to the accuracy and stability of the "Game Session Details" UI
Improved version compatibility
UI
Improved emblem and nameplate behavior to ensure that they do not reset to default (especially after game sessions)
Corrected career stats that did not update uniformly across different profiles in multiple titles
Improved Forge map display names in Theater
Corrected various medal inconsistencies across titles
Campaign
Made updates to the attainability of various achievements, including "Goat Roped," "Monopolized," "You're Joking," and "Devastating."
Improved Halo: CE career stat tracking
Resolved scoring and time HUD reset and display issues
Made an update to ensure that rival emblems are displayed correctly
Halo: CE
Improved consistency and reliability of shot registration
Improved headshot hitboxes
Fixed an issue where respawning players could momentarily appear at their death location
Made an update to ensure that the match ends when the entire opposing team quits
Improved fall damage consistency (specifically in regards to uneven surfaces)
Improved Halo: CE menu and loading screen stability
Improved consistency with multikill rewards
Made an update to improve post-game carnage report accuracy for Halo: CE FFA games
Updated default language settings
Halo 2
Made an update to ensure that the team color shown in pre-game lobby matches in-game
Improved a variety of networking issues to allow for improved consistency between host and clients in peer to peer matches
Improved a variety of networking issues to allow for improved gameplay consistency
Made an update to service tag functionality, allowing for service tags to appear for all players
Improved the post-game carnage report to correctly display team color
Made an update to ensure that the match ends when the entire opposing team quits
Improved "original" medal icon functionality in split-screen
Improved host migration functionality
Corrected "headshot" stat tracking
Addressed a crash that occurred with the Scarab skull
Addressed art errors that occurred on the opening cinematics for "Uprising" and "High Charity"
Halo 2: Anniversary
Made an update to prevent players from gaining achievements in Forge
Improved Forge item display names
Resolved text overlapping issues
Improved split screen stability
Made an update to resolve the notorious "-1th" scoreboard text
Improved lobby functionality to address players not being able to reconnect to the party leader after completing a match
Improved host migration functionality
Corrected vehicle and weapon thumbnails in the "Tools of destruction" table in the post-game carnage report
Addressed a dedicated server issue that caused gameplay physics issues on Stonetown
Improved split-screen party functionality to ensure that players are not directed to a broken lobby screen after completing a game session
Improved Forge mode stability
Made an update to King of the Hill scoring to prevent multiple hills from counting down at the same time
Improved Shrine objective spawn points
Improved King of the Hill and Ninjanaut mode stability
Addressed an issue where controller vibration could persist during the pause menu
Improved Race mode respawn zones
We're looking for today's patch update to Halo and really, really hope it works out. It's a great franchise, and it hasn't been fun trying to find games the past week. Plus I think we still have a multiplayer Twitch stream to do with you all once it works!
See you online!
Source: 343 Industries
Windows Central Newsletter
Get the best of Windows Central in in your inbox, every day!
What a nice little patch lol got to love 343

Idk what you talking about lol

Why I never immediately buy a new game. Save money, and fixes ready to download before you start. :3
Like when I bought a brand new unopened copy of Halo 4 limited edition for 50$.

NO, 343 sucks. They should have never shipped the game if it had all these problems.

A lot of times the problems dont come to light until thousands of people are flooding the servers

Please tell me a game that doesn't have bugs and glitches on launch?

Still ... those were quite fundamental...

How do patches work, as far as download and installation? It seems that sometimes a game or app updates automatically in the background, without asking me (I think this is what the little corner banner of an asterisk or gamepad on the top right or left corner of the game/app icons in the Games & Apps area indicate), but that sometimes I'll launch a game or app and right away it'll say "this game needs an update". What's with the inconsistency?

Good question, that happens with mine too. Not sure why it does that. I suppose some updates can install in the background, but others actually require the game/app to be running to install (this can't be done in the background). Just a thought.

It probably works like windows update, where it checks at specific times and you just catch it before it checks for updates.

The white triangle with green asterisk in the top right corner means that an update was downloaded since you last launched the game. The controller icon in the top left corner means that you have DLC for that game installed. Posted via the Windows Phone Central App for Android

That's all great cause I haven't been able to play online yet lol smh

I haven't either. Excited as well.

meh, seems they didn't fix the issue with achievements not being awarded after getting unlocked. I think I have at least 10 achievements reading "completed 100% unlocking...." and are stuck forever no matter if you re-do the event/steps to unlock it.

Not a game issue, Xbox live issue, since they are server side on Xbox one.

Wait a sec, I thought Xbox achievements could be popped offline. Since when do you have to be connected to the Internet for an achievement to pop? Has that always been the case?

This has been the case on Xbox One since the beginning. You can unlock achievements while offline but they will not pop out until you are online.

Same! I completed halo 1 campaign on legendary but no cheevs popped :(

Will there be a patch to improving quality of streaming in the halo channel. Also

Grrr. I'm on a connection that's as slow as molasses and it already took me 2 1\2 days to get it installed when I bought it this past weekend. I hope this update doesn't take as long. Already working 2 days on trying to dl\install AC Unity.

Anything but Grandé Comms. DSL. :3

If you see me online, please don't kill me.

Me either. I'll be unarmed.

Halo is love. Halo is life

Can't stay mad at halo. I just hope the negative effects of this do not cause people to skip out on this game. It's awesome. I'll play tonight or tomorrow night.

I bought it the other day and have never played before. Has a few quirks but its awesome. Even got the wife playing. Honestly have more issues with Pinball FX2 than Halo.

Honestly, I have waited to purchase the game. This is my typical behavior as I have little faith in major games running without a hitch in the first couple of weeks. Plus, it gives me time to catch up on other games. :)

Good they're fixing a lot of stuff. No love for my unlocked but still locked achievements, though. :(

Hope they will bring back halo 4 playlists !

It will come back. With all the matchmaking problems they decided to cut back on the number of playlists to help people find games a little more quickly. Once the patch is out and things are working correctly/smoothly, then they'll beef up the amount of playlists again.

Me too. Halo 4 is the only one that I am good at.

Aweomse that so much is getting patched, good work from them. My only thing is that the onl screw-ups I've encountered offline don't seem to be mentioned, like: --Several Achievements show as completed, but won't unlock. --Terminal 7 (I think it is) in Halo 2 won't unlock for me. Instead, when trying to watch it, it would load, then cancel, and it stayed locked in the Halo Channel, meaning I have to re-beat the level, while hoping it works that time. --Last night, an hour into a level, my friend and I (playing co-op online) got split into different instances of the campaign. So, he progressed while I thought he was just screwing around, until we finally figured out we were no longer together in-game. Hopefully those just weren't mentioned and WERE addressed, as they all are annoying.

Is anyone else having issues with the Bandanna Skull not appearing in the menu even though it's unlocked?

Yup. Decided to just say "screw it"

Disappointed that there is no system link, major fail for all the Lan events!

This is a joke right? They replaced system link with a thing called wifi. You can still plug all 4 xboxes into a single router like previous if you want though. There is still 16 person lan lol. In every Halo actually. Just invite all the friends to a game simple as that.

Not much use if you have a switch is it.. This WiFi thing. Who on earth organises LAN events across WiFi..? Posted via Windows Phone Central App

The update is supposed to drop sometime pacific time in the afternoon right, which should mean evening for me. That's cool. Thankfully the Xbox one updates games all on its own :) I've got a fee meetings tonight, then its finally halo time...

Does it? How come sometimes when I start a game it says "This game needs an update", then? Why didn't it update on its own for me?

How will we get invited to that mp twitch stream?

Hopefully this fixes Co-Op. I haven't even been able to get someone to join my "roster" yet.

Your Xbox one updates in standby mode. That's why the initial 15gb patch was downloaded before release date so you could instantly play at 12:01 am. I like this feature

I had a bug in ce campaign where it pushed me off the map. I was able to run around outside the map. :)

This article didn't end with a question. Whaaaa

With a decent list like this, does anyone think that the game really finished at launch? Or this was like the soft open/ public beta?... Not really a question, just thinking out loud... Happy with the fix

Yes, that's why so many people are upset. Sure there's some hiccups with a major release like this, but a huge list of fixes and a whopping file size indicates it wasn't ready. Not to mention there's still a long long list of bugs to be fixed.

Downloading now... Keeping my fingers crossed that it actually fixes things.

Loving ❤ it .great game from 343 love u Microsoft

I love auto install I'm not at home

Is there a way to confirm that an app or game on Xbox One updated?

I'm not sure I will check soon. If it doesn't update at start should be good. If you go to games folder you can see a funky icon on the corner of a games tile I think that is an update ....

Where is the Halo 4 playlist??? :-\

I'm still waiting much longer to find a match than I figure I should be....

Are you sure the patch was installed? Mine hasn't yet.

Anyone know if they fixed halo 2 campaign save?

Yea its still not working.....

Got the patch but my saved game for halo CE put me all the way back to the beginning of the chapter. Still, love the halo. This collection is a lot of fun so far.

Freezes on "Downloading Latest Data" for me.

I got stuck there too but I quit the game and relaunched it to get around that. Posted via the Windows Phone Central App for Android

How long does that process take because I eventually gave up, especially after my controller kept timing out.

Not seeing any improvement at all with the patch. Anyone else? Posted via the Windows Phone Central App for Android

I'm seeing huge improvements

Better results for me but still sometimes it will be stuck "looking" for a game.

Matchmaking is still super slow though, and the update kicked me out of halo ce and deleted my checkpoint, gotta love starting two betrayals from the beginning when you just finished it on legendary :'(

Ok, so when I'll be back home I'll try to play online. If it's not working, guys, i swear I'm gonna drop the game and the Xone trought the window. Keep in touch

Even with the update, this matchmaking is slow as balls. Takes waay too long to find a match

UK based MCC player here. Matchmaking FINALLY kicked in for me tonight, totally out of the blue. Never received any update (or rather, not prompted or notified I was receiving anything). Played 4-5 back to back games of Big Team. OH... MY... LIFE! Halo is BACK! Sloppy launch, but seriously, WOW.
Windows Central Newsletter
Thank you for signing up to Windows Central. You will receive a verification email shortly.
There was a problem. Please refresh the page and try again.