Transform your photos into colorful works of art with Matissa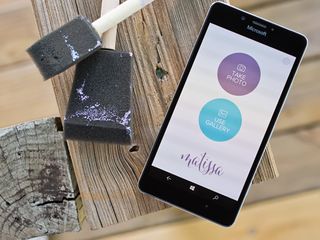 Matissa is a Windows 10 photo editor to allow you to tap into your creativity and transform your images into works of art. Available for Windows 10 PC and Mobile, Matissa is very similar to art-emulator Vinci, but seems to take a more colorful approach with its collection of filters.
This free app processes images quickly and has the ability to save images to your local image gallery or share them over social networks. While Matissa is a solid art filter Windows 10 app to add to your photography app lineup, there is some room for improvement. Luckily, none of these areas are deal breakers.
The layout for Matissa is extremely simple. The opening menu provides you with options to access the app's settings, launch the in-app camera to capture an image, and open an existing image from your Photo Gallery. Settings are minimal with options to automatically save photo taken from the camera app and automatically save all created artwork.
To call Matissa's camera app "basic" would be an understatement. It provides only three controls: a shutter button, flash on/off and a front/rear camera toggle. Images are framed at a 1:1 square ratio and the in-app camera does not support any hardware buttons. Focusing wasn't exactly smooth and the app seemed to have a fixed focus range of around six feet to infinity. Try as I may, I could not get the app to focus on closer objects.
Hopefully these are bugs that can be fixed, but for now it is best to take a photo using the Microsoft camera app or a reliable third-party app such as ProShot and then edit it with Matissa. Choosing the Use Gallery option, you select your image to edit, align it in the 1:1 crop box and choose your filter. If you snag an image to edit using Matissa's camera app, the image was cropped on capture and your next step is to select a filter.
Picking a filter is no trivial task; Matissa includes thirty-two artistic filters with the more in the works. These filters can add a dash of color to your images, add textures or drown the image in vibrant colors. For those who prefer a grayscale approach to art, there is a Pencil filter that converts your image into a sketch full of black-and-white contrast.
Once you find a filter to your liking, Matissa offers the options to save the image locally to your Photo Gallery and share the image over social media. Buttons to share your image on Instagram, Facebook and Twitter line the bottom of the editing screen. Unfortunately, these buttons do not allow you to directly share images, instead they send you to the universal sharing options within the Windows 10 system.
Filters are applied quickly, taking a brief two or three seconds. Matissa lacks the ability to regulate how much of a filter is applied to your images and to edit full un-cropped images. On the plus side of things, Matissa does not watermark saved or shared images. While I understand the need to crop images 1:1 to make them Instagram friendly, it would be nice to apply the filters to the entire image and adjust the intensity of the filter. Sometimes the brush strokes or textures are just what you are looking for, but the color saturations need dialing back a little.
How does it compare to Vinci? Both have an appealing collection of filters and I think Matissa offers a little more color in its filter set (maybe more earthier tones as well). Both process images quickly and both lack any application controls or full image editing. Vinci has a watermark, where Matissa does not. Choosing the best likely boils down to your tastes; your wallet won't have to factor in as both of apps are free. There is nothing stopping you from installing and using both of these fine apps.
Overall, Matissa is a great photo editing app to have installed on your Windows 10 device. You can never have too many artistic filters in your editing toolbox, and Matissa certainly offers some fantastic options. If you have given Matissa a try, let us know what you think about the Windows 10 app and share your artistic creations in the Windows Central Forums.
Download Matissa from the Windows Store (opens in new tab)
George is the Reviews Editor at Windows Central, concentrating on Windows 10 PC and Mobile apps. He's been a supporter of the platform since the days of Windows CE and uses his current Windows 10 Mobile phone daily to keep up with life and enjoy a game during down time.
I hate you Ron Burgundy, i hate you!

Err, what on earth does that have to do with this article? Please help me out here.

I just love that movie, sorry!

Awesome comment!! Lol. Random. And, the profile picture.

Don't like the result....the filters aren't as good as I expected.

Have you used Vinci, if so, how does it compare IYO? TIA.

Vinci far better! Even beats prisma on android. I have used both.

Thanks mate, can you elaborate why it is, IYO?

Riiight, but why/how do you come to that conclusion?

The final result is much better on Vinci. The filters just looks better.

Unfortunately, it's not in the Windows Phone 8.1 Store.

Hey George and Richard...
I'm not if it's you both I should ask but anyways.
You people need to promote more games seriously !! There are some really good games in our store but only the newer ones get promoted by WC.
This one I came across recently - King Of Thieves. Great game. :) Sorry for being off topic. :)

great game.. i am playing from last 6 months

Personally wish there was far less game coverage, but it's an area of strength for MS (esp. on the "PC" side), so I guess it should have a heavy emphasis. Though areas of weakness should also have a very close eye, anyway all of this is waaay OT for this thread, sorry. </end>

Exactly !! They should have more coverage on games instead of apps and the OS.
PC especially needs more games and app coverage because nobody seems to be using the store !!
I've got friends who haven't even opened the Windows 10 Store and they aren't aware of the stuff available. Also they don't know that the best experience is with a MSFT account. The OOBE (Out of the box) experience is poor for non-power users. They just don't know what the Store offers !!! Sad.

Here is an easy link to view our coverage on games.

Where's the link George ? :)

Ah, in his post, try looking at his post in a Desktop browser (fine in FF for me). Maybe even Edge on Mobile is fine, if you're using the WC app...


Yeah, i am using the app. But why doesn't it show links ?!! Weird. I've seen links before but it's just that you can't open them.
This is the first time, u can't see a link though even if it's there.

Dunno, lets actually talk about the article for a change, or not say anything at all. We have other avenues to discuss (or report) issues in the app...

In the WC app, tap and hold a comment to bring up the embedded URL links.

Sorry, but I am in stark disagreement here. If I could, I would love to filter out all coverage of games on this site. I find it annoying to scroll through pages of coverage on generic, heartless AAA crap games and shallow mobile titles (no offense, but I have not ever played a mobile games that didn't feel like a complete waste of time). For witty PC game coverage RPS is all I will ever need. I come here mainly for mobile news and editorials (which are mostly very well written and contemplated). I do understand though that, with the current situation of W10M that WC is trying to expand its range. Just wish it wasn't games. \OT

Yep... King of Thieves is a great game... here's our review

How long have you been on WC? Not that long ago it seemed that most stories were about games. WC goes in cycles on what is covered most often in a given week.

Me? Looong time, years... Anyway sorry, lets talk about the article folks! How does this compare to similar apps?

I feel Vinci is better though.
The filters in Matissa are somewhat simple.

Hey, I've been visiting WC for a long time but it's not always possible to keep up you know !! There can be times when you miss certain articles. :)

Vinci is faster than prisma from android and its getting new updates and improvements

Prisma is no longer slow.

Matissa is good but only if it manages to work. most of the time it crashes on my Lumia 550. Posted via the Windows Central App for Android

With these filter apps, it really needs the ability to adjust the intensity much like Prisma. I would like to see Matissa make a paid version that includes an intensity adjustment, without the 1:1 crop and perhaps an adjustable image output size. Price that at $5 and I'll buy it.

There's no short of alternatives in Windows phone. ;)

Can't find it on android ! Impressed Posted via the Windows Central App for Android

Use Vinci app it is free but great than prisma

i like it on my windows phone,we can find vinci on playstore too but I have got a new app on my android phone called Picas which can't be found on windows store it is also a nice app hope to see it on windows store too
Windows Central Newsletter
Get the best of Windows Central in in your inbox, every day!
Thank you for signing up to Windows Central. You will receive a verification email shortly.
There was a problem. Please refresh the page and try again.