Give your photos an artistic blast of color with Vinci for Windows 10 Mobile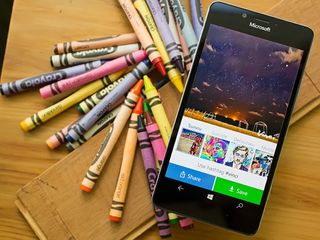 Vinci is a wonderful photography app that lets you transform your photos into artwork that would make Van Gogh jealous. The app includes twenty filters that range from an oil painting effect to a stain glass windows.
The app has already seen success on iOS and Android platforms and while we would like to see a little fine-tuning with the app's features, Vinci should see similar success on the Windows 10 platform. The free app is a quick and easy way to give your photos that wow factor.
Vinci launches to a camera viewfinder that is very basic in design. You have shutter, flash and forward/rear camera buttons positioned at the bottom half of the screen. The upper half of the screen is the camera view, already cropped to the 1:1 square format.
If you have an existing image that you want to edit, at the very bottom of the viewfinder is an option to choose an image from your Windows Mobile gallery. Once you select the image you would like to edit, Vinci provides you with the options to crop (or position) the image within the 1:1 format, rotate the image and turn on/off a 3x3 grid overlay.
Once you have everything set to your liking, tap the check button and Vinci transitions to the filter screens. The edited image sits at the top of the display with filter choices spanning the bottom of the screen. Tap a filter and in the blink of an eye, it is applied to your image. Like what you see? Then options to save and share the image appear at the bottom of the screen. Otherwise, scroll through the filters and see which one looks the best.
Filter choices include Sunnv, Suicide, Delaunav, Mystic, Kandinsky, Pin-Up, Wind, Milk, Prisma, Fire, Jesus, Oil, Poster, Annenko, Musson, 42, Modern, Girl and Malevich. Some of these filter choices can be easily describe, for example, the Jesus filter transforms your images into a stain glass window appearance, the Oil filter gives your image an oil painting appearance and the Milk filter gives your image a soft focus appearance. Others are not as easily described but do resemble art styles of Vincent Van Gogh, Kazimir Malevich, Wassily Kandinsky and other historical artists.
The filters, while not your typical effects filters, look great. While some filters match up with certain images better than others (based on lines, colors and composition), there's not a bad one in the bunch. Even with the only grayscale filter, Annenko, the lines and contrast nicely converts your photos into stunning pieces of art.
For the most part, filters were applied quickly to your photographs. However, I did experience a few delays with filter application, but not to the point of rendering the app useless or frustrating. These delays seemed to occur mostly with images that contained a lot of detail, and considering the amount of detail these filters adds to your image, these occasional delays are not unreasonable.
While a very impressive photo editor, Vinci does have some room for improvement. For starters, there needs to be an in-app purchase option to remove the Vinci watermark. The watermark subtly sits in the lower right corner of the image and while many can live with it, I would imagine many would be willing to pony up a dollar or two to remove it.
Images are saved in 1:1 format (1080 x 1080 pixels) making them Instagram-friendly and lightweight for emailing or attaching to an SMS message. While I don't have anything against the square format, it would be nice to have the option with Vinci to apply the filters to the original image without the need for cropping. I can see images filtered through Vinci being fantastic background wallpapers, Start Screens or Lockscreen images, all of which could demand a higher resolution.
Lastly, while filters are applied at a nice balance, users need the ability to partially apply a filter. An image may look better with the Sunnv filter applied at only 75% instead of 100%. However, the more I use Vinci, the need for this feature becomes less and less important because the app does such a good job of applying the filters.
Overall, I was extremely impressed with Vinci. It applied the filters super fast and the results were equally impressive. The free app is available for Windows 10 Mobile, as well as Windows Phone 8.1, and is a great option to have in your Windows photography toolbox for those times you want your pictures to take on a more artsy appearance.
Download Vinci from the Windows Store (opens in new tab)
Windows Central Newsletter
Get the best of Windows Central in in your inbox, every day!
George is the Reviews Editor at Windows Central, concentrating on Windows 10 PC and Mobile apps. He's been a supporter of the platform since the days of Windows CE and uses his current Windows 10 Mobile phone daily to keep up with life and enjoy a game during down time.
It's really a good app. We don't required Prisma.

After launch of Vinci..prisma is a joke for WP

It is just ok and made to silence all who demanded prisma. It do not work offline. I guess why a image editor need us to be online? Data? Info? Privacy? Why ?

It's because Vinci doesn't just 'apply a filter', but rather puts photos through a neural network algorithm to give the complex 'artwork' result. That process happens server-side (i.e. not on your phone), so your image is sent to the Vinci servers, and then the finished product is downloaded.

I knew, but why? There are other ways to do it. Just check out in the store what they are allowed to access?

Speed. Prisma is slow as hell to use even on iPhone 6s/6s Plus or Galaxy S7.

No longer slow on my phone. Prisma algorithms are now running locally. Video support is coming.

Because it uses server side processing, just like Prisma. It doesn't happen in your phone, so it needs to upload your image. The amount of processing power to rework the image is intense and as more users are on, the longer it takes to process your image.

We still need Prisma. I can't say which is better but we are not in a position to make such comments with the lack of mainstream app in our store

Vinci is way better than prisma...bcz its much more faster... around x10 faster...

Thats great but my point is we need every app we can get

Now you are too much demanding...we should be always happy with what we have...

Never did i say I'm not happy. All i said we shouldn't make comments that say we don't need a certain app when in fact we don't have nearly enough app to get halfway to what other app stores have

Never did i say I'm not happy. All i said we shouldn't make comments that say we don't need a certain app when in fact we don't have nearly enough app to get halfway to what other app stores have

We don't need Prisma. It's a photo editing app. There are lots of photo editing apps, we don't need to match each one by name. Vinci is an improvement of Prisma. In fact, I've swayed some iDroid folks to Vinci and away from Prisma.

We need Pokemon Came and Went!

You should know Vinci is only faster becuase there are not as many people using it as Prisma.

Anyone have problem with WC windows 10 app. Crashing always after update of windows 10.14905.1000. If you have any problem please comment me.. Now using old app..admin also no comments..please fix...update..

RS2 still in early days. Gonna get let's of this behaviour. Also, as RS2 isn't a release OS, devs won't worry too much about your experience until the OS becomes stable. It works great on TH2 and RS1.

Yes, it keeps crashing.I rolled back to 14393.67. It much better.

nice Vinci but still need improve, now compare with Prisma, Prisma still the best

Why downvotes? Is it a crime to aspire more after owning a windows phone? Well, it seems so. ;)

Micro$hills down vote any and all criticism of Windows Mobile.
Watch me collect a few.

Nah, because you're one of those people who don't make thoughtful comments and really don't have any business being here. Just looking at your comment history would make anyone automatically downvote anything you post. Such a negative little man.

Oh, you must be the resident historian here. Acting all big and calling the shots. Little boy.
:D

Actually, the downvotes may seem appropriate here as chiming in and saying something is not as good as something else is fine, but it usually is better if you back up the argument with some points. There are no arguments here being made just "Prisma still the best" with nothing to backup that assertion. If making a statement, it's a weak one and people notice that. Hence the downvotes.

Exactly, windows central, MSPU, winbeta are some beautiful platforms to send out right message in right tone to all the stakeholders but when people are downvoting just for asking something or even raising a genuine issue that purpose of such platform is not served and it ends up in a loss loss situation for everyone.

Can we get the feature to see who upvotes and downvotes in the next or following Comments upgrade? I see a lot of downvoting abuse.

Are you going to shame them?

How and why do you think Prisma is still the best? It's certainly not speed. Do they have a filter that you like better? I'm curious why you think it's better.

Trying this now. How long has it really been ok the store cause it's got quite a few reviews already

Anyone else got the munchies for a fig roll?

I'm loving this app, used it for a little while, one thing I've noticed though, is that it seems to use data for the filters, not a massive deal, but depending on how much data you have, could be an issue

Does it use data even with Wi-Fi on? I swear it seems like some apps do this

Pretty neat app, and free to boot. If it wasn't free I'd hate the watermarking

Couldn't use it. After some time says can't process the image and asks to try later with no effect. Lumia950. Need some fix

Btw, the Jesus filter is called mosaic, and it's not a stain glass window.

I am kinda enjoying the watermark. I like it.

No Marcel Duchamp filter which turns your picture into an image of a urinal or a blank canvas with a stream of piss on it?

News must be slow.... This was 'reviewed' / promoted here last week

False. I announced it when it came out, gave some quick thoughts, and detailed its history. This was a more formal review after extensive use instead of my 15 minutes. Has nothing to do with "news being slow". You should do my job for a day or a week. You'd quickly notice how much of what we cover is still missed by many people. Days later we get tips about Fast Ring updates, or now I see a tip that Microsoft is retiring its Facebook app. The point being not everyone experiences the world like you and assuming so will cause you to make many mistakes.

Really good app..almost as good as Paper Artist (only able to Samsung devices) but pretty, pretty good.

just installed it and I am amazed by how simple this app works and how fast the images are processed

Couldn't agree more about removing the watermark and allowing us to edit photos beyond a 1:1 ratio. I use Instasize to add black pillars to the side so I can apply a filter to the whole image (And it actually adds a pretty cool effect on certain filters like "Jesus"), but this a little unescessary, and more options are always good.

Yes, Vinci is the best for nice photo effects.

And the Suicide edit is a killer one.

1:1 ratio is no longer required by Instagram and hasn't been for quite some time. Squares are no more "Instagram friendly" than 4x6. I hope the developer expands beyond the square and allows processing of other sizes/ratios. I'd also love a paid option to remove watermark. Even considering the above, I think this is a great app and I've used it several times already.

Nothing really wrong with the watermark, perhaps a paid option to add our own signature!!

I like this app, my favorite since I uninstalled picsart due to storage issues

I like this app. It's amusing to use.

https://en.wikipedia.org/wiki/Windows_10_Mobile

Is there any way we can remove thw watermark on the pics ?
Windows Central Newsletter
Thank you for signing up to Windows Central. You will receive a verification email shortly.
There was a problem. Please refresh the page and try again.