Maxthon web browser for Windows Phone receives massive update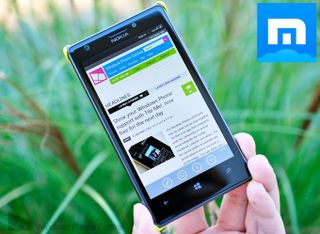 Maxthon (www.maxthon.com) is a popular web browser available for multiple platforms, including Windows Phone. The alternative to Internet Explorer has accumulated hundreds of positive reviews since it was released back in October and the development team are back with a massive upgrade for users before 2014 arrives.
So what's new in version 1.0.1.1000? You better grab a chair, get comfy and start on that cup of tea. Here's a quick look at new features included in this latest release:
Speed links - Allows you to enjoy the most popular and useful websites right at your fingertips.
Tab recovery - Easily restore your last visited page with just one click of a button.
Customizable UI colour - Allows you to pick a UI colour just right for you.
Progress bar - Let's you see how fast your pages load.
Quick Access - With this new feature, it now takes seconds to add your favourite website to Quick Access.
Smooth Scrolling - Scroll through your pages with ease.
Optimized memory usage - Allows you to use multiple tabs at ones without the slightest fear of crashing.
The speed links are a pretty neat new feature, enabling you to gain easy access to both popular and useful (or relevant) websites and resources. Tab recovery is perfect for those who wish to restore the most recent visited page, while smooth scrolling and further optimisations on memory usage makes the app a breeze to use on your Windows Phone.
The official change logs state that new options have been added to enable you to customise the colour of the UI. Unfortunately, we're still unable to hunt down this hidden setting (we'll reach out to Maxthon to see what's up here). If you're looking for a web browsing experience with more on offer than the standard Internet Explorer, we strongly urge you to check out Maxthon and give the service a go.
You can download Maxthon from the Windows Phone Store for free.
Windows Central Newsletter
Get the best of Windows Central in in your inbox, every day!
Rich Edmonds was formerly a Senior Editor of PC hardware at Windows Central, covering everything related to PC components and NAS. He's been involved in technology for more than a decade and knows a thing or two about the magic inside a PC chassis. You can follow him on Twitter at @RichEdmonds.
Awesome.....but which is better uc browser or this???

Go try both of them. Sometimes personal opinion is better. I personally only use IE after trying both of them because found myself not using web so much. Everything I need is right in the apps I have.

yeah right... personal opinion is better... i am using IE than these browsers... but its good that we have some nice featured broswers in WP...

I actually use UC Browser: IE crashes every two seconds on my Lumia920 GDR3, I don't know why.
If I open it, load a page and press the home button, as soon as I hold the back button and return to IE through the multitasking view, it freezes and then crashes...

IE DOES the same thing on my 920. It wasn't always like that. An update seriously jacked it up.

Webpages look very similar to internet explorer which is good.. I don't like the uc browser's marginless rendering. It loads pages slower than the other two but that maybe cos of the cookies or something.. Cant beat uc browser in setting options and customizations.. Choosing one from multiple open tabs looks laborious maybe i m used to IE's solution. i d rather go for xpress browser that this at this point.. At least it offers "data saving". Hope they come up with some great features.. Meanwhile ucbrowser is piling on new useful features with every update.

er.. By "marginless rendering", may I ask if you are browsing with Speed Mode ON when using UC Browser? Actually UC Browser provide data saving with Speed Mode. So I am a bit confused :)

Oh yeah.. Speed mode was on.. If its off it looks much better and like IE. Thanx for pointing this out.

Maxthon has a very cool UI and is very fast- ever so slightly faster than UC Browser, in my experience. However, it doesn't seem to be able to store/remember my logins and passwords. For me, that's a dealbreaker.

I will always say UC Browser:D, but you can try it out. We welcome competition because by comparing, we can find out what's WP user's real interest. This will help UC Browser evolve, and will give WP a better ecosystem.

Is better than UC Browser?

Uc has only one advantage tht ucan dowload things frm eeb..whereas IE and maxtjin nlth lacks..

Wonder if your keyboard so small or that your fingers are too big? Haha joking :P

Lolz...i didn't noticed the words..

Imo i think uc is boss, + they support us alot... Unlike some developers (yes yahoo I'm looking at you)

Have to admit, not even better than UC

It would be easier if you guys join the BETA Testing in Maxthon's forums, I am part of a small few that volunteered. Maybe some of you can give better ideas on what to implement Maxthon with. Also, there is one website that favored Maxthon over UC, but UC is far superior in every other way, since Maxthon is still in the beginning stages.

Hmm..dude..plz tell them to make a downloader..

You wouldn't want to contribute and tell them yourself? Okay, I will ask on your behalf. :)

I'm in the beta too. I would use it over UC, but there needs to be a downloader. I suggested it, but got no reply, which is a shame because I use Maxthon cloud browser on my PC and I love it.

Where did you suggest it? I just recently suggested at the Maxthon Windows Phone Resources section of the forums, right after the guy asked me to. If you did it on the reviews section of the RATE, then they might not have replied but kept the suggestion in mind.

ack.. Can you tell me which site was it? We will see how UC Browser can improve. Also would you like to join UC Browser's Beta Project too? :D

Honestly, I can't seem to remember the site, but it did work correctly at that point and time in Maxthon, but I first tried it on UC with no avail. The problem must've been fixed. Also, your userbase is huge unlike Maxthon's, so you guys might have a handful amount of Beta Testers.

To be honest, we suck in Beta testing. We know that and we want to improve. Come on, if it dosn't hurt whe you are using 2 browser for daily life, 2 Beta browser won't hurt either. Sign up at http://eepurl.com/H-Rer :D

Still not possible to set it to show only desktop sites. I complained about that last article to, but nothing has happened. That makes it useless for me :|

Actually, I did request that they bring a desktop feature, and they said that they are working on it. So, they know.

Tried it, but way too laggy

Weird, it works fine and smooth to me, it could be your hardware limiting its potential.

I´m sure it´s not about hardware, my device is lumia 920 where ie works almost smooth as butter whereas maxthon lags when scrolling

That's where you throw me off. I use the Lumia 810, which is almost the same hardware as yours, I think it is the same but less storage size. No problems that you are facing, sorry to hear on your end, though.

Other people seems to have lag problem too so its weird that yours is working fine

No phone is perfectly the same, even for the same hardware. Odd as it is, I don't experience this "lag," so I am one of the few lucky ones, but if it is a problem, it should be addressed with Maxthon.

To bad it laggs like s*** when you scroll. That's the one thing that makes me not use it.

It used to lag .. After the update its working fine in my l620

We want Opera mini for WP!

Tried it. Didn't resize web pages correctly or word wrap articles.
Plus, there was too much Chinese writing for me.
DELETED.

We want opera mini and chrome browser

Chrome? I suppose you want Safari after that?

Waiting for firefox and opera mini to jump in...

I don't see FF coming but Opera not being here is troubling.

I use UC for downloading videos and mp3. IE does not download, it directly streams them. I think microsoft can fix this to hold IE share.

Just take a look at the Android version on Google play and you'll notice that this is but a pale copy. Admittedly it's still early days for the wp version but the have a long way to go. When I was on Android I was a big Maxthon fan but this version lacks so much, for example gestures, text reflow when zooming and addons.

I have a question about Maxthon and UC. Are they IE wrappers or stand alone browsers like Opera Mobile/Mini?
Windows Central Newsletter
Thank you for signing up to Windows Central. You will receive a verification email shortly.
There was a problem. Please refresh the page and try again.