McAfee Antivirus Plus vs Total Protection: Which should you buy?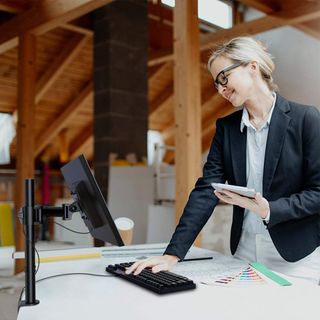 Best overall protection

On top of excellent malware protection. McAfee Total Protection includes a personal firewall, vulnerability scanner, password manager, parental controls, and cryptocurrency protections.
For
Excellent protection scores
Personal firewall
Advanced security tools
Parental controls
Cryptocurrency protections
Against
Expensive
Learning to navigate can be tricky
Best for basic protection

This is a basic antivirus program that doesn't have advanced security tools, but it scored 100 percent in malware detection and blocking in my own and third-party lab tests.
For
Stops malware downloads
Minimal use of resources
Safe browsing
Against
No advanced security tools
Bit of a learning curve
AntiVirus Plus and Total Protection earned perfect scores for stopping malicious files before they could download and infect my test computers. It also surprised me by doing so very quickly and without causing any slowdowns, which has been McAfee's biggest fault in the past. Both programs safe browsing features tag search results as safe or dangerous and block malicious websites and stop trackers and cookies.
Total Protection is the better overall option because of the extra protection it offers through its firewall, vulnerability scanner, parental controls and other advanced security tools. In fact, we named McAfee Total Protection as the best antivirus for Windows 10.
Comparing McAfee programs
Swipe to scroll horizontally
| Header Cell - Column 0 | Total Protection | AntiVirus Plus |
| --- | --- | --- |
| Price | $110 | $60 |
| User licenses | 10 | 10 |
| Protection score | 100% | 100% |
| Safe browsing | Y | Y |
| Firewall | Y | N |
| Vulnerability scanner | Y | N |
| Password manager | Y | N |
| Parental controls | Y | N |
| Identity theft monitoring | Y | N |
| Cryptocurrency protection | Y | N |
Here's what both McAfee AntiVirus Plus and Total Protection have in common
In my tests, both of McAfee's programs stopped every malicious file I attempted to download before the download was complete. Its warning messages appeared as it stopped each threat and gave me details of exactly what was stopped. Clicking through to see more details gave me the URL and IP addresses of where the threat is often found, where on my computer it was attempting to download, and how many users have been infected by the malware.
McAfee gave similar details when it stopped me from access webpages known to harbor malicious links and phishing schemes. The details McAfee gave for these included the type of malware harbored on the site. Part of my testing included searching for dangerous sites using search engines. McAfee's safe browsing feature tagged those sites known to have malicious links or that were phishing schemes. Both McAfee AntiVirus Plus and Total Protection safe browsing include anti-tracking that stops cookies and other online trackers from gathering information about your browser history.
Over the last four years of testing antivirus programs, McAfee has been known to create significant lag while installed. I saw this firsthand during my first few years of testing. However, McAfee has worked hard to overcome that flaw and over the last year I've seen significant changes in the amount of computer resources it uses. During this recent last round of testing I was very impressed with how quickly McAfee stopped malware without causing lag on any of my computers, including a few dinosaurs.
I performed timed tests to see how much slowdown installing McAfee created and redid each test 12 times. The only way I knew there was fraction of a second delay was because I was purposely looking for it. While McAfee performed deep virus and vulnerability scans, I continued to search the web, post on social media, upload and share files, watch videos, and play online games without any interruption or drag.
Here's why McAfee Total Protection comes out on top
What makes Total Protection stand out from McAfee AntiVirus Plus is the number of extra security tools. Total Protection has a personal firewall that monitors your internet connection and a vulnerability scanner that looks for weak spots in your system where hackers and ransomware can sneak in. Both these tools I feel are necessities in fully protecting your computer. Total Protection also has a password manager to help create and keep complicated passwords secured so they can't be swiped while logging into online accounts.
Total Protection includes parental controls that let you both block inappropriate content from being viewed by your children and control when and how long they can be online. Because McAfee works on Windows, Mac, Android and iOS devices, and comes with 10 user licenses, you can protect your family, including using parental controls, on cellphones and tablets as well as computers.
One of the unique features of McAfee Total Protection is its cryptocurrency monitoring. This tool watches your accounts and stops illegal cryptomining activities. Since cryptocurrencies, like Bitcoin, have become so popular, having an extra pair of eyes watching your account is always helpful.
Total Protection is also one of the few antivirus programs that comes with identity theft protections. McAfee watches the black web and notifies you if your personal information is found there. It also monitors your credit reports for anything fishy. If you need to dispute anything on your credit report, McAfee will help you gather the right forms and write the letters you need to send to credit bureaus.
The biggest drawback of McAfee Total Protection is the price. Even though it comes with 10 licenses, the $110 price tag is a little steep. If you are a first-time user you can get a decent discount, but the following year, the renew price with jump pretty high.
The other con, for both programs, is it does take a bit to figure out how to navigate the McAfee dashboard. Most general tools you need are easy to locate but setting up firewalls or the cryptocurrency monitoring requires a little digging. From the AntiVirus Plus dashboard, you will see some features and tools that can't be used until you've upgraded to Total Protection. This doesn't help with the learning curve and can become frustrating when trying to remember what you can and can't access.
A quick recap
I recommend McAfee AntiVirus Plus if you're on a budget. It stops malware before it completely downloads and tags dangerous site. It blocks phishing schemes and stops internet trackers and cookies from following and capturing your browser history. It's the best solution if you're counting pennies and don't mind not having more protection tools.
For the ultimate computer protection, McAfee Total Protection is it and my top pick for Windows 10 antivirus. On top of blocking malware and giving you safe browsing tools, this program has a firewall and vulnerability scanner. It also has parental controls, a password manager and unique cryptocurrency monitor. These tools watch every aspect of your system and online movements to ensure your computer doesn't become infected, hackers don't break in, your identity is kept safe and children are blocked from inappropriate content.
Our pick
Complete security suite

McAfee Total Protection is the best antivirus solution for Windows 10. It stops malware quickly before it can infect your computer plus includes important security tools, like a personal firewall, vulnerability scanner and password manager. Identity theft protection and parental controls are added perks of using this program.
Basic security
Protection on a budget

McAfee AntiVirus Plus is the best for basic computer protection because it does an excellent job of stopping malware before it has a chance to infect your computer. It doesn't cause slowdown while installed and running. It blocks trackers and cookies from spying on you while online.
Get the Windows Central Newsletter
All the latest news, reviews, and guides for Windows and Xbox diehards.
Nikki is a commissioned editor for Future Plc covering internet security including antivirus and VPN. With over 18 years of research and writing experience, and 11 years of testing and reviewing internet security solutions, Nikki knows how to dive deep to get the information consumers need to make better buying decisions. She is also a mom to 10 children, and personally uses many of the products she reviews to ensure the safety of her own family.