India's largest cab service, Meru Cabs, updates their app to add Uber-like credit card billing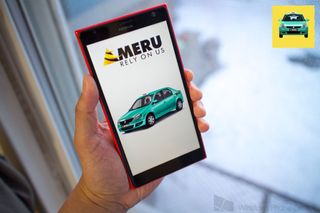 Meru Cabs, the largest radio cab service in India, launched their official app for Windows Phone in February earlier this year.
The company operates around 7,000 cabs in several key cities of India: Mumbai, Delhi, Hyderabad, Bengaluru, Jaipur, and Ahmedabad and serves more than 1.8 million passengers. The latest update bumps the app version to 2.0.0.0, and brings in a few new features.
Of course, the latest update allows booking cabs in Chennai, the latest city that the company services now. Also, you can now use promotional eCoupon codes while booking a ride. I tried one of the codes from their Happy Hours promotion, and it worked fine for me.
Following the cashless concept of Uber, the latest update adds a new InstaPay feature that allows you to pay the trip fare directly through this app. All you need to do is to save your card details once and pay at the end of every journey. Unlike Uber though, you can't just pay using credit cards but also debit cards and net banking.
Download the free Meru Cabs app for Windows phone 8 devices from the Windows Phone Store. Meru Cabs is a popular service, and it's a fine app with a seamless user experience. Have you used the Meru Cabs app, or do you prefer other cab services? Try it on your next ride to work or from the airport, and let us know how you like it.
At least some cab companies realize that you can't beat Uber by protesting. Just adapt to technology.

They complain uber steals their customers and is too cheap, while most uber drivers are REALLY nice and helpful. Plus, before uber, I would never take a cab for short distances. Because of uber, I can. RIP Cabs. You won't be missed.

Uber has been able to undercut taxi services in most of the countries by skirting the usual taxi laws/license and expensive Government red-tape in the name of "ride-sharing", they won't have much impact in countries where the competition is more even like India with not much restrictive Taxi laws and local taxi cab companies provide modern websites and apps.

Great effort by Indian Service Providers to make WP so popular closing the app gap !

Long overdue on WP app,have been using anroid version for long time.

Then I am happy it's there, closing the app gap :|, you should promote WP because of this one

Isn't Uber better than a stupid cab? :-/

Its not just that. This is supporting local businesses as well.

Uber is trying to go out of India because they are asked to implement a stricter authentication system for credit cards by Reserve Bank of India.

False info, Uber is not going anywhere, Uber has decided to implement two-factor authentication system for credit cards which is mandatory for all cards in India. Uber is also in talks with local e-wallet services like Paytm and Payu for e-wallet integration.

Uber is available in India since Mid-2013 but they have not been able to make any impact here unlike other countries as there is not much red-tape related to taxi industry in India and hence Uber has not been able to undercut any major taxi service by skirting taxi laws, infact all the other major taxi companies have good websites/apps, more number of cars and cheaper fares too. Myself and most of the other people i know use Meru here not Uber.

Mr.Abhi is back after a while...:)

"Of course, the latest update allows booking cabs in Chennai" - False info. Booking a Meru cab via the app is available in Chennai for over 6 months and is not new in this update.

It seems that google just release three new phones in India at a low price,they have android kit at,a 5mp camera and dual sim,at about $100, Wake up Microsoft,wake up !!!

Microsoft is getting a 2500 I i.e. 40 dollars phone in india.
Windows Central Newsletter
Thank you for signing up to Windows Central. You will receive a verification email shortly.
There was a problem. Please refresh the page and try again.