Metro Canada launches official app for Windows Phone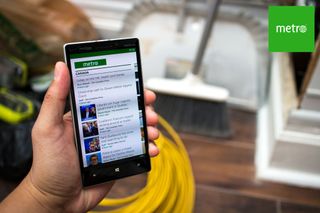 Are you a Windows Phone user in Canada? Metro, the country's most read daily national newspaper, has recently released an official app. Metro Canada publishes coast to coast in Victoria, Calgary, Edmonton, Saskatoon, Regina, Winnipeg, Windsor, London, Kitchener, Hamilton, Toronto, Ottawa and Halifax. Now, you can read those stories with the app on Windows Phone.
When you open Metro Canada, a list of the top stories are displayed with thumbnails. The publish time is also shown underneath the titles. Click a headline to go directly into an article. If you scroll all the way down the list, you may notice an ad.
You can change the font style and size from within article view. These options are available after clicking the three dots on the lower right corner. If you were looking to change the background into a darker color, it's not possible with this initial version. We also can't find an option to share articles from the app.
Swiping from the main panel displays important stories categorized for Canada or the rest of the world. Another swipe displays additional sections. You can read the latest Canadian news with a local flavor for topics such as sports, entertainment, food, health, drive, and columnists. It's also possible to read news that is specific to certain cities like Calgary, Edmonton, Toronto, Vancouver, Winnipeg, and more.
Metro started in 1995 in Sweden and is the largest sharer of free news and the largest international newspaper in the world. More than 67 Metro editions are published in 22 countries and 200+ major cities across Europe, North & South America and Asia. Metro debuted in Canada in 2000. Metro Canada has an audience of 1.8 million readers daily of the printed newspaper and 1.7 million monthly unique visitors to the website.
Metro Canada is a free download from the Windows Phone Store. Check it out and let us know what you think in the comments!
Windows Central Newsletter
Get the best of Windows Central in your inbox, every day!
Is bing news the new standard UI for news app around the world!!Many seems to follow the similar interface.

I'm not Canadian but if I were, I'd download this. Looks great.

Not a big fan of their product; but glad they're supporting the platform.

Awesome. Hopefully this lights an atomic bomb under the other lazy newpapers' asses.

I am in Vancouver.... Good to see a Canadian company showing some love to WP... We really need the sports teams, banks, Cineplex, etc to come on board
Even MS needs to treat Canada a bit better...

Rbc has an app but sure about the other banks. But nhl tsn sportsnet and the actual teams need to get an app out. But given what happened this season im done with Canuck news till sept!

yeah, fire gillis, you guys went from having two top notch goalies to having none

In all honesty if markstrome pans out like how he was expected to, we got another franchise goalie but Gillis srsly needs to get more in these trades. But my issue is lack of being able to watch any tsn content on our phones. Will 8.1let us finally watch tsn vids?

i agree, need an app as well so i can watch my leafs pull the same shoit over and over again every season

NHL app wouldn't matter anyways. I am a registered GameCenter customer, and they will usually only allow Bell clients to stream on a cell phone.

Might be different now that rogers controls the broadcasting rights in Canada next year. They already have all regional and now national. Bell will not stream,anything next year

Jets, leafs and sens still have regional deals through tsn.

Wait!! Why weren't they sued for using the name Metro!! Pffft...

I downloaded it just show support for more Canadian specific apps. And sometimes they have interesting news.