MetroMail gains Windows Phone 8.1 support for Gmail and IMAP users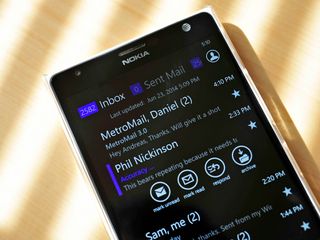 If you have to use Gmail for work, there are very few, if any, reliable email clients for Windows Phone beyond MetroMail. But besides Gmail, the MetroMail app also enables Outlook and IMAP with PUSH IDLE support for instant notifications. In other words, it's quite powerful and useful for those needing an app with "100% feature-parity with the official Gmail iOS app (minus server-side drafts)", or for those who need a potent IMAP client.
Today, version 3.0 is hot off the presses. MetroMail 3.0 is so new you may not be able to find it in the Store yet. Luckily, we have the full scoop and Windows Phone 8.1 users will want to pay particular attention.
Before we get to the changelog, we should mention that the app is now free (with ads) for usage on one email account. That's pretty awesome if you want to give this a shot for awhile without forking over any money. Now on to the update…
MetroMail 3.0
New: Full action center support
New: Email previews are now downloaded in the background for new notifications
New: Action center entries now launch their respective email
New: Attach any file, from either local storage or OneDrive, using the file picker
New: Share items to MetroMail through all the respective OS menus
New: Free version allows unlimited ad-supported access for 1 email account
New: iCloud Mail support
New: Ability to re-download attachments
New: Assign Sent and Deleted items actions and specific folders [IMAP]
New: Specify different credentials for the IMAP and SMTP servers [IMAP]
New: Modify the server settings of existing accounts [IMAP]
Update: Emails no longer require an extra tap for interacting (e.g. zooming or tapping on links) [Gmail]
Fix: When specified, the username is properly used over the email address during authentication [IMAP]
If you have seen MetroMail in awhile, with a dark theme applied, the app looks very native for Windows Phone, which I'm sure many of you will appreciate. No worries though, you still have a light theme in settings if you preferred that look from before.
The Windows Phone 8.1 features are quite significant. Indeed, MetroMail may be the first app to download email previews via notifications. It's quite a nifty feature and makes this app much more powerful than before. The app itself is a lot more fluid, especially on a Snapdragon 800 device like the Lumia 1520 or Icon.
There're so many little features in MetroMail that are just eye candy e.g. touching the upper left corner in a message lets you see an overview of your email thread for easy navigation, or tapping the profile icon in the top right to switch accounts. Considering how powerful (and convoluted) Gmail can be, MetroMail does an excellent job of bringing over all of the main features of the service while maintaining a Modern look.
Although the Windows 8.1 Modern App version of MetroMail hasn't been updated yet, we're told that it too should be getting some update love in the near future, so stay tuned for that.
Download MetroMail 3.0 here in the Store. Windows Phone 8 and 8.1 only. Free for first account with ads; $1.99 to unlock full app and remove ads
You can also pick up MetroMail for Windows 8.1 here in the Store (opens in new tab)!
Windows Central Newsletter
Get the best of Windows Central in your inbox, every day!
Daniel Rubino is the Editor-in-chief of Windows Central, head reviewer, podcast co-host, and analyst. He has been covering Microsoft since 2007 when this site was called WMExperts (and later Windows Phone Central). His interests include Windows, laptops, next-gen computing, and for some reason, watches. Before all this tech stuff, he worked on a Ph.D. in linguistics, watched people sleep (for medical purposes!), and ran the projectors at movie theaters because it was fun.
Does anyone know if it is on the Microsoft roadmap to allow apps to tie into the contact options in the People Hub? For instance, when I click on a user and then select "email" I would like the option to send the email via MetroMail. Also, if I swipe on over to "history" I would like to see my emails from them in MetroMail.

I have heard that it is. It's currently a private API that's is to become public in the near future, just like the animated lock screen API.

Thank god for that. Fed up already with the way 8.1 cast out all the apps. If anything we need complete integration.

Eg. Night mode in apps optionally tied in with quiet hours, useful stuff like that

I bought this app a while back, and liked it so much it's the one I use for all 3 off my email accounts. I have a Gmail account and have had it since the beginning so although I setup an outlook account, I still have to use Gmail every now and then.

When is that other new cool mail client coming, that you guys wrote about last week?

http://maestroapp.com/ Beta coming in July!

That looks nice. I signed up Posted via Windows Phone Central App for Android!

Really digging this update. I can finally use my Office365 account! Works great with the background downloading of mails as well. Wish it were a bit faster but then again, thats probably because of my older phone (NL928). Hope they update the W8.1 version as well somewhere this summer, or make it cross-platform if thats possible.

Hope they update the W8.1 version as well somewhere this summer, or make it cross-platform if thats possible.

Definitely on the todo list... both of those!

Yes, for a single subfolder (for now)

Waiting for Google hangouts and other Google apps. I thought they released API a while ago

I do. Posted via Windows Phone Central App

Not every WP user hates Google.

Alot of people uses Google, both Gmail & Google+.

That's a point! I dont't really gets what has some people against google? I own adroid tablet, owned 3 android phones before ATIV S. Love android, but it was for years the same. WP is also great, but iam missing gapps a lot. And google movies, music and also deafult serching choise in WP (really MS, was it nessery? Everybody knows that google kicks the bing's ass)

No, they just released a C#code wrapper for their existing APIs. They added no new functionality, they just made it easier for C# devs to use what's already there.

Need google maps because Nokia and MSFT don't know how to make maps for Japan and south Korea...

I need a mail app that can use categories in outlook.com. Dies this do it?

Where do the files get downloaded from emails. I checked the Files app after downloading a docx file. I dont see it anywhere

You have to save the file after downloading it. It's not immediately saved. Once the docx file is open, press on the three dots and select "save as". Hope that helped. :)

MetroMail is the best email experience for windows phone, by far. Been using it for almost a year and it´s one of those "must have" "use it every single day" apps. Besides, the dev is quick to respond any questions and he just keeps updating and adding new features. Excellent job, seriously. Well worth buying.

Is this compatible with Hotmail? I'm assuming it is, but does it work better than the built in mail app?

Hotmail is now Outlook.com, so yes.

Woah, a substantial update indeed. I might give this a try

I tried this but tbh I'm pretty happy with the default email experience in Windows Phone. It does the job just fine for my needs and I don't think there's too much wrong with it.

How do u disable the default email app notifications? I hate getting two notifications for the same mail. One from metromail and one from the default app

if you're on WP8.1 just go to the settings>notification+actions and disable the Mail app notifications. by the way, am I the only one missing the swipe to next/previous message?

So what is the issue with the built in app and Gmail?

To be honest I really have had no issues with Gmail on the built in app (I have to use Gmail for work). Though I hear some people have major issues.

I think this app had a true file picker. So u can directly reply a message with an attachment of any file type from any folder on your device not only pictures.

Why use MetroMail as a Gmail user?
+ Instant notifications via IMAP IDLE
+ First-class support for archiving, starred emails, and labels
+ Support for inbox tabs (e.g. Primary, Social, Promotions)
+ Server-side search functionality with support for advanced Gmail search operators
+ Support for multiple From addresses within the same account And then there's the list of things that MetroMail extends beyond the native client, such as file picker support, tile syncing across devices/OS, etc.

Thanks, I am not a heavy Gmail user so that answers a lot.

This made me download the app. If you aren't the developer of MetroMail, you need to get paid for the sales!

For better for worse, I am indeed the dev :)

To be fair, push and server-side search (albeit without the Gmail search operators) are already supported in WP (push as-of 8.1). The other functionality is great though. Also you missed one: HTML signatures (great for companies).

Great app but does it support rich text formatting while composing email? The built in mail client is barebones. No RTF, no forward mail editing.... Will be trying it soon though.

If you had asked me this 2 weeks ago, I would had said that it is very unlikely for rich text formatting to arrive anytime soon. However, this may have changed recently. Let me look into this.

I've used this app but never really fallen in love with it yet. Also I use S/MIME; the built in mail client doesn't support that yet (it was announced but the setting is nowhere to be found) but once it does that will be a decision-maker for me.

Wow I just tried this with my work email (google apps) and the app was extremely buggy. First email I opened crashed the app. Gmail logged out another time. Interface is too crazy. It's just not for me. The only thing missing in the native app is subfolder notifications.

Still don't understand why Microsoft's not added the filter picker to their native email app. That's the only feature that'd make me get this app.

I get the feeling there's an update on the way. They haven't added the promised S/MIME either.

Work uses Gmail, built in app has been working fine for me. YMMV

Yes definitely. IMAP for receiving, SMTP for sending.You can even use different credentials for each server, something that the stock app I believe doesn't do.

Will this allow you to have linked inboxes?

Unfortunately no, not yet. Each account is kept separately.

Can't wait for the MetroMail update to Windows 8.1 so I can use it on my laptop. The current version is ok but could look better.

I agree, and waiting for the Windows 8.1 update

I seriously don't understand why we need this when we have mail services integrated in the OS.. Can someone answer me pls??

Copy/pasting from earlier: Why use MetroMail as a Gmail user?
+ Instant notifications via IMAP IDLE
+ First-class support for archiving, starred emails, and labels
+ Support for inbox tabs (e.g. Primary, Social, Promotions)
+ Server-side search functionality with support for advanced Gmail search operators
+ Support for multiple From addresses within the same account And then there's the list of things that MetroMail extends beyond the native client, such as file picker support, tile syncing across devices/OS, etc. There's more stuff listed in the app's store description, which I will update shortly. Of course don't get me wrong. I fully understand that the stock mail client is sufficent for many. Not for everyone though.

Because the Gmail support in the stock client is seriously lacking. If I want to label an email but keep it in my inbox, I need MetroMail for that. The stock client works well for basic email usage and is a little faster than MetroMail. However, with this new release the speed has improved and the new 8.1 features make this app all the more worthwhile. Totally worth the very small cost to get it. Seeing as how you also get the Windows 8.1 app (Universal app) it's an even better value.

FYI, although its listed as a universal app, the W8 version is old and doesnt seem to know that. It doesnt know you bought it already.

Thanks for the heads-up. I actually installed the W8 version when the developer first released it and had an in-app unlock available for those who had already bought the WP8 version. Hopefully the store will update though as I know the whole "buy once use everywhere" thing has been problmatic so far for people.

Someone please explain to me what is allegedly lacking. I only have a stupid Gmail account because I have single instance that requires it, but I have zero issues sending or receiving email from my Gmail account via my Windows Phone using the built in capability. So, what is the big deal? And I don't see the value of any of the so-called features some of you have listed (like "tabs" or "from addresses").

When I first tried Metromail it was gmail only. Been desperate for a proper imap client for months. I don't like the native email client and I have 9 email addresses. Realising that Metromail now supports other html emails like outlook and yahoo is great and the imap client is perfect. Happily paid to upgrade the app a,d now it is my email client of choice. Very pleased. Oh and iCloud support was the winner for me. Just need aol as an option instead of having to feed in the imap settings. But just a niggle not a deal breaker

Does it support POP? I have a Gmail I use for mostly junk and an old one that gets almost no mail. But I have 2 hotmail accounts I use and 3 Comcast accounts. (The Comcast are POP/SMTP) I'd love one app for all of them. I tried metromail once before when outlook was added but I ended up having my 2 linked email boxes from my phone's mail and then 3 boxes more from metromail. That was too much for me. The point is, if I can get my Comcast mail through it too, then it could replace my mail app on my phone.

Just FYI, Hotmail/Outlook.com accounts are only checked every 15 minutes. You can't set them for Push notifications.

Swipe to previous/next email is now missing. :( If the developer is reading this, can you re-enable this feature? It was one of my favorite features. Perhaps swiping on the top of the email (the header are where the the from and to email addresses are listed) is enough if the body is not possible.

On it; sorry! And yes, the reason for the removal was the fact that swiping on the body is not possible anymore. I'll try to have an update out by tomorrow.

News about a possible start for rolling out of Windows Phone 8.1 http://www.neowin.net/news/windows-phone-81-might-start-rolling-out-today

If you pin the MetroMail app to your start screen, it is transparent. If you pin one of the accounts you are checking with it, it is not transparent. Anyone know if this is intended or if there is a way to make the tile for the account itself transparent? Thanks!

When you pin a secondary account to your start screen, make sure to select "phone's accent color" in the following screen, for getting the transparency effect.

Awesome update so far. The new 8.1 features are working great and I am glad to see this app keep getting better.

Downloaded and works fine some of the time but way too buggy for me to be my everyday email client.

As an avid Gmail user, I need to know one little thing. Since IMAP causes my client-side deleted email to be in All Mail and NOT the Trash, will this fix that?
You know, receive an email, delete it on the phone... oh look, it's under the All Mail tab on the site, and not Trash! >_>

Anyone get an error when sending mail though metromail ? I've been living with this error for weeks, I've contacted the author of this fablous app, he contacts me, never to solve the problem, more a game of cat and mouse.

I don't get any notifications for this..neither on the live tile nor in the action centre.. I checked all the settings..this also runs in the background ..is there anything which I'm missing..anyone experiencing the same issue?

this is by far the best app for Gmail but sadly very buggy. It keeps losing the from address making it impossible to send or reply to emails, and I have to constantly reinstall. This only happens on one account so maybe this bug only happens if you have multiple accounts. there are other very annoying bugs too. I have lost count how many times I havw emailed and tweeted the developer, he never replies despite the fact that I have the paid version. sadly the only other worth while choice is windows built in mail app, all the other apps on the store just use the gmail mobile interface, so are pointless, you may as well just use the browser which gives a better interface.

sadly this app has now stopped working altogether. it wont even login to google anymore. still no replies from developer.