MetroMail gaining ability to upload photos, night mode for toast notifications, and more in latest update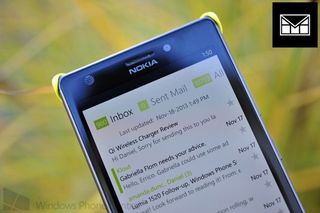 Want a premier Gmail experience on Windows Phone? Don't use the native email client. Instead, look to the Windows Phone Store for an app called MetroMail. It's beautiful, native app for Gmail users on Windows Phone. Forget for a moment that this is a Google product. There are still a ton of users on Windows Phone who rely on or might need to access Gmail. For them, there's MetroMail. The app is about to update to go to version 1.2, so let's check out what's new in it.
MetroMail v1.2 (now available)
New: Added support for uploading photos
New: Added ability to share photos via the built-in photo viewer
New: Added support for forwarding attachments from existing emails
New: Added night mode option for toast notifications
New: Added support for local drafts
New: Added support for wide tile (main tile; sender and subject info only)
New: Added talk-to-text functionality for composing emails
New: Added "Delete forever" functionality
New: Added "Mark as spam" functionality
New: Added "Recent search results" option
New: Added option to always bcc self
Bug: Toast notifications no longer randomly turn off
Bug: When opening a new thread the last unread email is properly displayed, instead of the last thread email
Bug: Checkboxes are now handled properly when retrieving additional pages
Bug: Archiving/deleting all emails now properly triggers a refresh
Update: Added additional display density options
Holy update, Batman! MetroMail version 1.2 is a fairly big one with a handful of new features for Gmail users. We're looking forward to using the night mode for toast notifications. That's an option that every single app should have to help you sleep better at night, we're glad to see MetroMail add it. Support for uploading photos is also very welcomed and will definitely help with our email workflow.
Want to grab MetroMail for Windows Phone 8? The version 1.2 detailed above will be out soon in the Windows Phone Store. You can also use the QR code below or swipe to the right in our app. MetroMail goes for $1.49 for new customers, a small increase from the previous 99 cents (server expenses were higher than anticipated).
Windows Central Newsletter
Get the best of Windows Central in in your inbox, every day!
No longer care for GMAIL. Ditched them awhile ago. :D

I only use my Gmail address for things i need an email to sign up for but know they'll send me a load of crap, but will give it a try , thanks!!

It a option for the ones who needs... :-()

Meh on Gmail, they will find a way to block it anyways and that's a dollar you won't recoup

Only using gmail for SPAM :)

Really like this app. My job uses gmail for our emails and the native client was not very user friendly when it comes to gmail. This one, however, works great. My only qualm with it is that I wish it could refresh the livetile and lockscreen email count more often instead of every 30 mins but I know thats a WP thing, not something the app developer is in control of. I also didnt like how when you forward an email that has an attachment, the attachment is not forwarded with the rest of the text but that is handled in this update. Recommend this app to anybody that has to use Gmail. Really well done.

Thanks for the support :) You can update the live tile and lock screen counters instantly though! Have you looked into settings -> account? Try turning on the live tile, and assign the app as one of your lock screen icon apps. What IS delayed by up to 30 minutes (but can also happen much faster than that) is the syncing of unread messages that you've read on other devices. If you need help, feel free to contact me from within the app (settings -> about).

I need to understand the awesomeness of Gmail claimed by many? Granted I use outlook mail and everything performs flawlessly and with ease. Everything is connected and with one click, I have access to all: calendar, contacts, skydive, from skydive to the awesome web office. I'm I missing something or google mail is just that awesome?

I use gmail since it's early beta and it always had superb spam protection. It has very good web interface with great search and tagging system. Generally it is a smooth and problems free experience. A lot of the features you now see in outlook.com or other providers were first introduced in Gmail (including but not limited to enormous storage space). As much as you might dislike google for all of it's dickish moves, Gmail is a very good service.

It was definitely the most feature-rich at one point, but I can't give up the attractiveness of Outlook.com.

Thank for that. I do have Gmail account and the first thing I looked for was how my contacts was connected to my phone. I found that outlook mail and WP was flawless and again with ease, including calendar and skydive. I guess we all choose what works for us.

I like both, though my main email is in outlook. However, I will forever have one major gripe with Outlook: when you're selecting multiple emails, if by mistake you click into one of the emails, when you go back, all your selections disappear and you have to start from scratch. Gmail, however, doesnt do that. It keeps all your selections in place. Minor thing but I do it often enough that i find it really REALLY annoying.

Gmail is in no way perfect, but some of us either prefer it because they've been using it since forever, because their job requires them too, or simply because they like it more. Microsoft, as it is often the case, it's too late introducing features to its products, that others had for a while. And Outlook definitely does some things better than Gmail, but then there are the little annoyances such as not being able to have more than one forwarding rules, that makes you wonder what is Microsoft thinking. Anyway, MetroMail is definitely not for everyone. If you are happy with Outlook, then that's great. But it is in my (biased!) opinion a great option for those who rely on Gmail.

For those of us who must use android devices for work, Gmail is a convenient way to consolidate email/contacts. Some androids don't do a great job with outlook.com (Motorola), others do great (HTC).

Does it solve the problem I have with the native email client where when I send an email message it appears twice?

The app behaves exactly like Gmail's web interface. So no, you won't experience such issue.

Only thing that concerns me is... I am not sure when Google will pull the plug... as they did for MetroTalk! (or any Google Talk aps)


I obviously can't predict the future, but I will say that in my opinion, shutting down all third-party Gmail clients is a much trickier decision for Google, than it was for Google Voice. Remember that MetroTalk has been affected by the same decision that applies to all third-party utilities across all platforms; it was not specifically targeted.

Why should we worry about future. Just download this awesome app

As a user of both platforms all of these are welcome additions! I am one of the freaks that prefer gmail. But to each their own. +928 soon to be +929 hopefully

I use Gmail to sign up for stuff that will spam me. Its my junk mail inbox.

Wow, awesome update! Glad to finally see the attach ability included.

I currently use both Office365 and Google Apps for Business. This is a very nice app for accessing Gmail on WP8. I would say a must have app for Gmail users on WP8. Thanks for the app and the updates.

I'm interested in the app but not interested in gmail. So dev, can you hook this client up for Outlook?

Ugh can't stand Gmail or google and their policies but I unfortunately have one acct I use so I will give this app a try.

This app is awesome, every gmail user should get it

Why does WPC push so many apps on us that have no TRIAL option. Seems if you were more concerned about your readers, you'd NEVER publish a review for such a product. Consider ye this, your review of these products enable developers to develop such a product. When the day comes when scammers take advantage of such a situation, rags like yours will be the cause. Please do an integrity check and quit reviewing such products.

I doubt WPC would recommend a garbage app. In fact, they have warned us about scammer apps in the past that do not have trial options and do not perform as advertised. I'd say, because WPC cares about their readers, they're publishing reviews and making us aware of apps we may not have been able to try for ourselves so we can make an informed decision.

The no trial on MetroMail was imposed strictly because we wanted to limit the number of new users, and work out all early bugs. A 30-day trial version is coming hopefully next week.

This is a terrific app and a very nice developer to boot, very responsive to suggestions and bug fixes. I use it primarily for work since our company uses google services. The instant/push notifications and live tile updates are much appreciated with the native only refreshing every 15 minutes for Gmail at best. Another ability that is lacking in the native support for Gmail is the ability to send from aliases. This app solves that problem for me. Without this app, I might have to use the browser or carry an extra android phone. This app is well worth the price of a cup of coffee!

And what the heck is a "quality Gmail experience"? I refuse to believe there IS such a thing. Exactly what is it you Gmail fans get out of that service that's so unique, regardless of the platform? I've got an account, purely because I have little choice but to use YouTube to distribute video, and I see NOTHING about Gmail that's impressive in the least. So, what IS it?

If you are happy with Outlook then more power to you. If you are asking why some prefer to use Gmail, I can tell you why I am, personally. Here's a few things without spending any time thinking about it: 1. Being able to assign multiple labels to each message (vs just storing it in a specific folder) allows for much finer granularity in organizing, which comes useful if you are dealing with dozens (or more?) emails per day 2. The inbox categories are actually pretty useful at filtering all the non-important stuff out 3. Gmail allows for far more flexible rules compared to Outlook (not to mention that Outlook has weird limitations such as up to 1 forwarding rule) And then there is stuff that Gmail had since forever, such as 2-factor authentication, that Outlook only added recently. Neither Gmail or Outlook are perfect, but there are many reasons why somebody could choose one or the other.

The best thing I like about Gmail is the ability to preview and print any image, pdf or doc file without opening it in separate tab.
I was looking for an app like metro mail ever since I purchased WP and purchased it without giving second thought. I hope to see one day, Google drive integration.

I still have an active gmail account so I bought this app. Nice features but one major flaw is that you can't empty the trash. Hmmm pretty major thing to miss out.

I believe the official Gmail iOS app does not allow that either. If I'm wrong please let me know, and I will look into it.

With every news item that involves GMail, people feel the urge to write why they do or don't use it. It's getting annoying.

Screw Google and screw Gmail.

I would definitely buy this app, sounds really nice, but I got a few questions left... Firstly,is it possible when writing a new mail to choose from different senders (like it is on the website)? And then, when I delete mail/mark as read/etc. on the phone, does it update that on the web interface instantly?

Yes to both questions. In fact for the second one, internet connectivity is required in order to perform the action, precisely because of the instant syncing (i.e. when you are offline you can only view emails and compose drafts, nothing more).

I bought this app but here are two problems I have with it: 1) Can't resize a message to zoom in on too-small text 2) Some messages don't fully load that DO fully load in the default Windows Phone email app.

How do I get rid of the ads in the 8.0 version?
Windows Central Newsletter
Thank you for signing up to Windows Central. You will receive a verification email shortly.
There was a problem. Please refresh the page and try again.