MetroMail gaining ability to upload photos, night mode for toast notifications, and more in latest update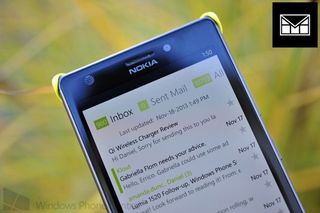 Want a premier Gmail experience on Windows Phone? Don't use the native email client. Instead, look to the Windows Phone Store for an app called MetroMail. It's beautiful, native app for Gmail users on Windows Phone. Forget for a moment that this is a Google product. There are still a ton of users on Windows Phone who rely on or might need to access Gmail. For them, there's MetroMail. The app is about to update to go to version 1.2, so let's check out what's new in it.
MetroMail v1.2 (now available)
New: Added support for uploading photos
New: Added ability to share photos via the built-in photo viewer
New: Added support for forwarding attachments from existing emails
New: Added night mode option for toast notifications
New: Added support for local drafts
New: Added support for wide tile (main tile; sender and subject info only)
New: Added talk-to-text functionality for composing emails
New: Added "Delete forever" functionality
New: Added "Mark as spam" functionality
New: Added "Recent search results" option
New: Added option to always bcc self
Bug: Toast notifications no longer randomly turn off
Bug: When opening a new thread the last unread email is properly displayed, instead of the last thread email
Bug: Checkboxes are now handled properly when retrieving additional pages
Bug: Archiving/deleting all emails now properly triggers a refresh
Update: Added additional display density options
Holy update, Batman! MetroMail version 1.2 is a fairly big one with a handful of new features for Gmail users. We're looking forward to using the night mode for toast notifications. That's an option that every single app should have to help you sleep better at night, we're glad to see MetroMail add it. Support for uploading photos is also very welcomed and will definitely help with our email workflow.
Want to grab MetroMail for Windows Phone 8? The version 1.2 detailed above will be out soon in the Windows Phone Store. You can also use the QR code below or swipe to the right in our app. MetroMail goes for $1.49 for new customers, a small increase from the previous 99 cents (server expenses were higher than anticipated).
Get the Windows Central Newsletter
All the latest news, reviews, and guides for Windows and Xbox diehards.