MetroTalk gets multiple-account support for Google Voice users and more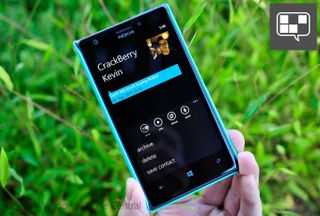 Before Google snatched them up, there was a cool little company called Grand Central. Grand Central's idea, way back in 2007, was to have one phone number to call all of your phones, regardless if they were landlines or cellular. In fact, you could configure it so specific users could be routed to specific phones e.g. the wife would ring all phones, while your boss would ring none (or vice versa). Plus, you never have to give out your real phone numbers—just the Google Voice one.
That's why we're big fans of MetroTalk. As you may have noticed, we have quite a few Windows Phones laying around on various carriers. MetroTalk is the solution for the Windows Phone user that Google won't give. It allows you to make calls from your Google Voice number in addition to getting free SMS messaging (since it uses data to transmit). It's a nifty app that has seen continued development since early 2012.
This week, version 3.4 went live and was followed by two quick patch updates. We'll tell you what's new.
MetroTalk changelog
Version 3.4.2 (coming soon)
UI fix for the T9 dialer on 480p devices
The "+" character is now available on the T9 dialer by long-pressing the "0″ button
Various fixes and updates
Version 3.4.1 (current version)
New: It is now possible to undelete a message from trash by tapping it
Bug fix: Contact pictures are now saved properly
Version 3.4
New: Complete overhaul of the Call/Text page with support for T9 dialing
New: Multiple accounts support with full support for push notifications
New: Added ability to automatically configure push notifications on Gmail accounts
New: It is now possible to (manually) configure push notifications on non-Gmail accounts (e.g. Outlook)
New: Added a new setup wizard for automatically configuring the application
New: Added "international filtering" calling method
Update: Security improvements
Bug fix: Fixed UI issue where lists would occasionally fail to display all their items
That's quite a lot of changes. Indeed, we're not even hardcore enough to have multiple Google Voice accounts (they are free, after all), but we can see where people have multiple Gmail accounts would need to use this.
The new setup feature is welcomed as Google Voice, like all things Google, tends to lack discoverability and therefore can be troublesome to configure.
Version 3.4.2 will bring a few bug fixes is pending approval in the Store right now, so it should go live in the next 24 hours or so.
In speaking with the developer, Andreas, we're also told to expect a few more exciting things in the future. But for now, you'll just have to wait.
If you use Google Voice (voice.google.com) or have thought about it, pick up MetroTalk in the Store. Between the lockscreen notification support, push notifications, Live Tile and the Modern UI, we like this app a lot. There is a free version (ad supported) and a pay version ($1.99). Highly recommended.
Daniel Rubino is the Executive Editor of Windows Central, head reviewer, podcast co-host, and analyst. He has been covering Microsoft here since 2007, back when this site was called WMExperts (and later Windows Phone Central). His interests include Windows, Microsoft Surface, laptops, next-gen computing, and arguing with people on the internet.
First person who confuses Google Voice with Google Talk or says "Skype is better" gets a snarky comment from me ;) (Hint: Skype and Google Voice are very different beasts!)

First! Skype is better :p

I loved (love?) Google Voice - and I loved using MetroTalk - but I stopped using my google voice because: It was fiddly to set it up all the time & MMS wouldn't work I have a feeling Google will be shutting it down or changing it drastically in short time Glad to see we have a quality app that keeps getting better though. I'd say it's better than the iOS & Android ones by this point.
*preemptively pours one out for google voice*


Yup. It is true Google has wasted the service with no updates (or MMS support). It's so lame of Google to just let this die and I agree, they may just discontinue it (or fold it into Google Plus, lord knows that all they do now). Still, until they do that, I need it for work ;) I really do wish Microsoft has a competing service.

I know Skype isn't free, but is paying for Skype number out of the question?

The thing is, I don't think Skype allows you to micro-manage numbers like Google Voice. You can flag a person's number to only call one cell phone on Tuesday from 6PM to 1AM, stuff like that. You can also have a DND time and more. It's a crazy service, where Skype I don't think can do all of that (plus, yeah, not free).

I mostly agree with you Dan. As much as I hate Google now (ever since their hostile attitude towards Windows Phone and pushing Google+ down everyone's throat that wants to use a Google service), I have been using Google Voice as my main business line for 3 years now and needed it to work on Windows Phone before I switched from my iPhone 4. MetroTalk was one of the determining factor before I bought my Windows Phone. Where I disagree is that - Free really is not much of a factor for me anymore at this stage in my life, I already pay for Skype just in hope that they will one day offer equivalent features as Google Voice. If Skype/Microsoft offered same features of Google Voice, I would jump in a heartbeat and even pay for that service without any hesitation.

only reason I have the Google Voice account is for the free visual voice mail feature. If MS would bring a freature like that to BING or the like, I would dump my Google account once and for all......

Discontinue? Seems rather foolhardy to say, when it recently received an update on Android this week!

I have to agree with #2 there. I use Google Voice and like it. I really like Metrotalk, but I'm starting to worry that Google Voice will go the same way as Google Reader.

I never really got this to work on.
Each time I'm calling my other Google Voice number, it wont go through, yet I get a missed call on that GV number in my email.

Tried each update. un-installed each time That's why I'm still looking forward to a native SIP feature support on WP ala Symbian/Meego implementation where my GV credentials works without issues...

Looks like this is WP8 only. It still shows version 2.6.1 in the store for WP7.x

You are right, this is WP8 only. Sorry about that but to be perfectly honest, I don't expect any updates for the WP7 version in the near future. A bug fix update for the WP7 version is overdue though, and that should be coming in the next few weeks.

Thanks for bringing us this wonderful app on the Windows Phone platform and I just love using your app on a daily basis. I think where this app can still improve is notifications. I frequently noticed a latency in the notifications being pushed to my phone and have now setup two gmail filters on my account - one that forwards the email to your domain and another to hotmail that is setup as push on my phone. I usually get the notification of text/VM in hotmail a few minutes before MetroTalk. Not a dealbreaker but just something I wanted to make sure you were aware of.

Still, An excellent update in version 3.4 and thanks for filling this big void in Windows Phone so admirably!

My experience is the push notifications are very fast. I have the Google Voice extension on my Chrome browser, and I often get my notifications on my phone before I receive a notification on the extension. I also tested by texting my Google Voice number from another texting service, and often, the text comes through within a few seconds. MetroTalk is one of the best apps on WP8.

If the delay is indeed in the order of "a few minutes", then that's something I should look into. But please note that MetroTalk does not simply forward the notification to your device. Instead, it contacts your account first, finds out the current number of unread conversations in your inbox, and then forwards that number to the device. This creates a much more consistent UI experience, at the expense of some time (which is hopefully not more than 30secs).

Mr Hot Rubino,
Why is skype not competing with whatsapp? I cant send mms through skype on my 925 and stuff and I would love it if skype would really take on whatsapp. I wonder how the skype team feels about this.

I've been using this app for quite a while, & gotta say it rocks. Been very happy with the functionality. And the developer, Andreas, is very responsive to support questions/problems as well as "constructive criticism":-). I agree, Daniel, highly recommended

Anyone know of a way to change the text message tone? Thanks

You can change the tone of SMS messages you receive on your phone from settings -> ringtones + sounds. If you are referring though to text messages received through MetroTalk, then unfortunately the answer is that you can't. Messages are delivered to your phone as push notifications, and Windows Phone does not allow customization of that sound yet.

I'm excited of the hopeful future news. Glad my tip didn't fall thru cause this will be great for me. Metro Talk is awesome. The latest update I logged on and it auto configured my rules to get my notifications. HUGE thumbs up for me.

Can we access google voice from india??!

"In speaking with the developer, Andreas, we're also told to expect a few more exciting things in the future. But for now, you'll just have to wait."

Do I smell VoIP coming ........ ?

Any 3rd party app for hangouts?

Thanks everyone for your support! I cannot reply to every single comment in this post, but every single one is very appreciated! :)

MetroTalk is consuming the plan minutes. Is there any setting not to consume minutes?

Windows Central Newsletter
Get the best of Windows Central in in your inbox, every day!
Thank you for signing up to Windows Central. You will receive a verification email shortly.
There was a problem. Please refresh the page and try again.