Microsoft: 90% of first gen phones sold were the Samsung Focus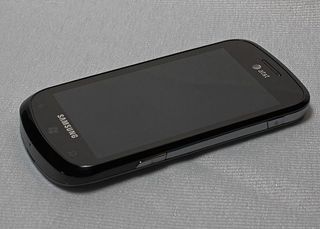 On an interesting podcast over at Platform Biased, Daniel Smith (opens in new tab) who's a CX-XBLA Producer at Microsoft, reveals some interesting numbers about those first generation handsets. Out of the three that came out (putting the Dell Venue Pro to the side), the Samsung Focus (see our review) reportedly accounted for about 90% of the sales while the LG Quantum (review) had about 8% and the HTC Surround (review) only garnered a meager 2%.
Smith doesn't mention AT&T directly nor does AnythingbutiPhone (where we grabbed this story from) but obviously that can't be the whole tale. T-Mobile launched the HTC HD7, Sprint followed months later with the HTC Arrive and Verizon even later with the HTC Trophy. T-Mobile and AT&T also both had the Dell Venue Pro, though that was an unofficial as it was never available in stores. Likewise, AT&T eventually picked up the HD7s (review) late in the game.
So there weren't three Windows Phones but rather nine for the first generation and the three mentioned were AT&T specific.
Reported percentage of AT&T 1st Gen Windows Phone sales
Still, it was quite obvious that the Samsung Focus, which is getting a sequel this weekend, was always the big seller on the platform early on and for good reason. It also explains why we'll probably never see an HTC follow-up to the Surround and why LG became gun shy on Windows Phone.
Source: Platform Biased; via AnythingbutiPhone
Windows Central Newsletter
Get the best of Windows Central in your inbox, every day!
Daniel Rubino is the Editor-in-chief of Windows Central, head reviewer, podcast co-host, and analyst. He has been covering Microsoft since 2007 when this site was called WMExperts (and later Windows Phone Central). His interests include Windows, laptops, next-gen computing, and for some reason, watches. Before all this tech stuff, he worked on a Ph.D. in linguistics, watched people sleep (for medical purposes!), and ran the projectors at movie theaters because it was fun.
The focus sold well because it was the best model on ATT at the time of launch and had expandable storage and a good screen. I'm pretty sure the lumia 900 have outsold the focus follow up the focus s by now.

I agree, I've had both no complaints with either.

Yeah, my girlfriend has the focus s and it's pretty nice

I actually prefer by Focus S to my mom's Lumia 900 - it's significantly lighter and thinner. Certainly doesn't get looks like the 900, though...

I bought Focus S back in November. If I were buying a phone right now, I would probably choose the Lumia 900 because of it's better design. That said, I do love how thin the Focus S is. Sometimes I forget it's in my pocket.

What about the Optimus 7? That was the only model available in Mexico.
:O

It was the same as a quantum. Under a pen name though lol

Nope. It doesn't have a keyboard and looks different.

LG optimus 7 is the candy bar style version. Not avalible in us. LG optimus 7Q = lg quantum but under a pen name :)

No surprise here.... a more competitive offer from LG and HTC could have mean a much better marketshare for windows phone...Nokia already proved that with good hardware design Windows Phone can do better. Keep the good work nokia, and I hope WP can get more than a 10% next year.

90 &#$&@%@ 'n PERCENT ?!?!?

I think people looked at the three models (at&t) and ignored the LG quantum because of the keyboard, and the surround because of its slide out keyboard. Although I have the lumia 900, I would have to say the HTC Surround is not a bad phone (in fact, its MY bestseller) and people should have really took a look at it. Although he Samsung focus wad the phone to have with all the great features.

Surround slide out speaker? ...Which I've heard from reviews wasn't really that great...

Yes, the speaker wasn't that great. Mostly just a gimmick, but the rest of the device was still rather decent.

The Surround served me well. I write this from my lumia 900 in which I am in the process of setting up to replace my surround. The device ran well, the speaker was better than most you will find on a phone but not good enough by any means to justify it to slide out. This is what most people did not like. Pointless and gimmicky. But still enjoyed every minute with it as it introduced me to wp7 :)

That chart is all wrong..
Some phones are missing !!

Too bad. I've never had anything but good things to say about my Surround. It's been a solid phone, though a little outdated now. Even though I can't wait for WP8, I'll be sad about saying goodbye to my excellent phone speakers.

Same here, it's a solid phone

Microsoft: 90% of first gen phones sold in the US on AT&T were the Samsung Focus

fixed.

I loved my Surround. I even got my Sister and Dad to buy them. I guess we were the only ones. :-(

Nope, I love my Surround and my mom loves hers too

In Italy LG Optimus 7 was 1st gen most ordered model, it went under 150€ and sold a lot (I bought 10 for my friends/ family, but I have an 800 now ;)

HTC's and LG's 1st-Gen Windows Phone offers were lackluster and pointless: The Surround fits both descriptions.

Shows how much you know, at least my HD7 doesn't have 2 different hardware revisions which results in one receiving updates way later

I have had no trouble with my hd7. Mine stills runs flawless. Is it perfect? No, but I have received every update without a hitch and the phone still runs like it was fresh out of the box.

I have a Hd7 too and it works flawlessly. Will definitely miss this phone when Windows8 phones comes out.

So...so. At least my phone's name has a dictionary definition. Yours is just two consonants and a number. And the square root of 2 is 1.414
:-D

The Quantum is hardly lackluster or pointless. I love this little brick. The slide out keyboard is what sold me on it. That, and I never liked the Focus screen. Everyone said it was amazing, but I thought it was crap.

Focus screen crap? Im sorry there is no room for even a subjective evaluation of the differences between quantum and focus screen quality. Focus hands down.

crap? focus screen is the best. the other wp phones i seen colors are dull and dim. expecially htc. even focus flash and focus s not good as focus. they are a little dimmer.

I have had my Samsung focus sence Dec 10, still love it!!

My wife has my old Focus.. Still a great phone. Buts its no lumia 900! :D

Before getting the Nokia Lumia 900, I was still holding on to this phone. Its a great build.

This can't be right, I've seen way more HD7 in the wild than a Samsung focus

As noted in the article, the Focus made up 90% of the sales of the first three AT&T WPs; the Focus, Quantum, and Surround. The HD7 wasn't included in this. For what it's worth, I've personally seen tons more Focuses than HD7s.

The HD7 wasn't an AT&T device, but the HD7s was. It was the one that everyone forgot about.

Yeah, I gotta think that the HD7/7s has to be the best selling 1st Gen Windows Phone and if not at very least very close to the sales of Focus. No way the Focus is anyway near 90% of all 1st Gen sales. And I'm confident that we will see the HD8 on T-Mobile this fall.

Will the new HD8 keep the kickstand on the back too?
Luv my HD7 n unless there is something else out there that blows me away, I might just keep on using this great phone!

Obviously I don't have the numbers here in front of me, but I really doubt that the HD7 on T-Mobile sold nearly as well as the Focus on AT&T.

Phones exist outside of AT&T & T-mobile.

People STILL like the Focus because you're able to put a 32GB card in there once it's confirmed to be compatible. And I've found a card that's compatible..

You can definitely upgrade the microSD card in the HTC HD7. Obviously it voids the warranty ;)

I agree it is a great phone. Its too bad MSFT didn't push WP7 a bit harder using that model. They likely would have some more market share at this point in time.
The comment I get most about the focus is its light weight. Considerably lighter than any of the IPhone / Android phones I've held.

Good comments or bad? I hate the Galaxy S2 because it feels light, flimsy and cheap.

still love my quantum, I'm holding out for a new version on wp8.

I chose the HD7 over the Samsung was because of the design and bigger screen. I knew it was lacking in the camera and screen dept. And in the beginning I enjoyed the apps that came with the HD7 that Samsung couldn't match. The good thing with T-Mobile it was able to get the updates for the HD7 quicker than the Samsung and without problems. As time went on though the Focus did start to look a better to me design wise.

Ever since MS and Nokia announced their partnership, there has been an atmosphere of worship for Nokia on this site.
Samsung still has the best 2nd Gen phone too, though tied with the Titan 2. The Lumia 900 has lte and a great price, but is otherwise a fat brick with a crappy camera and a sluggish touchscreen, well below Nokia's previous standards.
Take off your Nokia colored glasses folks.

Then blame the other OEMs like Samsung, LG, etc. for not putting much effort into promoting their WP phones. If they had put in a similar effort like that of Nokia, then such exclusive partherships aren't necessary. But they didn't and instead prefer to promote their Android line.

But I do admit that HTC at least did put in some effort in manufacturing decent WP phones. Pity they didn't release the Titan in Malaysia which, I suspect, is due to the poor reception of their (and other) previous phones like the HD7 and Mozart.

I agree that the Nokia devices are similar in quality to the Samsung devices. I really like the design of my Lumia 900, but honestly, it isn't any better than my Focus S. I don't have LTE here yet, so it is basically a wash.

The screen the body the shape the lumia blows the focus s out the water and if u notice the polarizer they put in the phone makes the display alot better there's really no phone on the market that's got toughness like Nokia and the style of variety like Nokia does

This means that 50% of WP devices still have the disappearing keyboard issue!

I took matters into my own hands a couple of months ago. I don't know why I waited so long. No more disappearing keyboard and still loving my focus! (At least until the end of this month when I qualify for my upgrade! Lumia 900, here I come!)

I know the hd7 had to have a lot too. But if they come out with an hd8 with wp8...i might not get a nokia phone. Hd7 very good device

Give me the Titan2 design with dual core CPU, HD screen(1280x800), 1GB of RAM, 32GB of storage and WP8. Name it the HD8 and release it on T-Mobile and I'll be a happy camper.

Still using my Focus from day 1. Nokia will be my upgrade though. :)

I have the focus and the lumia 900 the shape of the focus is what drew me to it it looks really nice compared to
All phones and now the focus 2 I'm really happy they went with the old style cuz I was not wanting the focus s cuz it looks like all other phones lol

Had an HTC HD7S until I got my Titan. The HD7S was really nice and my sister now uses it

I got my Focus in Dec. 2010 and loved it so much I used my upgrade on the Focus S. Hardware these are trooper phones but definitely lack in design concept. Focus S is so Slim!

Yep! Still rocking my OG Focus

Still best phone out there because of the expandable storage, I looked into the Lumia 900, but with a limited 16Gb, there is no way I will buy the phone. Looks good though!

Its because of the better screen and expandable memory. I personally don't want to get rid of my Focus until I see another Windows Phone with expandable memory.

I was one of the proud 2%, Surround was my first Wp7. It was a great phone, and even though I'm now using a Focus Flash (smaller and lighter makes it easier to carry on the motorcycle), the Surround lives on. I passed it to my mom, and she loves it! She used to have an Android, and never used it, but plays with the WP almost daily!

I don't find this too surprising. After getting my Quantum in August 11, the only other Windows phones I've seen have been of the Focus family--two 1st gens, two Flashes and an S. the physical keyboard of the Quantum may have been it's weak point (and makes the phone weigh a ton) but it does provide backup to the disappearing keyboard issue that we all have.

If you are running a Quantum, you can do some temporary registry editing to get the 8107 update to fix the keyboard issue. One thing I love about the Quantum, built in regedit.

It's because it was the best first gen WP7. Believe it or not, I'm still using it RIGHT NOW as I type xD. Looking forward to my next WP though

I'm still rocking the Samsung focus! Can't wait to replace with either a cyan Lumia 900 or a cyan windows phone 8 device from Nokia!

I <3 my original Samsung Focus. Clearly one of the best WP phones out there.

My focus is still working great =) Gave it to my son when I got my Lumia 900. Purrs like a kitten..

I loved my focus. It was a good first Gen device. Now using my titan.

Also, the focus had a memory card slot!

I loved my first Gen focus. I still question whether I upgraded to the Titan II or not if it weren't for some of the obvious specs. It was a solid experience.

Definitely not a surprise to me, the Focus was a galaxy device, a super amoled beast with expandable memory, it was easily the premier device and for good reason. Even ms made their "stock" phone on their sites resemble the Focus, it was featured proudly in at&t spots like the lumia, and its a Samsung, a real high quality brand! No wonder it sold so well and if Samsung and att backed the Focus S in a similar way, it would have sold just as well, if not better! I love my Focus S and Samsung is still my brand of choice right now, bring on the galaxy s 3!

LG quantum in the house... Still up and running

I had the surround and the quality was bad. Samsung was the best. Now I love my Lumia 900 even more... :-)

I still have my focus but it was a no brained cuz its the only one u can put an sd and not break warranty and the screen was waaay better than the rest

Only thing that can tear me from a focus is a wp8 Nokia wit more memory and specs and ill keep my focus as a 2nd ZuneHd I wish they would release audiosurf tilt it will be a iPhone/android killer

I love the nokias but I need specs not enough on the 900 yet to upgrade especially wit all new line up coming in a few months can't forget the tablet either

I really loved my HD7S, it was underappreciated I'd say. I literally just put it on eBay about 15 minutes ago as I just got a Titan II, but I had no complaints with the HD7s.

I just bought Htc surround with one year warranty for $180 from Amazon for my little sister and imo its still by far the the best with regards to quality sound. I've had DVP, HD7, HTC Radar and Lumia 900 but I can the I enjoy playing on better on the surround than any of the phones mentioned. I used to think that those apeakers were just a gimmick but now I know I was wrong

Still rock that device until my contract ends in december, got 3 friends/familly on that phone as well, awesome phone.

Dammit, LG and the nation responsible SO stoopids...they should have made another one for t-mobile, either same or different model and made hard effort. Now they cry in wet 'borg panty! >=(

I had the Focus on day one based on what I read about how good the screen was, expandable memory, etc. When I tried to expand the memory, the phone became unstable and I had to get a replacement under warranty. Then I dropped it and cracked the screen. That's when I bought my Quantum and loved the hell out of it.
I think the distinction that is being made in the article is that these are the 3 phones (and the Quantum wasn't a day 1 phone) that were available when WP7 launched.

I still have my HTC Surround. My wife liked it so much that she bought one too. It does have the nice slide out speakers, which I love. But the real beauty is the kickstand, awesome for watching movies on my lunch break. I will upgrade to a lumina soon. Speakers are not much better than the normal ones.


Still, never seen another Surround in person before. Thought I was the only one.

"thought I was the only one"
Well, based on the market share, you might very well be right. :) Seriously, I had a Samsung Focus and a Focus S and to this day, the Focus S is my favorite Windows Phone. Great little device.
I was terribly disappointed with the original line up of WP phones. Getting more excited about these new WP8 devices. Gonna roll with a Nokia 920 this go round.