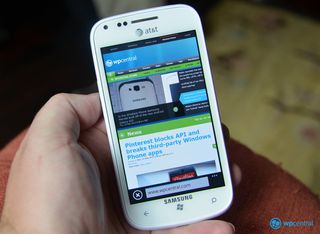 First out of the gate from CTIA 2012 in New Orleans is the Samsung Focus 2. The follow-up to the (wait for it ...) Samsung Focus brings a 4-inch Super AMOLED display with a 5-megapixel rear-facing camera, 8GB of internal storage and it's rocking a 1.4 GHz processor. And as was confirmed by the official specs earlier today, it's got a 1750 mAh battery.
The Focus 2 actually is a tad heavier than its predecessor, but it's in a slightly smaller form factor. It feels decent enough in the hand. It's definitely got a plastic feel to it, which you'd expect from a Samsung phone. But, indeed, for an entry-level device, you're not going to be ashamed to pull this one out of your pocket. And it's always nice to see a dedicated camera button on the side of a phone.
Other items of note: It'll be available May 20 for $49.99 on contract ($19.99 on upgrade). We've got more pics and hands-on video after the break.
Windows Central Newsletter
Get the best of Windows Central in your inbox, every day!
Phil is the father of two beautiful girls and is the Dad behind Modern Dad. Before that he spent seven years at the helm of Android Central. Before that he spent a decade in a newsroom of a two-time Pulitzer Prize-finalist newspaper. Before that — well, we don't talk much about those days. Subscribe to the Modern Dad newsletter!
The Android Central fans are going to demand you wash your hands after that, Phil. LMAO!

On a more serious note, how were the LTE speeds, if you had LTE over there, that is?

Phil writes for Android Central not WPCentral......

My, my, how we forget. :p http://www.wpcentral.com/author/phil-nickinson

LTE speed is fantastic here in the Bay Area, so fast. Just a tad under my home Wi-Fi which has a 25 Mbps connection.

Seriously, who are these guys doing reviews on these phones, they don't even know how to operate a Windows Phone.
Not trying to be an a$$, but you press the arrow to get the list instead of swipe, or, you don't know immediately where to find the OS build? C'mon guys...

Wow. . . Lol Do you think the "Mobile Nations" banner on top & bottom of the site page is for looks? You should try clicking on it sometime.
Phil is an Editor at AndroidCentral.com, sister site to WPCentral, i.e. He's not used to using Windows Phones.

Bashes the guy for not knowing about Windows Phone, doesn't even know about the site he's on.... v_v

Phil was able to get some hands on review time and put in a video for us to show the device. This is not a review at all, you'll find our reviews quite detailed and thorough

Phil Nickinson is an editor at AndroidCentral.com, sister site to WPCentral. They, including Crackberry, WebOSNation, and iMore (formerly known as TiPb) are all under the MobileNations banner.

Each site has it's own rivalry against the other but we're all friends here lol

Thanks Phil for the hands on.

ps. Your username and password will work on those sites as well. I had some questions about an android tablet a while back and it came in handy.
(Please use Username/Password responsibly. I'm sure a banning on any site will result in a ban on all sites.)

Man I live in La (a Lte giant Hotspot) but I'm to poor to afford LTE, I'll wait for win 8 Samsung

Isn't 4G free? Check your monthly bill. You may already be having to pay for it.
At least that's how it works on Tmo. I'm being charged for 4G even though I have the HD7 (3G).
But then again, I'm on a family plan and some of us are using 4G phones.

Im in the same boat. 3g hd7, but the wife has the 4g radar.

ATT doesn't charge extra for LTE. It cost the same as 4G and 3G. You also get Visual Voicemail with that package

Everyone that wants a windows phone on ATT already has one. Sell this one on Verizon or sprint, preferably Sprint. Geez! I can't leave sprint, nor am I anytime soon, if ever.

Sweet phone! I like the design, but the camera seems like a step back. I'll stick with my Lumia 900.

I just realized. That one is using a MicrSIM too.

Are we only going to see MicroSIMs now that they're more on the market now? Or are those only for LTE devices?

Glad to see Phil lending a hand

That focus is a nice looking phone. Can't wait until Verizon gets more Windows phones.

The thing about Samsung WP is that from a distance it looks like an ANDROID DEVICE... NOKIA FTW

My Nokia Lumia 800 looks a lot like my Nokia N9 from close up.. who cares...:)

Focus S but in white? I am waiting for Windows Phone 8. We still don't know if these old phones will be upgradable to 8.

thats a nice looking phone

Always good to see more Windows Phones, especially with LTE.

Do you think that Android users would cheer for this hardware? Other than the lumia we have only average hardware. I try not to complain but it's getting tougher to stay committed to wp7. I will hang onto my OG focus until the fall....hope 8 lets it rain WP goodness' otherwise back to Android. :'(

While Phil will take a load of sh*t from all his Android fans everyone should be happy he's looking out for his WP7 compatriots here - obviously Dan and Jay can't be there and I think it's pretty nice of him to take the time to look at the latest WP7 for all the WP Central fans.

It does look like a good entry WP7. But as a Focus user still till this day, I was hoping Focus 2 will bring even more features. And the fact that it only has 8GB unexpandable memory is the biggest bummer. While the looks is quite nice, it is definitely thicker than the Focus..