Microsoft acquires high performance cloud computing vendor GreenButton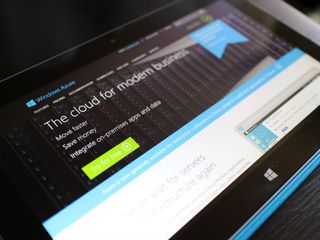 When it comes to the Azure cloud computing platform, Microsoft has been making some rather large moves. Recent price cuts and deals with Samsung have all been notable but it doesn't end there. Over at the Windows Azure blog, it was announced that Microsoft has acquired high performance cloud computing vendor GreenButton out of New Zealand for an undisclosed amount and their offerings will begin to be integrated into Azure immediately.
GreenButton, as described in the announcement, is a leading provider of integrated on-demand solutions that allow customers to manage compute-intensive workloads in the cloud and are known in the industry for their ease of use. Microsoft notes that as a result of the acquisition, the existing GreenButton service will no longer be available to new customers but they're looking forward to launching a new service integrated in Azure later in the year.
Source: Azure Blog
Get the Windows Central Newsletter
All the latest news, reviews, and guides for Windows and Xbox diehards.
Mobile First, Cloud First! Good move

Who is GreenButton? What do they do. More details please. I love this new caret thing on the keyboard. It is a WP exclusive.

Guys how I can update to WP 8.1

1) Sign up on Windows Phone App Studio.
2) Download the Preview for Developers App.
3) Agree to the terms.
4) Update. They've made like 2 or 3 different articles telling you how to update to 8.1... Seriously.

Yeah... Search for "Developer Preview" and download the app

http://wmpoweruser.com/how-to-get-ready-for-the-wp8-1-developer-preview/

You'll void your warranty!!!

Cloud computing for games

Cloud computing is gonna be for every thing! The home PC is slowly dying and by 2025 cloud computing only for video games, movie's, music, television under one platform with many companies making custom UI hardware components of interface's to cloud computing! Governments' and Company's would have more control over us consumers!

Keep pushing the cloud. That's the future. Azure should be the Windows of the cloud.

More cloud = less phones with SD storage... You have to put all of that stuff somewhere, so heres a cloud. Heres a one year promotion so youll put more things on your cloud that wont fit on the free account. At the end of the promotion, youll either have to lose access to a lof of files...or pay for more storage. Microsoft already knows most people will pay the extra $ than lose access to their files on the bonus space of the cloud... Posted via the WPC App for Android!

Didn't they say that you wouldn't lose access to the files but you wouldn't be able to add any others if you're over your cap?

Nadella knows wats the future. He's doing things quickly what Ballmer didn't do in all these years.

This has been talked about in many article. Most of the moves you are seeing now started with Ballmer. There is no way Nadella could have been chosen CEO and then a month later launch all these different services. I wouldn't be surprised if this acquisition was also started under Ballmer. It can take months for a agrrement to be hammered out for an acquisition of a company and then the lawyers and accountants have to do the due diligence.

Well, their cloud couldn't get any worse.

Sounds like you don't really use Azure. While they don't have as many services as AWS, they have the services most users need with a much better interface (really, AWS is a pain to manage)

Via Wikipedia "
Website
http://azure.microsoft.com Microsoft Azure (formerly Windows Azure before March, 25th 2014) is a cloud computing platform and infrastructure, created by Microsoft, for building, deploying and managing applications and services through a global network of Microsoft-managed data centers..."

Dumb question-is this where our One Drive stuff is?

Probably, Microsoft has been migrating their online services over to Azure so eventually it will all be there. Apple's iCloud is already there (and on Amazon's AWS as well)

So they buy TheGreenButton.com, merge it and then kill it off now they buy a company called Greenbutton for big $.. Need it to somehow be media center related so there is irony..

Joe Belfiores account on Instagram: grnbutn... Sounds like GreenButton to me :D