Microsoft and Eve will answer your burning questions with a Reddit AMA on October 27 [Update: Now live]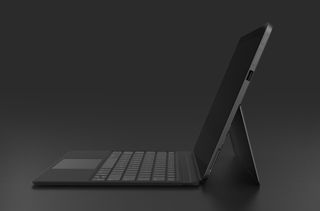 Update 2: That's a wrap. The AMA is over, but you can still view all of the questions and answers of at Reddit.
Update: The AMA has officially kicked off! Head on over to Reddit to pose your questions to Eve and Microsoft!
This Thursday, October 27, Microsoft will be taking your questions in a Reddit AMA alongside Eve, the startup behind the crowd-developed 2-in-1 Eve V tablet. During the AMA, you'll get a chance to fire off questions to Eve co-founder and CEO Konstantinos Karatsevidis, along with Microsoft digital transformation lead Vesku Paananen.
Given the AMA takes place just a day after Microsoft's big Windows 10 event, this would be a solid time to get in any burning questions you have about what is announced. Likewise, Eve is on the eve of launching its 2-in-1 "Surface killer" on Indiegogo in November, so the AMA should be a perfect time to eke out a little more information about the tablet ahead of launch.
Will you be tuning in for the AMA? Let us know in the comments!
Windows Central Newsletter
Get the best of Windows Central in in your inbox, every day!
Dan Thorp-Lancaster is the former Editor-in-Chief of Windows Central. He began working with Windows Central, Android Central, and iMore as a news writer in 2014 and is obsessed with tech of all sorts. You can follow Dan on Twitter @DthorpL and Instagram @heyitsdtl.
Not sure I would go so far as to say "Surface killer", but certainly looks like it'll be a very worthy competitor, as long as they price it right.

I agree! I don't think it will "kill" it off, but in terms of the current surface pro it will probably be superior in specs for the price.

Exactly. The Eve V is shaping up to be an awesome device, to the point that I am strongly considering purchasing one. But being a lesser-known brand, there's just no way that this device will outsell the Surface Pro 4. However, given the right amount of support from Microsoft themselves, this could definitely be a big hit.

I want 10,8" new Surface 4 :'( (succesor to Surface 3). Pro 4 is too big and too heavy.

That would be great. I still want the Surface mini. I want both to have cellular connectivity.

Not enough people wanted to pay a premium price for budget specs. Maybe if they upped it to a Core M3 instead of Atom it would warrant the price. I know I'd pay for that.

Wouldn't they lose money on a 500$ Core M product?

Core M model would not be for 500$ :-) Maybe for 700

You can get a core M SP4 for about 700$ on Amazon right now.

As I said, Its too big and heavy. Something about 500/600g and 10/11" would be great (like Surface 3 non-pro)

"Not enough people wanted to pay a premium price for budget specs." Thats bullshit. Surface 3 sales have 21% of all surface devices, little less than Surface Pro 4. It's very high share

Not sure, but a lot of that may be the available LTE option. You can get an S3 at the AT&T store, for example.

Yet another reason for have an update for that. At least one device to be offered, sold, supported by carriers.

Seriously thought that was a new phone with a integrated stand like the surface in the thumbnail. BOOM JUST THOUGHT OF A GREAT IDEA!

Your new idea is now in the public domain and is no longer your idea #justsayin

So stupid to call it a surface killer. It doesn't really offer anything that the Surface doesn't. It's not cheaper, thinner, or more powerful. How is it going to kill the surface?

Hey Dan. A request if it's not too technically difficult. Is it possible to link in a calendar add anytime there is an event like this or a live broadcast? Thank you

Fantastic idea! This would apply to so many things, including WC's own Friday and Saturday events.

So Microsoft will eagerly answer questions about a third party's tablet but have virtually nothing to say about the future of their own mobile program?

What more do they need to say? They've said they're sticking with Windows 10 Mobile and supporting current Lumia but not making new ones.

Yeah, mobile is really working real good for them at the moment. Why change anything?

I asked you what you want them to say. They know they lost mobile, so should you. Seriously. It's a good OS that will be used on about 1% of devices. They will keep developing it alongside Windows 10. That's it. Nothing more for them to say right now.

The processor in this Eve tablet will be the lower end M processor from intel and not the core i series. It's the new Kaby Lake so it should show some improvements including better battery life but this won't be a tablet for creatives or gamers for sure.

Not so sure which will be better for gaming - SP4 with the core I series processor or the Eve V with Kaby Lake M processor plus external GPU via Thunderbolt. The latter should probably crush the SP4 if they can overcome the remaining technical hurdles and really deliver a 2-1 with an working external, high end gpu.

What are the requirements for using an eGPU? Does it require Thunderbolt for example?

The CPU is KabyLake M3,i5 and i7 (aka ex M5,M7). It will have thunderbolt for the eGPU. The spec sheet is on the eve.community

I asked "why was the Band 2 discontinued?" followed by "will there be a Band 3?" Wonder if these questiond will be answered.

That AMA is a train wreck. Why would you ask the digital transformation lead and a guy from a 3rd party company about Microsoft's mobile plan. Neither can or would speak on those. Asking makes you look like a jerk. They're there to answer questions about the product and possibilities for future products from that company.

It's like a WPCentral circle jerk sometimes! Mobile, mobile, mobile! I don't use my mobile phone at home, it's dirty!
Windows Central Newsletter
Thank you for signing up to Windows Central. You will receive a verification email shortly.
There was a problem. Please refresh the page and try again.