Microsoft announces the Lumia 530 in the UK, available next month for £60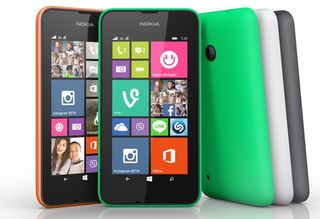 Microsoft has today announced availability for the Lumia 530 Windows Phone in the UK. Starting from September 4, consumers in the region will be able to pick up the smartphone from as little as £60. Taking the mobile experience to the next level with the latest Windows Phone 8.1 update, the affordable mobile device is a superb investment for anyone looking for a cheaper option when it comes to smartphones.
The Lumia 530 comes with a 4-inch 854 x 480 screen, 1.2 GHz quad-core Qualcomm Snapdragon 200 CPU, 512MB RAM, 4GB internal storage, microSD card slot up to 128 GB, Wi-Fi 802.11 b/g/n, Bluetooth 4.0, 5 MP camera, dual-SIM (GSM + GSM) connectivity and a 1,430 mAh battery. Color variants including green, grey and orange of the Lumia 530 will be available for sale in the UK from EE, Vodafone, O2, Three, Phones 4u and Carphone Warehouse.
Rich Edmonds is Senior Editor of PC hardware at Windows Central, covering everything related to PC components and NAS. He's been involved in technology for more than a decade and knows a thing or two about the magic inside a PC chassis. You can follow him over on Twitter at @RichEdmonds.
That's cheap. Gonna pick one up along with an Android device to compare. Should be interesting.

512 Mb Droid the disaster. 512 MB windows is amazing just cant play big games for which pc or Xbox should be preferred. Comparison done.

implying you used a new android device recently

He's just stating the truth. Android is too resource hungry to work properly on a 512mb ram device. And even if it does (somehow but VERY unlikely) run well, try to open anything else and the phone keels over.

Yeah. and just like anyone else someone made their mind up about a system and noone will change his opinion. That is the reason WP cant gain more ground. Because people made their mind up or listening to people that heard it a couple of years back

The 520,720 mostly sold well here in India l. The reason is good ads. They should how smooth and fast windows phone was with the best metro UI. They got good brand embassadors and the promotion was great. In recent 5 months there hasn't been a single ad of Lumia except 630 which ad wasn't that great and looked focused more on office employees. So I think great ads can get Microsoft back in game.

+dead520 Yeah, I'm fan of windows phones right from when I saw that commercial of 800. But yeah people still have things like windows phones can't send files over bluetooth in their mind. Same way android isn't that pain to use or that much laggy (even on 512 ram devices) as it was in times of GB, its just not that butter smooth. But Its the camera, metro design and now cortana which are keeping me from switching to it.

Multitasking on 512mb wp8 device is nonexistent.

Only 2-3 windows can be opened rest takes a lot of time to get open. Agree with this limitation

Works ok on my wife's Lumia 520 no problem

I'm talking about the loading resuming problem when more than 2-3 windows are open

Problem appears on resuming when you try to maximize a window that was in background for a couple of minutes/hours. If you resume something within 5-10 minutes of minimizing it, it works normal but past that, it shows the resuming window and sometimes even kills the application and goes back to start screen. Sadly, this is the issue here irrespective of how many windows we open. Multi-tasking on windows phone needs to be improved (I know that'll consume more battery though!).

Before switching to Windows Phone, as a 10 year old I had a cheap droid device and trust me it's horrible. In 2011/2012 I switched to Windows Phone and now I have my beautiful Lumia 1020

I'd say if you want a cheap yet good smartphone without any side effects, never buy Android. Yes, buying a high-end android somehow makes sense though.

When I see high end droid. It feel good atleast working. But when I see high end windows phone like 1520 in front of note 3. 1520 really kills it.

Hahaha! 1520 sure is one hell of a WP device. Monstrous and powerpacked.

Is this really any different to the 520?

I was originally not giving the credit this phone deserves, that is until it was released in my country a few weeks ago, because i was completely blown away by its price!

£60? That's an absolute steal! Even though I already own a 930 (as a daily driver) and 1020 (as a point-and -shoot/spare phone), even I am tempted at this price! Although I feel like the 525 is a better device due to the 1GB RAM, its more expensive than this is...

Moto E vs Lumia 530 anybody?
........ But it really is bad successor to the 520, I know it's not but most people do. Also the current position of the global share of handsets running windows t phone is worrying. Might make the jump to Android. Hey but I am OS secular.

Windows phone marke is worrying u. "Might make jump to droid" What a reason to leave windows phone OS.

Why is it bad? its SO much cheaper than the 520 was when it was new, you should think of the 630 as the replacement for the 520, the 730 as the replacement for the 620. Nokia has moved down their pricing on their line up.
Moto E = Dual core, Ugly as F (subjective but looks like a kids toy), Micro SD 32gb, limited to 2 colours
530 = Quad core, Looks classy as F (no hint of cheapness), Micro SD 128gb, 4 colours, lighter
Even though the moto has a slightly higher PPI, Its still a one horse race.
BTW i dont have a 530 but ill take one over the moto anyday on specs alone.

shame it really isnt much of a difference to the 630.

Price= Dirt cheap. That's a difference for many.

I think Microsoft's strategy is either genius or complete crazy!

It's crazy how close these two sometimes are.

Yeah.. £60... Just like the 630 was "only" £89... We all know how that went. I can bet you any amount of money it will be £80+ at least.

Nokia xl sold out 547500 units in china in 5 days. Do u think Microsoft should continue with the x series. China is getting very serious about nokia xl.

Actually No, it will just dilute the market for Low end windows phone. Once I thought it might be a good idea but having thought long and hard about it. I couldn't find any positive out come for the X series...

This is a confused state what Microsoft will do with x series now.

The X series has been terminated lol, its been covered several days back.

Well Microsoft knows that no matter how much cheap the WP phone are sold people who are inclined towards Android for different reasons are not gonna buy it. Therefore lets give them Nokia X with Android bread and windows butter.

Many ways to look at this. An amazing way to replace the Asha range, definatly. Compared to android phones at this price, it will be a far superior experience! However it could lower the value of windows phone and the eco system even more. Meaning we could be stuck in a 512mb rut for games. However, a phone this cheap brand new! Imagine when it gets discounted and goes for 30-40. People will pick it up for the sake of it or instead of a basic dumb phone. I'm impressed!

It may even go down less that for the xmas sales :P, providing this doesn't take several months to put it into retail circulation lol.

That is cheap!, I can see this going less than £60 in the next few months... at that price it should do extremely well.


8000 ₹ in India...not good considering moto g is selling for 6999₹

It's not ₹8000. Its 7199 on flipkart

It is 7349 RS. Moto e is 7000. For 300 RS more you get a quad core processor, 128 GB SDXC slot, apps to SD, and a good looking phone with a variety of colors.

The maint thing u get a phone that doesn't catch viruses. Which doesn't have bloatware installed on your phone too unlike android

Mote E also features apps to SD (they lie), and has 8gb onboard. The only plus is the quad core proccessor.

It has 4 GB onboard, and as you said,kitkat removed the apps to SD feature. So WP still wins over the points. There are also many other pluses like double tap, fast updates, Nokias awesome camera applications etc which are not on the Moto e.

Oh sorry! yes it has 4gb but they do say it supports apps installation in SD card.

Its 6900 in homeshop18 some days ago.

My Xperia Z2 still screws up on Android as did my Nexus 5.

Great for gifts and presents. The phone functions amazingly for its price

They should never put in 512mb ram... They could have put it 1024mb and raised the price to ~£70

Which won't be available in the UK, just like the 525 wasn't!!!!

One problem that they aren't selling earphones with the handset.

Dude earphones aren't there in 630 too when my dad but it. I know earphones aren't good but avg consumer will want it.

930 doesn't have it either.

S Vaibhav, I got my Lumia 930 without earphones here in Saudi Arabia.

Nokia earphones are horrible anyway so it doesn't really matter.

It doesn't matter to ppl who use good branded headphones. Except the useless status symbol beats.

I quite like my 1020 headphones. They have a nice full sound to them - and the inline button means I can change MixRadio track without getting my phone out.

I'm starting to wish they stopped bundling the chargers as well, I already have loads of them.

I agree it would be great if this had 1gb ram but 512mb is not a limitation. There are a handful of games that need 1gb. All other games work. For the price and for people getting their first smartphone, it's a great phone with a user experience comparable to an iphone at a tenth of the price.

This phone at the end of the day is about getting cheap phones into the hands of kids I got my son a 520 my wife liked it so much she got one and now looking to upgrade to a newer windows phone that's 4 in this house including my 1020. And I see alot of 520s on buses and trains with kids using them.

That's the point. Same happens here.

Wow, that's cheap, I'd never get one, but it's got a really good price, I think

This will start a revolution lol the first time I saw the leaks of this phone I said Microsoft will be crazy not to sell this phone for the price of Asha, I guess they are not.

dual-SIM (GSM + GSM) connectivity

does this mean if one of my operator is 3G only i can't use it?

I think, both works on 3G, but not at the same time. Not sure.

£60 is a brilliant price, I think pricing it so low is a great move

I loved the 520 so will get this for lols. Budget Windows > budget droid by miles. Shame there is no Cyan, what's with the grey option????

I was thinking of getting the 520 for my mums birthday present but if the 530 is this cheap SIM free then I might have to wait. Having used the Mexico CV 520 that Amazon sent me, I'm really impressed with the performance.

Yeah, my daily is a 920 but I got the 520 as a backup/to give to Grandparents. It's actually an amazing device for the price. First boot was slow but after that it's pretty quick and rarely feels slower than the 920.

I need to send the 520 back though :-( as it's a present for my mum and with the setup being in Spanish it wouldn't be a good start to her using Windows Phone if she has to change all the settings to English manually.

Finally....a power move from Microsoft! A great price for a nice little handset. It's a shame it doesn't have 1GB of RAM and 8GB of storage....those kind of specs at £60 would absolutely trounce the Moto E and G!

That's really cheap though I doubt it will help put an end to the plague of iPhones 5C that's infecting London.

I wonder if this phone will be sold for under IDR 1m (USD 85.6, GBP 51.5, EUR 64, INR 5200) in Indonesia...

Might buy one for my dad as hes still rocking an old school Nokia slide phone lol

I liked the price but i don't like the design it's looks Chubby..

Strangely enough I thought the same thing about the 520 but in the hand it doesn't feel "chubby" at all, I suspect it will be the same with the 530.

No need for Nokia X with this on the market. I know it is cut down to the bear minimum, but really, a fully usable touchscreen smartphone for just double the price of a simple, no data, calls and text only dumbphone? Astounding.

Already own 1520 but at that price I may get one just as a back up I can carry easily when out running or cycling.

Won't buy this lumia. Compared to the 520 I'm using right now, it seems more like a downgrade.I mean come on,480 fps video recording?!! My Lumia supports 720 fps recording and there's still much more to be said.

Sounds great but remember this is rip-off Britain.. So you can double the price at least! My youngest son will love it.

That's dirt cheap Posted via the Windows Phone Central App for Android
Windows Central Newsletter
Thank you for signing up to Windows Central. You will receive a verification email shortly.
There was a problem. Please refresh the page and try again.