Microsoft announces new 4G enabled Lumia 636, Lumia 638 in China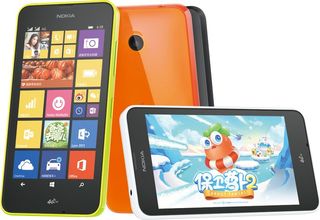 Microsoft today officially unveiled the Lumia 636 and Lumia 638 in China, offering affordable options in the region with 4G connectivity to boot. The Lumia 638 will be available from July 5th with the retail price of 1,299 yuan ($200), while the Lumia 636 is going for the same price and can be purchased from July 21st.
Both Windows Phones from Microsoft are powered by its new Windows Phone 8.1 operating system, adding yet more capabilities to the table. A notable difference between the two handsets are the different networks covered (though both are 4G). The Lumia 636 is with China Unicom and the 638 is heading to China Mobile.
Hardware specs for both devices include a 4.5-inch LCD display with Gorilla Glass screen 3, 1830mAh battery, LTE, 1.2GHz quad-core Snapdragon 400, 5MP rear shooter, 1GB RAM and 8GB internal storage with SD card expansion.
We previously looked at the Lumia 636 passing through certification in the region, and Microsoft appears to be set on offering an affordable experience with blazing fast connectivity.
Source: Nokia; thanks, hengxiang32401, for the tip!
Rich Edmonds is Senior Editor of PC hardware at Windows Central, covering everything related to PC components and NAS. He's been involved in technology for more than a decade and knows a thing or two about the magic inside a PC chassis. You can follow him over on Twitter at @RichEdmonds.
Really 1gb?? I wonder why they couldn't do the same for 630/635.

Wow, nice speck at the price

First phone with quad core plus 1gb ram ..at dat decent price ... !! Really worth it deal to have in every country Cmmon microsoft don't be partial

Bring it to India and it will be very successfull

Yup! In India and evreywhere else too, it'll sell like hotcakes ;)

(Y) The truth has been Spoken.

Now it is India. Let us see if it is very "successful" as you say.

Exactly, if 636 n 638 would have launched in India, it could easily had become the most highest selling fone

638 is in India now, hope it will become the highest selling 'fone' as anirban130 says!

Andd... 4G plus dual sim. 1Gb and quad core. Ohhhhh perfeectt

It will make no difference, those are 4 very week cores. 1320 has more power still being dualcore.

1 GB finally on the chip devices !!!

Nice price and spec, if it had a front camera for skype even at +$20 they would ramp up the sales, i would love one

Yeah your right!! Microsoft should hire you..

Though it would be a bit awkward the back camera works pretty well for Skype.

Have fun starring at the backplate while videochatting with your beloved ones. Lol.

Good for evenings apart :P you dont necessarly have to look at each others face :P

Get a phone Periscope. :D

Why don't they offer 1 GB in 630/635?? Any ideas Daniel? Rich? Sam? Abhishek? Is China that special????

I think chinese apps eats more RAM, maybe? I don't know...

I'll be getting the L638 for work. I've been waiting for an affordable and decent spec 4G WP8.1 here in Shanghai for a while. Great !!!!

I'm with you on that one. My AT&T Lumia 1020 is locked so I can't even use my own phone over here... Lumia 638 here I come!

You can purchase used as-new-condition Windows Phones like the Lumia 920 everywhere for less than this.

Because 630 was NOKIA, not MS... Cheaper with 512MB...

I m gonna import 636 from china now :P

Dude with all those import taxes and liabilities charges, you can get a better phone ;)

No worries mate, it's here in India now! ;)

Stop production of 630 and release this in India It will be a blast

I really want this to happen... But can't expect anything that fancy from MS... T_T

Half your wish came true Aashish13. They released it. But apparently 630 production is going .

I would love a dual sim version of one of these, for the UK. Nice.

1 gb version will be a great hit if it comes to India

Wtf is wrong with microsoft, the way they are naming these products is sooo lame, i mean come on dude, lumia 920 820 720 520 620, okay, but they don't seem to stop here ... 925 928 930 1020 1320 1520 521 630 635 get your shit together and start naming products in a simplier way microsoft . This is bullshit.

The additions of 1 (like 521), then 8 like (like 928, 638) are due to carriers and "exclusivity". While that of 5, is still in the lumia line, signifies an upgrade (as in 525, 625, 925 etc)... But honestly this 636 is somewhere beginning of a whole new trend :/

That's Nokia's doing ... Did you miss the Pre-iPhone Nokia phones?

Are MS taking the piss now? They announce a device then launch it 3/4 weeks later. Yet we are still waiting on the Lumia 930, and still have no release date!

The internal storage should 16 gb

it would be nice, for sure, but with sd storage in wp8.1its not such an issue any more

Yeah internal storage of 16gb should be standard.As games lag & consume more battery when installed on micro sd.

That was new... Do you have any links to tests showing the problems with installing apps on the SD card?

If only the 630 had been released later, it might have had 1 GB ram.

This is the best phone Nokia/Microsoft released this year! Way better than overpriced ' flagship' icon/930 (with 1520 around, how dare they to be priced higher than 1520 which has better hardware specs)

Carrot fantasy... WPC App for Android- Lenovo IdeaTab A3000

I have been waiting for a long time for that 1gb ram!!!! Please bring it to India,please please!!!!:'(

What? You really gave need too late. It was showed in China many days ago.

Bring it to india !!! wtf ms is doin its a hotcacke with such a good specs

The hotcacke is here now!

Bring this to america! And then they wonder why WP is not big here...
Windows Central Newsletter
Get the best of Windows Central in in your inbox, every day!
Thank you for signing up to Windows Central. You will receive a verification email shortly.
There was a problem. Please refresh the page and try again.