Nokia Lumia 636 passes certification in China, heading to China Mobile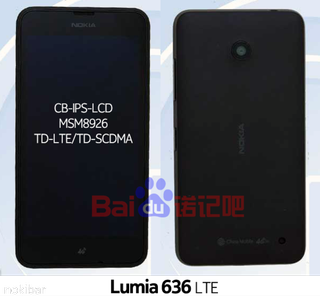 The Nokia Lumia 636, bearing the model number RM-1010, has passed through certification in China. If you're not familiar with the Lumia 636, it's essentially the TD-LTE version of the Lumia 635. It's also worth noting that this will mark the very first TD-LTE Windows Phone from Nokia (now Microsoft after the acquisition of Nokia's devices division).
The single-SIM device itself supports TD-LTE/TD-SCDMA/GSM and runs Windows Phone 8.1. Unfortunately, while the Windows Phone has passed certification in the region, there's not yet a date as to when the Lumia 636 will go on sale in China. We are, however, looking at a device in the lower end of the Lumia family, and one that's hoped to sell well.
There's also the mention of a Lumia 638 in the photo above, which could well be the dual-SIM variant.
Source: Teena (Chinese), Baidu; Thanks, hengxiang3240, for the tip!
Get the Windows Central Newsletter
All the latest news, reviews, and guides for Windows and Xbox diehards.
Rich Edmonds was formerly a Senior Editor of PC hardware at Windows Central, covering everything related to PC components and NAS. He's been involved in technology for more than a decade and knows a thing or two about the magic inside a PC chassis. You can follow him on Twitter at @RichEdmonds.
Aaaaaaaaaand still no flash ???? Gtfoh

I wonder what's the 620 successor gonna look like.

Look like a bag of ass like this device hhhhhhhhhh !

It will be a good piece if its use is for business purpose. Its should be priced like employees in China can afford this piece. Windows phones for business has a much broader scope to excel in business sector.

You call this a business phone????

Well to be frank with you, a phone that does emails and makes calls, is without a doubt a good business phone. A plus is that it haves Office on it.

Actually the 620 is a good phone itself. AND it had flash and NFC.

Oh well I never looked at it that way

Its definitely good device for business. Now all they have to do is marketing. Selling phones to companies in bulk in china.

Well we know Nokia made it and not Microsoft. Many people are being critical of Nokia in regards to low end devices while constantly saying that's the market they need to attack because Apple and Samsung have the high-end market on lock down.

It will definitely look beautiful. Let's just wait for the Lumia 730...

Can I pre order the Lumia 930?

Wtf without WhatsApp no one is interested in seeing wp8/8.1

Sure. Posted via the WPC App for Android!

Try telegram clients. They are much faster and more customizable than WhatsApp. Also completely free.

Official telegram is also not there on WP

Well m a developer n I don't like the restrictions that Microsoft offers sh*t man

Fb Inc the worst programmers as usual

It doesn't mean you can't use a 3rd party client.

Which one exactly? I'll love a WPCentral article about WhatsApp alternatives, it would be very useful now.

Actually I've wrote a thread about them. And I've PMed Daniel Rubino about that. forums.wpcentral.com/windows-phone-apps/284658-whatsapp-alternative.html

Here in India ppl have their imp contacts on watsapp. Its difficult to survive without wattsapp for a smartphone as of now. Really motherfucking and irritating fb Inc is

No use trying anything else if nobody you know uses it.

Actually telegram is free. So it's not like they can't try it

Most people don't like change.

Well that explains why people don't go to the Windows Phone platform :(

See wp platform I the most younger in all its competitors n is competing as a master platform in from of them so its just a matter of time when it will cover its faults n became the class as was Nokia leads in past....(~.^)

Well you said its true that people don't like change. I mean if you can't even change an app, how are you gonna change the OS?!

Well what will Microsoft do for mixradio n Xbox music???

Do they combine n make it free???

Do you maybe want your own private Comment section in WPcentral

Nothing. They are different services.

"this will mark the very first TD-LTE Windows Phone from Nokia (now Microsoft after the acquisition of Nokia's devices division)." You mean from Microsoft Mobile. Learn the difference between Nokia and Microsoft Mobile, Rich. Once and for all. Here, meet Nokia, the true Nokia, the only company you can and should refer to as "Nokia": http://company.nokia.com/en And start mentioning Microsoft's D&S division by its name: Microsoft Mobile. Thanks ;)

In the picture its written: Lumia 630 双卡双待 (Dual sim),probably stating that Lumia 630 is the double sim variant? Dk what is the Lumia 638 xP

There is no official app for Facebook in WP from FB Inc. Now they pull out WhatsApp. Lets see what's the fate of Instagram Beta now on Windows platform.

Stop being melodramatic. If you read the article published yesterday, the pulling of WhatsApp is temporary. They have the app available for BlackBerry and Symbian for Christ sake! Stop worrying about WP "not returning". Also, the Facebook app on WP is developed by Microsoft in partnership with Facebook Inc.

Ya ya. I know, and I understand well. I guess without the update being ready, WhatsApp shouldn't be pulled out. Donno how long will it take. And taking about the facebook app, we all know how the app works.

And it seems you are too happy to see WhatsApp on blackberry and Symbian platform and not on WP. :/

Where did you got that from? I said that they have it on those platforms. If they do on them, Windows Phone will not be left out for sure as it's a bigger platform.

Yes, I know. But WP always lacked behind them from the beginning for WhatsApp.

How long will this 'temporary' be? It's been a number of days and trust me this is way too long. If a there was a bug on iOS or Android (like they say there is on WP) there would have never taken it off or it wouldn't have go on for this many days. It's sad what's happening to the WP platform this further hurts Microsoft's image and trust is also lost I mean how convenient that this happens when a super cheap phone is being released at an emerging market (Brazil) where the focus is so important. Someone is to blame and I believe Facebook is behind it, WhatsApp also never gave a shit before being bought by FB. I sometimes have fantasies of moving to and using other platforms (it really hurts).

Exactly, I just hope this is not permanently pulled out, I know everywhere it is mentioned as temporary.

Wow... Shah dhhfxhj jgdcbnj gcbjjjd fxvnjjj dghjbcchk hkkbccdjmvc

This phone is certainly going to sell in huge numbers in India as well.

I'm sorry I've got to be honest,I couldn't care less about what goes to China