Microsoft announces new Teams collaboration features at Build 2017
Today, at its annual Build developer conference in Seattle, Microsoft announced a handful of updates to the Teams enterprise collaboration developer platform, which will bring new features to Teams in the future.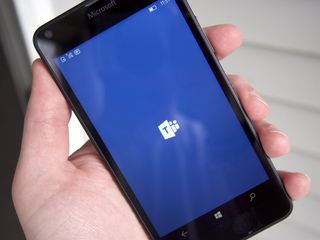 The company detailed four new significant features:
Developers will be able to deliver their apps for Teams through the Office Store.
Teams apps published through the Office Store will be spotlighted in a new "Discover apps experience," making them more visible to relevant users.
New "compose extensions" in preview will let users launch specific commands to pull in information from an integrated app or service directly into the Teams chats, so they never have to leave.
New support for third-party notifications in the Teams activity feed will let developers build features into their apps that can alert users of important information, right in their activity feeds. (Microsoft says companies including Wrike, Sapho and Adobe will show of new Teams integrations.)
More details about the new Teams features are available on Microsoft's website (opens in new tab). And for information on how Teams stacks up to its biggest competitor, Slack, hit the following link.
How does Microsoft Teams stack up to Slack?
Get the Windows Central Newsletter
All the latest news, reviews, and guides for Windows and Xbox diehards.
Al Sacco is content director of Future PLC's Mobile Technology Vertical, which includes AndroidCentral.com, iMore.com and WindowsCentral.com. He is a veteran reporter, writer, reviewer and editor who has professionally covered and evaluated IT and mobile technology, and countless associated gadgets and accessories, for more than a decade. You can keep up with Al on Twitter and Instagram.
The comparison of Teams to Slack continues to be irrelevant due to Teams lack of accessibility to consumers. Until this is rectified and the application made available to anyone wanting to use it, it will continue to stagnate on the vine while Slack becomes the standard. Teams seems to be an amazing tool, but it ultimately won't matter when all potential users are becoming more reliant on its competitor every minute that passes without this very core issue being addressed. The seeming negligence of MSoft to address the Gig Economy, that it is so determined to court in other ways, really makes the messaging for this service a harsh pill to swallow.

But would schools use Slack instead of Team?

If the kids are collaborating outside of school time they will almost definitely use whatever they normally use to talk outside of school - Like WhatsApp, Google Hangouts, Facebook, Skype etc. In the classroom I'm not sure how often kids would collaborate in this way, maybe they do it more in US. Teachers are people it makes more sense for, but in the UK I know a lot of teachers that just stay in touch over WhatsApp

Disagree. Anyone with O365 should be able to use it though, not just those subscribed to certain tiers. And I believe the biggest issue plaguing Teams is it's current inability for users outside of an organization to access it. As someone who works with clients and contractors, that is absolutely a crucial element.

This is definitely it's biggest problem - I want to be able to invite clients to a Team created for their project to collaborate with them. SharePoint works for that but let's face it it's getting better but still feels pretty clunky at times, and doesn't offer IM. They are workibng on being able to sign in with multiple accounts, but I also want to invite external users like I can do to SharePoint

True. You have Skype for Business and regular Skype, and you can permit them to talk to each other.

Agree 100%. I do some consulting work and I can never recommend Teams, because I won't be able to use it with my client. Dumb.

Agree, this is needed, and is planned to come in summer (as far as I know). Hope the implementation is not based on that the external user must have office 365.

I'm expecting it to work like SharePoint does where they can accept the invitation by signing in with either MSA or O365 Account but that they won't need their own subscription

@Yenzer, I do agree that MS should make it fully available to Office365 accounts generally, not just the Business Pro accounts, and partially available for free to everyone like Skype, but it has compelling strengths that Slack still lacks. A company I work with of about 1,500 people just adopted Teams due to its integration with Office 365. They couldn't seriously consider Slack, because it's an IT nightmare. If MS is weak for small groups and indiivdual accounts, Slack is weak for businesses, because it is so poor from a security and centralized management perspective. Ideally, Slack would provide better support for enterprise and MS would provide better access to individuals, but these are two sides of the same coin. Slack is heads and MS is tails.

Yep! That and a lack of APIs to integrate it with build tools like Jenkins and other CI/CD pipeline tools means it will never make it to developers versus ubiqutous Slack integrations.

Still waiting for retention options before my company can consider moving from Slack. Hopefully MS realizes how this missing option is holding them back for more widespread addoption.

Love Teams, HOWEVER the issue for us as a company was that it only worked within our organisations user listing and not others which is big issue as we would like to get others involved including clients, contractors and etc... Is great that Microsoft is doing so much however allot of it is organised mess or perhaps rough diamond is better terms or maybe half baked (take your pick).

They should get there eventually. Look at all the mess they've left behind them though. So many attempts at collaboration in O365 ans they may finally be settling on something that will get the attention it deserves and keep getting improvements

Agree, I think Microsoft's footprint in the online services and apps is finally big enough for devs, OEM's and partners to take seriously however is important for them to have a proper plan and at times is best they do what others did to get through initial phase, for example their own Mobile division is a mess currently and I for one switched last week from Windows 10 Mobile to Android and can see now how poor/behind the Microsoft's platform and ecosystem is compared to Google right now also many areas which they need to pay attention to for consumers to get back in the game on that angle.