Microsoft Authenticator now lets you add Facebook, Google and other accounts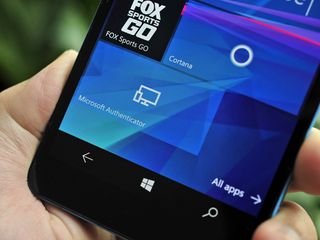 The Microsoft Authenticator beta app for Windows 10 Mobile has been updated. The two-factor authentication app now allows users to add other online accounts, such as Facebook, Google and others although the QR scanning ability via the camera is only partially implemented at this time.
The new version number of the app is 1.1.28.0. There does not appear to be any other new features in this version, but if you spot any, please let us know in the comments. Keep in mind the app is still in beta and can only be downloaded for Windows 10 Mobile Insider preview builds in the Fast, and possibly Slow, update rings (aka Redstone builds).
Not familiar with how two-factor authentication works? Read our tutorial on how to enable 2FA and why you should be using it.
Thanks to Daniel for the tip!
Windows Central Newsletter
Get the best of Windows Central in your inbox, every day!
Can't install, must go to aka.ms/winup ...

So you should read the article again...
Keep in mind the app is still in beta and can only be downloaded for Windows 10 Mobile Insider preview builds in the Fast, and possibly Slow, update rings (aka Redstone builds).

Thanks. I'm just confused because I run a regular Win10 build on my PC where I couldn't install Windows Feedback, but Insider Hub. This is fixed since the last cumulative update though, but I thought maybe there is a similar issue with my L950's regular OS build.

If your on a regular non-insider Win10 build, apps made for the current insider builds won't be available for non-insider's til the public update later this month. Even then, I'm not sure if the MS beta apps would be available for non-insiders anyway til the app comes out of beta (I could be wrong)

Right now on my PC I have Windows Feedback and Insider Hub installed, but not Feedback Hub. On my phone I have Windows Feedback and Feedback Hub.

I cannot download either. Some crap about it not being available for my 950...although it's on Redstone...whatever, it'll come when it comes..(that's what she said) Posted from Pornhub.

Same problem here with my L950 on latest redstone build in fast ring. I tried changing my region and language to US and tried a VPN, but nothing worked. :(

I have had these other accounts added for a long time now on the release version. I thought beta version had them already.

Kept showing "Not Implemented" for me before the update. This is good it's out now as I just had to keep the old authenticator app around for things like GitHub until now

Glad they've added the functionality already in the Windows Phone version. I think I prefer the old one's tile icon, though. A key was clear. This new one looks like it could be Continuum or Connect or Phone Assistant or, or, or...

I agree! Hopefully they will reuse the old icon from the two old apps.

Is there some reason that I have to be on the insider ring to download beta apps, like a software reason? Or are they just thinking that the insiders are the ones willing to deal with buggy software?

Yes, Minium requirement is Win10 build 14261.0

In all honesty, he isn't really being an ass. He could have elaborated/explained though, but what he said is true. It's because these apps are built off of the most recent builds, and of course, them builds are only for insider's at this moment. Which works in MS's favour as, well, its an incomplete app with possible bugs/missing features. These apps won't be compatible with the non-insider builds which are now way behind insider builds, so even if MS wanted to, they wouldn't be able to. You'll hopefully be able to use it though when the Anniversary update comes out later next month :) or you could jump to the slowest ring possible, get the most stable Redstone build (honestly Redstone in a whole is extremely stable now) and grab these apps :)

That all makes sense. But for the record, when someone asks if there is a reason that an app requires an insider build and you reply with, "because the app's minimum requirements are build x" you are being an ass. (I know you're not the poster of that comment it's the hypothetical 'you'.)

he wasn't being an ass... minimum version means that there is a software reason.

But that's not an answer to the question. 'Why is the minimum version 14261.0?' IS THE QUESTION I WAS ASKING. That's like me asking why your screen name is ashram, and someone answering, "because he spelled it A-S-H-R-A-M.

Internally, some of those beta apps use updated APIs only available in the Anniversary Update

I think there are specific apis added in the redstone builds that enable some of the functionality. That is why fast ring only. At least that is my understanding.

Finally. I used the old one all the time. It is way better. Keep up!

I have uninstalled the old one and using this and it works perfectly.. I have added my outlook and Facebook already.

where is Unlock your pc with Bluetooth app? I'm desperately Waiting for it...

This WILL be it. It even says so in the Store description of the app itself.

Much needed. This app is awesome!

I look forward to using this new version once the anniversary update releases. My 950XL installed the WP authenticator app when I moved over from my 1520, but it doesn't show up in the app list. I can't uninstall it and can only open it by first finding it in the store. Kind of comical, but mostly just annoying.

Downloaded here, but when go into the setup and authenticate user it will go into a loop, every time i do iris scan or type my pincode, loading and then again, again.... Sigh

The same happened for me. But worked perfectly with my MS account password and the code, they sent to my secondary e-mail after it.

Silly question but how do you generate a Facebook QR code to add your account to this app?

Go into the security setting on your Facebook account. There you will find an open for 'Code Generator'. It will give you a QR code, but I don't think it works yet. Just use the code provided.

on the web the qr works but on the pc app doesnt.

Looks better than the old version :)

i wish all their apps would have "not implemented" instead of app crashes. i wish everyones app would have it. is so elegant. ontopic: hope it comes to the pc aswell and i also hope for pc unlock sooner than later.

I can't see unlocking from my device via a Notification (or my Band via a notification) necessarily being any faster, but it's definitely go advantages when you don't want to enter your PIN/Password in front of somebody who is around you. I'm going to be moving all my devices to Hello Enabled devices over time (as they need replacing) - For the SP3 that's just a case of waiting until it's time to replace it, but might use Kinect on my PC for Hello - You can get those pretty cheap used compared to other Hello enabled 3D Cameras, even after you factor in the £30-ish adapter you're looking about £60 all-in

Could it be Steam could be added in this app possibly, someday?

Did the other app allow you to "unlock your Windows 10 computer at work."?

Does it support Microsoft account?

Steam Support would be nice

I am on the latest Insider build 01078.00038.16082.36000 on my L950XL in the US and when I use the link above or go to the store, it says that my phone is not compatible for the beta app. What gives?

I just installed this new app. It's nice that in the case of swapping phones, the new app can use the phone's existing credentials to verify the account. I wonder if that has anything to do with switching from 6 digits on the old app to 8 digits for the Microsoft Account code on the new app while Google is still 6 digits.

I added both my Google and Facebook accounts, but neither of them supports the nice popup that my MSA does, only the six-digit OTP. Looks like Google has an option for push notifications but it says it only works on iPhones and Androids.

Needs RSA SecurID functionality, because the official RSA SecurID app is abandoned.

I'm on Slow ring and was able to download and use it just fine.