Microsoft launches new documentation portal for developers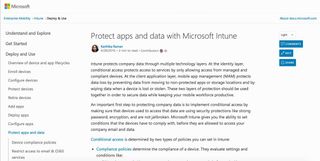 Developers who use Microsoft software and services are used to accessing content on the company's TechNet and MSDN sites. Today, the company revealed that it has started revamping that content with the first phase of its http://http://docs.microsoft.com (opens in new tab) launch.
In a blog post (opens in new tab), Microsoft stated:
The first phase of the project is for Enterprise Mobility Documentation, and more documents will be moved to the new http://docs.microsoft.com site in the months to come. Some of its features include adding an estimated reading time for each article, improvements in site navigation, a responsive design to accommodate smartphones, tablets and PCs, comment support and even a way to switch the site from a light to dark theme.
Msdn documentation was starting to get confusing with the different versions of Windows. Great news! -Mach 8 Solutions, LLC a software company.
Http://mach8solutions.com

I agree. With all the different versions and variations of .NET, I am constantly ending up at documentation that is not applicable to my scenario, making it much harder to find the right answer

No documentation can make managing Intune understandable.

True. Intune needs some serious work. Development is at glacial pace. Plus, EMS is horrible and funny they've chosen one of the worst parts fo their portfolio to showcase the news docs. EMS is overpriced as well.

So is this a revamp-in-progress or a replacement? Windows Central for Windows 10-Microsoft Lumia 640

They are transitioning. So, right now, you will have both the old and the new sites in place. I cannot even imagine the amount of documentation they must have gathered since the Windows 2000 days, or how far back it goes.

In progress looks like, personally I hope they keep MSDN around for a good long while, it may not be the best but I've gotten used to finding what I need there! Posted from my Lumia 950

At the bottom of every MSDN page is a place where others can contribute to the page. Oddly, this feature was seldom used. Instead we always have to head over to other top tech sites to find additional content that would have been way more valuable had it been placed on the respective MSDN page. Examples, clarifications, gotchas, performance tips, alternatives, etc. I hope that the new solution is more appealing to contributors. Lets work together to make the best documention anywhere!

This is a great improvement over the other which hard to navigate and hard to find particular scenarios
Windows Central Newsletter
Thank you for signing up to Windows Central. You will receive a verification email shortly.
There was a problem. Please refresh the page and try again.