Windows 10 Mobile Creators Update begins phased rollout for supported handsets
The Windows 10 Mobile Creators Update has begun its official rollout for supported handsets.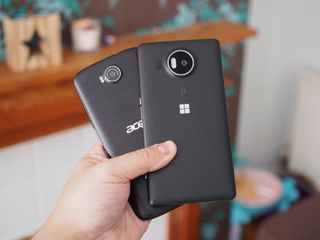 Slightly late, the Windows 10 Mobile Creators Update has finally begun its official rollout for supported handsets. If you're using one of the few devices that are supported by Microsoft, you can now head to Windows Update to download the latest version of Windows 10 Mobile for your smartphone, if it's available in your region.
The Creators Update for Mobile is oddly named, as there aren't really any new features for "creators." The update is a minor one, featuring mostly under-the-hood improvements and fixes which make the overall experience with the OS far more fluid.
For those waiting for the Mobile Creators Update, that's rolling out in waves across regions now.For those waiting for the Mobile Creators Update, that's rolling out in waves across regions now.— Dona Sarkar (@donasarkar) 26 April 201726 April 2017
If you're using a device that isn't supported by Microsoft anymore, you unfortunately won't get the Creators Update officially. You'll remain on the Anniversary Update, and will likely receive security patches if needed for the foreseeable future.
Here's a list of supported devices.
Devices that are eligible for the Windows 10 Mobile Creators Update
HP Elite x3
Microsoft Lumia 550
Microsoft Lumia 640
Microsoft Lumia 640 XL
Microsoft Lumia 650
Microsoft Lumia 950
Microsoft Lumia 950 XL
Alcatel IDOL 4s
Alcatel OneTouch Fierce XL
SoftBank 503LV
VAIO Phone Biz
MouseComputer MADOSMA Q601
Trinity NuAns NEO
Microsoft says the update is rolling out in waves, so if you don't see the Creators Update for your supported handset just yet, don't worry. Update availability can also depend on the manufacturer, model, country or region, mobile operator or service provider, or the specific installed software.
Make sure you to check our in-depth Windows 10 Mobile Creators Update review for a full rundown on what's new. Let us know below if you've got the update on your handset yet!
Zac Bowden is a Senior Editor at Windows Central. Bringing you exclusive coverage into the world of Windows 10 on PCs, tablets, phones, and more. Also an avid collector of rare Microsoft prototype devices! Keep in touch on Twitter: @zacbowden.
I feel very confident in mobiles future when release is announced on twitter by a single person twitter's account :)

Is that sarcasm or are you actually happy?!

Its when people say they like you i guess

If it's good enough for the president shouldn't it be good enough for Microsoft. Twitter is the media of the new millennium.

I have a 640 and yet, this makes me feel like Charlie Brown...

Even that single person may be using Android or iOS behind the scenes. XD

Ya installed it ,now want to stop insider program on my lumia 640 pls help

Settings » Update & security » Windows Insider Program » Stop Insider Preview builds.

For those ? Like we are slaves . Not kings . Cuz the customer is the king

I don't think anyone is forcing you to use Windows...

Also it is unclear why those that are on .138 are not getting .251. Do you have any information on that? Can somebody ask Microsoft officially on this?

Hey noo,i was on 138 , n i got this build

I didn't I got two 930s from different regions and both are carrier free.

Are you on release preview?

930 is NOT on the list of supported phones, that's probably why...

(facepalm) I know that is not on the list of supported devices. Microsoft says that those phones who were supported with AU can get CU if they switch to release preview ring. My 930's have the CU but they are on .138 but they are not getting .251 . They are basically not getting the latest update for Creators Update but they should be getting it since I am on Release preview ring.

Same here. I have an Icon on .138 and there's no update available on the RP. I tried stopping Insider builds and then re-joining but still nothing.

It's weird isn't it. The message from MS was that unsupported handsets already on CU will need to switch to the RP ring in order to get the update. For some reason unsupported phones on AU are able to get the update when switching to the RP ring, but not users who are already on CU. There appears to be no upgrade path for 'unsupported' handsets on 15063.138.

It all sounds like they wake up in the morning, drank their coffee and someone started to think: what was that thing we needed to do today? hmmm... There are bunch of folks on twitter saying that we should have released Mobile creators update today. Ah yes we should release. How was that done? etc.

I got .251 on my Lumia 950xl.

How to stop insider program m on release preview ring ,with this build

Settings » Update & security » Windows Insider Program » Stop Insider Preview builds. I think after hitting this option your phone will need to restart, and you'll be done!😉

Hey garsia it shows 3 option,

It shows three options in the listbox, but you have the Stop Insider Preview builds button about which too should hit.

Customer focus in Microsoft is very selective.

Hmm.. Checking for updates, 1 update : Localization for Danish.

What the hell ☹ ,pls anybody tell me how to stop insider program now m on lumia 640 ,with this build

Just roll beck to 8.1 then download upgrade advisor app and u can official download the w10m creator update, ur lumia 640 is supported device so no need for insider program for u

Do you know how long it takes to do all of that? Lol

Settings>update and security>insider program>stop insider builds

Because lumia 1520 is toooo old ,now it's die ,and no company gives support for lifetime,lumia 1520 was released with (windows 8) so it's enough now!

My 2012 iPhone 5 (work phone) rockin' the latest iOS 10 disagrees

If the hardware can run the OS well why shouldn't it receive the update? A PC can run any OS you want as long as it's powerful enough. Why shouldn't this also be true for the handheld PC? The only persons that wouldn't want this to be true are companies who profit from phone sales.

Sooooo, when windows on ARM launches do you think it'll be reasonable for those devices to only get 2-3 years of updates as well while Intel and AMD PCs get much longer support?

It will depend on how well those devices sell. If it is flop, they will be dropped like Surface RT.

Unfortunately that's the nature of the beast.

Surface 2 user, or wife is on 8.1 RT, she only uses it for streaming video, but she loves it.

Me too very much disappointed with my 1520 2gb ram 32 rom,

Because they only keep supporting Lumia devices with the Microsoft brand on it, did you not realize this? They stopped the support for any non MS branded Lumia device.

lumia 535 is MS branded Lumia. But no update for 535

Lumia 435 is MS branded as well... (to be fair is just an outdated phone as well as the L535).

From my understanding, it's all about the specs.

$$$$$$$$$$$$$$$$$$$$$$$$$$$

I spent 72€ on battery replacement and usb slot fix of my Lumia 1520. Did a post here which got deleted (without warning) asking Microsoft what the hell they are smoking putting the 1520 out of support, and what future mobile 10 awaits... The deletion tells me a lot. I should be really worried and stop hoping. Millions of insiders without rewards... Including me... Wasted hours testing the 1520 in the insider program.

Spotlight on the Acer Primo on the picture, that didn't even receive the Anniversary update :P

Acer Liquid Jade Primo (ACERINC S58) is now officially supported by Microsoft on Anniversary Update: https://uploads.disquscdn.com/images/a1120e70df82d157a88086e48247e3c97d9...

Waiting
..waiting... Lumia 640XL.. India

It's available raja ,check for updates

not available on my 640xl too.

Lumia 735 here. Any advice friends ?

No, I've checked many times.. It says my phone is up to date

Nothing here yet for my 640......Sent from the Desert(Rajasthan,India)

Exactly same. Not available for my 640. India.
Don't want to switch to Release Preview for just an update Even 520s and 635s (512MB RAM devices) are receiving this update via Release Preview today

Lumia 950XL US (non insider) still waiting, anyone received it ?

No update found for my unlocked 950 this morning (also US non-insider).

My phone rebooted last night got the update UK, 950 xl

Nothing for me on sim free unbranded UK 950xl. Is yours sim free or network branded?

I too have the 950xl sim free in the UK and received the update last night, hope you're received yours.

Nope, not on my unbranded UK 950xl.

There was an update on my 950, but I don't think it was THE update. Felt way too fast.

Fourteen minutes ago? I'll check it.
Edit: Nothing here, Argentina :/

No update for 640 in india

It will come don't worry 😊

Okay. Nothing yet in The Netherlands on T-Mobile. But I am in no hurry 👦

Got it on my Lumia 950 from 15063.138 this morning. (Italy)
I think it's rolling out in batches. Not sure why, considering there are like just a few thousands people out there who can install it, but still.

I m from India and using Lumia 950. Still no creator update... i m not registered any release previews... Waiting.....

Dona is head of insider's program right? Is that what the mobile division is reduced to at mobile. Brandon Leblanc couldn't give info on cu release bc he had no idea according to his twitter conversation with Zac. Take the writing of the wall and put it on the blog. If it's dead, it's dead. If it's not it's not. There needs to be some insightful news about w10m plans at build... Not ms mobile intentions...specifically w10m news

Totally agree. Been with Microsoft mobile software since Windows CE 1.0 so will be sad 😢 to leave but unless Microsoft give us some answers I'll be off.

I've already decided. Well to be honest the decision was made for us. I just want the next gen type of device. It's not like ios or android is much better but at least it's more widely supported for getting the same thing.
We see Ms's potential in the consumer market but we just aren't their target audience.
For example, a switch-esque modular mobile Xbox device with w10m ui, telephony stack, continuum 2.0, which is really w10c with cshell, would be it. Covers mobile computing, gaming, Edu...but nope ms is ms.
Or something simple but very capable of being done, band 3 with w10.
Or the Cortana cube talking for ever to come. It's like they don't see the results of moving at a snails pace.. The snails dry up from taking too much heat and Microsoft is surely under fire.

I think that's all we're asking for. Microsoft needs to tell us what direction they are going and show some commitment.

Nothing in the UK for mine and my wife's Lumia 950. Hope it comes soon.

no update available on lumia 640xl. India

Got it! Lumia 650 South Africa. Updating from .138 after changing from slow to release preview

Yeah did the same on my 950 last night. Not waiting on our slow operators.

W10m is independent of operators I believe.

Well time to update kind of miss using Windows on phone.

Pro Tip. Grab it from the release preview ring. Same thing really. No?
(I'm not waiting on my operator to release it in a month or two)

Pro Tip. One of the notable distinguished features of w10m vs wp was the ability to update bypassing carrier approval for os updates

I'll wait until CU comes available through Device Recovery tool for a fresh install.

At the moment, the device recovery tool for 950XL still shows 10586 - so it's still not possible to get back to Anniversary Update yet. Wonder if this will happen in the next few weeks.

Although I already have the Creators Update, I will probably do this as well.

Can you guys help me a bit? So if I want to do a fresh install thru the recovery tool, I'll have to wait until the CU is up there and then I'll be able to install that first without going back to the original software version and then keep reinstalling stuff?? I don't have any apps on my micro SD card but I have music and photos, will it be recognized by my phone after or do I have to format it?
Thanks!!

Please add ability for Lumia 930 gets the Creators Update. If not, I will say goodbye to Windows Phone for good. It's a question of respect for the old loyal Microsoft customers.

Just use the Insider Program -> Release Preview.

Use insider program or use registry editor to change your device to 950. You'll get whatever the 950 devices get then

Hey no update in my Lumia 650 still now. And I'm not on insider preview

Looks like one fell through the cracks. Microsoft will soon send an extraction team your way. :p

How the FU*K does the 640/640 XL get the update but the 730/735 doesn't??? It's the same fu*king hardware!!! I'm beyond mad right now. First they wrote off my 630 with no W10M update and now they are writing off my 735 as well?

I would love to see them reply to this as well

It isn't​ worth Microsoft's time to update the 7 or 8 they sold. They sold a bunch of L640 though.

Yeah! The most recent figures state the 640 is the most used device right now

Same here. I love my Lumia 735. But this lack of updates is driving me mad.

No update on my unlocked 🔓 950xl uk

Hmm... Compared specs 930 vs 550 vs 640 and it seems that only possible reason of exclusion of Lumia 930 is that they wasn't able to test old smartphone themselves for some reason or thermal throttling and performance issues linked with it. What bugs you've experienced on 930? Just wanna pinpoint future possible strategy. On paper 930 has more memory, better CPU instruction set, etc.

Microsoft is killing their line of Lumia range gradually and slowly. It quite unfortunate. Besides, I passionately love my Lumia 640XL.

Loved mines too but one fatal flaw with that phone is the 8gb storage. I always had issues with getting updates even when my phone said i had more than enough free storage to receive the updates

I remember someone mentioning the type of screens being used on the unsupported devices. Not sure if it's true though.

I use Lumia Icon (basically the Verizon version of the 930) and it works great with Windows 10 all the way through CU (via Insider's Program). Just join Insider's and grab it. Use the "Release Preview" ring if you don't really want to be a guinea pig. That's pretty much the same as the release version (slgihtly earlier, so a bit more risk), but bypassing carrier approval.

I got the update, but it's not called Creators update, it's called "April 2017 Update for Windows 10 Version 10.0.15063.251 for arm-based Phone Devices", so all fine in setting the expectations:)

Even the Anniversary Update wasn't called so on the update screen.

When it available in India?

also still waiting for the update 😊
lumia 640xl......Bangladesh.

Got it installed in the Netherlands (950XL)

is it also rolling out for dual sim devices?

Yes. I got it yesterday on my 950xl ds.

Nothing here yet Lumia 950 (Egypt)

In other words, they forgot about us on release preview... :-)

I guess they met their 4/25 midnight 🕛 deadline on PST zone. Thanks for giving us red eyes 👀....

not yet Lumia 950.. India :-(

Same here not yet for Lumia 950 in India

Worth noting this is the best W10M has ever ran. It's not as minor compared to PC as some people make out as both have only a few new features that really make a difference. I'm not counting Paint 3D as a feature, it's also an app that wouldn't run on mobile very well anyway (try it on a Surface 3 and witness the performance issues). Not defending it just saying it is what it is and there are perf improvements that make the OS noticeably better on my 950 and W10M really needed a boost in that area. The branch thing is weird but get on with your lives and wait and see what happens. Probably not recommended to buy a W10M now unless you get it cheap but no need to rush out and buy another phone unless you really need one (I.E getting one just because you're butt hurt is a waste of money)

I agree. My 950xl seems to run a lot better with this update. Faster and smoother. A lot of the lag is gone. The phone doesn't get hot any more. The one issue I had is that it took almost 4 hours to update after it started installing. Usually it is only an hour or so.

hmmmm...mine was pretty quick. maybe 15 min

just did buy one cheap. A lumia 950 for £140. Replaced a faulty one. One thing I love is the seemless way you can log into a new windows phone and all apps and settings happen automatically

Lumia 950 XL Australia - same here

When creator update available download for lumia 640xl in india?

Not yet in Brazil. Lumia 650

not yet in the netherlands (lumia950 XL)

Regardless of sentiment, this update has given new life to my Lumia 950XL. I mean near BUTTERY smoothness! Reminds me of the polish windows 8.1 was; so glad W10M is finally on par. Also, they weren't kidding when they said windows hello was much improved :)! I recommend a hard reset before/after installation though, to ensure that you get the full experience.

You mean hardware reset before AND after upgrade?

Hey . What about insider s running rs2 on unsuported phones . I m running latest rs2 build on lumia 535

Lumia 950 in Portugal, done. Release Preview.

Any truth to the rumors of windows 10 Mobile running on Samsung Galaxy S8?????

Just rumors that's likely not true....i hope there's some truth to it but it doesn't look like it

Still no Creator Update for me..... :'(

doesnt affect us since we are not on the list

They should have included L735. If L640 can run anniversary update, 735 sure can. There is something fishy going on.

Same here (India) ☹ I m not giving up my 735 though.

Knowing at&t, I'm probably going to have to wait another 3 months 😒

Bearing in mind that the official Creators Update for mobile is being rolling out in waves, for those who live in Hawaii will get it first? Hauhauhauahuahua

So release preview was less than a day early...... Wowwww....

It's probably a shorter wait on mobile because PC's have to support more hardware combinations.

Only 14393.1066 came this morning on our (non-Insider) factory unlocked 650's in Canada. Will keep checking for new updates

No update for my 950/US-at&t yet 😪

This was an underwhelming update....

No update for both Vodafone (950 XL) as KPN (950) in The Netherlands. But I am in no hurry ☺.