Microsoft Build day 1 keynote video now available for your streaming pleasure!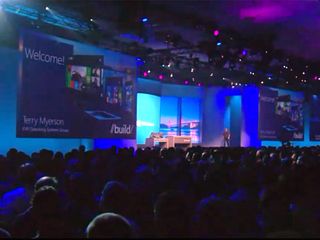 Windows Central Newsletter
Get the best of Windows Central in your inbox, every day!
Derek Kessler is Special Projects Manager for Mobile Nations. He's been writing about tech since 2009, has far more phones than is considered humane, still carries a torch for Palm, and got a Tesla because it was the biggest gadget he could find. You can follow him on Twitter at @derekakessler.
What is the song called in the 'Your fans are waiting...' video?

Ahahaha! Well played, sir.

Aaaand it's still Celsius

why no dynamic lock screen video from wpcentral ??? Please post it... it is one of the coolest things i saw ... :)

I'm happy, because I only got to see the live blog.

Was there any announcement for developer preview?

Correction Joe Belfiore has said in WP blog that its coming out in the first part of April. Sounds much better than "some time this month"

Answering to a question, forgot his name, said before the 15th of this month.

TOO. MUCH. INFORMATION. FOR. ONE. DAY. BRAIN. OVERHEATED.

Yeah that's how I felt... It's kinda awesome.

Great live blog today guys. And your articles produced parallel in realtime rock! This was a big day for MS, and you did justice to it.

Off topic: What about video sharing via Bluetooth? Do we still need to put videos in camera roll folder or can we simply share it from moliplayer list or default video player list??

well i guess the problem lies with the fact that videos folder is inaccessible hence no sharing either through bluetooth or whatsapp!!there is a confirmed news of video editing APIs to opened which technically means no more restrain on videos folder,hence we can assume sharing will be allowed now!!

Well Im guess Im not going to class tonight lol

Watched it live...and watching again!! Awesome!!

I heard the developer preview will be out on the 10th of this month.

And let's not forget the sneek peak for Windows 8.1 Update 2 !

Was anything shown for a new Bing Maps app and the new Xbox Music?

Any news on the miracast / screen projecting today? How about file management?

My computer crashes whenever I play the video...

Gimme the update already!!! I can't sleep!!!

Notice how when he does the thing with Hulu it thinks he said "mike you" but it added the show to his queue anyways

I watched the entire 4 hours last night (IST). Was very very impressed with the direction MS is taking. However, the Windows 8.1 Update 2 or Threshold (whatever they call it) seems a little alarming. Why go back on the Start Screen? This retroactive approach might de-alienate old users but can seriously jeopardize innovation.

I thought the same. But as Satya and Joe put it, it makes it more accessible for desktop users to use Windows Store apps. I'm guessing they're thinking that desktop users never use the store, so now they pin it. So what? Even if they run it now, they're not gonna install it because it only runs in Metro. Put that in a window now they're more likely to run it. Touch users won't do this, because windows management using touch would be horrible most likely, and just stick to using the regular Start Screen. I'm guessing as soon as the Windows Store reaches some threshold, then that will be the time more and more people will be using the new UI versus desktop, and Microsoft can phase it out because no one will realy be looking for the desktop UI at that point.

Hmmm...... come back in a couple of years

I'll be in cryosleep. Wake me up in 500 years when Satya Nadella is Master Chief and "Windows" has been renamed "Holographs".

Give me a cookie and you've got yourself a deal

Oops! Please set your browser to allow cookies and try again

MS and Nokia announced so much stuff it's overwhelming, but the new release I'm most tempted by is Kindle Fire TV. To me it looks like the Amazon box is a major step fotward and will massively grow the set top box market. I would far prefer to use a device that lets me run Win 8 apps on my TV if the option was available. If MS really has an Xbox One Mini under wraps that is even partially competitive with KFT, they have to get it out there NOW. Forget about the Xbox One cannibalisation risk, that's a niche market compared to potentially a streamer in every home and all the ecosystem adoption that would go with it.

Joe showed alot of great stuff regarding wp and I haven't seen techies report much of what he previewed. Its like they slept through the whole WP8.1 preview and waiting for the gadgets.