Microsoft CEO Satya Nadella celebrates Windows 10 launch by helping schools in Kenya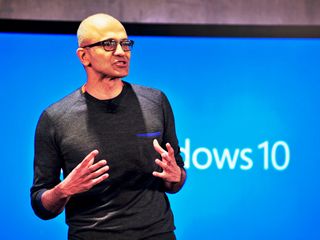 (Image credit: Windows Central)
Microsoft CEO Satya Nadella decided to do something a bit different to help the company celebrate the launch of Windows 10. Instead of sticking around Redmond, Washington, Nadella went to a small town Kenya to help schools upgrade their PCs to Windows 10.
Microsoft posted a video of Nadella speaking from the town of Nanyuki, Kenya which is close to the equator. He explains that he will be helping schools in that region upgrade to Windows 10. He will be attending a big Windows 10 launch party in Nairobi today, which is one of 13 invite-only events that Microsoft is holding to promote the launch of the new PC operating system. Nadella is also posting about his Kenya trip on his Twitter account today.
Source: Microsoft (YouTube), Satya Nadella (Twitter)
Maybe Satya Nadella and President Obama are the same people. Has anybody ever seen them in the same room together?

His future plan would be president of US.

And after he's done that..... WORLD DOMINATION

And cortana as spokesperson

Now that you mention it... no, I've never seen them in the same room together. Holy crap!

Wow, i am so humbled to have Satya in Kenya, i was a windows insider and i have been very eager for windows 10,and lucky this morning i upgraded to windows 10 and so far so good .

Yes it's Kenya. Kenya is of age...Obama just left, Satya is here tonight, the Pope coming soon, who next............

It would kind of be cool if they had Microsoft execs at schools all over the globe, helping them migrate to Windows 10. Maybe toss in free PC upgrades to schools still running XP or VIsta.

It took 15 hours to notice that ??? What are you guys doing?

Greatest answer ever:))).

Thank you! To bad there are not so many like him! Commpanies can still make money and same time help where is needed! I do not say suppor lazy! (to be cleare) Last 3 decades rich people just exploded!

Nothing short of awesome.

Exact sentiments I have. AWESOME. Was to attend Nairobi celebration but duty calls. Thought I have a chance to chat with BIG BOSS man.

Now, I don't know about you, that 1 minute clip with Satya in simple casual dressing at that Kenya school location for Windows 10 Launch is one of the best marketing promotions of all time. Who could have thonk it? I like it

That's actually a little more formal than he usually looks. Wish I was back working at an engineering/software company and could dress hipster casual.

Here's a company whose products AND culture this customer both likes! And as a satisfied insider, I wish Microsoft a happy and successful W10 Launch/Rollout!

Welcome to Kenya, listened to your interview on NTV Kenya and it was really inspiring

How about American schools

Too late, Google and Apple already own them. Posted via the Windows Central App for Android

Karibu Kenya, just upgraded to wInDOws 10 no rolling back

Kudos to you Mr. Nadella.

Thanks great , Obama was just in Kenya
Windows Central Newsletter
Get the best of Windows Central in in your inbox, every day!
Thank you for signing up to Windows Central. You will receive a verification email shortly.
There was a problem. Please refresh the page and try again.