Microsoft looks to cut Tag loose and close up shop in 2015; licensing technology out to Scanbuy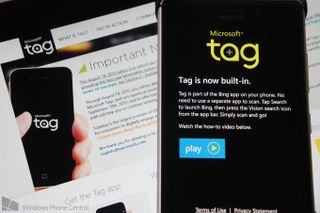 Microsoft has announced the company will be shutting down its Tag service in 2015. If you're not familiar with the name, it's Microsoft's attempt to compete with QR codes by providing a more advanced alternative. Redmond has been working on this form of High Capacity Colour Barcode (HCCB) technology since 2009, but it has failed to really take off leading to the company taking action (despite surpassing 5 billion tags back in 2011).
It's not the end of the road for Tag, however.
While the service under Microsoft has apps available on Windows Phone, iOS and Android, the company will be licensing the technology to mobile company Scanbuy. This rather generous 2-year period provides ample time for consumers who utilise the service as it is currently to transition over to ScanLife. The date for when Microsoft turns everything off? August 19th.
Looking ahead with ScanLife
Scanbuy, who runs ScanLife, will support Microsoft's Tag technology on its platform starting from September 18th of this year. The company will offer transition and migration services to those who currently use the Tag service under Microsoft, which will help ensure campaigns running currently will continue to do so successfully on the new platform.
This will be an interesting move to say the least as Scanbuy is a massive provider of QR codes and its cloud-based platform, ScanLife caters for providing experiences for consumers to engage with brands in everyday surroundings. Microsoft's own technology offers more functionality, security and scope than the standard QR code, which Scanbuy is surely going to look at taking advantage of.
Being financially backed by Google, Scanbuy CEO Mike Wehrs spoke to CITEworld about the deal and how Google essentially isn't aware of the deal yet (albeit before news broke out from media sources). "Our board meeting on the 28th… will be an interesting day," noting that Microsoft will be present alongside Google on the board with an observer seat.
How will all this pan out? Only time will tell. We'll look forward for more details being released to see how Scanbuy will take the technology further. Currently Scanbuy has apps available for multiple platforms, including Windows Phone.
Rich Edmonds is Senior Editor of PC hardware at Windows Central, covering everything related to PC components and NAS. He's been involved in technology for more than a decade and knows a thing or two about the magic inside a PC chassis. You can follow him over on Twitter at @RichEdmonds.
I prefer the look of their generated tags, as opposed to the popular QR code. I'm surprised they didn't really push a bit more on this; get some partners on board to use the MS Tag system instead of anything else. I mean, as a starting point, they could've made sure ALL games released on the Xbox 360 had one of these tags on the back of the cover...
I've only ever seen one MS Tag 'out in the wild' and that was on a bottle of water.

Really I've seen them all over where I live

I've only ever seen them on MS websites or websites dealing with MS tech!

I used to see them in the Road and Track magazine, up until a couple of months ago.

Maybe Microsoft can talk about youtube to Google all in the same meeting lol
Google has come a long way man. Started out as just a search engine and now they are in board meetings with Microsoft. I'd be proud for them if they (and their fanboys) weren't such dicks

Wow, never even heard of Tag

Why didn't they push this more? Does WP even read tag tags?

Since WP7 :P (probably Windows Mobile too)

I didn't even know this was a thing...huh

I've seen them more than someone would expect to but didn't know that it was from MS.

Lowes uses tags in their stores.

Yep, used them many times in Lowes, but I may be the only one in my local store, LOL

Maybe the problem is that it uses color where qr codes are just monochrome? Qr codes work on anything where only black is printed, for example on cardboard boxes and whatnot. No need to spend extra to get multiple colors printed.

HCCB Tags can be color or black-and-white. I've used both.

Ah, I stand corrected. There goes that theory out the window! :)

Never heard of it before now........

When you discover you are riding a dead horse, the best strategy is to dismount. ... get over the fact that it's dead, and ride another horse.

I think it's more like riding a horse that you are want to be a really great racehorse... MS buys the very best horse, the best trainers, the best vets etc but then they leave the horse out in the paddock to get fat. They can say "hey, we have a horse! We're in the race!" but they don't put much effort into it after that. A lot of people do like riding the fat horse, but it's never going to win any races. After a few years they shoot the horse and start over... or just buy all the other horses in the race :P

We use Tag on our website to redirect users to the Phone Marketplace. We chose it because it's easier to recognize than QRCode. Even when you resize the browser and the Tag get's very small.
You see, while the QRCode could get very dense - even unrecognizable/ridiculous- as the message gets longer, the amount of information on a MS Tag remains minimal because it's just an id number. The app sents a request to MS servers with that id and get's back the url/email/text/vcard/etc. It's the equivilent of URL shortening on QRCodes.
I am not sure how Scanbuy will handle this, so I guess we have two years to find out what are their plans. I hope they push it furter to areas like advertising, coupons, etc while the service remain free to the general public for the usual stuff.




Owned by Google, eh? Tag will be gone within a year.

It sounds like current tags will stop working in two years which really ticks me off since I have them on business cards and marketing material. Why MSFT \ ScanLife can't keep the URL redirection working is rediculous.
Windows Central Newsletter
Thank you for signing up to Windows Central. You will receive a verification email shortly.
There was a problem. Please refresh the page and try again.