Microsoft closing all physical stores as part of 'strategic change'
All physical Microsoft Stores will close as part of a "strategic change" by Microsoft.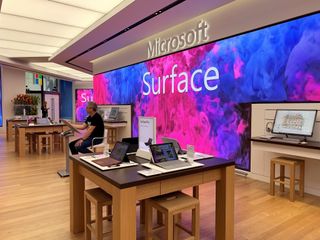 (Image credit: Windows Central)
What you need to know
Microsoft is closing all physical Microsoft Store locations.
Microsoft will invest more into its digital storefronts.
Microsoft will repurpose some physical locations, such as its Microsoft Experience Centers in London, New York City, Sydney, and Redmond campus.
Microsoft announced that all physical Microsoft Stores will be closed. The change is part of a "strategic change" and will see Microsoft push more effort and money into its digital storefronts. Microsoft announced the change in a new post (opens in new tab) today.
Microsoft states that its retail team members "will continue to serve customers from Microsoft corporate facilities and remotely providing sales, training, and support." Microsoft will also continue to invest in its digital storefronts on its website as well as on Xbox consoles and Windows 10.
Microsoft will "reimagine" some spaces, repurposing them to "serve all customers," according to Microsoft. The Microsoft Experience Centers in London, New York City, Sydney, and on Redmond campus are among the stores that will be repurposed.
Microsoft highlights that since it closed physical stores in response to the current global pandemic, retail team members have helped small business and education customers with virtual training and customer support. Microsoft states that its "retail team members will serve consumers, small-business, education, and enterprise customers, while building a pipeline of talent with transferable skills."
While physical stores will close, Microsoft points out that its digital storefronts reach 190 markets around the globe.
CNBC's Todd Haselton reports that all employees from Microsoft Stores will have a chance to stay at Microsoft. A Microsoft spokesperson later confirmed this to us as well.
Microsoft's news post states that "The closing of Microsoft Store physical locations will result in a pre-tax charge of approximately $450M, or $0.05 per share." These will be recorded in the current quarter, which ends on June 30, 2020.
Windows Central Newsletter
Get the best of Windows Central in in your inbox, every day!
News Writer and apps editor
Sean Endicott brings nearly a decade of experience covering Microsoft and Windows news to Windows Central. He joined our team in 2017 as an app reviewer and now heads up our day-to-day news coverage. If you have a news tip or an app to review, hit him up at sean.endicott@futurenet.com (opens in new tab).
Wow. This is really sad. I know they are not as visited as the Apple stores, but it was very helpful to have a physical Microsoft store to take my devices into if I needed support. I am looking forward to seeing what Apple's new ARM machines are like. I STILL don't have the latest Windows update (WSL2!!!!) on my Surface Laptop 3. It is getting ridiculous.

Unfortunately, Microsoft Stores really only existed in US cities. Canada and UK was mostly left out since here in Canada they only have 4 stores but we have over 22 different cities. The nearest one for me was 5 hour drive to Toronto, or nothing (not counting the one across the border in Detroit, MI).

We only got one proper UK store and that was in Oxford Circus after years of waiting.... I'm glad I went there during launch week. As will never be able to go there again... It was a pretty decent experience. I'm really starting to miss Ballmer at the helm of Microsoft. Sure, some of his decisions are questionable and Microsoft may not have gotten the partnerships in terms of opensource, xamarin etc unless there was quite a visible change in tact. But he would never chase the beans all for the sake of a measely increases Quarter of Quarter in the stock price just to benefit shareholders. He bought the Nokia's D&S divisions to prevent the absolute clusterfudge the Windows ecosystem is now in. But the shareholders got greedy and booted him out and we have another massive clusterfudge. This decision is going to come back and haunt them pretty badly. They could have used the stores as distribution points. So now they will have to rely on sub contractors to offer help and distribute, these sub contractors do not have the best relationship with the customers. Not to mention, by leaving Apple with the only OEM with a direct integrated product stack and physical presence. Microsoft has just increased the erosion factor by tenfold.

Agreed. May the stores Rest In Peace.

While a bummer since there has been one near me everywhere I've lived, let's be honest... Bestbuy basically offers the same thing with their Windows section plus far more products then the Microsoft Stores ever did as well. The biggest let down is having a Microsoft Store was an easy way to exchange faulty products. My surface book 3 was return FOUR FREAKING TIMES until I finally got a perfectly working one.

Agreed. I have visited the one nearest me many times, and have always been happy with the service. My visits for hardware issues were always handled quickly, without the need to wait on mail. I had similar issues with my Surface Pro 3, which was exchanged three times, before I talked them into letting me upgrade to a Surface Book with Performance Base. That machine was exchanged twice, and the third time I ended up with a Surface Book 2. The Surface Book 2 has been the best laptop I've ever owned. Always happy with the in-store service, but there was one of the times with the Surface Pro 3 that I had to wait on mail as they didn't have one in stock to exchange. The in-store service has always been MUCH better than the drop-ship service.

Wow, the quality control that bad?! Why would you keep buying them?

I had 3 Playstation 2s fail under me before one actually stayed working for more than 3 months. Because they're something you want, that's why.

Perfect answer. I've had 4 Dreamcasts since September 9, 1999 and if this one fails, I'll buy another. Because it is something I want. Had 2 Microsoft Bands, 2 Microsoft Band 2s, 2 Surface Book 2s after they all failed, just because they were products that I wanted that offered a mix of something that other products could not provide.

My first iPod was replaced 4 times under the same warranty. Granted, I never bought an Apple product again. I still use my Surface Pro 3 regularly, though I would love to have the faster processing, longer battery life and Intel WiFi of the new ones.

I didn't keep buying them. The SP3s were all replaced under warranty. The first SB, I paid the difference between the original price of the SP3 AND the keyboard (they credited me the entire price I paid) and the SB that I was buying. So I got a SB with performance base for a really cheap price. The SB2 was no charge, as they exchanged it when the SB needed replacement and they didn't have either a refurb or a new SB with performance base in stock to exchange. So I ended up with increasingly newer machines, with little or no money put out. When it comes time to replace the SB2, I'll buy whatever I can find that is powerful enough to do what I need it to do. I'm liking the new Acer ConceptD Ezels. We'll see what happens when the time comes, though.

Very likely Bestbuy won't carry the Surface Studio or the Surface Hub. I couldn't convince my boss to consider a Surface Studio until I dragged him into a store and showed him what it could do for our company. Seeing it in person convinced him and we are all digital drawing now. Wouldn't have been possible without the Microsoft store. Oh well, if there's one thing I've learned about Microsoft is that they are like Gru and his balloon animal gift...

Dang, they had excellent customer service and were very convenient.

Well I guess Microsoft is finally waving the white flag and ceding the consumer market to Apple. It's really mind blowing how a company with so much resources can be so inept.

you haven't read the article obviously

Although there's only one in my country, having these stores was a key part of promoting Microsoft products to shoppers. Closing them isn't a good sign for their seriousness in the consumer space with their own hardware. Seems like a fair comment to me.

What do you mean? This is exactly what happened. MS is no longer a consumer-facing company, with the exception of Xbox. Xbox ain't nothing, but it ain't much...

Not the case. Microsoft already didn't have the customer traffic that Apple stores have. With COVID being an issue for many retailers, Microsoft saw it as an opportunity to focus on the digital store front, since they were forced focus more on it anyway. It saves them money in the long run. It's a bit disappointing, but understandable. I could speculate as to how much it cost them to maintain operation of physical stores, compared to what they actually bring in. They made their fair share of money, as I've never seen the Microsoft store near me without customers and they've maintained those storesfront since 2009.

Extremely disappointed with this decision. The closest one is over 4 hrs away from where I live. I would almost always include a stop whenever I traveled to that location. It was across from an Apple Store. I believe it will hurt MS mind share with consumers. MS Stores may not have been profitable, but they didn't need to be. Their presence, employee engagement, events (XBOX) and hands-on interaction with their devices will hurt their bottom line.

" MS Stores may not have been profitable, but they didn't need to be." Um, yes they do. EVERYTHING needs to be profitable. Which explains why phones, MP3 players, groove music and everything else that was losing billions, is now gone. MS is not a charity.

All indications are that they were profitable, but I assume they do need to be since they are keeping their unprofitable Windows Experience Centers open.

Total bummer. I loved going to their stores for the computer porn and being able to deal with a customer service issue like a cracked Surface Pro screen in one visit was so convenient. Best Buy's level of customer service has never been anywhere as good for things like that.

This is a shame. I've always enjoyed the service I received at their stores. I had to replace an Xbox under warranty, and they re-downloaded all my games at an insane speed at the store. They even offered bottled water or soft drinks if you were waiting on a tech or something.
The greatest loss I think is that these stores offered classes and coding camps for adults and kids for free! This was a great way to introduce people to the ecosystem and offer a great service to the community. The store near me always had kid coding camps in the summer, as well as gaming sessions in the evening.
I understand COVID-19 makes these types of events impossible, but it is still sad to see them go away.

Yeah, these were a great function of the stores. I had a feeling this was always coming down the line. Maybe the virus sped it up?

I took some comfort in the London store being there as I always knew that if I had a problem I could take my device in; even though I'm only in London on business every month or so; the online/phone customer service is horrendous - second thoughts about keeping my newly bought SB3 now to be honest

Hardly surprising. There's little consumer interest in Microsoft, aside from Xbox and they don't need dedicated retail stores for that.

What makes you think there is little consumer interest? My mum loves her Surface Pro. Closing the store my look good on a spreadsheet but it's what is signifies which is more important. Seems short sighted. But that's Microsoft for you. They've never really understood building trust, support or sticking with things long term.

That's really not true. They haven't stuck with *consumer* stuff long-term. But Office 2019 can still export files in a format compatible with versions from the 90s. They are *very* good at supporting things business cares about for eternities.

Wow! Great customer service. Loved getting to get hands on with devices. For me, only 30 minutes away. But I understand. I had been amazed they had stores but I was happy they did. Apple store in the same mall was usually full. MS store was about 1/3 full except during end of year. Oh well.

I agree with some commenters who said this isn't exactly surprisingly, but I also agree it's very disappointing. I buy most of my PC gear at the Boston Microsoft Store ... or I did. I've had nothing but good experiences. And I definitely feel like Microsoft Stores provided a better experience and level of support than a retailer like Best Buy.

You hit it right on its head. I, too, have had nothing but good experiences at my local MS store. I never thought I'd be saying this as a long time MS fan in general, and Surface products in particular, but I'm afraid MS support for their own hardware is waning (and possibly coming to an end in the near future) and because of this my next device will most likely not bear the Surface name. I've been a PC guy my whole life, so I'm not quite ready to jump over to the Apple ship yet for such experience would be too jarring. Dell will probably get my business next. Needless to say, I'm very upset and extremely disappointed with this decision by MS.

I'm not happy about the news but I'm also not surprised. The fact that the stores were closing means that they were likely unprofitable. And unless something new was launching, MS stores looked pretty empty in the pictures I've seen. That said, if Microsoft wanted to make their stores a success then what they needed was more stores. It's almost a 2 hour trip for me if I want to visit a MS store. It needed to feel like going to a MS store was a normal thing and not a special trip. An Apple store is 10 minutes away with Best Buy right across the street (Side note: I'm glad Best Buy is still around. My particular store is pretty awesome and I much prefer seeing a device in person before buying). It'll be interesting to see what investing more into their digital storefronts looks like. Because given that they've killed Groove, never expanded Movies & TV to other platforms, and haven't made any significant changes to the Windows 10 store in eons, it doesn't seem like MS cares that much.

More stores wouldn't help. They would be expensive and unsuccessful. Even in urban markets, they don't draw a lot of traffic. They would be burning money opening stores in smaller markets--even Orlando, FL and St. Louis, MO don't draw much traffic, and those who DO stop in pretty much chill and play games for free and bail. They do really need to have some sort of physical presence though, at least in the largest economic markets like NYC. It's good for PR to have media events at physical stores, IMO. They're going to hurt for product announcements from this. What's more, I think the optics hurt their product adoption. MS has sent another sign that they won't stand by their consumer products, so who is going to want to invest in something like a $1,000+ phone that could hit EoL in 12-18 months? I expect this to destroy the confident in MS's new Surface devices.

Nadella and Spencer can say whatever they want, but mark my words - Xbox business will be sold, sooner rather than later.

They will spin off XBox and Surface. Strictly consumer facing stuff is all going away. They've just about moved most large corporate Office clients to the Office365 subscription model, which helps them replicte the success of Azure with re-occuring residual income. This is Microsoft of the 2020s.

The closest one to me was 5 countries away... I was hoping they were gonna spread to mainland Europe, not close them altogether...

This bums me out. I always enjoyed making trips to the Store.

Extremely disappointed, we go there weekly to pick stuff up and get things repaired and to see new devices. our school was looking to get all the labs through the Microsoft store .
this is extremely bad news, I hope they can reverse this some how .

Bunch of M***** F******* Seeya im off to Apple, keep your s****y Surface with no longevity, Windows 2004 which breaks everything, no balls to support your own products or services, I was at the launch of the UK store on Oxford Street, what an amazing experience, well FU MS! Even in business, am thinking of switiching to Google.

Well which one is it, Google or Apple? k

Google for business - Gsuite - Apple for the hardware, everything's cloudbased and the hardware will last a lot longer than Surface Pro's will.

Wow I'm glad I decided to stop by at the NY store a couple of years ago. Great experience on the VR floor.

Bummer, seems like Microsoft is cleaning house with this news and Mixer's closure. Honestly, both moves don't surprise me. I enjoyed my time in Microsoft Stores, but they were nothing compared to Apple Stores as far as traffic. Rather than paying for their own space, think it makes more sense for them to expand with partners such as Best Buy/Walmart/etc. Also, who the heck knows what will happen with these smaller outlets during/post Covid-19. My guess is that we'll be seeing many of them struggling, so a move to focus more on digital commerce makes sense.

A relative gave me Microsoft-branded gift card that curiously can only be redeemed in a physical store. Any word on whether they're going to leave us hanging high and dry or do something to fix that? With the stores currently closed, will they re-open briefly or are they just never going to open them again?

I'd call customer service, I'm pretty sure they'll do something to make it right. RE: store closings - This is terrible news. The stores were a backup to me if I had a problem that needed attention, particularly hardware. I didn't realize that, by buying products on line, I was signing my local store's death warrant.

The MS store in London only opened in May 2019, to great fanfare and spectacle I must add. I went there last July and was impressed. My one and only visit I guess

Next on line should be Microsoft to close PC hardware business. Investing in Microsoft products is as risky as surviving this Corona virus crisis.

Surface is a billion-dollar business though.

this means absolutely nothing

Correction: Surface is a billion-dollar-per-quarter business

https://www.theverge.com/2019/1/30/18204207/microsoft-q2-2019-earnings-c... although a little old, that article would suggest it really is

While this is disappointing, it is not surprising. Microsoft originally opened its retail stores because chain retailers were doing a really horrible job of displaying and selling Windows products. The effort paid off and Microsoft later signed a deal with Best Buy to develop the Windows section that you see in larger Best Buy stores. They may have had similar deals with other retailers as well but that one made news. Given that retailing is going to be significantly different coming out of the pandemic (whenever that is), this move (not coincidentally being announced at the end of Microsoft's fiscal year) may well be quite prescient and will be welcomed by Microsoft's the other retailers in this new era. The usual doomsday fretting about abandoning the consumer market will ensue but is as wrong as ever. Microsoft is not the "devices and services" company that Ballmer once said he wanted it to be. That was a radical departure from what Microsoft had been and didn't fit its culture at all. If they were abandoning the consumer market they would not have announced they are enhancing the online retail experience for consumers. I've had two Surface devices that needed replacing over the years, so my experience is vastly different than some of the stories I see on this thread, and it was easy to get them replaced by visiting the nearby store. I don't expect the return policy will change though the process will no longer be immediate.

They've been saying Best Buy is on the ropes. If Best Buy went under, I wonder whether Microsoft would reconsider their decision...?

Enhancing a digital storefront is basically just improving the digital backend. It's ultimately not a good way to judge or experience products. They're not going to really give people a good avenue to experiencing their new foldables or WMR headsets or anything. There is no way to "enhance" a digital storefront in a way that's anywhere close to what an in-person store can offer. They're really going to struggle to give people a way to get introduced to new products. BB's mobile setup is pretty inconsistent, in terms of product displays and quality of store employees and their knowledge. It won't serve the Surface Duo well, and I doubt the Neo (if it ever gets released) will have a better experience in BB than a MS Store.

Granted that physically trying out the device is not possible on a website but that is what the remaining retailers are for and I'm sure Microsoft will work with BB and others to assure training and adequate display units for new product releases. As for the Duo, I don't expect that device to be available anywhere but the online MS store, at least for this first version.

@someoneinwa, I hope that's right. On the face, that makes strategic sense, but Best Buy is not in great financial shape, so betting on a poor-performing partner doesn't seem wise if that's to be a pillar of their future business (of course, they helped Best Buy's chances here simply by closing competing stores). But it seems that if that were their intent, they would have encouraged customers to visit the MS sections of Best Buy, instead of referring to bolstering their online presence. It doesn't feel like they're doing this to help their retail partners. I miss the old MS that put out a crappy product or entered a market with poor service, then kept iterating with unmatched energy until they got it right and surpassed all their predecessors. Now, it seems they toss out an idea, and if it doesn't immediately take off, they shrug and throw in the towel. Nadella's "Hit Refresh" theme says it all. I wish the title of his book had been instead been "Perseverance."

I had to get a Surface Book replaced, but all they did was send it out and order a new one for me. It was a great experience, but they really could have done that without me setting foot in the store. I had an earlier problem with a Thinkpad and IBM, who does Lenovo's support, sent me a box and an RMA. I am not sure if they sent me a new one or repaired the old one since I told them I did not need the data.

This is sad. I used the Microsoft Store to buy Windows Phones and to bury Windows Phones, to buy the Surface 3 and to bury it. Nadella, please do not forget the consumer.

What's a consumer? MS only recognizes corporate clients nowadays.

Man that's sad but not surprising. I always wondered if they were profitable. The rent alone in some places I imagine to be more than the sales they generate.

The crazy part is that as much hate there is on the part of fans for Nadella killing off everything consumer (except XBox), Wall Street is just crazy rewarding the guy. I've no doubt $MSFT will skyrocket Monday morning on this news.

Not surprising. This also seems like it is likely to lead to a lot of future product failures, like the new Surface foldables. People aren't going to have a flagship storefront to check such things out. Honestly, I'm not sure Microsoft has any clue how to succeed in consumer markets. They partner with Facebook Gaming, shut down their streaming platform, and close their physical stores. There won't be anywhere in malls to be introduced to Microsoft products effectively. Basically the only significant MS retail presence in the future seems to be Best Buy. I really think this is a major detriment to the odds of success for the Surface Duo, more than anything. People aren't likely to want to buy into a 4-figure phone, sight u seen, and carriers have traditionally bad at selling MS mobile devices and making sure their employees are informed. MS seems committed to bailing on consumer market expansion going forward. WMR is losing its only real place for retail introduction, so expect consumer interest to be weakened there as well. Service turnaround times are going to suffer because people will lose that in-person option. I could see shutting down some of the stores in less-successful areas, but this generally comes off as signs that MS is just giving up on consumers.

First, WOW!!! Just Wow! Second, I would really love to hear Daniel Rubino's take on this. There are some serious questions that we as readers and enthusiasts would like answered. Like: What does this mean for Xbox seeing there is an impending launch alongside the PS5? Should we be buying a PS5? What about the new devices on tap, as well as those we have purchased? I'm typing this on my SPX, which I love, but are they really going to keep supporting it - the device, I mean? They are about to re-enter the mobile market, really? Should we seriously consider buying a Duo at this point? And that's just a few to get the discussion started!

Perfectly timed with the 'is Microsoft's quality control getting worse' article. In the US, the best way of dealing with warranty issues and/or defects was through the stores, if you were lucky enough to have one somewhat near you. I'd love to say these closures mean MS will put more effort into their online support and service, but let's be honest; it's going to keep sucking.

Not surprised at all. The only consumer product left is the Xbox which I think will probably be sold in the future. And I don't think this helps the Duo either.

What a pity the store closed, they closed Ms Band, Windows Mobile (lumia) and next what it will be..

At this point I was only in for Windows but with MacOs adding iOS support apps, universal apps like Microsoft was supposed to and I can't even argue for Microsoft anymore, they will be forever a Windows/ Office company. Xbox will barely survive this generation and I'm getting PS5 because all my favourite 3rd person single player games are there.

It's a 3 steps forward, 3 steps back kind of company. Always stuck at a safe 0.

I only went to one a few months ago as I happened to be walking past it. Since they didn't have what I needed (Windows Server 2019 Essentials), I just logged into my Microsoft Company store (Alumni) account and ordered it from there. What I thought was cool was all of the computers available for people to play with. They showed me one of the older customers that came there almost every day to learn how to use the computer.

Because the digital store worked so well before? Besides Xbox, Microsoft is essentially regressing back to their old days of software and business products only. I don't know why anyone would buy any of their consumer products now other than Xbox since they generally only support them for a year and discontinue them. I'm looking at you Surface Headphones and earbuds. Xbox used to control my entire entertainment system. Now that has been taken over by Apple TV with Xbox now just games only since they removed Cortana voice control. Looks like my home will be Apple/Google and my Windows relegated to only work.

This is sad news. I visited the Microsoft Store at the Domain in Austin several times, and I thought it was a really nice experience. When I had a Windows phone, it was a good place to get accessories. Also my kids loved the Xbox demos, where they set up VR and HoloLens. The staff was always friendly and helpful.

There still keeping the flagship stores thought

Terrible decision. Regardless of whether the stores make money, they showcase the products in their best light and provide a great customer service experience, which makes people comfortable buying the products.

What a huge waste of money. The London store in Covent Garden only opened a year or so ago. It took Microsoft a long time to secure the premises and over a year of design & build work. The effort that went into the launch was huge. I stand corrected, but I do not know of a single other industry that kills off projects and leave customers wondering what the heck is going on like the technology industry. Apple, Google and Microsoft are all guilty of it. They have too much money to waste.

There were never many outside of North America to start with Shame though as everyone knows what a MacBook is but few what a Surface is. People think my Surface Pro X is an iPad :(.

That's ok just educate them

How long until the online Store will also be shut down. Does anyone really need the Windows Store for apps...

This just made me a lot less likely to buy a Surface Laptop. The reason I buy from the Microsoft store is their on-site customer service. It was the best around. If you ever had an issue they took care of it immediately. Best Buy does not offer the same level of service. I'll probably buy the Dell XPS now instead.

Nadella doesn't see the value of the consumer. He almost let Xbox go.

Consumers don't see the value of Microsoft. Nadella knows this. This move is not surprising at all.

The 53 people here that have actually been in one really doesn't justify the cost of maintaining 116 stores in 4 countries and 1 territory. I'll miss it too, but I can't imagine they were a positive ROI, unless you tried to count all the intangibles. Those are hard to measure.

Especially with retail patterns changing dramatically over the years, it may well be a wise move, even in the long run and considering the lost marketing benefit (treating the stores as a cost, just like advertising). The problem is that it's one more step in a long pattern of giving up on anything that shows MS values its customers. I just yesterday (on that great sale) bought a Surface Pro for my daughter. I plan on getting an Xbox Series X at launch and possibly a Duo (torn due to lack of wireless charging). That desire for MS products and services together is what keeps me in the Azure-based MS ecosystem and certainly plays on role in my corporate decisions too, which by all accounts Nadella does care deeply about, even if he doesn't care about the consumer business. If the ecosystem lacks all the pieces to be a complete ecosystem, it will eventually force me (and probably millions of others) into a different ecosystem that isn't missing those pieces. Without us also being personal fans as individual users, that means we're also more open to changing our corporate IT infrastructure away from MS. It doesn't happen overnight and some won't want to change, but it opens the door to competitors and that hurts MS market share at all levels. I don't understand how Nadella doesn't understand or foresee this guaranteed progression.

"The problem is that it's one more step in a long pattern of giving up on anything that shows MS values its customers." Not at all. Microsoft DOES value its customers. The problem is, their REAL customers don't buy anything from retail stores. Their REAL customers are - of course and as always - business customers. I have said this 100 times in the last few months: Microsoft is NOT a consumer products company. Period. Stop expecting consumer products from Microsoft.

So we should give up Xbox too ?

I met Larry hurb Xbox is Major Nelson at my local Microsoft store. I also purchased many phones controllers and accessories. I enjoyed going to events if I was free to go. It was a lot of fun at the local Microsoft store. I will miss the store and the memories that I have from the products that I purchased there. My last trip to Microsoft store was just days before they closed for covid-19. Rip...

Oh no! What a GREAT tragedy for consumers worldwide!
Oh wait...only two or three countries in the World actually had access to physical Microsoft stores.
Yeah, nevermind then. No one will notice it.

I've been tentatively re-entering the Microsoft ecosystem after seeing the success of their Surface line (and after being burnt by them dropping Zune, Windows Phone, etc. etc.) but moves like this give me pause. Doesn't seem like they're willing to commit to building a solid consumer-facing arm of the company if I can't go in person to try out $2,000 machines or ask knowledgeable employees questions face to face. Some folks here are mentioning that the stores weren't bursting at the seams like Apple Stores and I have no way to refute that, but it still seems like they'd be a worthwhile investment in a long-term plan to win back customers and interest new ones! Especially with those free coding classes, gaming events, and other methods used to show a focus on different communities.

Apple stores are primarily repair shops for iPhones and iPads. They still have a full presence at Best Buy in the US and other retailers such as Costco, Target and Walmart. The reality is people really didn't buy anything there and they used the staff for corporate events and training. As long as the staff keeps their jobs you can go online and they offer a no hassle return policy. I recently purchased a full Surface stack online during the pandemic and was not impressed. Returned it all with free shipping and no hassle.

Actually Apple stores suck you go there and if it's not regular end user crap they setup an appt for a tech to call you. I wouldn't be surprised if their stores close up soon. Brick and mortar stores are a way of the past this move doesn't surprise me since malls are having trouble staying open and this quarantine is just another nail in the coffin. It's hard to maintain a store when the shopping establishment it's a part of is failing and is risking closure. I forsee a lot of companies closing their physical stores because of this.

They should merge them into the Best Buy section and Geek Squad for repairs.

My family bought me a $500 gift card from Microsoft retail store on last holiday season. Their web store does not accept it. What could I do ?

Since the stores are closing you may get a refund.

So how many of the big windows PC manufacturers have their own stores? I'm not sure any company that sells enough PCs to be in a chart on their own, rather than "other" has physical stores, so it's hardly surprising MS have taking this decision, I'm fairly sure they won't have been profitable anyway, so it makes good business sense. If you don't buy MS, you're probably going to buy Dell, HP, Lenovo or Asus, none of which will you find in their own store, but plenty of choice in Best Buy and the like. The only people complaining will be those lucky enough to be able to visit the store, the majority of the world isn't in that place and has got used to online purchasing - I've not bought a PC from a physical store in over 20 years, including several MS Surface devices. Apple has seen online sales expand, and a large part of their market is people impressed with shiny things, not those looking for a tool to get a job done with as little fuss as possible.

Considering all the Apple Stores that COVID-19 has killed in my area (sorry, "temporarily closed until further notice")--a far stronger retail space brand, I'm confident to say--this isn't surprising.

The difference is those Apple stores will be re-opening.

This has nothing to do with any virus; Microsoft has shown for years, they simple don't know what they are doing at this point.
Everyone and everything is using the virus as an excuse for their crappy decision making, lousy service among many other things.

Wow this sucks. I loved having an actual Microsoft store to go into even if I didn't buy anything. I think it's always better to physically touch things. I think covid changed a lot for businesses.

They also never did a ton of marketing behind these stores- I bet more people would have gone had they let people know the stores were there in the first place.

Unfortunately these stores were similar to the old Gateway stores. Lots of knowledge, high prices and people just got the information and went down the street to Best Buy. I think Microsoft missed out on an opportunity to use the stores to boost the gaming market. eSports tournaments could really drive traffic as well as the training for corporate customers. In the end better to take the charge-down heading into a slow Q2 reporting period. If they continue to use the staff to do corporate events and online-training it could offer a good career path for them vs. retail.

Once again, folks. Microsoft is NOT a consumer products company. They never have been. Yes, they tried. But every single consumer product failed. Windows PCs are NOT consumer products. They never will be. They sort of were, 15 years ago. But that was only because there was no other way to get on the internet. Now that everyone has a phone (and maybe a tablet), there is no reason for the vast majority of CONSUMERS to own a complicated, hard to use, antiquated, Windows PC. Burning money on retail stores when your core customers - businesses - don't go there (and probably didn't even know the stores existed) is just plain silly. This is a business decision, folks. Just like killing phones and MP3 players was. AGAIN, it's not that MS does not care about consumers. It's that consumers don't care about MS.

@naddy6969. Stop defending asinine business practises for profit scrounging. It only helps the shareholders short term, it does not help the business, it's partners, it's affliates, it's staff. Without people, there is no company and when there is no company, there is no "business".

"asinine business practises for profit"? Do you have ANY idea how business works? Feel free to start your own business, where you can focus on "brilliant business practices that lose money". Meanwhile, by NOT following your business ideas, MS is on the way to becoming a TWO trillion dollar company. If you consistently make "short term profits", the long term takes care of itself. OTOH, if you never have "short term profits", there will never BE a long term.

Oh no! Business decisions that lead to profit! Jokes aside, about short term vs long term, I think Amazon shows that you can have little to no profit for a long time (all would-be profits going to investment) and that translating into profits later. But even then you should see stock values rise. And since when is MS's brick and mortar presence been a big profit center?

@naddy6969 Actually, I do and you do realise the only reason Microsoft's valuation is a "two trillion" dollar company is based on stocks, which is based on speculation. b) there are other sectors that growing, however these will not grow forever. The only reason Microsoft is where they are today is because generational familiarity. If you cannot see the damage that is being done, then I'm sorry, then you are truly short sighted. It's all about influence and right now what has more influence than Microsoft? Google and Apple. Google is shaping the web so it benefits them and Apple if they have their way we are going to see very closed of computing where everything works better within their expensive ecosystem. Thus limiting consumer choice and hardware interoperability. The gateway to the Microsoft ecosystem of services should always broad as possible with the best on their own hardware. Which allows OEMs to make better Windows based laptops, as a result consumer choice is made better and we all get better products. Without brick and mortar stores, Microsoft loses the ability to perform good faith PR which spurs and contains the ultimate form of Marketing - the word of mouth - one word - Influence. Without the influence of Windows, the whole a PC in every home push, Microsoft would not be where they are today. To make that a reality, windows was on every type of hardware imaginationable - which was created by OEMs. Apple took the siloed approach and we all know what happened there. Do you know why people continue to buy Macs? The fundamental reason is the the human interaction wrapped up by slick marketing campaigns, which is all wrapped in a just works mentality. So yeah, you have to look growth points, logistical and economical factors. As i said before, without people there is no business and without a business there is no company. So going back to people, what happens in two to three generations when all the users know are Mac and Chromebooks? You think Apple and Google are just going to sit on their laurels and not improve their enterprise services so they get a bigger slice of that pie? As I said, influence. To take your point to focus on the short term, if Microsoft closed Surface down after the write down. Then Surface would not have become a billion dollar business, If Microsoft shut down bing when it was making losses, it would not be profitable today, Microsoft shut down Xbox after the RROD, they would not have another huge revenue stream contributing to the two trillion dollar valuation. So yeah, without growth points and nurturing them a company cannot have a diverse portoflio thus their valuation will hardly grow beyond a certain point. So we're back to a circular argument, you don't just focus on the short term, you do both. If you just focus on the short term the long term does not take care of it self.

@TechFreak1
Thanks. It is exactly what i think but you summarize it very well !
Microsoft is slowly murdering itsfuture for short term profit/stock values and it will pay for that.

The long term for Microsoft has nothing to do with consumers. It never has. The long term for MS is Enterprise. Period. Microsoft knows this. That's why they have a 10 billion dollar government contract. That's why they are no longer losing 10 billion dollars making phones that no one wants. Microsoft has NEVER been in better financial shape than they are right now. Clearly, there is a reason why you are not running Microsoft. In short, you do not know what you are talking about. Yes, if you consistently take care of the short term, you don't have to worry about the long term. Besides, long term plans don't pay short term salaries. You HAVE to be profitable today. Otherwise, there will be no tomorrow. As for the stores, they were a stupid idea to start with. MS is a bottom tier player in the PC hardware business. Where are the Lenovo stores? Where are the HP stores? The leaders don't have stores, why did MS need stores? They didn't need stores, of course. It was purely MS trying be like Apple. Well, Microsoft is no Apple. But Apple is no MS either. They cater to TOTALLY different markets. What would you say if Apple started selling rack mount Oracle DB servers? Would ANYONE take them seriously? According to you, diversifying their portfolio is a good thing, right? So why would anyone take Microsoft consumer products - and retail stores - seriously? No one did. Thus, all MS consumer products are gone, and now the stores are gone. That's just how it goes. No company can be all things to all people. You concentrate on your strengths AND where you make your money. AGAIN, it's not that MS does not care about consumers. It's that consumers don't care about MS. Just as Enterprises don't look to Apple for server hardware, consumers don't look to Microsoft for MP3 players.

@naddy6969 Your attempt to rationalise and defend a corporation's decisions is interesting if not mildly amusing. To keep it simple, I will just answer your question: "so if Apple started selling rack mounted Oracle DB servers and whether or not anyone will take them seriously?" Is a multifaceted question. 1) It depends on how much effert has been placed into a product. 2) it depends on how much marketing is being done for the product or rumoured to be aar marked for - as companies will ring fence an allocated budget for marketing a certain product. Which most people will call investing in the product stack, therefore ROI or return on investment is also a factor. 3) The amount of support in terms of staff, knowledgebase articles, supply chain for parts is available. 4) The ease of access to the aforesaid support. And so on. Lastly, Apple does sell 1U rack mounted servers which have morphed into Rack mounted Mac Pros. https://www.apple.com/uk/newsroom/2002/05/14Apple-Introduces-Xserve-1U-R... https://www.apple.com/shop/buy-mac/mac-pro/rack#mn_p So yeah, diversifying the product stack.

I enjoyed the gaming tournaments at my local Microsoft Store. Good times with the community. I also enjoyed being at the launch event for Xbox One X. We partied and played games all night. It's where I was planning on getting my Xbox Series X. Where am I gonna party on launch night now?

It's nearly impossible to navigate to the help section of the website that you need. This is a poor move...

My Cousin showed me this headline, I thought nah that can't be right. Must be a temp thing for Covid-19, did a search in the app only the Covid-19 temp closure article popped up. I thought phew... that's a relief. Jumped onto the forums and to see what was up, thought I see the news and I see this.... The only thing I can say without launching into a rant without curse words is... God Damn it Microsoft. The bean counters have well and truly taken over.

The "bean counters" are ALWAYS in charge. Microsoft is not a charity. If something is STILL losing money after a few years, you kill it. That's how SUCCESSFUL businesses are run.

@naddy6969. Not quite. Bing disagrees with you, it was a loss leader for 6 years. Well, lets hope Bing doesn't come back to haunt you for that remark 😋 after all Fanboyism is not incurable. Yes, you are displaying the classic symptoms of fanboyism, 1)constantly trying to rationalise a point of view using the same argument without extrapolating into discussion combined with 2) the use of capital letters to indicate expression of either emphasis or shouting or both. The key word here is combine. But anyway, instead of going round in circles. I'll end this rather useless circular discussion on two points: According to Paul Thurrott in 2017 and I quote "One of the dirty little secrets of Microsoft's Xbox/gaming business is that it has never actually turned a profit." Source:
https://petri.com/paul-thurrotts-short-takes-microsoft-earnings-special-.... Finally my second point, Azure came into official existence in 2008 and was it profitable in 2008, 2009? Who knows Microsoft obfuscates data unless it has clear evidence to showcase. This is a legal loop hole, They or other companies have to otherwise they would be liable for misinforming the public (influence) and as result people may buy shares or sells shares (speculation) on such information. Source:
https://www.zdnet.com/article/microsoft-launched-azure-10-years-ago-and-... https://www.zdnet.com/article/azure-founders-reflect-on-microsofts-first... https://www.zdnet.com/article/how-much-is-microsoft-making-from-azure/ But what do I know, obviously you know more than I do how to run a business 😁😋.

Yes, I do. More importantly, so does Satya Nadella.

You seem smitten with the idea that killing off Consumer & Education with it has only a positive effect on Microsoft from a business perspective. So tell me what happens if PC Makers like Dell, HP, and Lenovo wake up one morning and decide this sinking ship of Windows is a problem they need to address? We already see all three with Chrome OS offerings. Supply and demand is a business principle too. Should the big 3 stop manufacturing Windows PCs for Consumer & Education purposes, what domino effect does an overall lower supply of Windows laptops in the market do to the price of enterprise PCs? What does the rising price of Windows laptops force CIOs to consider as they prepare their budgets?

It may well be about Covid-19 too, if retail spaces are going to need to observe some kind of social distancing for a long while. Or we could do what Florida and Arizona were doing and pretend we can just do business the way we always did ... It'll only cost a few hundred deaths a day ...

This sucks. I loved my local Microsoft Store. The displays were always beautiful. And the employees were generally fantastic.

I'm very sorry to hear this. It is yet another short-sighted retreat for Microsoft.

Huh, that's too bad. I mean, personally, as long as I can get warranty support on Manhattan, it's not an issue. I've almost always made my purchases online. And the staff there have always been a mixed bag. Also I do not understand fanboys boo-hooing this like it's a threat to them. Business is business, and as a business, MSFT is doing extremely well. Also, stock prices reflect investors' belief in the long-run profitability of a company. People aren't buying, seeing a rise in value, then cashing in. They're buying and holding. And in any case the vast majority of public equity money is owned by big investors, not dipshit daytraders who think Hertz is the next big thing. This isn't about "short-term profit."

You probably won't be able to get warranty support from the Manhattan location as it won't stock any product or sell anything.

I think that this sucks. However this does not surprise me from Nadella. What can you expect from someone Who think that People can consume Cloud service from thin air, thus the death of Windows Phone and the agony of Windows, and Who has spent a signifiant amount of his time firing people for short term profits ?
Without Phil Spencer Xbox would be dead and this certainly is the Last Microsoft product i care about. Once Xcloud Will fully take over it Will bye-bye Microsoft for me. I really miss Ballmer. The Guy was not perfect but Microsoft was far more consumer friendly.

The hits keep on coming. Shameful move by Microsoft. Once again they show they have no interest in the consumer market. Such shortsighted thinking has made them irrelevant.

Breaking news: Microsoft closing Microsoft as part of 'strategic change.' Satya Nadella: "There wasn't room for a third trillion-dollar tech. giant."

Um, you DO realize that MS is on the way to becoming the first-ever TWO trillion dollar tech giant? And, are you sitting down? Consumer products and retail stores have nothing to do with it.

The higher you rose, the harder the fall. If Microsoft keep following its path of ******* off consumers they Will pay it the hard way. They seems to have forgotten how they managed to become a major actor of business computing. Yes, they win the heart of consumers, students and Kids Who gets used to Microsoft products and wished to use them in their compagnies. Now Google and Apple are applying thé same tactic and Microsoft is doing the opposite. One Who forgets it's past has no future.

"Um, you DO realize that MS is on the way to becoming the first-ever TWO trillion dollar tech giant?" Be careful about market-cap. Market cap is merely the price of a single share x the number of outstanding shares. Market cap does NOT = revenue! The stock market, based solidly on investor speculation, can turn on you very quickly. Look at the Fortune 500 list if you want a better measure of a company's true strength. https://fortune.com/fortune500/ Apple is way up at #4. Microsoft is stuck down there at #21. IBM is at #38 btw, which is where Microsoft is heading if it continues its course of Consumer & Education abandonment. Not only that but it's bound to drag #34 Dell down with it.

Tech and Microsoft enthusiasts will notice the closing of the Microsoft physical stores, but the average consumers will not even care. As far as physical stores are concerned, most consumer purchases are from Walmart, Best Buy, Target, Costco, or even from the local AT&T or Verizon store. Microsoft did not open many stores to begin with and were absent in many key markets. So, these stores did not generate the kind of synergistic mindshare and awareness that Apple has with their physical presence. Further, Microsoft is and has always been a business-centric company. That is where the lucrative profit margins and, most importantly, steady income are, not consumers. Repurposing a few of their former store locations to service SMBs and educational institutions reflects that focus. For Microsoft, any consumer-related efforts have to have benefits to the business side. For instance, Project Xcloud is not really being developed to benefit Xbox gamers. But to showcase to businesses that Microsoft has the technical infrastructure to handle things like virtual telepresence for medicine and server-side VR for product design.

I spend tech $ only on MS consumables [Studio 1, Pros, Invokes, phones, bands, headphone(s)] - plus a helpful relationship with my local MS Store for my small business needs - I feel pretty Hated and fairly despised by MS right now. Please consider reconsidering MS.

Microsoft wants nothing to do with the consumer side of business? No surprise at this point. I have pretty much transitioned to all Google/Android/Chromebook. I only rarely use my Windows laptop. Microsoft will soon be nothing but a sad memory to any consumer. Microsoft will get no more money from this consumer.

I use my Windows 10 laptop daily, for multiple things. In fact, I just spent $2,000 last week on a brand-new Lenovo ThinkPad P71 laptop. So, Windows is heavily used by me, along with my Android phone.

I swear, Microsoft changes business direction/decisions more often than a girl changes clothes!

Not really. This is more of the same. Which is, MS is not a consumer company. Therefore there is no need for retail stores. Particularly stores that are losing money.

I would seriously question anyone saying the stores weren't generating a profit. In fact, I think they were probably doing very well. The key that everyone is missing is services. Yes, traffic in the stores was often lighter than say an apple store, but Microsoft knew this would be the case going into it. They built things around that fact too. The stores were always considered a showcase for products and services. To be the place to spread a positive vibe around products. Help people make the most of technology. Yes, I'm sure selling hardware there was valuable, but selling services to consumers and small to large businesses was where they made the majority of their money. I would be shocked if the stores weren't profitable in a healthy and growing way. So they didn't close the stores due to a lack in profit or growth. This is just very sad news all around. I really hope they have a strong strategy going forward to not lose the momentum that the stores added. They can't replace the value having a local store had. It wasn't just a consumer thing either. Local businesses really valued having that access. So to those making this out to be MS leaving consumers, I don't think it was that either. Retail stores were there for businesses too, which likely made up the majority of sales. So to cut off business and consumer customers is shocking. I hope they move as quickly as they can with a strong alternative.

If the stores were profitable, they would still be open.

Too bad, having a place to help troubleshoot once in while when you need it is nice. Good thing I live close to a flagship store and can still visit it. I always order online though, so I guess MS knows it sales more units online. Was really a marketing investment.

Like many other Microsoft ventures the retail store was "US Only". Last year they opened a London store and I think they have a Sydney store. However, it was basically a US thing. They didn't have a store in Manhatten for years. I am in the UK and I visited the San Francisco store. I actually bought a HP Stream tablet that was on offer. I noticed several things. It seemed to be copying the Apple Store in many respects but felt conservative. Apple Stores seem to have a sense of an experience. The second thing I noticed was that mobile was not up front. This was 2015 and a few months before the launch of the Lumia 950 and 950XL. Microsoft had bought Nokia. Yet, in the San Francisco store, the phones were a group of mid-priced, mid-range models at the back of the store. I had a better WindowsPhone in my pocket than the ones on display. Since then Microsoft have left the consumer space. They have literally nothing to sell consumers except Xbox. Given the "strategic change" I don't even know why they bothered opening a store in London.

There is the Surface Go and upcoming Surface Duo.

I believe the Oxford Circus London site stays open as an "experience center". Same thing with Times Square.

Just so wrong, one of the reasons I have my Assure Plan is I can make a appointment and go to the Bridgewater Commons Mall and one of the great people at the store will look at my machine and fix it. I am not going to take the train to NYC to get my equipment worked on. Now do I even want to consider remaining a Windows Insider because if I do a update and it screws up my machine there will be nobody to see what happened.

Instead of closing the stores and run away, convert the stores to Covid-19 Centers for testing and vaccine offerings to the poor US population....!
Windows Central Newsletter
Thank you for signing up to Windows Central. You will receive a verification email shortly.
There was a problem. Please refresh the page and try again.