Microsoft confirms Cortana is going away on Android and iOS in certain markets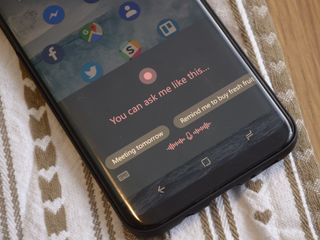 (Image credit: Windows Central)
What you need to know
The Cortana app on Android and iOS is going away.
This includes the Cortana experience inside Microsoft Launcher.
Micrososft has not said which markets will be affected.
Microsoft has today announced that the Cortana app on iOS and Android, including Cortana inside the Microsoft Launcher, is being phased out early next year in certain markets. I reported last week that Microsoft was planning to remove Cortana from the Microsoft Launcher in certain markets, and now Microsoft has confirmed these plans in a support document. (opens in new tab)
The Cortana app on Android and iOS will cease to function on January 31, and this includes the Cortana experience via the Microsoft Launcher, just as I had mentioned previously. Unfortunately, Microsoft has not provided a list of markets where this change will be put into affect. I can confirm that Cortana will stop working on mobile platforms in Canada and the United Kingdom, but there's no word on if this will extend to the United States as well.
This is a real shame, as it means the few users trying to be part of the Microsoft ecosystem will not be able to use Microsoft's assistant as default on Android. Instead, Microsoft expects users to use Cortana inside Microsoft 365 enabled productivity apps such as Outlook and Teams, but that means Cortana will no longer be an option when wanting to ask simple questions like "what's the weather like?" or "how tall is the Empire State building?"
Our interview with the head of Cortana and the future of AI at work
Microsoft says that the removal of Cortana on Android and iOS is specific to mobile platforms, and that Cortana on Windows 10 will remain for users who wish to use it. That makes sense, as Microsoft is currently in the middle of building out a brand new Cortana experience for Windows 10 with the 20H1 release expected in the spring of 2020. What are your thoughts on this change? Let us know in the comments.
Thanks for the tip, CeeTalks
Get the Windows Central Newsletter
All the latest news, reviews, and guides for Windows and Xbox diehards.
Zac Bowden is a Senior Editor at Windows Central. Bringing you exclusive coverage into the world of Windows on PCs, tablets, phones, and more. Also an avid collector of rare Microsoft prototype devices! Keep in touch on Twitter: @zacbowden.
This would have made a lot of sense before announcing the Surface Duo. However, with Microsoft launching their own Android phone next year this now leaves a gap in our mobile experience. I would assume they will have a solution for the Surface Duo. Perhaps they feel like since it's an Android phone that it would be better served with Google Assistant. They have been preaching that they see digital assistants as having their own specialties. Cortana lives in Office and Windows and Google Assistant lives in Android.
Regarding the tasks and lists feature from Cortana, I'm happy to see them focus on To-Do. Cortana can do a lot of good there. It never made sense having lists and to-do lists in two different places. It drives me crazy getting multiple notification for reminders.

The cortana /to do integration has been there for a long time. Imagine using the Microsoft duo, queueing up a default assistant to make a list, task, or reminder then having none of them sync to a Microsoft app on a Microsoft device... Oh wait... Lol The only thing I can see ms doing in implementing some Andromeda concepts onto the duo but I'm pretty sure that unless they penned a specific contract with google on using Android (which I doubt bc every oem would want it... But then again with antitrust probe expanding to Android now could be the perfect opportunity to apply pressure to Google), the home screen has to be a specific layout and not be an app or m365 launcher or something with cortana infused in it by default.

I see them using Google and Alexa for there systems. Look at Xbox it now has support for both Google and Alexa. I expect Windows and there android phone to follow.

I know we've joked about it for a long time, but Cortana really has become the next gen Clippy. I don't say that in a negative way either. Specializing Cortana is the best thing for it's future and for the user. I'd much rather use "Cortana" wake word on my devices to get work done and use "Alexa" was my wake word when I want to play music or control my lights. It helps separate the conversation in a more natural way. Having said that, Mircrosoft needs to nail this execution, especially on mobile and the upcoming Surface speaker.

Is there a cortana speaker coming? I get what you are saying though and I am hoping down the line Google amazon and Microsoft work together to have all of the AIs on 1 device for the purpose you have just said plus we then get a choice to. I have 3 googles homes 1 Alexa and use Kinect 2 on my pc for cortana. But that said there is a gap with them all. Alexa is used in my little boys room to turn on light and use Spotify bedroom Google is alarm clock and few other things kitching tends to be shopping and music and living room tends to be light and TV control. If there was a way to link them all though this would be amazing and from using all 3 cortana with Kinect works the best followed closely by Google home and I've found Alexa the hardest to work with.

There is already a Cortana speaker. It's called the Invoke. It's a high quality speaker with good microphones. Unfortunately, I can't see support for it being great moving forward.

But that is not a Surface speaker. It is the discontinued Harman Kardon Invoke. The remaining inventory was dumped on eBay for $40 each, a few months ago. I can't imagine a new Cortana speaker being sold by anyone, least of all Microsoft. I just sold a barely used Invoke on eBay for $35. There is no market for these things. BTW, a Surface speaker need not be a Cortana speaker. It could just be a speaker.

Lol Microsoft and execution 😂🤣😂🤣😂🤣😂🤣

Yip, agreed. Whenever I set a reminder on my phone, it pops up in notifications on both Cortana, and to-do.....on my phone, my pro 4 and my book 2....its a nightmare. 6 separate notifications for one reminder.

I wonder why only on mobile though? I wish they gave more clear reasoning things like this, especially since they said with Cortana now as an updatable-app not tied to OS updates and finally bringing global availability (in English at first without the region limitations anymore), they can update it faster and bring support to more languages. And with Cortana now a cloud service, it would have made more sense to just unify all the apps to be the same on all platforms. I wonder if it's because of a bigger Cortana backend change that they want to perfect with users on Windows first (and U.S. on mobile) before bringing to the masses? But that was supposed to always been the case, but they're taking forever. They have the tech already, so I don't know why Cortana team is always struggling to roll it out faster, especially now under the Office management.

"I wonder why only on mobile though? "

Read my interview last week. Microsoft has "100 million active users in Outlook Mobile" and they see that as a more realistic "hub" for Cortana and life as a digital assistant (vs a dedicated app). They see Cortana more as an extension of Office apps rather than an Alexa or Google competitor. I could also imagine that engagement with the Cortana app was likely very low.

I have to be honest here - I'm not a fan of the outlook mobile app from a general standpoint and specifically a professional standpoint - MS refuses (on user voice they said no!) to implement proper HTML signatures.... This is a huge fail for MS as other programs have done a superior job (Nine Folders) as my mail/calendar/contacts/tasks app including html signatures.. The app is soooo customizable and perfect for my needs. So yeah, I can get cortana on my mail... No thanks... As the outlook app is not as good as it could be. I would rather have it implemented as it was before the all white cortana app.... I just live without an assistant and have for quite some time... Cortana was more intelligent I thought on certain tasks (when on wp) and I wish they had done more of that on Android... But it appears they didn't seem to want to... I couldn't even open an app on my phone using cortana in its most recent form. It would launch the app on my Xbox of all places (even when not home)! I just feel they gave up... And that was truely unfortunate as cortana had lots of promise as a phone assistant.. But now it just becomes a modern "clippy" if they restrict it to office on mobile - as no one will use the pc version and that will eventually kill it all together.... I just wish they would embrace their tech and show people how it is better... It could be... I just don't feel they want it to be... I don't know anymore with MS - I really think they have lost themselves in the consumer space... The pro X is one of those failures... "sigh"

"I really think they have lost themselves in the consumer space" Microsoft is actively abandoning the consumer space. Far from being lost, they are going to (wisely) concentrate on the business/enterprise markets.

Microsoft lost mobile, both consumer and business with the advent of byod. The remaining consumer products fell quickly after. Business will hold with Windows, but it can also fall quickly with new competition. What will the market look like in 5 years? How long can Windows hold it's position on the desktop? How long will even desktops stay relevant?

Comeone even if you are MS mouthpiece portal, still this is ridiculous, no-one wants a digital assistant with outlook app. I'm sure even Ms knows, all this chatter about cortana being glorified clippy is an excuse to avoid saying Cortana is being shutdown

I knew Cortana wouldn't last when it was released; it's like Siri, I wonder why goes though the mind of people who think of stuff like virtual assistant and think it won't fail.

Alexa, Siri, and Google Assistant all are doing fine. Cortana isn't, but that is due to Microsoft's slow response to the mobile and speaker market.

Agreed. Cortana was a great assistant when I had my Lumia 950. Microsoft just has no idea on how to work in the consumer space. They don't advertise and give up quickly when hit with adversity. Cortana is just another product in a long list of self induced tragedies.

So much for the main reason I switched to Android instead of iOS. As for the To Do app, I uninstalled it from all of my devices, because they never got the reminders right, and I was sick of having to acknowledge two notifications on each device (one in Cortana and one in To Do).

India is for sure one of them. They had stopped updating their old app for India and have not added support for English (India) in the newer version. Ergo, they had long killed the app for India apparently.

Oh well, it sucked anyway.

I wonder what would happen to devices like the Invoke and Surface Headphones since you configure them using the Cortana app on your mobile? I currently use those two and I don't have a Windows pc with me (my sister uses my laptop while I have an iMac). I wonder if it would affect updating firmware (if there is an update) and the functionality of those devices. I really, really love Microsoft, but it's just a pain having to go through this again. :( (Old user of Surface 2, Windows Mobile Phones, and Zune)

Microsoft is releasing a dedicated app for Surface Headphone and Earbuds. I would assume this app will also work with the Invoke as well. Similar to how the Microsoft Band used to have it's own dedicated app for settings and firmware. No worries. Surface Headphones have a future ahead of them.

Surface headphones have a future? Maybe, but that is a risky statement at best. Why would I buy Microsoft's expensive option?

Zune, Media Center, Groove, Windows Phone...now Cortana. I wonder what's next....

Windows 10 IoT for Raspberry Pi....
and yes... I've developed for Windows 10 IoT on the Raspberry... and no I'm not happy that there is no path to use faster 3+ and 4 hardware.... yet another example of me following Microsoft down the rabbit hole and getting burned.

It just doesn't make any sense to kill all this stuff, does it? I mean, once it's up and running, why can't they just leave it be? Cortana used to be fantastic for me, and waaaay better than Siri is for me now. I just don't understand why they have to shut stuff down, when they could simply leave it there without investing any further in it.

I feel your pain. Cortana was so very reliable and worked great in comparison to Siri or Google back then.

Yep. Great products wrecked and given up by MS in a very short amount of time.

Whole lotta 🤷‍♂️ from my perspective as Cortana never really got much use from me.

I read Rubinos article, and none of this makes any sense. Well, except for the assistance to the visually impaired... Besides that, I see no use at all for Cortana in the professional environment. Scheduling meetings? Unless it's learned to read minds, an AI would never be able to read between the lines to consider all the details that go into finding the optimal time...

Cortana helps me every single day in my professional work. Have you signed in through Office 365? Since I've integrated it into Office 365, she sends me email reminders of commitments I've made from my sent emails. It helps a lot actually.

So does Microsoft expect us to open Outlook and make a calendar appointment any time we need a reminder? What alternative are they exactly proposing?

They expect you to use Siri, Alexa, or Google Assistant just like everyone else.

Microsoft To-Do is used for reminders, not Outlook. If you use Cortana to set a reminder currently it is stored in To-Do. To-Do on Android already has shortcuts in the action center. I expect this integration to continue especially on the Surface Duo and Neo. Google Assistant and Alexa are just for controlling smart home stuff. All of the real AI stuff will be done by Cortana via Office.

This is a baffling decision, IMO. To release two audio products (Surface Headphones and the soon to be available Surface Buds) and then potentially not have your own / same brand virtual assistant seems counter intuitive. Likewise with the Surface Duo coming out next year. If you release these kinds of products, I think the common expectation is that they will feature the native platform's assistant and will continue to do so for the foreseeable future. Did the left hand at MSFT not know what the right hand was doing? Ultimately though, it's the user experience that I'm confused by. So, Cortana is becoming essentially a skill, invocable from within various O365 apps (initially the Outlook mobile app) and from Alexa? On a mobile device (especially the Duo) if you have to open a specific app and then ask Cortana to do something, that's not an entirely hands free experience. Or if you have to invoke Alexa and then ask her to open or talk to Cortana so that you can have her read your email or make scheduling recommendations? That's a janky experience. I've been using Cortana since Windows Phone (and I'm a chat bot developer for a living, focusing on the Microsoft Bot Framework), so this criticism comes from a place of love. With the massive adoption of Windows 10, this all just feels like a missed opportunity to offer a virtual assistant who can do it all: Windows activities, O365 activities, and smart home stuff... all with the power of Microsoft's cognitive services and advanced neural TTS. All the pieces are there, but instead of assembling them and executing, it feels like a retreat.

Well, tough luck then. I used it for location based reminders. Since i jumped ship to Android Google Assistant was extremely unreliable with location based reminders and ToDo can't do them.

... on certain markets? In Sweden we've been waiting for ever for Microsoft to launch Cortana. Maybe time for Microsoft to admit that the world isn't flat?

If a product isn't successful in current markets, why would you expand availability? You are merely guaranteeing that your losses will be increased.

Problem with Android when usinh MS Launcher, is that the Google calendar won't sync to Office365. So I can't use Google Assistant for reminders.
If MS can be so kind to launch Cortana in Office365 also in Swedish, this will be fine. I'm used to find out the weather forcadt and the height of Empire State Building, 381 meters. Ask Cortana how much that is in feet! 😉

It's a same that Cortana, who started as the best and most human digital assistant, is slowly being killed.

I see a pattern with all the big tech companies. A new tech idea comes on the scene and they all jump in trying to beat out the other, but with what seems like real no direction. Often I see MS start out well, but flounders. This was the same with Healthvault many years ago as well as many other projects. I have always thought that Siri, Google Assistant, and Cortana were just gimmicks. Fun for awhile, but in the end really don't do much. I am hoping this is move by Microsoft to regroup and do something useful with Cortana in a business since. Like have Cortana take notes during meetings, etc.

One thing you have to get used to with MS is to never go all in on anything they do.

truer words have not been spoken.

Another short sighted decision. Why not keep the app whilst building out the new experience. Additionally the familiarity obtained via the use in productivity apps would grow engagement and mindshare. Also it removes the users ability to use Cortana as an key interaction point as opposed to a subsidiary interaction point. The Cortana app could have been a hub for productivity, but noo Microsoft would rather start from zero with the new app experience and then complain user engagement numbers are too low to warrant additional resources. Microsoft still manages to fumble mobile experiences when it comes to their own ecosystem. At this point it feels deliberate.

At this point? It has always been deliberate. Microsoft does NOT want to be a consumer company. They have killed ALL of their (failed) consumer products. Phones, Zune, Groove, Band, Books, Cortana, Invoke speaker. I would not be surprised to see the headphones gone in a couple years. The things they continue to sell - Windows, Office, Outlook, PCs and keyboards - can all be used by businesses. Yes, consumers can also buy them, but rest assured that is not the target market. The reason is actually fairly simple. Businesses (and governments) who are making million (or billion) dollar purchasing decisions are not interested in suppliers who are distracted by phones and music streaming services. Which explains why Apple is not in the business/enterprise markets. How many consumer products does IBM have? Oracle? Cisco? SAP? Red Hat Linux?

https://www.businessinsider.com/apple-ipad-sales-business-sales-growing-... Don't speak too soon.

This is something that Microsoft doesn't seem to understand. Consumers ARE business customers and vice versa. They're going to use what they know, and if they're using an iPhone or Android device as their daily driver, it's only a matter of time before all those Windows devices are replaced.

Given the great software, hardware, and price point it makes sense that iPad has seen success on the commercial side. I was just in an airport that had iPads mounted at every table in the waiting areas. Hundreds of them running a custom app that looked like you could order food and I am not sure what else. It is maddening that Microsoft doesn't have a great experience at the same price point as the iPad. The reach of Windows is degrading, not improving. Microsoft needs to do something soon if they want to be a mainstream computing platform. $1500 for a tablet with a poor user experience is not helping anything.

Selling iPads to businesses is NOT the same as being enterprise focused. If Apple started selling an SQL database and rack mount servers, would anyone take them seriously? You think companies would dump Oracle and Linux servers for Apple? Or even MS SQL Server and Windows servers? Apple has NO experience in this area. Experience counts when business critical needs are on the line. Microsoft has been enterprise focused for about 25 years. They recently dabbled in phones and MP3 players and other pure consumer stuff. All of it failed. No company can be all things to all people. Harley-Davidson does not sell cars. Kenworth does not make motorcycles. General Electric is not making phones. Apple is not selling microwave ovens. Microsoft is not a consumer company. Apple is not an enterprise software/services company.

A few years back Apple told us they had already reached $25 billion a year in business/enterprise sales, sounds like they are in those markets to me.

@naddy6969, you are conveniently forgetting all the store's Microsoft has in the US, the investments made in the xbox division, the expansion of availability of Surface devices in many markets. Whether you like it or not, Microsoft is still and will be a company that sells both hardware and services to consumers as well as businesses. Thus by extension Microsoft is still and will remain company with a consumer aspect. The problem many of you do not appear to get is that familiarity is why Windows is the most commonly used OS. Once two more generation of teens get into the work place who have grown up with familiarity with ios and android but not Windows. Microsoft will cease to be relevent along with a vast reduction of company stock value - their only saving grace from that fate is the xbox division. Businesses do not upgrade YoY the growth potential drastically lower than the consumer space. Sure, the former provides steady revenue but the moment you stop growing you hit a wall and the valuation of a company gets capped. Furthermore, by abdicating the consumer space we will end up in a situation where both Google and Apple can act with impunity because they have pretty much all the user engagement sown up between them thus giving them tremendous amount of leverage over enforced computing habits and web standards. I suggest you look up Project Nightingale. It's profoundly naive to assume that Apple will never get into the business market as I said if a company does not grow the valuation is capped and thus the returns for shareholders diminishes. A company is like a tree, it has to branch out to grow and it needs customers to fuel that growth. The moment you limit that customer base = limited growth.

What their not telling you is that it's going away in favor of Clippy 2.0 : )..... Clippy was pretty popular back in the day.

Cortana on Android - via, Microsoft Launcher or the stand-alone app - is terrible. Good riddance. They're moving the Cortana experience to Outlook and Office because that's where AI is actually going to be useful in the future. Good. No point apeing Google Assistant and Alexa because MS is badly losing that war and those AI services aren't that useful anyway.

Cortana is Dead! 😂 #cortanaisdead

Ms's go to move will forever be throw the baby out with the bathwater lol. If you haven't learned, "building out new experiences" is pr talk for scrapping that project lol Remember how triggered ms fans were when it was learned cortana was coming to os's outside of windows? It's absolutely hilarious seeing the reaction when it's being taken away from those os's now 🤣😂

I think the only thing I will really miss is location reminders, but they were getting harder to set up thanks to the To-Do integration.

This has been said by hundreds of windows fans over the past 2 years, but Cortana died the day windows mobile died. Digital assistants work best on mobile. Siri sucks, but it survives because of the success of iPhone. Google assistant is grabbing and reselling all of our personal data, but it's widely used because of the success of Android. Maybe Cortana will find some success as the smart home sector matures, but without its own mobile operating platform, Microsoft will struggle to get Cortana to stick.

Hopefully not in the US, I still use it on mobile on my Android phone with my Invoke speakers

This is absolutely awful, as they remove a big feature and reason to use Launcher. Using Cortana is important for me. I use her daily. I still don't understand why they are removing her. They gain nothing and further lose and alienate customers and brand space.

Obviously they have no customers or "brand space" for Cortana. They wouldn't be making these changes if they did.

It's getting a little harder to be in the Microsoft ecosystem

I just don't understand this. Microsoft recently showed a video (was it last year?) where they highlighted the future of Cortana and natural speech. Sad to see her go.

I am really curious if Cortana will continue to function on the Surface Earbuds and Surface Headphones. Daniel confirmed in his article last week that the Invoke speaker functionality would continue working, so I am really hoping that I will still be able to use Cortana through my Surface Headphones and the Surface Earbuds that I intend to buy in a few weeks. Might any of the Windows Central folks have any insight into whether Cortana will continue working on these devices?

I liked Cortana on my Windows phone, it was brilliant. And I'msorry to see her go, but... Business space, really? How about this: A few years back I was developing in C#, moving a WinForms distributed application to UWP. We had a UWP tablet application and a mobile application using Xamarin for Windows and Android phones. We were working in moving from local servers and Citrix to Azure. My Windows Phone was doing everything I wanted it to, both for my consumer and business needs. Future seemed very Microsoft. Today? I have Ubuntu installed in an Oracle VM on a Windows 10 laptop (that will boot to Ubuntu only as soon as I have time to remove Windows). I work with Python, VueJS, MySQL, PHP all in a docker environment on Amazon Web Services. Our Android app connects to AWS and our backoffice services. Our users are extremely happy with both our web application (Chrome strongly recommended) and our Android app. We use Slack for communications, Zoom for meetings, Gmail and Google calendar. Even the Duo announcement seems to play into this. Future seems very non-Microsoft.
Yeah, keep talking about how important Microsoft is in the business space, while always looking behind, never forward. LOL, Microsoft's future is in business, not in mine!

I've been mulling over this news this weekend, and I think there's still a lot of specifics that are unknown that really impact how we use Cortana. 1) Will the "Connected Home" skill still function? We know we can still invoke Cortana from an Invoke speaker, our Windows 10 PCs, and the Surface Headphones and soon-to-be-released Surface Earbuds. With all those invocation points, the Cortana mobile app (the app proper and the app in launcher) is fairly irrelevant. The two caveats to that being that she needs to be the default assistant on the Surface Duo and that the Headphones and Earbuds should be able to invoke her (on any device) without manually opening an app. Likewise with the new email playback skill. We shouldn't have to open Outlook to use that. 2) Other skills (namely Spotify and Xbox) I can't imagine Cortana would lose the ability to control Spotify, given the existence of the Headphones and Earbuds. The Xbox skill is nice to have (I love that she can turn it on and off). Hopefully we see tighter integration on Xbox when Scarlet comes out (which I would imagine would run Windows 10 X... and some Xbox specific CSHELL.) I think as long as those two or three things are maintained, it actually is a good thing that Cortana is moving more towards proactive interaction and automation across Office 365 and Windows. When we think about the potential of ambient computing in general, I really don't think we were envisioning sticking to the input/output model we traditionally follow on our PCs and devices. Alexa, Google Assistant, and Cortana don't live up to their potential when the primary use-case is basically a voice-first light switch. I mean, that's weak sauce... right? As it stands now, all of them barely offer functionality beyond that. Alexa can proactively tell you when Amazon Prime packages have been delivered and she can read aloud books. Both Alexa and Google Assistant offer e-commerce capabilities. I still think that's barely living up to their potential or the promise of ambient computing. Google's Duplex is a step in the right direction. So is Cortana's new initiative.

Can't say I'll miss Cortana on Android or iOS (where it was never much use anyway thanks to Apple's locked down sandbox.) In the UK Cortana has always been essentially useless. The problem is some of us also don't want to use Google Assistant. I'd rather not talk to Google anymore, thanks. Guess we'll be using Alexa from now on entirely.

Why would they revamp the app this year, announce new features and a new conversational engine and show it being used on phones in their video? Plus wasn't there a new video last week showing some of the announced new features working on a newer version of the phone app? Why keep developing the app all through the year just to kill it?

Shelby, What was shown a week or two ago at Microsoft Ignite was actually the Play My Emails functionality soon to be available in the Outlook app for iOS and Android: https://www.windowscentral.com/e?link=https2F%2Fclick.linksynergy.co... You're right though; they showed the new conversational engine in a teaser video at Microsoft Build back in May: https://youtu.be/G_v5B_gYceM Clearly she's using Cortana through her smart phone. Assuming any of that is real, let's hope it doesn't involve manually opening Outlook and tapping a button to get started.

With this I will now be suspicious of any mobile service or product Microsoft creates. It has failed its mobile users in so many way over the past few years, it has eroded the loyalty from customers that had been fans for decades.

I wonder if they could integrate Cortana directly into Bing still for voice search or suggestions? Instead of a separate app.