Microsoft confirms its purchase of Sunrise via a video interview with its co-founder [Update]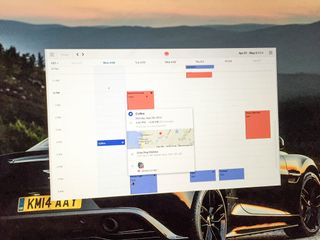 Update: Microsoft has now officially posted word (opens in new tab) that it has bought Sunrise and that video has gone live once again.
Original story: Microsoft has now confirmed earlier reports that it has acquired the Sunrise calendar app. The company did this via a video on its YouTube channel which has since been set as "private". It shows Pierre Valade, the co-founder of Sunrise, being interviewed by Microsoft's "chief storyteller" Steve Clayton. The video also features Javier Soltero, the co-founder of another company Microsoft recently acquired, Acompli, which created the new Outlook email app for iOS and Android.
In the clip, Valade said that the goal in making the Sunrise calendar app was to create something much more useful in a product category that they felt was "underestimated" in some quarters. He feels that such an app could be used for every part of a person's life, rather than just for work.
Earlier reports claim that Microsoft paid about $100 million for Sunrise, but the company has not confirmed those estimates, nor has it issued any kind of official press release.
Source: Microsoft (YouTube); Thanks to Stelios Pat for the tip!
MS gets a new calendar app, and a mail app. Our new OS will be called SunCompli.

SunLook, powered by Acompli, from the makers of Outlook, formerly Exchange aka Hotmail.

Thanks for reminding me of the mail app name

On the consumer side it would be formerly outlook.com formerly live.com formerly hotmail.com formerly msn.com (and that takes you back to 94/95). I actually know someone who still, after all the changes, has an msn.com email address :)

The acompli purchase was for making the new outlook app for iOS and android. So I'm guessing this new calendar app is for them too..

Microsoft on going to buy Google soon!!

Looking forward to Bingle then... or Going (as in "boing" the bouncing sound).

a calendar which remind me and inform me about events nearby, dates with the hindu calendar and let us know about dates of public days and festivals

It's that good? Or, are you hoping it could do what you mention?

Step1 Buy google
Step2 close it's services + force all users to use w10
Step3 be the leader of the world Note, MS may use some of the services such as YouTube. I know it's not a great idea, but it's a dream

Well, sometimes dreams come true. Look at all three, MS, Apple, and Droid. All started small, out of garages, etc...never know.

Hope.. This time they will release this for WP first rather than supporting other platform.

They will release first for ios and android because Microsoft thinks they are the only customers

Sunrise is ALREADY on iOS/Android, it's like a top app. Microsoft will simply incorporate their design/tech into Outlook calendar for all platforms, including Windows 10.

Hope the features for wp will be same as iOS and Android.

This is an android app, already exists on iOS so .... they will integrate the features in the windows phone apps.

I'll be waiting to see what features they'll include..

Can you read? Accompli and sunrise are already heavily used on both Android and iOS, so this is going to bring us current features plus more.

Then its a good news for us..

This video is private.... Sounds like it was posted a bit before the official announcement.

Talking of videos I want the W10P video!!

Now it's time to acquire the best weather app!, no?.

Promising, looking forward to great calendar and task app.

Businesses should build good iOS and Android apps so Microsoft can buy them for hundreds of millions of dollars. It's that easy folks.

I use Sunrise on my Acer Chromebook, would be nice to seen The features integrated into the Outlook.com Calendar as well as the Windows Calender at some point, even a future version of Office Outlook would benefit from features from Sunrise.

I think that's the whole point of the purchase.

now its a private video ..oh well at least we now know

So..."Chief Storyteller" is what? Corporate Minister for Propaganda? :P Posted via the Windows Central App for Android

Great news! Now buy todoist, wunderlist, producteev, 37signals, trello (fogcreek) or other productivity vendors. If MS wants to be seen as THE player for business and productivity, they need the people who build such tools. And they need those vendors to integrate with Microsoft's other products. MSAAS (Microsoft-As-A-Service) ;) - and as a platform that spans across and underneath everything that others are making. That is the strategy. It is no longer Windows on every desk. It is Microsoft on every screen/projector/glass.

I have one question, although Microsoft will incorporate these new features in windows 10, but about Windows phone 8 users, as fast as I know not all will be able to update/upgrade due to some reasons or another. Meanwhile they will be always some who will criticize Windows. They should release those allows on wp8 as well.

I am pretty sure they will incorporate the features into a new set of apps to replace the existing ones. All new apps that MS is creating are universal apps. If the programming model for creating universal apps for Windows 10 Mobile is not too different from the one used to create them for Windows Phone 8.1 then there is a chance we will see them on that platform too. I guess it depends how successful they are at converting people to Windows 10 Mobile. It would be a good story for them to tell, though, not leaving users on older versions behind. Proving that universal apps are truly universal (at least within the MS universe).

Lets hope this video is followed up by another video im sure a majority have been waiting for.....

I think the folks at Sunrise are very talented, and when I heard the news the first things that came to mind were "Windows 10 universal calendar app" and "Outlook" (especially on mobile). Smart buy, methinks.

Video not available. Oh Microsoft, cut out the c**p!
Windows Central Newsletter
Get the best of Windows Central in in your inbox, every day!
Thank you for signing up to Windows Central. You will receive a verification email shortly.
There was a problem. Please refresh the page and try again.