Microsoft to purchase Nuance, the AI giant that helped create Apple's Siri, for $19.7 billion
Microsoft purchasing Nuance significantly expands its capabilities with AI and voice recognition.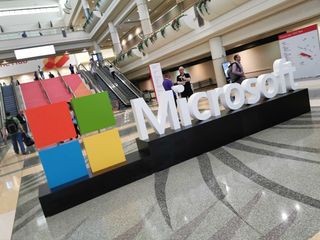 (Image credit: Daniel Rubino / Windows Central)
What you need to know
Microsoft officially announced plans to purchase artificial intelligence and speech technology Nuance Communications.
The deal is worth $19.7 billion, which makes it one of Microsoft's largest purchases to date.
Nuance played a major role in the making of Apple's Siri.
Updated April 12, 2021: Microsoft officially announced an agreement to purchase Nuance for $19.7. This deal was suspected leading up to the official announcemment but has now been confirmed by Microsoft. The article has been updated accordingly. The post has also been updated to reflect that the deal includes Nuance's debts.
Microsoft officially announced (opens in new tab) an agreement to purchase Nuance Communications Inc. (opens in new tab), an artificial intelligence and speech technology company. Before the official announcement, reports about the discussions between Microsoft and Nuance were reported by Bloomberg. The deal is worth $19.7 billion, making it one of Microsoft's largest acquisitions ever.
Nuance worked on the tech that powers the voice aspect of Apple's Siri assistant and makes the well-known Dragon speech-recognition software. Microsoft has also worked with Nuance since 2019. Microsoft's collaboration with Nuance includes utilizing AI to help doctors capture and record medical information from patients.
Microsoft CEO Satya Nadella says of Nuance,
The deal values Nuance at $56 per share, which implies a 23% premium to the closing price of Nuance from Friday, April 9. The total value of the deal is higher than the suspected value of $16 billion before official news about the agreement was announced. The exact value of the deal appears to be a combination of Nuance's value and its debts, which likely explains the discrepenancy between the predicted $16 billion figure and the final $19.7 billion figure.
The deal falls short of Microsoft's purchase of LinkedIn for $26.2 billion but is still be one of Microsoft's largest acquisitions ever.
Microsoft has a Tech Center next to Nuance's headquarters in Massachusetts, so Microsoft is close to Nuance in both technological goals and physical proximity.
Microsoft literally has a building here (Tech Center) in MA next to Nuance, so not too surprising that the companies have become so close that an acquistion would happen. https://t.co/4yCHNKwdBzMicrosoft literally has a building here (Tech Center) in MA next to Nuance, so not too surprising that the companies have become so close that an acquistion would happen. https://t.co/4yCHNKwdBz— Daniel Rubino (@Daniel_Rubino) April 11, 2021April 11, 2021
A CNBC report states that Microsoft first approached Nuance in December.
Windows Central Newsletter
Get the best of Windows Central in in your inbox, every day!
News Writer and apps editor
Sean Endicott brings nearly a decade of experience covering Microsoft and Windows news to Windows Central. He joined our team in 2017 as an app reviewer and now heads up our day-to-day news coverage. If you have a news tip or an app to review, hit him up at sean.endicott@futurenet.com (opens in new tab).
Unless you plan on revitalizing Cortana (Was the best voice assistant) I'll pass..

Chances are Nuance will cross into your life in FAR more important ways. You may pass, but others you will rely on do/will use it.

Nuance makes the best PDF editing software, I hope MS keeps up the work on that. Oh, and their voice stuff is OK, but not great. They are touted as the maker of Siri, but Apple just needed a kick start and improved Siri far beyond what Nuance was capable of. It'll be interesting to see where MS takes that part. Just keep in mind Nuance does a LOT more than just voice stuff.

Wonder if this has any affect on Discord.

I'm more than sure they want to reignite and relaunch Cortana when they bring up their version of surface AR glasses which will need a voice assistant. what better way to help Beef It Up when the time comes

Cortana is Dead. Long live Nuance. Not sure how any of this makes sense other than to say, voice assistants built on top of Azure and connected to Office may provide a more compelling solution to the enterprise as it moves more and more services online with workers off-site. I will say that several times over the last month or so, I have used a voice assistant via phone to solve a problem (no human required) and used a chatbot to solve a problem (no human required). I would not have needed to call Georgia Power to talk to a human if I had known that my "web access Code" was unique to me and not to a specific account. That is where the human clued me to the issue of dealing with a lot of disparate accounts. Maybe Nuance helps build out all these types of services that minimizes human input for more and more simple issues.

Not about Cortana.
Or consumer apps (which are headed to Office 365/Microsoft 365) though they'll be a nice addition to their arsenal. Believe them when they say this is about extending their reach into the enterprise. Health care in particular has a looonngg way to go before they can fully digital. And that is one of the most paperbound industry; anything that flies there will soar everywhere else, especially in small businesses. Nuance is an ongoing concern with a long history with document management and adding their tech to Sharepoint a big win. Hence the $20B price tag. Bethesda and Discord (if it pans out) are about addressing their weaknesses but this one is about playing to their strengths; the Enterprise. No risk of Nuance going to Google or Salesforce this way.

Wow, this should allow MS to make a big push into healthcare and AI. I had forgotten all about Nuance. Never would have imagined they were valued at this much.

Its a forward-looking move; most hospitals have state of the art patisnt systems...for new and recent patients. But most hospitals and doctors are carrying massive archives of data going back decades. Digitizing those is worth way more than MS is paying for Nuance. Plus, once they digitized, that data will reside on Sharepoint and/or Azure, and be analyzed by AI data sieves.
Hindsight is 20-20 but this is a perfect fit.
Good use of the cash stash.

I hope this will be a revive attempt for cortana, but I don't think they will do that.. They punching alexa more and more and think they will replace cortana with alexa on non business related stuff.

Nothing compared to Cortana on mobile. Best SMS message implementation of them all. Cortana: "You have a new message from john. Would you like to hear it? Yes or no?" I miss those days

Danny, you are correct. I used Microsoft devices exclusively until my 950 died. I remember Cortana being pretty bad at voice recognition then one day Cortana understood everything I said. It was night and day. Then the prompts got more and more intuitive. My kids and wife are die-hard iPhone users. They never use Siri. They thought Cortana was silly. Do people actually use voice assistants?

Do people use voice assistants?
Yes.
Not everybody. I don't.
Not everywhere, not for everything.
And that is where Amazon got it right and everybody else, regardless of quality, got it wrong.
Amazon correctly identified home control systems as the proper space to launch voice assistants. First, because it simplified the tasks the system must perform and second, because it provided easily quantified value.
In most other use cases--office, mobile, industrial--voice is a convenience but in home automation for people with limited mobility and especially the bedridden, voice controls are invaluable. With an aging population that is a growth market. And for everybody else convenience sells if tge price is right, which is the case for most Alexa devices, second-gen and beyond. Those DOTs are pretty much impulse buys.
Where Apple, Google, and MS were focused on their wheelhouses--data processing--Amazon focused on theirs: consumers. And they Zigged while everybody else Zagged.
So yes, people do use Voice assistants but not in the markets MS serves. So while Cortana arguably has the best tech it is weakest with consumers, where Amazon is king (enabling the MS-Amazon voice partnership), Google with the second best tech is scrambling to stay in the game, and Apple is an also-ran so far.
Things will change but not soon.

Me: Hey Cortana, the next time I'm at Walmart remind me to get some milk. Pull into Walmart parking lot: Cortana: "You have a new reminder. Would you like to hear it?" Me: "hey cortana, the next time I speak to Jane remind me to congratulate her."
Call Jane and while on phone, get a text notification from Cortana reminding me to congratulate her.😎 Cortana was ahead of its time.

A lot of MS products have been ahead of the time (and the hardware).
The big difference is Nadella doesn't have ADD like his predecessor and is willing to play the long game. And spend big.

I don't think the Nuance acquisition is due to Cortana. However, I think it will be a great help for Microsoft to enter the healthcare market. And I'm sure it's a big help in upgrading Microsoft's overall speech recognition technology. Cortana has changed to target the B2B market, but it still needs technical improvements and upgrades! I expect that this will help improve Cortana a bit.
Windows Central Newsletter
Thank you for signing up to Windows Central. You will receive a verification email shortly.
There was a problem. Please refresh the page and try again.