Microsoft's Dancing Surface Movement feature is the best tablet ad this year?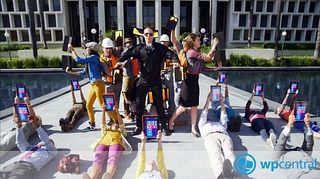 Microsoft has just started its ramping up efforts to begin promotion of its upcoming Surface tablet. It kicked off in full with the Surface Movement ad that was aired during television show Dancing with the stars.
While many of us have wondered about the effectiveness of the ads it looks as though initial ad has scored high with consumers according to advertising analyst company Ace Metrix.
The ad, which scored 674, beats out both iPad and Samsung's attempts so far this year. Also of note is where it garners the most points, notably in the 'change', 'desire' and 'attention' areas of the survey. The ad, of course slots into a dance segment with a dance orientated theme, it's a neat way to keep the already existing audience engaged. Peter Daboll, CEO of Ace Metrix had this to say about the results:
It's good that the results of the ad are positive, if consumers are switched on to the new tablet from Microsoft then the marketing is doing its job. The launch of Windows 8 and the Surface RT present a few problems for Microsoft, it's a huge change both in what Windows will look and work like and it's the first time they have made a computer. Concerns are already being raised at how Microsoft can make sure the average Joe on the street knows that a Surface RT device won't allow them to install any existing programs in the way they have come to expect over the years.
When it comes to Windows launches, Microsoft hasn't exactly had a good track record on getting its message across so it's good to see they are getting some kudos for the start of the campaign. There is a huge story to tell consumers about the changes ahead and we're expecting this is only the start. At present there are no ads showing here in the UK for Surface, even though it's available and people are buying them. The iPad is going to prove a hugely difficult competitor so we'd assume Microsoft is about to unleash a concerted global effort rather than focusing only on the US market.
Pre-orders are now starting to run out, stocks are now gone in the US with Canada and the UK showing signs of depletion. There are now reports of delays to those pre-orders, I myself received notification this morning that my Surface will now arrive on the 2nd of November. It seems the Surface movement has started.
We'd like to know what you thought of the ad and how Microsoft could best convey its coming changes.
Get the Windows Central Newsletter
All the latest news, reviews, and guides for Windows and Xbox diehards.