Now 32GB Surface without keyboard sells out in Canada and UK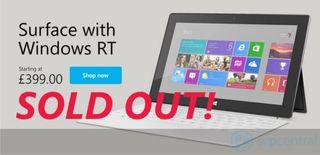 Microsoft's Surface RT tablets have only recently been made available as part of a limited pre-order. The least expensive option, the Surface 32GB without the touch cover has now sold out in Canada too.
The UK is also showing stock of the 32GB device to be unavailable with only the two more expensive options being present.
With pre-order stocks already selling through its tempting to start speculation on numbers and success. Microsoft certainly hasn't mentioned numbers and are very unlikely to do so unless they have something big to announce. If they are seeking to create some excitement around availability, selling out of an option certainly grabs attention and with it comes some urgency to be "first" or not to miss out.
The most obvious thing to point out is that the Surface RT without the touch cover will lack the very thing that differentiates the product, the keyboard. It's been the headline feature since when it first shown, it's sleek and will allow the device to be used properly when using Office and the desktop environment. It is surprising that the option without this is selling out, are consumers buying the keyboard separately (which costs more money than when bundled?) or content to have no cover or keyboard at all to save money? We know that many are taken with the different colours so maybe that's reason enough to extra instead of taking the standard black version.
The very notion of Microsoft devices "selling out" in any form comes as rather a strange and unusual concept. I for one cannot remember ever seeing or hearing of such an event. With stocks of these initial devices starting to dwindle, how long before pre-orders close? If you have been sitting on the fence waiting to grab one for launch day you might be running out of time. Well, that's what Microsoft probably wants you to think anyway.
We're very interested to know if you have pre-ordered yours, what colours and options you chose. Maybe you want to wait in line on launch day or are simply waiting for the good old intel version next year, please let us know in those comments below.
Thanks to Israel Elisha and Eric von Hertzberg for the tip!!!
Windows Central Newsletter
Get the best of Windows Central in in your inbox, every day!
This is a big f...ing deal love it!

While it might seem good that they're selling (as opposed to not selling) it also shows a failure of MS to supply potential customers with what they want. This could mean lost sales and/or unhappy customers. In that regard being sold out is not good. However, it does build hype and nowadays hype is what rules the world, so maybe this is good after all.

Make up you mind! Good or not Good? :-P

I'm just talking out my ass. I would say if they were sold out AND claimed millions of pre-orders then that would without a doubt be good! Selling out of 10 units on the other hand ain't that good.

Pre-ordered base model w cyan keyboard $618

I pre ordered the 32 GB model without cover for 2 reasons: the $499 entry price was near the max I was willing to pay. Also, I'd like to demo the keyboard first before I plunk down another $100 on something virtually nobody has ever had the experience of using.

No surprise there. Why they don't offer the 64 GB model without a cover is insane to me. And it has cost them a sale from myself and many of my family emembers. They need to let you get a color cover with the 64 GB model. This launch was a huge disappointment.

Have they really launched it yet though? They announced in June (?) and now started off pre-order with launch kinda environment, but what will get this going will 26th Oct with Windows 8 launch, right? Right guys?

I feel your pain but here's what I would do. Get the 32GB version without cover (you'll have 20GB+ left), then get the color of touch cover you want. Unless you install a lot of games, you'll have to install huge amount of apps to use up 20GB (Since this is RT, only apps from the Windows Store can be installed and from looking at the apps I've installed in Windows 8 most of them are well under 80MB). There's microSDXC slot and USB slot. So you can get an additional 64GB microSD card to store files and music and pictures. Not to mention, with USB you can even get a 128GB drive.

I've been looking for this everywhere, perhaps you know..
Does the surface RT support the 128GB MicroSDXC cards?


It states on the below page that is supports 64GB microSD cards. http://www.microsoft.com/Surface/en-US/surface-with-windows-rt/ports

Ah, so no higher then? Alrighty....

I'd wager this is a pre-order thing - try to extract maximum revenue from the highly-motivated early adopters. At launch, unless Microsoft has completely gone nutters, there will be 64-GB versions available without keyboard so that you can get the color keyboard you want without having to buy 2. I mean, I find their choice here highly rude and inconsiderate for a company that desperately needs to build good will and market share. Apple has an air of arrogance at times, so maybe Microsoft thinks that to be as successful as Apple, they need to be a little arrogant as well.

" At launch, unless Microsoft has completely gone nutters, there will be 64-GB versions available without keyboard so that you can get the color keyboard you want without having to buy 2."

False. There are and only will be three SKUs for Surface RT at launch.

Sorry but not having the bare 64GB SKU is retarded! If I want a 64GB surface with pink keyboard they are forcing me to buy the bundle!

Just go to one of their kiosks and steel one. How hard could it be? Of course, I am just kidding. Just do what I am going to do: don't get one.

Or, you could buy the bundle as it is today, sell the black cover on eBay and get yourself a pink one. This is what i am going to do (except for the pink choice ;-) )

I want to know when this will ship. My preorder from 10/16 still says "In Process" :(

It will be 26 Oct, or a day in advance, not sooner.

Sure about that? It says free shipping of 5-7 business days, but that it will arrive "by" the 26th..
To me that means it will need to ship SOON to arrive by the 26th. This is straight from their site - "When we offer free shipping, we'll automatically apply it when you check out, and that will be reflected in your shopping cart. Unless otherwise indicated in the offer, free shipping applies to ground shipping—you'll still have to pay if you choose to ship 2nd Day or Next Day. Free shipping is not transferrable or redeemable for cash. Our free shipping offer is only good for qualifying products shipped in the 50 states and Washington DC, and does not apply to APO/FPO or PO Boxes, because we can't ship there."

It will be delivered on October 26th, that means it will ship a few days before. I really don't think they will use 1 day delivery, that's just too expensive.

Right.
I would imagine it goes out monday to ensure it arrives by friday for ground shipping.

When your card gets charged, it shipped. No charge on my debit card yet.

I pre-ordered the 32gb model without keyboard because I wanted the colors!!! So I additionally ordered the magenta keyboard.

Just wait a couple of weeks. Soon you'll be able to order a surface in any configuration you desire. Microsoft just put forth the configurations they think people would initially be the most likely to purchase. From the news we're hearing, many people are happy with the initial roll out. Just be patient.

I ordered the 64 gig go big or go home I always say. I have also had offeres from people to buy it when the pro comes out

Pre ordered the 32Gb version without cover in Germany. The rationale behind this was that I couldn't afford the more expensive variations now and so I will get the touch cover later as a nice Christmas gift.

The option without the keyboard selling out is not surprising at all. And it's not because they don't want it. It just means that people are opting to buy the cover separately to get the color they want. Also, the holiday season is upon us...just get the tablet and ask Santa for the keyboard. Someone is bound to give it to you.

Sounds right, the cyan and black touch covers were shown as sold out on the UK store before the 32GB version without cover sold out - encouraging that there is strong demand, but I'm slightly miffed that I didn't get my order for the cyan cover in earlier.

Just reserved mine at the pop-up store in Metrotown mall, Burnaby. Number 82. I think they are only allowing 100 reservations per store, I may be wrong but I am pretty sure that's what the guy said. You can't reserve a particular model, you are just guranteed a surface as long as you arrive before 12 pm. They have two people maning the store right now. I was told that all colours will be available, but judging by the Canadian web site, I'm not 100% sure about that.

What are the pop up stores like? Are they just a tiny crappy booth like the pics from a couple of weeks ago or are they actual stores?

Just like the photos posted last week. I wouldn't call them crappy though, they are actually very nice and they will get way more attention than an actual store in a mall. We have two of them with in 20 minutes drive and they are both in very busy malls and in very high traffic locations within the mall.

I wonder when the pop us stores in NYC will open. The location of the one in Colombus Circle points to it being a booth. However the one in Times Square appears to be a full store, they even have a giant Surface billboard above it. Also, both stores have the same phone number for some reason...

"The very notion of Microsoft devices "selling out" in any form comes as rather a strange and unusual concept. I for one cannot remember ever seeing or hearing of such an event."

Xbox 360 and Kinect say hi.

Exactly. Even last holiday, there were numerous reports of people fighting on store trying to get their hands on an Xbox 360. And I was personally at the Toys R Us in Times Square when Kinect launched. The line was wrapped around the block. Microsoft is most definitely not new to this.

I didnt preorder mine: I would, if they offered the 32GB with the Color Option for the Keyboard no just black (One of the selling point is that feature in the Rainbow of colors). Ill wait to see if towards Xmas they gonna make some exciting Offers!

32 GB White in Canada : $746 taxes included

Sweet!!!
Was at Microsoft store in Bellevue sq, got my voucher AND took the Bing challenge. Got a free Bing It On tshirt and a $25 gift card. MS you are awesome!

Is it normal that I got refunded by Microsoft for my preorder ? I preordered it in Canada about an hour after it went online, I would be totally pissed off if they would sell me a surface that was already out of stock after an hour...

Hmm close to what i had in mind would happen. It seems people rather go with the cheaper price 499$ and just perhaps wait till christmas and get themselves a color keyboard... maybe by Xmas we see some sweet deals on them keyboards :)

All in all, just seeing any unit with windows 8 RT can only be a good thing, btw i just saw the app store passed 5000 apps folks... this was their goal by Oct 26. not bad not bad :D


Got my 64 GB when it preorders started. Added a white touch as I understand those covers work on the RT as well as the pro and since I will be selling my RT as soon as the pro is out I thought I have an extra cover to sell it at a more lucrative price.

Order 2x32gb 1 with cover and the other without. 1 for me and 1 for my Boy. Told my Girlie what i want for Christmas as she never seems to know what to get me. It will also give me a chance to try out the keyboard first to see which one i like.

1 x 32GB with a cover, 2 x 32GB + 2 x white covers

There you go. My informal survey indicates that 65-75% of users going with the $499 Surface, added a kb of their choice. Just like me. That's why it is selling better than the other two offerings.

i'm pretty sure most would have thought like i did price of $500 was high enough so get it on it's own now and then get the cover a little later with the option to choose what colour. Plus it's only $20 difference getting the cover later on so that's no huge savings buying it now bundled.

The consumers are forced to buy the $399 model because they don't want a black keyboard. Had they offered the 64GB without keyboard, it would be sold out fast as well. I purposely ordered the $399 model and added the Cyan keyboard cover. It cost a little more, but what the heck. I can always add a SanDisk 64GB Class 10 microSDXC for expansion.

Selling out is always not good, makes for great headlines but MS prefer to have enough stock for all. I would think that the supply chain for holidays is cramped with the new ipad mini, nexus 32gb and Wii U. I reserved my 32gb on the day of the pre-orders and now got an e-mail saying its pushed back to Nov 2nd.

Preprdered mine, but it failed multiple times :( Now I have to wait much longer in Germany.

I really want one, but £400 for cheapest without cover kinda sucks :( if it had cover included than may have preordered one :(, ill just wait a while till it goes down or I save up a bit more :) And like if I want the 920 I so can't afford both lol

So much for the predictions of doom and gloom!

I ordered the 64gb version and expect it on the 26th. Seeing how much storage Win8RT takes up, I'm glad I did. $100 extra for the additional 32gb is a good deal so I'm excited!
Now if I can only find out which WP 8 devices VZW will carry and when they'll be available I'll be all set!
Windows Central Newsletter
Thank you for signing up to Windows Central. You will receive a verification email shortly.
There was a problem. Please refresh the page and try again.