Now 32GB Surface without keyboard sells out in Canada and UK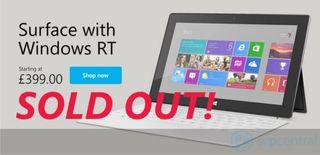 Microsoft's Surface RT tablets have only recently been made available as part of a limited pre-order. The least expensive option, the Surface 32GB without the touch cover has now sold out in Canada too.
The UK is also showing stock of the 32GB device to be unavailable with only the two more expensive options being present.
With pre-order stocks already selling through its tempting to start speculation on numbers and success. Microsoft certainly hasn't mentioned numbers and are very unlikely to do so unless they have something big to announce. If they are seeking to create some excitement around availability, selling out of an option certainly grabs attention and with it comes some urgency to be "first" or not to miss out.
The most obvious thing to point out is that the Surface RT without the touch cover will lack the very thing that differentiates the product, the keyboard. It's been the headline feature since when it first shown, it's sleek and will allow the device to be used properly when using Office and the desktop environment. It is surprising that the option without this is selling out, are consumers buying the keyboard separately (which costs more money than when bundled?) or content to have no cover or keyboard at all to save money? We know that many are taken with the different colours so maybe that's reason enough to extra instead of taking the standard black version.
The very notion of Microsoft devices "selling out" in any form comes as rather a strange and unusual concept. I for one cannot remember ever seeing or hearing of such an event. With stocks of these initial devices starting to dwindle, how long before pre-orders close? If you have been sitting on the fence waiting to grab one for launch day you might be running out of time. Well, that's what Microsoft probably wants you to think anyway.
We're very interested to know if you have pre-ordered yours, what colours and options you chose. Maybe you want to wait in line on launch day or are simply waiting for the good old intel version next year, please let us know in those comments below.
Thanks to Israel Elisha and Eric von Hertzberg for the tip!!!
Get the Windows Central Newsletter
All the latest news, reviews, and guides for Windows and Xbox diehards.