Microsoft details how Cortana can help you stay on top of your workouts
We've already seen Cortana's new Fitness Tracking support start to roll out under the new Lifestyle interest category, and now Microsoft has detailed how you can use it to stay on top of your workouts.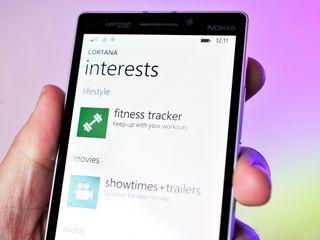 The fitness tracking feature allows Cortana to track when you usually head out to the gym, remind you beforehand, and even schedule make-up days if you happen to slack on your commitment. From the Bing blog:
Keeping up with a workout routine can be tough, and sometimes all you need to get going is a gentle reminder before all of that guilt starts setting in. We could definitely see this feature getting quite a bit of use as people push themselves to stay committed to a routine.
If you want to give the Fitness Tracker a shot, our own Daniel Rubino recently gave a rundown on how to enable the feature and add your gym information, so feel free to check that out from the link below to get started.
How to enable Cortana's Lifestyle and Fitness Tracker interest
Source: Bing Blog
Windows Central Newsletter
Get the best of Windows Central in in your inbox, every day!
Dan Thorp-Lancaster is the former Editor-in-Chief of Windows Central. He began working with Windows Central, Android Central, and iMore as a news writer in 2014 and is obsessed with tech of all sorts. You can follow Dan on Twitter @DthorpL and Instagram @heyitsdtl.
Did you post this on iMore and Android Central yet?

After that news, whenever i see Cortana in my phone or in News, my blood boils... I need to do yoga atleast 15 mins for this sole reasons :-X


You should try *cricket* - more interesting, Daniel.

No ..I think they should post these all there also .
.

Put it on Crackberry as well, know Microsoft logic, they'll release on BB eventually

That to complete version... Not just alpha or beta as in Windowsphone

Lol..... really? An reuters article (which lightly touches on the subject) is getting almost everyone worked up... ah so darn hilarious. I'm not going to lie, I was too for a few minutes then I read the Verge's source and laughed myself silly for getting incensed over such an article.

@TechFreak1:
Yeah, because Reuters is never right on things they report. Wait...

@WindowsPhoenix, I'm not saying they are not credible. I'm saying things can change, take the surface mini for example which was pulled last minute. So without any official confirmation, there is no sense in panicking like headless chickens. Plus they said "People familiar with the project", not "People close to the project", the project in question is a MSR project (project Einstein) there are many who follow MSR. Therefore the people mentioned could be anybody.

Bad enough they get our products first, but our news first❓ ..... Dang.

No crickets here, he has a good point. I've been waiting for a high end windows phone for over a year and now I hear that they are putting Cortana on ios and android, I mean that pretty much shows that they only care about profit and could give two shits about WP users.

Imagine that. A COMPANY only interested in profits.

You do realise Microsoft is a corporation, right? Not a charity? Posted via the Windows Central App for Android

No, most people have no concept of business, as evident here in the comments of nearly every article.

That's for sure. However, this does appear to be a move to get short term profit at the expense of long term gains.

@Travis Hayes1:
You know what really bugs me?
That this isn't about profit... (at least not directly).
Everyone's celebrating Nadella for his genius strategy, Microsoft's stock price is rising...
But since they don't charge any upfront cost for Office (and their other products) on iOS and Android (contrary to Windows devices) and even dropped the Office365-requirement on rivaling platforms, they don't make any money at all from these customers (I originally thought that the cross platform-strategy was about selling more Office365-subscriptions). We, the customers who actually bought Microsoft products, are cross-financing the products for users on rivaling platforms.
So these customers don't make Microsoft any profits, but get all the (good) apps in advance, for which we pay AND STILL ARE TREATED LIKE SECOND CLASS BY MICROSOFT. This is WHAT BUGS ME.
If they actually made money from iOS/Android customers, I still wouldn't like that they get all the good stuff, but I would accept it as viable business decision. But since they don't make any money at all from these customers I don't understand why Microsoft gives them such a premium treatment and Wall Street celebrates Microsoft for their strategy.

I may be wrong, but are office apps free for all windows phones as well? Yes, the experience is not as good as it is on the other platforms butI think the apps are still mostly companion based and not as useful without the desktop counterparts.

Precisely. No one is using Office exclusively on their phones. To be truly productive they must use Office on their PC or Macbooks... which requires money.

@tangledW:
Office is available on iPads and Android tablets as well (for free). This should be good enough, including extended work, especially when combined with a Bluetooth keyboard.

I am sure there are ways to get near complete office expereince, but ios and droid already had dozens of apps that could open and edit .doc*, .xsl etc... files, some of which had desktop counterparts. Without a MS offering those people would just get acustomed to using to libre/open/free/king/... office.

Yes, give us the release date

@mbrooks78:
Saying Office on Windows Phone is not as good as on other platforms is far beyond UNDERstatement; it would be like comparing a '71 Ford Pinto with a broken engine to a 2015 Ferrari 488 GTB.
Of course, both can open and edit Office documents.
But in Windows Phone's Word for example the only editing option is to change the ducking font size, while iOS/Android Microsoft Office include all relevant editing options.
Furthermore you are mistaking paying not separately (Office on Windows Phone) with paying NOTHING AT ALL (Office on iOS and Android).
Microsoft doesn't break down the cost for Office explicitly, but if you a buy a Windows Phone, a part of Microsoft's revenue goes towards covering the development of Office. And since Office on iOS or Android users don't pay Microsoft ANYTHING AT ALL, you crossfinance the development of these Office versions with your purchase as well, but getting the worst Office experience as a thank you in return.

Cortana is still a work in progress. It is pretty good now but there is still a lot of room for improvement. I actually believe that the end result will be a lot better on windows. This will act as more of a demo I think, with droid having access to more features but not all. I know they screwed us with office and other apps being better on other platforms, but my band for example, is really limited on iOS as opposed to wp. No cortana integration, no reply to messages and no customization. Let's see if ms holds up to their "services will be best on WP" talk, if not; I will completely give up on WP as well.

@mbrooks78:
That is, sadly, how far Microsoft has driven me as well.
Windows 10 should be the watershed moment.
If they can not present something convincing this time around, I will be done with hoping for the next iteration to fix everything. I mean, by the time Windows 10 will be released it will be ONLY five years (four and a half for me personally) for them to complete their vision for Windows (Phone).
This should really be enough time...

Why fight for Microsoft when the company itself values less than Apple and Samsung or HTC products.. :|

You've been waiting a year? That sucks. I guess you didn't get the memo on the 930/Icon, the HTC One or the Samsung Ativ SE.

I hope it is released soon on android. I can't wait to get it on my note 4 Posted via the Windows Phone Central App for Android

You sir... Just won the internet!

Overhype! Release to google or ios at least they're global.

First make cortana available throughout the world as having Lumia 1520 and high and phones doesn't make us read these bullsjits ..first make this available for my l2520 ....

Drill Sergtana....Drop and give me 50 lol

I want this in my Cortana, as it would be really handy to get me back into the swing of exercising.

Cortana is coming with more capabilities just bcoz its going to LoadingDroid and iUseless . If Cortana goes to those platforms with final version , then we have to assume that Microsoft is not interested in phones

Or they want to attract people to windows phone...

Do you mean to say... Microsoft gave Outlook , Office , Cortana to loadingDroid and iUseless . And will pull out those apps from those platforms , I meantime those platform users will addict to those apps and will turn to Windowsphone then

Cortana is a slut...... If all the exclusive windows apps are available on iOS or android, mind as well drop windows phone development since both android and iOS have more apps, such as Snapchat that most windows phone users are craving for....... But I respected windows phone until today.... Idk if I will continue with windows phone anymore since now days android phones don't lag like a faggot anymore. Then I might go for a one plus 2

It makes me cringe reading words like 'iUseless' and 'loadingDroid'.
I mean seriously, how old are you?

Im 24 and I found "lagdroid" and "iCrap" as better words :)

Can I get this on my iPhone 6?

LOL
Real *soon*.
Hold your breath.

And not the "soon :/ " soon the Microsoft keeps giving us! It's the "REALLY SOON" soon!

They will release Cortana to Android and ios before the full version is even released to non US Windows phones. Now that's sad.

No that's reality. Wake up.

Reality = Sad. Good morning.

Really? What's that release date again?

To many news about Cortana but nothing about new countries availability! Hope they don't wait until Windows 10.

I don't think this is the best moment to post something about Cortana, after today's news, a lot of people aren't happy, I understand what Microsoft's plan may be, but it won't make me feel any better

want cortana to manage water drinking period. like when thing arw setup Cortana will say time to drink 3 glasses of water.

I would love to know if MS has plans to combine the Health app with the Health & Fitness app. So odd having two separate apps...

Hopefully... So far the only changes in Health and Fitness have worsened the app functionalities,

It's not a bug, it's a feature! Look at all those 6432215 Lumia apps which are not integrated in the Lumia camera so

I love Cortana she's so much more innovative then Siri or Google Now. This is huge!

Is it not available for alpha version of Cortana???

Nope, nothing is available in the alpha version. It is crap.

I'll probably give this a try, but for someone who is seriously motivated about working out they wouldn't need their smartphone to remind them to get off their fat a$$, and workout..... Lol..
.....
It would be good for helping me to remember which set to do on specific days... Sometimes I do forget what I worked last time... But, it's rare.

I came for Cortana and holding on because of that if this thing goes to lag droid or ios I'm definitely switching

We cant help windows if it doesn't help itself

When I read Android Central's comments, it clearly shows that they'll NOT stop using Google Now. They don't care about Cortana, MS should realize this.

People use what works the best. If Cortana is the best, people will use it.

Google now will obviously work the best. Do you really think Cortana will get access to their Gmail to scan it for things? Nope. Less deep integration, thus Cortana will render useless.

not really, if you have a rooted phone and tasker installed you'll be able to do pretty much anything with Cortana when it makes it's way across, that's what Andriod is all about...

This is part of a bigger play...like Marcus Ash said earlier last year, even if Cortana is available in all of Windows including desktop, what is the point of having an artificial assistant which can't move across to where you really are if you're using a different OS on your phone? Cortana automatically becomes less relevant. People will only start considering using it if they see that Cortana isn't limited by any OS and is available where you go..
Sadly,this is the best way to make Cortana truly relevant.

Omg! A bunch of ignorant idiots is what makes up our community. *Sorry for the generalisation*
Do you think MS is stupid? Cortana to droid n iOs is a stint to pull more consumers to WP. It's never gonna be as deeply integrated as in Windows. IT'S A THIRD-PARTY APPLICATION goddamn it!! :|

Yeah, most people aren't smarty enough to see past their nose.
There are a lot of things at play here, attracting users to their services, software and devices is what it's all about.
Making Cortana a big part of Windows 10 on PC and tablet, but not able to integrate with NEARLY 100% OF ITS USER'S MOBILE DEVICES would be moronic.
Windows 10 adoption, be it tablet, phone or PC, is of utmost importance. Windows 10's success and adoption rate is a big part of Windows phone's last hope for market share and developer adoption.

Microsoft details how Cortana can help iOS and Android stay on top (of whatever, maybe mobile market share)!

I'll elaborate a little:
Alright, it's been pretty clear that Cortana would arrive on competing platforms eventually.
But in the past Microsoft promised that wouldn't happen until they fully developed it on Windows. Unfortunately it isn't available worldwide right now on Windows Phone (or Windows), and in countries where it's available, it's often in alpha stage.
And now they're detailing their iOS and Android plans for Cortana.
Smells like a broken promise again...

Is it out yet for iOS or Android? Has a date been set?
Are people jumping the gun and flipping out?
The answer to the last question is yes BTW.

Do you have Outlook on WP 8.1? I do not while my daughter has it on her iPhone.

Yes. I do have Outlook on my WP 8.1... and it's not a security risk and it supports multiple account types that Outlook for iOS does not, including POP.
I'm sure you're aware that the mail client in 8.1 relies on OS updates and that this will change with Windows 10.
Meaning that we'll receive the Outlook universal app. I'm sure the skinned version of Acompli that iOS has now will be brought up to speed by then, but as it stands, a universal Outlook app will be far superior to the half baked Outlook for iOS that they have now.
...
Aside from all of that, I'm pretty sure we're talking about Cortana here.

Sorry to break your dreams but you do not have Outlook on your phone, I do have Outlook on my computer which allows me to use Categories, colours to identify appointments, choose which account to use when replying to received emails and an Unified inbox not a linked one. And, being someone who has used Windows OS on my phone since the Motorola MPX 200 I can assure you that the email client I had then was by far superior to the one I have now on WP. As for what the future will bring and how it will work on each platform... Time will tell. As for your, poorly crafted I would add, attempt to hint to an "out of topic" comment I used the example of something, in this case Outlook, already exisiting to demonstrate how your attempt to portrait a scenario where Cortana will work better on Wp than other OSes is solely an opinion and not a fact; an opinion which is not supported by what has been demonstrated, thus being a fact, in porting other, previously not available, software to other platforms.

Calm down princess.
It's a fact that Cortana, on iOS in particular, won't have access to the core OS like it will on Windows phones. That would lead to the Cortana experience being better on Windows, much like it is on the Band now.

@tangledW:
I'm not a developer, but if experience has suggested anything so far, it's that the SDKs for iOS and Android offer far more options compared to Windows SDK, without needing access to the core system.
Or how would you explain that Microsoft is able to deliver a full-fledged Office experience on iOS and Android, while stating they could not do the same on Windows Phone (8/8.1) because of it's inherent operating system restrictions, although they should have access to the core system?

@tangledW:
Oh, come on. Stop playing stupid/naïve.
Since it will be a separate app and download on competing platforms the users can decide when the will get it (after its release).
Which will bring it to hundreds of thousands or maybe millions iOS/Android users, long before Windows users, which will have to wait for release and approval of an Operating system update, can get their hands on it.

Sorry, but you clearly don't understand that Cortana operates as an back end service. Which is really ironic after you called me naive and stupid.
Meaning it doesn't have to be updated on the phone at all. Not through the store or an OS update.

@tangledW:
I know that fully well.
But only new devices ship with a Windows version that includes the Cortana client.
Legacy (Windows Phone 8) devices have to wait for an update; not taking into account markets where Microsoft didn't release Cortana at all (yet).

I am not impressed with this approach: I have all my workout sessions, and their allotted time, on Outlook Calendar, the one part of Office. ​As long as Cortana will keep only looking at locations and not events its functionality will remain severely crippled.

Cortana will be an app. Not baked into IOS or Android. They will have to want it and will have to download it. You know millions of iSheep are poised to buy into the Apple watch/Siri ecosystem. They are not band owners, by and large. They are not OneDrive users. While I view Xbox and Cortana as MS only in scope. Seriously. Microsoft certainly runs deeper than the current Windows Phone and soon, Windows 10 on phone will be here. Hold onto your socks. It is going to get interesting. With that, we will not always like every aspect of that. With the release of the Apple watch and the new MacBook, we are seeing articles that indicate Microsoft is competing toe to toe. There are dozens of alternatives to some of Apple's most recent entries, even iPhone. And the best of them are running Windows. So it will be with phone.

@Mark Richey:
Where is Microsoft "competing toe to toe" with Apple?
Actually they avoid that.
MacBook /= No comparable Ultrabook available (Surface is a tablet for a reason)
Apple Watch /= Microsoft (Fitness)Band, which clearly is not positioned as a fashionable item "Hold onto your socks"
Would actually love to to do that, but Microsoft gave mine to iOS users...

There are about a half dozen laptops that are comparable to the new Macbook, in size, weight and specs. Some of them are even a year old.
Maybe you haven't seen the ads, but Surface is more than a tablet (LOL) and it computers directly with Macbooks.

@tangledW:
"Mark Richey" was talking Microsoft as a (direct) competitor to Apple. We weren't discussing OEMs, because their fishy crapware loaded garbage doesn't compete on quality, neither with Apple nor Microsoft.
And if you look (just a little) closer, you would recognize that Macbook and Surface (although comparable on specs) cater to different audiences/use cases ("lappability", anyone?!).

"Lappability"? I don't know what you mean there. I use it on my lap all the time.
I guess even Microsoft is confused then because, they constantly compare the Surface and the MacBook.
BTW you can in fact buy some high quality devices without the bloatware. Microsoft has a program called "Microsoft Signature", you should check it out. It's really interesting and it's the only way I recommend people buying a new PC.

@tangledW:
Panos Panay coined the term "lappability".
I have no idea if anyone at Microsoft is confused. But since they don't have a Surface Ultrabook on offer, the Surface tablets are their only offering to market against Macbooks. That doesn't mean this pitch resonates with customers.
As far as I know, Surface is selling decently, but nowhere near Macbook's sales figures.
Signature edition is certainly nice, but not available everywhere.

What about if you workout at home? I guess this setup won't work?

Microsoft got me hard when they announced they're bringing Cortana to other platforms. I'm an investor in the company ( holder of 2 shares) and I'm excited about how this might bring in more revenue in whatever way, in the future, maximizing value for its shareholders.

@anonburpmaster:
As a Windows user I don't like users of competing platforms getting the premium treatment by Microsoft (getting MORE and BETTER DEVELOPED apps EARLIER than Microsoft platform users).
But as long as it looked like a strategy to sell more Office365-subscriptions, I was about to accept it as a sane business decision. Now that Office on iOS and Android don't require subscriptions anymore and Microsoft doesn't charge anything upfront, I don't see how this is making them any money (while costing millions in the development).
So I don't see how this is going to raise Microsoft's stock price in the future, when all this perception of the new "nice" Microsoft is gone with the wind. Please, don't hold your breath for any goodwill purchases of Microsoft products by iOS/Android users, just because Microsoft is "likeable" again.
They're laughing their asses off about Microsoft throwing all the good stuff at them FOR FREE (for whose development we Windows users paid, by the way).

As a windows phone user yes, we absolutely have a reason to feel shortchanged by soft's moves and I totally get where you're coming from.
However I reserve my opinion about Soft's decision to take Cortana to other platforms till more details come out.
If they give them foreign os'es a good enough Cortana, as a windows phone user though, I'd be pretty darn disappointed

@anonburpmaster:
I wanted to be contempt with the concept of "Microsoft everywhere, Windows best".
But if experience is showing us anything, it's that Microsoft dropped even that minimum requirement.
So there's no reason to expect Cortana being more capable on Windows Phone compared to competing platforms, if history has taught us anything.

This is marketing and exposure. Plain and simple. Get them hooked into the eco system and sell them on other goods. This isn't a new method. Free then post for something somehow (to customers or partners) is how alot of of big names started out: Google, facebook, tumble, etc. You don't have to understand it if you're not running a company.

@RayWP7:
I already covered that part of Microsoft's strategy when I said "don't expect any goodwill purchases by iOS/Android users".
And as long as Microsoft only manages to engage people in their FREE ecosystem parts (Office on iOS/Android, OneDrive, Skype, etc.), they have absolutely no gain from them, in contrary: the money from existing (read: paying Office/Windows) customers has to be employed to cover the costs caused by more customers.
How is this a healthy strategy?

That should focus on availability in different regions too.

Windows phone in general should become a prostitute to androids and ios to get some shares from their paying customers. Windows phone is too slow and has no future.

W Phoenix MS is as the OEM go. They designed Surface as a shot across the bow of complacent OEM and it is showing some results. Mac accounts for less than 10% of the PC market. While they are gorgeous in their own right, there are many alternatives that are even beginning to chip away at the premium market Mac seems most comfortable working. My point was, there is little for someone immersed in IOS to need Cortana. However, there are many who work with Windows PCs and in Windows environments who own iPhones. I used to be one of those users. While I wish they would all buy Windows Phones, why should I take the attitude that if they don't, they shouldn't be able to use other Windows products, including Cortana.

Spare your logic, it falls on deaf ears here.

@tangledW:
Besides this not being about logic, but about opinion...

That's a really good point, Mark :)

@Mark Richey:
That's very generous of you.
Maybe I would have thought differently two years ago.

Simple but clever use for Cortana.

But not in Canada. Cortana alpha with berry few features is sucking.

Off topic but see what a dumb post from a dumb people
http://betanews.com/2015/03/13/oh-god-screenshots-from-windows-10-build-...

Are there any infos when this feature is available for the german beta and how its enabled?

And now in Dutch, so I can join as well.

Cortana did notice that I've added the gym as a favourite place and asked whether I want it to track when I go there.
I don't always go on the same day, so I don't think it has figured when I go and when to remind me. It'll be interesting to see whether it does work out a pattern over the next few weeks and start promting me.

Most of those who agree with this are holding windows phone in one hand and IOS on the other hand, Microsoft don't see any issue because a lot of their employees are holding iPhones instead of windows phone no one to blame if windows phone failed except Microsoft they have done horrible slow job developing it and promoting it.

So why would this not work in Cortana Alpha? Is there a USA specific setting in here?

I dont mind cortana jumps to other platform but come on, ake this function first globally!

By the way Lumia 630 available for only ₹5500 today and 5 hours remaining for this offer, hurry up. http://www.amazon.in/gp/aw/d/B00L0YFXVQ/ref=gbmh_mob_s-3_3487_ace536a6?m...

MSFT will bring everything to IOS & android. I think MS will abandon its platform in a year. Look since releasing WP 8 , may be 3 years or 4 ago, we are still living in the 8 circle, WP 8 , WP 8.1 only in 4 years. MS is not ready to compete in smart phones market. MS give its all time for windows on pcs and they are so happy for bringing back start menu hahahahaha. MS give only 1% of its time for WP and we should so happy as MS bring background and setting menu UI change , what else??? Nothing. MS = pcs only

You're a pessimist. I'll give it until next summer. There will be a bump in market share when Windows 10 are universally released but when Cortana our mostly all Microsoft core apps and services are available to other OS, the leak will be hard to plug. And its a small bucket to empty.

an opinion is a judgment, viewpoint, or statement about matters commonly considered to be subjective. If I like lobster and McDonald's offers it, why would I leave Red Lobster just because McDonald's has more locations? Imo, if, Microsoft wants to attract Android and Apple consumers, they will need to focus on the youth and women. No matter how much product is made for Apple and Android consumers will never leave unless it is the IN thing and having a Windows phone is cool. I personally switched to Windows phone and the Surface because of reasons to make my job my efficient but sometimes communicating with the mass of the public is difficult because of insufficient apps. It's not that Microsoft doesn't have a quality experience it's that the overall experience does not suit the mainstream generation. There is nothing cool about not having similar capabilities of your peers. All commercial have download in the Apple Store and Google Play Store, hell sometimes Amazon gets in on the action. Never is Microsoft included. Yes, Microsoft has consumers but no one impresses a "partner" by taking on a date to McDonald's. IMO

The problem with Microsoft, in my opinion, they rely too much of their overwhelming confidence that others will adapt to them. They are still living the Windows 98 dream.

Hope they ll say what Cortana will have on wp more than on igay and lagdroid..... I really like the new S6 dual edge, if it will get Cortana and Office I m ready to replace my 930.

"remind you beforehand, and even schedule make-up days when you slack on your commitment". She's becoming more like my girlfriend everyday.

I run a lot almost every other day and Cortana had queried me on the 2 trail heads. I labeled it Memorial trail and the other Hermann park trail. Never heard back from Cortana. She's afraid of running.

If only they would untie her from a Country and IF THEY REALLY HAVE TO tie her to a language. That way I could user her on my Swiss Phone with Swiss Currency, Swiss Date/Time, Swiss whatever floats my boat while only using English as the OS Language - Something I keep doing anyway. Annoying as fuck If I may say so.

This feature is not working men please help me!!!

I had tried activating Cortana on my phone. It's a great app and a smart one too. Unfortunately the roll-out to other countries is rather slow. Microsoft should know better how competitive the market is. Google and Apple wouldn't be idling at this moment. Even with a strong hardware, Windows phone are still lagging behind in terms of apps and software. With this developmental pace, Windows will remain behind iPhone and Android phones. ​ ​

Bring Cortana to every windows phone in the world first before releasing Cortana on different platforms noobsoft. You should really study "The Art of Tsun Tze" before entering the business world. Idiots. =_="

Cortana is interfering with our life too march, somethings are better be left alone!! Suggestion

Stop talking about Cortana that is only available on 5% of the planet
Windows Central Newsletter
Thank you for signing up to Windows Central. You will receive a verification email shortly.
There was a problem. Please refresh the page and try again.