Microsoft details what's new in Cortana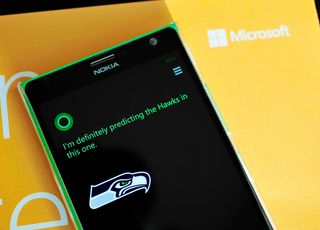 What's new in Cortana? Microsoft has just detailed a few changes and additions they've recently made to your favorite digital assistant. We've already covered a few of them, like the new NFL game predictions, but it's nice to see Microsoft give Cortana a "changelog" of sorts.
What's new in Cortana:
NFL predictions
Dictionary
Health and fitness
New interests in Cortana's Notebook
Do more with apps
Say what?
Cortana can now predict the outcome of NFL games. Here's how you can trigger the response: "Who will win the [team name] versus [team name] game?" Or, just ask about your favorite team and say, "Who will win the [team name] game?"
We also recently detailed how Cortana is now a dictionary. All you need to do is say something to Cortana like, "Define nudiustertian."
You can also ask Cortana fitness related questions and get answer that open up the Bing Health & Fitness app. A nifty trick if you're getting into shape.
The ability to 'do more with apps' is Microsoft highlighting voice interaction with a few apps. For example, the ability to ask "Facebook, what's up with Todd?". And 'say what?' is Microsoft pointing out a few of the cool chitchat sayings that have been added, like "Do an impression".
What's your favorite thing to do with Cortana?
Source: Microsoft (opens in new tab) Via: Windows Blog
Windows Central Newsletter
Get the best of Windows Central in in your inbox, every day!
UK Cortana can do some Web searches :)

She can even do...um...something Ok, she can't do much

It's really annoying. I don't understand why they've gone down this road. In all English speaking countries Cortana should be as advanced and have the same voice as the US version. Just slightly adapted for local sports, weather and all that. They have made too much work for themselves and it's going to effect the product. I personally have her turned off, it's a waste of battery in its current state

I turned it back in there to test, it's completely messed up now. It's saying it can't add reminders when battery saver is on. Battery saver is not on Cortana love

Cortana might be saying that because although your phone is not on battery saver mode, you might have disabled Cortana to run in the background. Check that. It worked for me.

It is a long process to localise a piece of software.

Exactly! Just make it available, localize all you want and update later, but make it available now as is! I have been using US Cortana in Germany with my "finglisch" (finnish-english, with a german twist) and it works wonders! Of course she doesn't yet know exactly what is happening in Bundesliga soccer, but I am sure that comes.

Well she can't actually do anything in the UK if you aren't in the DP as she isn't available yet, although as stated I am as ever living in hope. I do understand it's not just about accent, I would also be happy about having the US accent but it would be crap if she couldn't spell proper or only knew about stuff in the US so although we both speak English it's not as simple as switching on the US version in the UK. But come on MS pull your finger out. Bob

What are you talking about? Cortana just got released in the UK in update 1 for everyone on 8.1 I mean I was on DP then I opted out and used nokia software recovery tool to reset to 8.1 and I got the 8.1 update 1 and I have Cortana. But yeah totally agree that uk Cortana should voiced by Jen.

My phone says it's up to date in the UK and no Cortana, any one got the store url for it?

Update 1 is out for Lumia 930 and HTC M8.

I switched to American Cortana...the only drawback is the store prices r in dollars...but I can live with that

And the temperature in F, and the reverse date format... And the fact we shouldn't really have to do that.

I lived in America for a while....am fine with that compromise ;)

You can manually change display format, also you can simply ask Cortana to tell weather in celsius

just say "what is the weather like in Celsius."

So wait, what about "do more with apps" and "say what?"

Thanks! I was using the app, so I didn't notice them. :)

Sorry if that sounded rude, didn't mean it that way... I thought exactly the same at first... Turns out "Say What?" isn't anything new... :)

Haha, no worries man. Thanks!

I thought "Say What" was going to be that you can ask Cortana to repeat what she said, say if you're driving or cooking Ah well

That'd actually be really neat... This needs to be a thing!

I recently saw that the integration of Cortana and Bing apps on the phone and i thought that was sweet. When I check my flight via Cortana it opens the travel app, i found that to be a nice touch. I'm excited to see how the ecosystem(WP & Windows OS) and apps become even more tighter with future updates.

Directions. Soooo helpful.

I just want her to be more conversational. Also some sort of integrated mini games you could play with or against her would be awesome, already suggested this via feedback.

Agree with first part. Second is an interesting concept tho. Def a good suggestion

Yes, games! I've been wanting to do that for awhile; didn't know it had been suggested.

Suggest it your self also

a game of words perhaps, could be implemented easily :) you say a word, she says a word starting with the last alphabet of your word and so on

I wish it would say more things aloud. I asked Cortana what a word meant, and it just dumped out text. My brother tried it on his Android and it said "According to wikipedia..." and went on to give a definition, all spoken. Cortana needs to stop expecting us to be looking at the screen. It's not rocket surgery; they already have the text to speech necessary, although Google's sounds much better.

Quite right. It would also be nice if she called me by name. That was supposed to be a feature done time ago

I'd just settle for her remembering my name. Still only forgot twice so far this week so maybe improving.

She's forgotten your name? Odd. Now that I think about it, she never says my name. But she did stop calling me "chief" when I asked her to. That was pretty cool.

She calls me by my name with this command "Say My Name" before it would just give me the search results for the Destiny's Child song. But i agree with you guys, Cortana needs to dictate her results.

I told her my name was Mr white.
I amuse myself by saying "say my name" --- "Mr White" , ---, "you're goddamn right" (although sometimes she replies "you are Mr white" which spoils the effect)

It's in the settings, you have to turn it on.

I asked for the definition of "silly" and Cortana said "I've got the definition of 'silly'" and then showed the dictionary results.

Bit unfair lad. Cortana only been going few months. Google has had couple years to get where it is

No excuse needed, that is a fact. Even though it has a wide spread you will chose something much more wider than it presently have and deeper so give it some time. We do know the database is fairly deep but the algorithms must get updated on a constant and as this happens over a period nearly most of what you request will get serviced.

It's a pefectly fine excuse. Ever heard the expression 'Rome wasn't built in a day'? What, you think Windows should hit the ground running on day one with a voice assistant? These things not only take time; they're powered by data gathered by users. The technology will improve over time as more and more users contribute their searches and provide feedback.

What are the new interests?

It's time to Cortana speaks Spanish!

Yess... Isn't Spanish like the second or third spoken language around the globe? Big market, hope MS will release it soon

Still can't write an email though..

Or dictate punctuation. Both seem WAY more integral than this fitness app bs.

Exactly this. Email integraion. In late 90s, voice recognition was mainly developed for email writing.

I'm now seeing Juventus and Real Madrid in my sports interests, still can't add them manually so probably lifted from my Sports app preferences.

Could an AT&T subscriber ask Cortana, when is Verizon going to give me Cyan/Denim?

Yes.....frustration growing daily. I already have my kids to drive me nuts, now it's Verizon!

Height of helplessness. When you ask her that, also ask when is Bing Rewards coming to India.

Daily routine changed names to getting around and now you have the option to specify whether you drive or take public transit.

I may use it, if it can correctly predict lotto numbers.

Cortana show me emails from....
Cortana show me messages from......
Cortana Insteon integration

Malaysia has no Cortana... Where is she???? Wp8.1 cyan DP update 1 has killed cortana. Change regions & bla bla bla.... No avail....

My favorite Cortana request? "Shuffle Music" :-)

Still no Formula 1 in Sports. (sigh)

I've suggested it to them as F1 is the only sport I care about. Also US Cortana doesn't have the Dr Who references.

Formula 1 is NOT niche. Here in Europe it's a really big thing. Do remember your 'United States' comprises what, 5% of the entire global population. Just because F1 isn't big in your country, doesn't mean it's a niche sport.

He must be a NASCAR fan. They all call F1 niche. Probably because they are afraid what the car may do if it make a right turn ;)

I dont watch racing. The guy above you is correct - it's just my myopic American view. I don't know anybody into F1

And I don't know anybody whos into American hand egg, so there.

Just wish they would either upgrade the Canadian Cortana to beta or let the alpha do some "fun" stuff...

Still can't turn internet sharing on or off but I'm sure glad she can "predict" NFL games.

It's all about priorities. lol :)

There is no Cortana at my phone. :(

My favourite thing is the hope that one day I will get an update in Canada on my HTC8X so I know what the lucky ones are talking about :)

Any word on when Cortana will be available in Canada? I know I can change region to US to get Cortana but when I do so my MMS messages don't go through properly in Canada.

@DrewLumia900 look up MMS apn for your carrier, and enter it under the sim card settings. Presto, US region Cortana, and functioning MMS.

What update do I need for this ? I have the 630 and I haven't seen one update! Seems like other phones including the 635 gets updates.

This update isn't an update on your phone, but rather an update behind the scenes on Microsoft's side. The infrastructure behind Cortana. You will just magically be able to take advantage of these changes. Ah I stand corrected. Either way though... the 630 shipped with 8.1... you should already have this capability.

Cortana is web based, no need to update.

I just want Cortana to always search XBOX music when making "Play..." request. There could be an option to always search XBOX Music OR Web. Sometimes it searches XBOX music and sometimes it does a web search. Stick to one!

Show me your face!! She showed her face to me, finally!!

Sam, you were just dying to fit "nudiustertian" into a sentence weren't you? LOL. Still nice to learn a new, if incredibly obscure, word. :-)

Just tried asking a few questions with interesting results. "Say something smart" and "Say something stupid". Check it out!

Does nothing in UK version

My favorite thing Cortana can do is sound like a gimped piece of robotic shit if I'm using her outside the US. Second favorite thing is she can sound normal if I change the region to US

Define doesn't work in UK yet. But looking forward to it. I do miss qr reading

Cortana is Better than siri and google talk.

The Facebook integration is kinda cool. The Facebook app actually "Thanks Cortana" before fetching the info you asked for. That's pretty neat.

The impressions are my favorite honestly! I can't wait to see what else is coming, everyone already is jealous that Cortana on my phone is better than their Siri

How to ask her fitness questions?

I'd like Cortana to be able to send email but she cannot complete this simple task.

At least she's got the "What's the air speed velocity of an unladen swallow" answer down cold.

And when these - http://sharpsnippets.wordpress.com/2014/09/19/cortana-in-microsoft-offic... ?

Still can't translate like "how do I say hello in japanese" or something like that

Good additions. Cortana is becoming cooler by the day.

US version is always better, and get all the early updates.

Because Microsoft is a US company, so no surprise there...

We want bpl predictions feature

Yes! My thoughts exactly. I thought I was the only one

How does the listening when screen is locked work? Does that work fir tge 1020?

Nope, just Snapdragon 800+ is supported: L930; 1520; One M8.

So.....does any of those changes apply to the UK version, cause here in Little Britain she's about as useful as a chocolate teapot....

Choclate tea pot??? i gotta ask cortana abt it...

I like to ask Cortana: "Garlic Prawn Recipe" and Cortana open Food & Drink(Bing's) app with that recipe's page in the app. Voila!

send it over when you r done with the cooking... just bought some prawns BTW

She can't speak German yet. Sigh.

i don't know if this i happening to me alone, sometimes when she tells me that i have received a meesage i she i wanna read it or not, when i answer back by saying "read!" she doesn't read the message but says "who do yo want to text to" as if i want to sent a text message to somone, She ignores the received message completely, i have to answer back by saying "cancel" I THINK THERE IS A BUG ON CORTANA UK!!!!!!!

I get this all the time (in the US) it is very frustrating!!!!!

How abt adding NCAA football!!!

Australian Cortana has so many interests.... like... both News and Weather - :'(

Switched her back off because she became extremely slow, took forever to launch and when she finally did she was unreliable in understanding me. I mostly used her to launch my playlists, it worked so well and was much faster then launching the music app (and staring at the green headphone screen FOREVER) and doing it manually, but even that has become slow and recently I'm just greeted by a "loading" or "resuming" message that carries on forever when U try to use Cortana. :( anybody else experiencing this??

Switched her back off because she became extremely slow, took forever to launch and when she finally did she was unreliable in understanding me. I mostly used her to launch my playlists, it worked so well and was much faster then launching the music app (and staring at the green headphone screen FOREVER) and doing it manually, but even that has become slow and recently I'm just greeted by a "loading" or "resuming" message that carries on forever when U try to use Cortana. :( anybody else experiencing this?? Oh and I'm using a Lumia 1020 btw

Does anyone know if the API is different for the UK version? I've downloaded a few apps which should work with Cortana, these apps are Wikipedia, Memo etc. None of them work with the UK cortana at all. Wikipedia tried at times, but finds it hard to work with Cortana. I tried "Wikipedia Banana" and the first time it tried doing a location search with Wikipedia, I then tried again and it looked for it, but found something different. I thought the API for each region would be a bit more unified and be able to the apps should work with both Cortana's. Other than this, she does do other things like chit chat and adding things to my calender and texting etc. She makes animal noises and alerts me when it's time to go home and gives me how long it will take in current traffic which is nice. She just needs to play nice with apps and then she will be a lot better and make me happier.

Cortana's voice in Australia is absolutely ridiculous... Nobody here will like it... Australia is a largely Americanized country, to the point that it sounds strange when you hear an Australian voice on TV! They need the original "Jen Taylor" voice over here pronto!!

I just want Cortana's language and region settings to be independent from the phone's, just like for the old Speach feature. Then the rest of the world can at least use her non-localised abilities while waiting for the local language, which will never come for a lot of us in the first place!

I dream they add "Fahrenheit/Celsius" switch to weather in Cortana one day...

I think they will add Benny Hill impersonation first. Or some such useful thing.

Yeah, another gap identified :-) Well, it is somehow amusing they spend so much time on those things (gimmicks) like impersonations and jokes and whatever chitchat, I mean it's all nice, but you will use it once or twice and then move on to more useful tasks. The price-performance ratio is very low here. I understand those things adds some marketing value maybe, but at the same time there are some serious problems which needs to be fixed and MS don't pay attention at all. Many things are just "set and forget"/"take it as it is". They add some feature and never update it again (better case) or they add a feature, then break it with another update and never fix it (worse case) or remove features which defined the brand in the first place (worst case)

I'd like Cortana to be able to sent text in whatsapp. Cortana, send a whatsapp to "XXX". Ok, now opening Whatsapp. Send message to "XXX", what would you like your message to be (or sumtin')?. Now that would be neat. Is it true that with newer updates one would be able to change their standard messaging app to what they like?

We don't have it at all here in Australia. Lots of our television here is American why not Cortana?

What I can't understand is why in Australia we get only Bing search results when trying out any of these cute new features. The only thing that needs to be changed for Cortana to work minimally well here is for Cortana to use non American dates, measures and (perhaps) spellings (as with the rest of the world). Is the architecture so messed up that MS can't easily roll in some banter? If this is so difficult to accommodate then I'm skeptical that we're going to see much in the way of localised improvements.

Being as mature as I am, I asked Cortana, "What does f*** mean?" what I found interesting is that the voice repeated it back and gave me the definition without censure, but the written text in the search box was. Hah.

I use Cortana as often as possible and right now for my office football pool NFL game predictions is my favorite for now

Mostly I use Cortana to make calls and and start apps.... It's just fun to use Cortana.

I think it was a waste of time giving Cortana an English accent, Cortana didn't have an English accent in the Halo game

When is Cortana alpha for India coming?

It is already here mate.. I'm using the alpha version

These features not working in India (Cortana Alpha)

My new favorite cortana task is: "join next meeting"

Too bad my secondary mic on my 925 doesn't work :/

Lol, and it still can't turn of the alarm without asking which one... How about MS focus more on real functionality next time?

I recently moved to a new city which isn't as walkable as I'm used to, so I'm driving alot. I turned on the Drive Mode and was pleasantly surprised when Cortana read my text messages to me and then let me reply via my voice. Super cool. I didn't realize it was Cortana at first, I thought it was the new car I bought, but when it didn't do it for my wife's iPhone 5s, I realized my mistake. In short, I love it.

After Cyan Update the Cortana is performing well.Ms hats off.
Windows Central Newsletter
Thank you for signing up to Windows Central. You will receive a verification email shortly.
There was a problem. Please refresh the page and try again.