Microsoft discusses developing for dual-screen devices like Surface Neo and Surface Duo
By Sean Endicott last updated
Microsoft wants developers to be able to optimize experiences for dual-screen devices.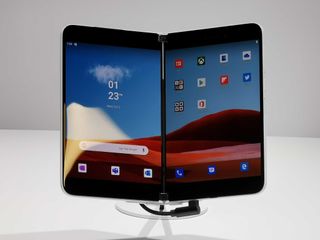 (Image credit: Windows Central)
What you need to know
A new blog post from Microsoft discusses developing for dual-screen devices.
The blog discusses developing for the web and optimizing apps.
The blog discusses both Windows 10X and Android.
A new blog post from Microsoft discusses developing for dual-screen devices. It covers how developers will be able to get website and app code to work across dual-screen devices, including the Surface Duo and Surface Neo. The post also helps developers who want to adopt early get in touch with the right channels.
The Surface Neo and Surface Duo introduce a relatively new form factor of devices, folding devices that utilize two separate screens. Because of this, users and developers will view the device differently than devices like the Galaxy Fold. Rather than having a single canvas to work on that can expand, the Surface Neo and Surface Duo bring two separate canvases that can work in conjunction or completely separately.
While this form factor is different than most devices on the market, developers won't have to start from scratch to get their websites and apps to work. Microsoft's blog post states, "Your code is important, and you will not have to start anew on these devices. Our goal is to make it as easy as possible for your existing websites and apps to work well on dual-screen devices." On Windows 10X devices, developers will be able to utilize current tools for the web, including UWP and Win32. On Android, websites and apps will work on a single screen.
Surface Neo and Duo offer a unique — and challenging — opportunity for developers
In order to take advantage of the dual-screen nature of upcoming devices, Microsoft will identify "key postures and layouts across dual-screen and foldable PCs so that you can take advantage of both." Microsoft will also work to create a "common model layered onto existing platform-specific tools and frameworks for Windows and Android."
Development for dual-screen devices is in relatively early stages. Microsoft asks developers that want to adopt the technology early to reach out to dualscreendev@microsoft.com.
Sean Endicott is the news writer for Windows Central. If it runs Windows, is made by Microsoft, or has anything to do with either, he's on it. Sean's been with Windows Central since 2017 and is also our resident app expert. If you have a news tip or an app to review, hit him up at sean.endicott@futurenet.com.
Once again, like with Edgium feeding Chromium, this will make the whole dual screen paradigm grow beyond MS's own interests. Good guy Microsoft is the hero people needs without knowing.

The hero Google needs to work for them for free.

I think it is also good that Microsoft proactively enters the dialogue. I'm doubtful many developers will engage in the dual screen platform. To be a succes I think it is beter to invest in developers to code for windows 10x and dual screen monitor. I other wise fear we will still get similar results to with windows RT and windows 8. It won't be great. Microsoft is so far behind in the app platform to be meaningful with a niche dual screen device, it is a tough competitive space in the modern competitive mobile market. They're not going to get there with merely passive invites and promise of easy platform coding. It's more than that. Otherwise windows and apps would have enjoyed a more fruitful and flourishing ecosystem, uwp would have taken off more, pwa would be better represented on windows 10. But it hasn't. And reinventing the innovation wheel without a solid basis ready today only goes so far. Windows is still in such a development fase, the state is in my view not a solid foundation to build upon. Things are still shaky ground on the software side of things. Yet another OS with windows 10X already shows that search for identity. I don't think it necessarily fits in the narrative of catering to certain markets or businesses.

Considering there are very few dual screen devices available today, why would developers pay any attention to this? There is no indication dual screens will ever be popular. It previous devices are any indication, they won't be popular at all.

Because developers don't work on today, they build for tomorrow.

Long term goals don't pay short term salaries. You need successful products TODAY, or there won't be a tomorrow for you to worry about.

That just isn't true. Why do all that work when there might never be a market and even if there is, what is the pay off? Will it really matter if an app is designed for dual screens? I highly doubt it. Dual screens will be most useful for multitasking. The Duo will be single screen 90% of the time and the other screen will just be out when you need to run two separate apps.

I do agree developers won't be interested in targeting a very small base, but what previous dual screen devices you are talking about? There is nothing close to Duo on Android.

V50 is the first thing I thought of.

The new LG, the Kyocera from 7 years ago, the Axon M. There have been a few and the Axon was actually nice but proved kinda pointless. Two screens are awkward in a phone form factor. I think the Duo will be cool, but just because you can fold one screen flat and use it like a single screen phone. You can then pull the other screen out when you need to multitask.

You made similar statement during the early days of 2-in-1 and detachment screens; now everyone is copying the design - including Apple and Google. Do not worry, you will be disappointed again. Mind you, Surface is doing very well.

Hopefully Microsoft will take the lead and first optimize their own apps for Neo and Duo. They must set an example to the developers. Neo should be a great device right from day one. Too bad Surface Pro X earned bad reviews during the launch. Next time MS must under promise and over deliver.

I think for The Neo & Duo devices to gain some developers they have to be in the Market place
for 3 years for developers to take the Neo & Duo as serious devices. Microsoft should not
kill them if they do not sell well the first 2 years. The Neo for instance is a great device
for Students because they can take notes in class writing & drawing on one screen with
their courses text book page on the other screen. A Neo can have one screen show a game's
Graphics and the other screen have on screen game controllers to play that game or
remote control a machine or drone viewing their actions on one screen while using on
screen controls of the devices on the other screen., There are people and industries who
could use such a mobile 2 separate screen device
Windows Central Newsletter
Get the best of Windows Central in in your inbox, every day!
Thank you for signing up to Windows Central. You will receive a verification email shortly.
There was a problem. Please refresh the page and try again.