Microsoft dogfooding Skype for Business on Windows Phone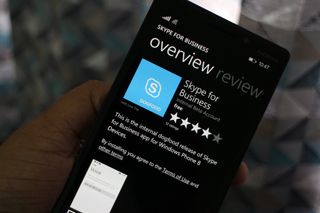 Late last year, Microsoft announced that it would be re-branding its Lync enterprise chat and video service as Skype for Business. After launching a technical preview for the same on Windows desktop in the month of March, Microsoft is now dogfooding (internally testing) the Skype for Business app for Windows Phone.
As hinted by the Skype team during their recent AMA session, Skype for Business is listed on the Windows Phone Store, but can only be downloaded by Microsoft employees at this stage. We'll let you know once it's available to download publicly. Until such time, mobile users can connect using Lync 2013 for Windows Phone.
Skype for Business on the Windows Phone Store (internal testing only)
Thanks for the tip Todd!
Why is that known as dog food?

Basically it's what he states in the article, "internally testing" their own stuff. Basically it's when a company tests or utilizes it's own products internally, eating their own dogfood (using their own product) before testing it out to the public. I know the term, but not it's origin, so I bingoogled it fer ya, here's the wiki link: http://en.wikipedia.org/wiki/Eating_your_own_dog_food

"Bingoole" huh? I like it.

Its origin is mentioned in your link, thanks for the link, dog fooding, confused me haha

The term I believe you're looking for is "Wikipedia'ed" :)

I always encourage our team to say "drink our own champagne." I like to think that what we build is better than dog food :-)

I have never heard of this dog food reference. In the software industry with HP and IBM I have only heard of drinking your own champagne....interesting... Who the heck would want to eat dog food? You learn something new every day...

I like that. "dogfooding" is just plain stupid. First I have heard of that reference. I've read a few of the descriptions below and "dogfooding" still makes 0 sense. stupid.

More specifically, dog-folding refers to forcing yourself to use your own product in day-to-day use so you find all the bugs a user would. This is distinct from internal testing which may not be day-to-day full time use.

It is more than internal testing - every company does some internal testing. It means that the company is actually using the product like a consumer would. Testing could mean a couple people in a QA lab running some use cases and seeing how it works. Dogfooding implys the CEO is using it on the golf course.

Part of the joke and reasoning behind the term "dogfooding" is that a lot of dogs have a tendancy to eat their own poop. That consumption cycle is similar to a software company consuming their own product. Also, dogfooding is not just internal testing. It actually refers to using your own product (beta releases in many cases) in your own production environment in order to fully understand how it would be used in the real world.

Your dog also does business?

MS should also plan on a YouTube rival. Like Bingo?

The name sucks. And btw u tube isn't a profitable business for google. Microsoft going or trying with another video service have to look the way how to monitize the service and that's very difficult.

I suppose that's a porn site. Perhaps, this is a place where you'd wanna quell your pornophilic impulse.

Well it rhymes with Xbox!!! Hey chill man I was just kidding..!

Why should they? YouTube is a well known platform. Having competitive services just for the sake of it seems like a bad thing.

Desktop edition deployed through SCCM 2012 patch feed a fortnight ago. Same functionality as Lync, but Skype look and feel, plus animated emoticons. People think its brilliant, even though they had it before in Lync! I'm popular for once.

I hope Skype gets "baked into" the phone, like BBM was on Blackberry. It need to be "on" all the time. Some apps don't start in the background after a reboot unless you run the app first. One of the not so great bits about WP.

Skype for Business , Skype , Skype Lite..... Got enough Skype things to put it into DEDICATED Skype livefolder

While neither seems faster

Don't forget Skype Qik, for that difficult 4th corner!

"Dogfooding" - What a stupid term to use in an article. In fact it's so stupid you had to explain it yourself in the third line. Oh, dear.

You must not hang around anyone who works for Microsoft.

It's a familiar term for many. My company dogfoods its own product.

Please let this function better than the current Lync app. I use Lync every day at work and cannot stand the Windows phone app.

What does Lync do that makes it "for business"? Is it just conference-calling?

It doesn't really do more than Skype tbh. It has, or had dedicated servers, and required your business to pay for the service (2 or 3 different pay tiers). But to most it is essentially the same as Skype, just not as "pretty" and more business like.

Does Skype do desktop and application sharing, in conference question fielding and voting? Logging messages and other security features, disclaimer text, etc?

Learn something everyday
http://www.urbandictionary.com/define.php?term=dogfooding+%28to+dogfood%29

Oh, I thought Skype was replacing Lync. I work at home and found Lync to not perform as well as Skype. I hope they are replacing whatever the technology is in Lync.

Well Lync 2013 is essentially unusable on Widows phone, so I hope they're making major changes.

Somehow I manage to use it everyday... Happy Lync 2013 enterprise voice user here on my 1520

X I'm TC he is our regular little hater. (hates mail, thinks Android is less laggy than WP, hates his dotview case, hates IE, hates Skype, hates Lync) so much hate :/ Not even sure why he comes here, he doesn't seem to enjoy it :/

Skype this that , now they can make a dedicated category in store ,named "Skype Apps"

I hate to pile on with the whole dogfooding thing, but with 30 years in IT and software, this is the first time I've heard it. I like the champagne saying better...

Interesting. I have heard the term dogfooding many times, but I have never heard the champagne reference.

Please adjust the article. Microsoft released latest official version, not technical preview, of MS Lync client re-branded as Skype for Business client on April 14. MS Lync Server re-branded as Skype for Business Server will be released in May, 2015.

As a mechanical engineer, I've heard of dog & pony shows when showing things to management, but never 'dogfooding'. Considering dogs eat their own poop, I would never use it to describe something I'm doing. Considering how many updates windows requires even years after release, maybe it is an accurate statement.

always good to keep up on buzzwords... I had always just called it testing, but dogfooding sounds so much more messy.

Hopefully it'll actually work now. Lync 2013 for WP is terrible. I had to uninstall it b/c it was losing more messages than it was delivering.

Seriously, why not just say internally testing?

how long till businesses announce they will pay to keep using lync? im pretty sure they wont be happy with skype's crappy apps
Windows Central Newsletter
Thank you for signing up to Windows Central. You will receive a verification email shortly.
There was a problem. Please refresh the page and try again.