Microsoft hints at upcoming Skype for Business Windows Phone app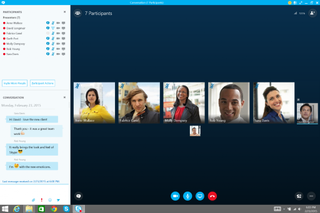 The Skype for Business team at Microsoft hinted strongly that a version of the just released business messaging app is coming to the Windows Phone platform at some point. The team made those statements as part of their Reddit AMA session earlier today.
At the moment, mobile devices can still use the Lync 2013 app for Windows Phone to connect to users who have the Skype for Business desktop client. During the AMA, the team stated that mobile versions of Skype for Business would be released for iOS and Android "in the coming months". When a Reddit reader asked about Windows Phone as well, the answer was cryptic, but still hinted the app was indeed in the works.
Another member of the team also tried to reassure the Reddit audience they have not forgotten about Windows Phone and offered this hopeful prediction:
It's likely that any Skype for Business client for Windows Phone that's released by Microsoft will be made for Windows 10 in mind as a universal app.
Source: Reddit
They need to fix the already implemented Skype app for windowsphone. It's horribly slow and laggy. I'm glad there making this move though

They will replace this apps with universal apps. It's quite obvious.

It's not nearly so wretched as the existing Lync 2013 app which is, for all intents and purposes, useless. Bad as it is, at least the Skype app works sometimes.

It's horribly slow and laggy on Android too. By far is the app that takes the longest to load. On iOS Skype is OK. Microsoft makes very good iOS apps, better than Android and even Windows Phone. That makes it a curious case I really don't understand.

I have a Nexus 6 and I can tell you that its not slow nor laggy, the only problem it has is notifications I can have my wife call me right beside me and calls nor messages never get in and that's on both platforms.( WP- Android)

MS forgot to mention windows phone and went straight to saying they were developing the app for android and iOS. Nothing new here.

It's as if they are trying to avoid mentioning WP.

Have you thought that maybe he couldn't talk about it?

Yes exactly...ppl here very conveniently skip the big effin picture...

oh kind sir...please explain this "big effin picture" that you have so much inside information about.

I'm guessing it's got to do with the fact that almost all WP8.1 devices will be upgraded to WP10 after release at some point (and new phones will come with WP10 after release already), so making an app update to Lync when the current version of the Lync app for WP8 will still work makes it potentially not worth the development effort, whereas a universal app that will run on WP10 and Windows 10 is probably a better use of people's time and the org's money.

so he can talk about the ios and android development and not about the wp development.. makes perfect sense

Yes. MS doesn't really talked about upcoming natives universal apps for Win10 yet. So makes perfect sense not talk about an unannounced app.

Maybe it makes perfect sense in the land of Oz, not so much in reality.

So what? What's your logic? This dev represents MS business vision, and Nadella told him to not to talk about WPhone version, because he hates MS and is trying to hurt and close the company? Makes perfect sense.

He may very well hate Windows Phone and would like to shutter it.

It already is being shuttered, you dolt. When W10 launches, WP will be no more.

The semantics player calling someone a dolt. Brilliant. A name change isn't "shuttering", but I won't waste time explaining logic to am incapable mind.

That's how Nadella-Belfiore roll's.

I'm still disappointed that they seem to put other platforms ahead of their own. Hopefully we'll get something decent soon...

Duh! It's called Windows 10 and it will be here soon. Clearly, there will be an all new Skype and Skype for Business app released for W10.

As usual Apps for Android and IOS
"in coming months".
App for windowsphone "soon" But u already knew that!
:)

Yes, we did know that. Universal Apps. This fall. No news here.

They left out Windows phone maybe bcoz they building a ujjval universal app. But they should really get rid of the messaging app design for windows 10.

Ujjval? There's nothing bright here.

Woah! Your Hindi is pretty good for someone from Pakistan.

I have observed that literarily a lot of Hindi words are used in Urdu as well.

BTW, the word "ujjval" is not used in Urdu. :)

I can also read and write in Devanagari... :)

Devanagari is the Hindi script. Punjabi script is Gurmukhi.

I feel like they hit the wrong keys when typing "universal" and forgot to backspace. Or something glitched. I know that happens to me when using IE on Windows Phone. Text glitches galore.

My guess is that he has set his keyboard language to "Hinglish", which is a mixture of English words and Romanized Hindi words... That's how that Hindi word came in when using WordFlow.

If that is true, the app will not be available for the phone until its gets windows 10. Which means next year.

Always the cloak and dagger routine when it comes to a Microsoft division saying if they'll support WP, but they gleefully say its coming to ios and android. Even if its slated for Windows 10, its not like that OS is a secret so why is it so hard to just say its coming then? At this point, shouldnt support for Microsoft's mobile platform be a given from Microsoft themselves?

Have you thought that maybe he couldn't talk about it ... ?

Why's that? Hide and seek?

Makes no sense to not talk about it.

Skype for Business already works in Windows 10, I don't see why it wouldn't work with Windows 10 for phones. I would think it would be obvious that if it works with Windows 10 now that it wouldn't eventually be available on other Windows 10 devices.

There's a big difference between Skype for Business on W10 which is a desktop application and having a Modern version to use on the phone. As for the phone - if Lync still works then why can't they at least just issue a new client for now with an updated UI - at least it would look shiny and new.

Yes. It is a given. And they will support it. I mean seriously, people... listen to yourselves! You sound like a bunch of dammed Adroid fanboys.

Yeah, well everyone knows that means about a year or two after IOS and Android..... No excitement here

Yeh Android and iOS first right?

And windows phone has no app for Delve, Power Bi or Sway. Support is kinda lame. It's a shame they don't develop with win phone as top priority.

Skype on my Windows Phone is unusable. It constantly keeps changing my status from "invisible" to "available" everytime I open up the app. Even when connected to WiFi and logged in, I don't receive Skype phonecalls. Notifications don't appear till sometimes hours since I recived the message. It's an utter nightmare.

Not sure what's wrong but I receive notifications instantaniously. It was pretty horrible at the beginning but notifications have become much more reliable in the past year. Are you logged in with your Skype account or with your Microsoft account? Maybe that makes a difference somehow.


we done have a group video call on Skype for windows phone? I could only do voice call, but I need a group video calling.

Today i've seen a youtube video regarding Skype for business, at the end the add showed iPhone, not Window phone!

Logical. Obviously iPhones are far more widespread in businesses than Windows Phones so it makes sense to promote a business app on an iPhone than on a Windows Phone. It's an ad for Skype for Business and not one for WP after all.

Sounds more like the Windows phone app is already done and will be released soon (hence why they said don't bump into them yet) and that the iOS/Android ones coming in months.

Logical for me is that all new Microsoft apps firstly show up on Windows and THEN are rolled up for other platforms. Logical also is for me that Microsoft apps are superior for Windows, far better or equal to other platforms but ABSOLUTELY NEVER worse than other platform's versions.

I'm not sure I agree about your first point. For some apps, other systems have a much greater and more relevant user base and there is no point in letting those wait just to let Windows Phone users get them first. I definitely agree about your last point. That's how it should be but unfortunately, it is not. However, I'm hopeful Windows 10 is going to change that, what we've seen so far about Office seems promising.

I don't know why but I like Lync as of now. It's good and do its work perfectly. I love using it in office. Skype looks to me more casual than official and also given the current state of its app on windows it's laggy.

lol, poor business people, just like the wlm to Skype transition that had users crying for a year all over again I guess

Ask Me Anything, but I won't answer some questions lol

Hey Lee Imagine Shikomba! What's your take? Leave a comment.hahaha not now
Windows Central Newsletter
Thank you for signing up to Windows Central. You will receive a verification email shortly.
There was a problem. Please refresh the page and try again.