Skype for Business launches in technical preview, will replace Microsoft Lync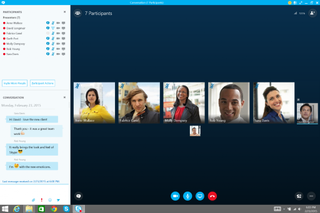 Microsoft has announced the launch of the technical preview of Skype for Business. Originally announced in November 2014, Skype for Business replaces the Microsoft Lync communications tool. Naturally, the new experience looks a lot like Skype.
From Microsoft:
Microsoft says that most existing hardware and software that supports Lync will also support Skype for Business. The Technical Preview is being released today and will run until April 30, giving current Lync customers the time to check out the upcoming changes. The full launch of Skype for Business is expected at some point in April.
Source: Microsoft (opens in new tab)
Awesome, ( road to second man on comment :) )

So many changes...just as I get used to one tool, another comes along...kind of like my coworkers...

Your coworkers are tools? ;)

Yeah, sounds like tools (aka idiots).

Fabrice is looking very fabulous.

Hahah, my thoughts exactly. Must be windy there...

Will it work on Windows Phone? Because, right now, Lync 2013 is essentially useless on the platform, at least in my office. I get toasts, but can never join conversations on my phone.

Well I can join 1to1 conversations without problem. Are those scheduled meetings? or group conversations? didnt try those yet. bet screen sharing and whiteboard stuff also not working on wp

Create or join? Create works (albeit unbearably slowly...the app is a total dog). Join by tapping on a toast never works. From reading the reviews of the app, it seems this is universal, so I'd be interested to hear if it is differrent for you. Also, this is exclusive to 2013, AFAIK. When we had Lync 2010, things worked a lot better.

That may be by design. I can begin convos, sometimes I can continue them, but it often works the way you mentioned. Our business does not save Lync communications, makes the process a little different when going from phone to PC and vice versa with messages.

We use Lync 2013, works great on WP (and the other mobiles).

I would be quite surprised if that were true. Even when Lync 2013 does work, it is slow as a dog on Windows Phone, so "works great" is clearly an exaggeration. Worse than that, though. from what I can tell, no one can actually join conversations when they get a toast on Lync 2013. Is this not the case for you guys? Are you Office 365 or do you host your own server?

as long as it doesn't get rid of what i like about Lync (transfer calls, dedicated voice number, integration with outlook for presence details) and gains what is good about Skype (offline messages, better voice quality and more emoticons) then we will be all good!

well as long as it just shares the name with skype - all will be good :) Offline messages already work when allowed by the administrator(unlike 365 though)

Offline messages already work when allowed by the administrator

Ha, didn't know that, so apparently my company administrator has them turned off :(

Either that or he/she doesn't know how to turn them on :P.

I do not understand why Microsoft releases official screenshots that have Google Chrome pinned to the taskbar. Why the hell are they giving free advertising to their biggest competitor in the web browser space? They do this all the time. They also do the same thing with iPhones in their advertisements for other products (e.g. Skype). If I were Satya, I'd issue a company-wide decree forbidding the free advertising of competitors' products in your own advertisements. It's mind-boggling.

Pretty simple really. The majority of devices are apple or google based. As a business, Microsoft is trying to get as many people on board with their services as possible to make as much money as possible. We all want people on other platforms noticing and using our services so that they will eventually use our devices as well. And there are many possible reasons to have chrome installed alongside IE. It would be professional suicide to act like the other platforms don't exist like you suggest.

No one who uses Chrome on Windows PCs needs to be reminded that Chrome runs on Windows PCs. Those who don't know that, and who are fine with IE instead, are therefore being exposed to its existence, semi-promoted by an official Microsoft release / advertisement, which can be seen as a form of endorsement! It's not beneficial for them in any way to have Chrome pinned to the taskbar of every official screen release. You would never see Apple or Google doing this.

Professional suicide?? Any sales person worth his salt will tell you never advertise competing products...within your own marketing campaign. Then again, Microsoft is in the business of making money through services (the easy way) not pushing their own hardware ecosystem. Which is just daft, isn't your own hardware supposed to showcase your services, design and creativity?

Big difference when the products in question aren't competing. Why would Microsoft limit their advertising for services that run on all three platforms to the one platform (regrettably their own) that would get the lowest visibility? That's stupid. It's like an investor putting all his money into one fund that's losing money instead of diversifying. MS needs to make money on their services to bring more to their hardware. And they aren't advertising the competition, their advertising their services and their availability.

Google Chrome compete directly wtih Internet Explorer. There is no justification for Microsfot advertising the existence of Chrome when they have a competing produc. Doing so is akin to endorsing Chrome. That doesn't make them money. It loses them money.

Agreed. Just another stupid thing that Microsoft does. They are numerous.

The UI for Skype sucks in comparison to Lync. Lync is much cleaner.

I could not agree more about the UI for Skype. It is absolutely dreadful. A model of obfuscation. It even took ages to find out where to type to search. Red on blue was hardly visible. The desktop version is a bit better than the W8 app but still confusing. ​ One can but wonder who approves these interfaces. Certainly not someone who understands the importance of function. ​

Feedback goes a long way, hence the concept of a tech preview. Test it out, and then let MS know what the issues are. There are going to be a lot of things that need to change, but combining the two platforms into one well known one could be great for both Skype users and Lync users. Especially with feedback from both groups.

But why do they need feedback for so many of these basic things? Are all their paid employees stupid?

If I'm right a company could set up their own Lync server, is that possible with Skype too?

Yes lync has just been rebranded to skpe for buisness but still essentually the same software jus new skin.

Skype is being banned in here (sultanate of Oman). Is there any move from MS to resolve this? I cannot use the video call feature in my phone because of this...

its rebranding and an updated client/server. Its the core of Lync and a new UI.

We use Lync at work. It will be interesting to see how this compares.

Sp it has built in Skype translator?

I think this is good, but of course they should hurry adding more features to skype in general. and making mobile apps less battery and resource hungry, no matter what platform, skype always feels little slow. and let's hope they let us have multiple accounts on skype, I don't know if this skype for business have it, but on win8 and phone, it's boring to switch accounts just to check a message. But this sounds like a nice move. of course they have to work hard to make one unified platform, but it can happen, MS is not a small company.

Might MS manufacture their own desktop handsets? Would be nice to have first-party hardware support. Would also be nice to have first-party integration with CRM (screen-pops etc).

I saw 10036 builds ISO on kickass.to will i get further updates if i download and install it??

This just confirms their marketing department is full of idiots.

Boosting the numbers of Skype...

Just installed. So far just looks like a Skype skin. More on this later....
Windows Central Newsletter
Thank you for signing up to Windows Central. You will receive a verification email shortly.
There was a problem. Please refresh the page and try again.