Microsoft Edge is already beating IE, Chrome and Firefox in JavaScript benchmarks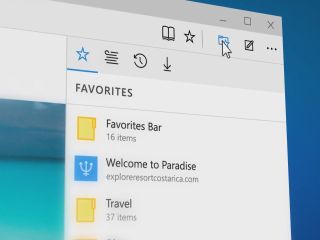 Microsoft has yet to complete its development of Windows 10, but it is already promoting the improvements in performance for Microsoft Edge, the browser that will be included in the new OS. Specifically, the JavaScript performance is already beating out the old Internet Explorer, along with Google's Chrome and Mozilla's Firefox, in two separate benchmark tests.
In a highly technical blog post, Microsoft talked about how it was trying to improve the Chakra JavaScript engine for Microsoft Edge. For example, Microsoft looked at a random sample of around 4,000 sites, out of the top 10,000 sites on the Internet, and found that 95% of them had minified code, which compresses the original code to its smallest size. The blog states:
To most of us, that's a lot of jargon to take in, but there's a simple way to show the increase in performance: use benchmarks. Microsoft decided to use the Octane 2.0, developed by Google, to look at JavaScript numbers for the 64-bit versions of Edge, IE, Chrome and Firefox running on Windows 10:
As you can see, Edge blows IE away and also beats Chrome and Firefox. The browser team also used Apple's Jet Stream benchmark and got similar results:
The blog states:
Source: Microsoft Edge blog
Windows Central Newsletter
Get the best of Windows Central in in your inbox, every day!
For some reason, my IE on 8.1 is faster than Firefox and Chrome. And the Inspect Element says I'm using Edge rendering too (don't know if they're the same)

Same here. Might have to do with addons? I have 3-4 activated and a custom theme on FF, but use IE exclusively now, except for 1 website where IE messes stuff up.

That one website.. I know you know what website I'm taking about ;) giggity

mine too. Huuummm IE11 rocks. Just wish it had extension, and some other cool featuers. Then again, i guess thats why MS made Edge, to kick everyones............

I agree. Extensions are literally the only thing that keeps me on FF.

Keep in mind this is probably extension free and they used the alpha/developer versions of the browsers vs IE11. Not going to be real world accurate for most people.

Currently, Edge doesn't support extensions. If extensions/add ons are causing issues, then that's on the user for installing them and the developer for not making them work well.

Chrome and Firefox in the tests were also betas and extension free.

No they are canary and alpha states, which means that they were quite some time away from a release. So this might be closer to a real world comparison than most people think. Especially because Microsoft didnt create the benchmarks so they couldnt optimize the tests for Edge specifically.

Edge and IE is as slow as a turtle in my laptop , but chrome is super fast

you are not using edge engine still is beta and not finished haha

really? show me your benchmark results then on your laptop, using octane. OR, update your Windows Insider Preview first ;)
My Edge goes much faster in 10122 :D

Same here, on all my devices

You're using Edge mode, which basicaly means "render in IE11 without acting like an older browser". Edge mode and the Edge engine aren't the same thing.

Edge (in developer tools) is just an instruction for IE to use the highest available interpreters in that version of the browser. A site can specify the version of IE to target and force IE to use one of the older rendering engines to display the site and run the JavaScript. If the developer didn't specify, or specifies Edge, the browser will run it's "native" toolset on the incoming page. Edge has been around since IE8 and has nothing to do with the new browser.

This is what I was looking for :thumbsup:

Microsoft always fails on naming their products. Why reuse Edge for a new browser when it clearly can cause confusion due to a feature in the current browser?

Because developers know the difference. Your everyday person doesn't typically know the word edge already exists.

I know this article is for PC's but I need inking in edge for phones also..

Happens something weird when you open my website in IE11 and in Chrome. IE simply scrolls well and smoothes it out. Chrome, simply very slow and hard to enjoy. Although it is a wip, it is the perfect test to see the differences between lastest IE and Chrome in performance. The very same code. (And for the curious ones, the website is www.ivocunha.com)

the new Microsoft Edge Browser on Windows 10 is lagging like crazy. There is a noticable delay in doing anything like browsing, playing games etc. It is anything but faster.


What about HTML5 tests? ;)

Give a HTLM5 test and I'll look for the numbers.

HTML5 test is the emperor's new clothes. Very flawed and means little, but for some reason many people think it's the only test that matters.

All ​benchmarks and other tests are terrible. They are made for the sake of numbers and most do not reflect real world usage at all. So if people want those meaningless numbers than they go to html5test.

what about https://html5test.com

Sites such as html5test are testing for elements that have not been approved by the W3C, and then giving browsers that do not support these non-standard features negative marks. So Google puts something that is not part of the standard into Chrome, and then they test IE for those same features and then gives it a lower score for it. Then there are features such as the new pointer events standard that IE does support, but other browsers do not (some are even refusing to implement the standard) that are not verified by these tests but Chrome and others are not receiving deductions for not complying with the spec. Just because there is a web site out there, it doesn't mean that it is correct and performing a complete and fair test of your browser.

In this case, then what is better than html5test? Or more agnostic?

Yes, and then IE on mobile load horrible web pages.

I would like Microsoft to reach at least 500 points on html5test.com when Edge is released. With that said, I still keep using IE11 as my main browser. Chrome and Firefox are too slow these days. The tip for giving IE11 a boost on speed is to disable all the addons from Microsoft (there are a lot of them), Oracle, Adobe, etc. You may keep Silverlight only and this will make the browser much more faster.

I use IE11 out of convenience. I don't like loading up redundant applications on my PC. However, IE11 is just not robust. It has page reloads all the time, crashes sporatically. My Notebook is fairly clean. I did a full reboot from scratch a couple of months ago when I switch from Platter to SSD and the only apps I have loaded other than mostly default Microsoft Metro Apps is Office 365, Kinovea, Coach's Eye, and Sound Forge. It's a Quad Core machine with 8GB RAM, so I know it's not an issue of it being underpowered. It does load fast, and it runs decently well. But the Rendering and JavaScript performance are not on par with Chrome or Firefox - both of which I've tried, and they do not give me the same Page Reload and Tab Crashing issues IE does. Still, I use IE because I like to keep my machines clean, and that means not installing applications that are purely duplicative. It's not like I have a Google Account or want a Mozilla Account for FF Sync, anyways. On my Mac and iPhone I use Safari for everything. Never an issue with them.

Edge in new build is soooo fast! It just loads websites in 1-2 seconds!

Way better than having AOL and dial-up, we're seriously spoiled these days.

Not 100% correct though. Slow or not, depends on internet connection. He should compare loading time of that website on other browsers in that same computer. Even that still not pretty stable since connection usually isn't stable in constant speed. Except if he clearly said that he load an IIS hosted websites on localhost. That is another story.

Its slow bro Chrome is still having the crown of speed

chrome is looking like cpu killer ok use it alot you will find it soooooooo slow

You haven't tried it. You have no clue what he means. He is right. 1-2 seconds aren't really 1-2 seconds. More like less than a second.

+1. Mine does as fast as his, too.

Chrome might feel faster for browsing but does slow your machine down like hell, just look at the registry entrees and see where it nests itself, all for the love of data mining which is what Google is all about.. Google's stuff? No thank you I pass

Actually ie is also fast, just install easy list and easy privacy add ons. which are actually good on blocking ads.

I found those to break a lot of websites, where site elements would simply not be there or the website would get junked up. I had to remove them.

Edge>chrome/safari/firefox

Microsoft, aligning their Chakra.

Google Canary? Why don't they just compare google chrome(regular), and compare in html too

Technically you're comparing two beta versions together so its a valid comparison.

In the past when there were comparisons that showed a beta of IE beating a released version of Chrome on some benchmark, people would whine and complain that it was not fair to compare a beta version against a non-beta version since Chrome would not have the latest perf updates. Now when they compare beta of MS' browser against a canary version of Chrome it is not fair. Always need to create some reason to try to discredit the fact a MS browser is beating Chrome.

Well, such a people these days... haha

'Edge beat Chrome, that's not fair because I love Chrome' is what you're explaining

If you don't like the way they did the test, you could easily replicate the test yourself.

In real world testing by me, Firefox still feels the fastest when just doing plain old browsing. Then IE. Then Chrome. Then Edge. And IE and Edge crash. A lot.


edge is still beta try to undrestand look up and see benchmarks

On Chrome, untill I switched to a SSD I had to clean the cache on a regular basis, othewise it would take a while to just load. I have IE 11 on Windows 8.1, crashes are rare for me, but it does seem a bit slow when rending some sites. I often use Firefox with "no script" extension to block all JS, and most sites load and render extremely fast, but some format kinda weird and have buttons/menus/links that don't work.

For some reason Opera is the speed king. Opera next beats the living hell out of Chrome!

Based on Chromium, yes, but not exactly the same.

It's not based on Chromium at all. Chromium, Chrome and Opera all use the Blink and V8 engines, so their performance and speed are identical, but Opera is not based on Chromium.

"Opera 15 Chromium-based browser officially launched for PC and Mac" http://www.engadget.com/2013/07/02/opera-15-launch/ Pretty sure it is. So is Chrome. A lot of the source code from the open source Chromium Project. I could be wrong but I did a search and the whole internet says Opera is based off of Chromium.

It is based on Chromium, but with a custom UI layer. Here's the first bullet point from their latest changelog http://blogs.opera.com/desktop/changelog-29/#b1795.60 Update to chromium 42.0.2311.152

I stand corrected. I checked Wikipedia and it didn't mention Chromium. I didn't realise they had sold themselves out that much, considering their original announcement said they were switching to Webkit, which then ended up being Blink, which then ended up being Chromium. I guess if they announced Chromium right away it would have been too obvious to everyone that they were being paid to dissolve their browser.

It's still faster than Chrome. I've conducted the tests and it almost excels over chrome in every aspect. The only thing is it is underrated.

Cant wait for the full version to come out, so i can uninstall "We Spy On You" Chrome from Google. EDGE rocks. However, i still really like IE11. Just wish it had extension, and many of cool features you get on Chrome and/or Firefox. When i talked to MS staff, he said they all are coming, with a lot more features. We'll see, i really hope to see MS kicking everyone's butt.

I feel the need... The need for speed .....XD

seems (real!) faster... really.

Would you like some nitrous oxide?

No wonder scripts are so slow in my development classes....holy criminy, IE11 is slow! About time we have a contender with Edge ;)

My sites only use client scripts as a UI thread and event handlers. Everything else is done server side. It makes things super fast in all browsers (even IE 8).

1) Benchmarks rarely are real-world, real-use scenarios. They usually try to do some odd calculation that nobody would try to do in the normal case. The point is some long running test to catch where a JavaScript engine is not working as it should (and in the past we have even seen benchmarks that were carefully crafted to make IE look bad and Chrome/FF/etc. look good). In most cases, your classes will not be doing these things and you will not notice much of a difference between the browsers. For example, JetStream does some raytracing, calculating AES hashes, etc. SOme of them is code that would be common - base64 encoding, but most of it is code that you would rarely write in JavaScript. 2) Benchmarks run over a long period to test many areas. Usually JavaScript code, unless poorly written, is only doing a few small things and then finishes - set some styles, change some text, retrieve some data from a web service and populate it in place, or maybe moving sprites around for a web game. This type of code is not dependant upon the JavaScript engine performance, so you will not notice any difference between the browsers. 3) Benchmarks like these are used to show how great Chrome is while IE is slow. Really, people will not notice any difference between the different browsers. You may notice a bit of a difference while quickly scrolling through a page, a fraction of a second longer to open a new browser window, but usually the differences between the browsers is negligable.

I'm not sure what you are talking about. I work in the real world and IE11 script execution is not slow.

It could just be my working environment and the student security settings on IE11 set too high. I love IE though, I won't lie. :) guess I'll have to check it out tomorrow

I`m using IE and Firefox, because IE11 is too stiff for daily use, and firefox is too slow for hmm... almost everything ( but it's ok for reading news and others ). I use IE mostly for debugging ( F12 came from god ), so I use both pretty much. I don't understand how firefox can score a better result than IE in benchmarks. For me firefox is the slowest browser ( even if I`m using it right now, because I don't have any other optionss IE - too stiff, Chrome - too Google, Opera - too Google, Safari - lol ). IE is the best for almost everything ( as functionality ), but looks ugly ( well, don't kill me, I said it ). IE rulzz and Edge will replace my both browsers.

We only need Windows 10 to RTM to get a nice "final" stable Edge version and see it improved with frequent updates. it sounds like a great plan but it sucks it still needs some months from now.

is everything ready for the 535;

My thought exactly after reading this article.

Without ad block internet is ugly. No matter how cool, fast and sexy Spartan is, ads make it a hell for me. Can't stand it with ad banners everywhere I go.

I know, I went back to unfiltered internet for a few days and it was all flashing ads. I hope the reintroduce tracking protection lists, that alone reduced half the ads on my IE...

Main reason why I don't use Edge. I need AdBlock Plus from IE to load pages within an acceptable timeframe.

You can block ads with a modified hosts file and no additional software, you know.

You could just block ads with hosts file or with a proxy server. This way, you don't need any extensions in any browsers and works on your mobile devices as well.

This gonna be interesing.

Edge performance is real. I've switched from Chrome to Edge for my in-dev unit testing because it's so much faster.

Every browser has their faults, Chrome is fast however a memory hog because of the speed. Firefox is the customization king yet sort of slow. Opera I fast but is removing important features like bookmarks in the process. Ie is fluid because its built in so it can run fast using the preload method but lacks features. Lets hope edge gives us speed, features, and less resource hogging.

Too bad Opera destroyed its browser moving over Chromium (or whatever that G.Chromes thing called). Now it eats up all CPU. It was the best. toolbars didnt have affect on it as on the other browsers. But not all websites supported it including Hotmail.com (

When they moved from version to 12 to Chromium I absolutely hated. Several years later and now it's actually okay and I'm happy with it. It is now my primary web browser.

Just look at IE. Says it all. Something like Edge has been needed for years. IE is a dog's breakfast.

My IE is still much faster than Edge in its current state.

Try the fast ring 10 build, Edge now runs like a speeding bullet.(and it crashes a whole lot less too)

I'm on build 10122. Edge can't even keep a YouTube video running when you're in another tab, and it keeps messing up YouTube videos once it finally loads the page.

Edge has issues loading pages with advertisements, it can't keep YouTube videoes running while you're in another tab, and when you can play videos, they start flickering.

I have a laptop without a touchscreen, and from screenshots I see one of Edge's main features is that gives you capability to draw, select sections of text or images using Stylus and touch and export to one note. My hope is that users without touchscreen and Stylus can also benefit from this feature using a mouse or trackpad.

You are right... I can do it with my trackpad

They announced this in the build keynote btw...

Just want to say, this is nothing new. Starting with IE9, every new version has put all the competition to shame at launch. Edge seems to be no different.

Go go edge, been using it for a while now and it does seem to load quick, compared to chrome

I think we have known for quite some time that benchmarks are not everything. Posted via the Windows Central App for Android

But my bank looks like crap. Fix scotiaonline

Still lagging in html5 tests .. They should focus on that too

Still wont use it. Cant play Pandora in the background or even download. Its crap made for tablets and wont see the light of day on my desktop if I need to forgo multi-tasking for better java benchmarks.

Firefox being populer because its add-on, you can add much feature with it

Opera is pretty much like chrome so

I just hope it can't get away from internet explorer's terrible reputation

I never use chrome it's worst browser I don't like it, I used Firefox more but after IE 11 I am using IE no other browser.... And ya people are just dying to try out ms edge, many of my friends come and play with w10 and edge on my laptop and they are just like WOW,

Damn son, where'd you find this

So far Edge is really amazing... my only issue is how long it takes to actually open the browser (it sits on the splash screen for quite some time). But once you're in, it's blazing fast.

IE11 looks like a midget among others.

I didn't understand a single word.. But after seeing the graph, I guess Edge is somehow better than the other.

But how good will it surf? ;-)

So... Safari isn't mentioned because it doesn't support Java right?

ugh, arent we done with java? and all its vulnerabilites. I'm no programmer, so please corect me if I am wrong. I run an office with 300 PC's and Surface tablets, and we have oracle java blocked from installation on all but one PC, that has an old web app on it. Can Edge run javascript without Oracle Java installed? thanks

So what? Who actually CARES about this? I don't know a single person, power user or not, who is chasing benchmarks for their BROWSER. What do they care about? "Can I get to the websites I use every day?" That's all they care about.

Sounds great! If they are already beating all of these other competitors, they're surely doing well. Nice post! Explore the link: http://www.yelp.com/biz/los-angeles-laptop-repair-venice

Hey for me MS Edge is running very slow compared to chrome.
Windows Central Newsletter
Thank you for signing up to Windows Central. You will receive a verification email shortly.
There was a problem. Please refresh the page and try again.