The Microsoft Edge browser should work better with websites than Internet Explorer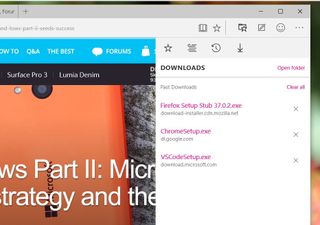 Using Internet Explorer on older versions of Windows was a pain sometimes, at least for website creators who had to put in some extra work and code to get their sites to work with Microsoft's browser. That should not be an issue with the new Microsoft Edge browser that's being developed for Windows 10, at least according to its development team.
In a highly technical blog post this week, Microsoft stated:
One of the reasons this will work is that the Edge team has designed the browser so it works much like ones that use the WebKit engine. It's used on Apple's Safari and Google uses a forked version for its Chrome browser. Microsoft says:
Microsoft says their ultimate hope is that all web browsers and sites will eventually "align to a single well-defined well-designed behavior" so that they all work with each other without any special coding needed.
Source: Microsoft
Ms should add support for extension in Spartan for wp, so that Spartan will be more powerful than chrome for android. And the Bing translator should also be integrated to Spartan so that user can translate the page.

Extension support would consume considerable memory. Something that's feasible on PCs, not so much on phones. Could be a reason why Google hasn't done it on Android.

Yeah.. Kinda thought that was the while point myself. ;-)

Hehe, we can only hope, its Microsoft all. 1 step forward... and the title says "should". :)

That word "should" in the title doesn't inspire confidence does it!

Not going to lie, seeing all of the hype about this browser, then seeing an article that says it, "should work better," sounds like early attempts to backpedal on promises that might not be delivered. This was supposedly going to be better than Firefox and clsoe to on-par with Chrome, from a performance standpoint. We head about compatibility improvements left and right. Now, it MIGHT be better than IE? Color me concerned.

You must mean better than Chrome and close to on-par with Firefox.

No, becuase while I don't use Chrome, Firefox is a CPU/RAM nightmare that I've tried using on several occasions, only to be frustrated with it on every occasion.

Firefox is a gas hogger Posted via the Windows Central App for Android

and Chrome is a RAM nightmare

Less of an issue when you have 16 GB of RAM.

If you've got 16Gb RAM your processor should scoff at firefox.

Yet Firefox is such a PitA that it doesn't, particularly when Flash gets involved.

I've never understood this. I've got an eight year old laptop, 13 tabs open it only uses 520MB of ram

Thats because Mozilla doesn't police their addon devs so when you add too many it craps out

I don't use add-ons with Firefox. I started doing so solely with AdBlock Plus recently, just to try it out, but this is a problem I had years ago, and still today.

Use uBlock and Ghostery. Best combination. Adblock Plus is old school haha Posted via the Windows Central App for Android

Their saying it should be better, but if web developers sniff and detect it as IE, then it will be poor performance. They have to rely on web devolopers treating it as webkit.

Once again it comes down to developers needing to work to make them web better by coding their sites correctly. There will be complaints from that crowd over that.

No. Developers need to write their sites as agnostic as possible and avoid browser-specific code. But developers are so stupid that they target their sites for WebKit and forget the rest. That is what Microsoft is trying to say here. To fix this Microsoft has had to implement some WebKit behaviour, and that now WebKit is the new IE6 Oh and here they don't talk about performance, but about render quality.

I find with every iteration we get its always the same big sites that take forever to adapt to these changes eg. Nintendo.com

I'm actually using Firefox a lot right now because IE has seemed to becoming worse the last several months. Sometimes I can't submit comments on Facebook, Engaget pages constantly crash it and I'm lucky if I can see comments on the article. Sometimes tabs become completely unresposive, not even able to close or show all white. It's driving me insane, and while Firefox works great, it's breaking up my history/recent pages and I can't access tabs from my Lumia. Even that one is becoming a pain to use and when did they remove swipe ahead/back (for numbered pages) from IE Touch in Win 8? Edge can't come soon enough.

Agreed, IE has really gotten rough of late. Twitch is especially bd for comaptibility. Trying to use sites' commenting systems and signing in leads to pop-up authentications that the browser won't accept. Best Buy's site has frequet issues with ZIP code searches and logging into my account on there. It's a mess.

Disable tracking protection and ActiveX filtering.. They interfere with sites sometimes

Because lazy web developers are using jQuery extensions that don't play well with standards. They should be called to task and/or fired for not building compliant websites for their companies.

If you've ever worked as a web developer you'd understand that most bosses don't give a crap about standards and compliance - especially when those "standards", as well as the browsers that use them, get changed every week. People were using HTML5 for years before it was finally finalised - some features stick and some don't. If everyone waited until it was finalised we'd be years behind in development - so we push on with the tools we have available to us at the time. Then you have each different browser supporting only partial amounts of the standards, so you can't always do everything as you want because it will break in other browsers - so then you have to do browser-specific code and variations, which can invariably cause trouble when newer browser versions come out. Developers can't predict the future and can't always guarantee it will play well in the future. We do the best we can, with usually very little time allocated. Bosses want results, and they want them yesterday, with or without standards. It's fine if you work in a huge government office with big budgets, glacial timeframes, and strict requirements to adhere to standards - but in the corporate world you need to move fast, and try to make a profit. Some clients smirk when I say their website will cost them $30,000+. 300 hours @ $100/hr is super cheap already (some companies charge $250-300/hr). If they want it cheaper then you have to cut corners anywhere you can. If that means using a jQuery extension, or 3rd party component, then so be it. Not that use them really, but I can appreciate that smaller devs can't always build everything and still make a profit.

Too bad the browser pauses when it's minimized. When are they going to address that?

I don't know, maybe by the time it's out of BETA?

To my knowledge, this happens to all WinRT apps, so they'd have to change the actual framework to fix that.

Does not happen with the music or YouTube apps
If what you're saying is really true, then WinRT is one hell of a framework.

That's coz the audio is handled not by the apps themselves but is routed through the Background Audio API (feel free to correct if I got the name of the API wrong). Hence it doesnt matter even if they are tombstoned or sometimes, even closed.

So then there IS a solution to the problem.

Yes. That's how developers are able to implement playback even though the actual app is closed or suspended. However, it doesn't work for downloads or uploads though. I find even a system app like Onedrive fails to upload in background. A huge PITA if you ask me.

Audio and websites are not the same thing.

Nah, Music still works when minimized.

This is kinda what renders using WinRT apps on a desktop pointless. They should be smart enough to understand if the device is on power or is on battery. The whole point of suspension or tombstoning is to maximize battery life by minimizing unwanted CPU cycles. But a desktop or any PC connected to mains doesn't need to entirely suspend the app. The other day, I was logged out of my online banking session as Spartan got tombstoned when it minimized. They need to alter the framework pretty well even if they intend on making WinRT apps at least half as useful as their Win32 counterparts. I am using IE11 as default for now. Lets see how they improve upon it. Now that the OS is more or less finalized, I guess we would have to wait till Redstone to see any changes to the frameworks.

Yeah! This is why I don't use the modern IE 11 on windows 8.1. All those huge icons, buttons and text boxes, with limited keyboard shortcuts makes it harder to use with a mouse and keyboard. Plus, it doesn't, or cannot play audio or video in the background (LOL). Edge has the same problems.

Its a pain when sites dont know how to comprehend w8 metro browser(much less wp8.1)

EXACTLY!!! Sometimes I like to run a playlist of multimedia from websites then mininized it. Impossible. What's even worse, downloads also pause. The browser is pretty useless for me. I don't understand why a desktop browser must suspend when minimized.

Even I have shifted to using IE11 for downloads or better still use FDM. Not to mention the splash screen even for simple apps like calculator.

@MSEdgeDev team member here! Definitely an important scenario and rest assured Microsoft Edge will support it. I don't think it's in the current flights, but in the latest internal builds (in the not-too-distant-future...) background audio works just fine when minimized, so it's not far off!

Pretty cool to know thanks

This is prety low bar they set for themselves. It basically mean "it will work at all".

except it doesn't. e.g. messenger.com/t/

Good to hear that, as most websites in my Lumia 520 crashes within 20-30 secs upon opening a site.

It would be awesome if there was a preview download of Edge to play with on Windows 8.1 (and phone) instead of needing the Win10 preview.

Edge is for Win 10 only. 8.x will never receive it.

Can't say that for sure. They must have plans to release it on win 8/8.1 and maybe, just maybe on win 7.

MS has already stated it it will only be for Win 10. It is built specifically for it.

Or maybe on Mac, or Android, or iOS..

I'm getting worried with each mobile build that Microsoft is going to screw what the user's have begged for and not have a way to toggle the address bar to the bottom of the screen in Edge.

Here's what I'm getting out of this. Edge SHOULD work better as long as websites don't use UA sniffer that think edge is IE11. So edge is better and will work better but Web developers better not treat if like IE11. I don't see how they back paddling here. If Web sites don't load correctly blame the developer at this point. Not legacy code legacy MS is using. Why don't some here understand this?

Issue is that most people don't see this, they just see the browser behaving badly.

Because that point was buried in a pile of technobabble. MS should instead release an accessible, widely publicized article that states don't and firmly that once Win10 is released sites need to either disable UA sniffing or ensure that if Edge is detected the page is set to Webkit and not to IE. I don't blame any web Dev who isn't willing to support a beta product. Try and explain to management why your site is messed up now that MS has released yet another update to a beta browser, or the bill for hours of support and recoding, only to have to do it all again in a week. Not to mention the security issues requiring testing with every update. It's a limited release beta product. Is going to be treated as such until its for sale.

This is nothing new even software developers dont follow Microsofts windows build version detection they were trying to promote and instead still code the specific build numbers

Developers don't need "to support a beta product". They shouldn't support any specific product. All that they should do is write standard HTML5 code and use features detection and their site should just works with every browsers which implement Web standards As said in the blog post "unknown browsers are good"

Edge looks better and better!

Stick to standards, web developers. Webkit should never have been allowed to dictate non-standard behavior for defined standards.

Ummm if its not going to be "better" then why bother in the first place? Lol

Thank you, captain obvious.

Should work better than Internet Explorer?? That's setting the bar kind of low!

Uh, adopting webkit ? Way to go to help the use of web standards instead of engine extensions for sure ...

Will Edge mobile work better on the ad minefield of www.windowscentral.com?

We shall see tonight. So far I'm impressed with Edge only in spurts.

I have been developing web for many years. I have never had to tweak any code to run in IE. That is because I develop for IE first, then tweak the code to run in other browsers if necessary. But, for the most part, it just works. Just as we say "mobile first" when designing UI, I design for "IE first". I haven't decided to design for "Safari first" because that is today's IE 6.0 browser. Its a mess. Where Edge will excel over IE is by dropping all of the legacy support. Goodbye VbScript and VML. I am the only one that will miss you.

It takes FOREVER to be able to start scrolling down the page... whereas Chrome you can immediately start scrolling even if the page isn't fully loaded. I hate Edge as it currently is.

I know some web devs will do this simply out of spite for MS. Yes, that is ridiculously immature, petty and irresponsible. But that is some web devs in a nutshell ...

If that's the case, they're only hurting themselves by choosing to be an idiot. More coding just to have a website not work on a major web browser and Windows Platform? Those Devs would be in for a rude awakening from its companies, user base, and target audience, once Edge gets more adoption. (Still, to be fair, I know what you're saying. Some hatred runs deep, I suppose.)

Naturally MS websites are an exception. Designed for IE6.

This. 1,000x over! Thank you Microsoft!! The days of awful IE coding are finally numbered! ;) now, just time to get Windows users to upgrade to Win10, when the time comes.

I am using IE 11 with Windows 8.1.2 on a Dell P2715Q 4K monitor, Displayport 1.2 and Intel HD 4600 GPU. I experience problems: 1. Right click blacken screen in a flash and appears again, 2. While doing page loading and scrolling down; IE turn the screen white with no type or graphics show. Nothing get it back! You have use the back page arrow key to go back to previous page to render an image. I have the latest drivers too - Intel graphics, bios, etc... Force to use Google Chrome. No problems with it!

Google chrome almost doesn't have any problems except killing battery and RAM. Lets seee how edge is when win 10 launches.

And what about silverlight? It's clearly dying, but it was once their own technology of choice

And I think they chose well, silverlight in the browser is a pain although the framework itself was not that bad to develop for WP. But my question arises from the lack of support in edge atm for their own sites. For example, the store dev center has silverlight embedded in it, meaning that I can't do some stuff like upload an app package without going to IE or something else.. classic MS

I think they just decided that browsers should be standards based and apps do the rest. While support for flash is necessity before it dies for good. Whether that's correct we will see in the future.

I wish you never had have any need to go into Microsoft Partner Network website. Worst site in the internets. Might work with Windows 3.1.

Loved the screenshot. As they say IE is mainly used to download other browsers!! Hope Edge brings the best experience for developers as well as end users in the go live release :)

I sure hope it doesn't "work" like Chrome, bugs all over.

Right now Edge still feels like a step back from the modern browser in 8.1, especially when using FB.

Well duh, and in other news the iPhone 6s will be Apples best iPhone yet!......

Try the gmail mobile version on IE WP8.1 as well as spartan WM10. Spartan handles it much better. Kind of proves their point that it is on par with webkit based browsers.

Jquery not support on Microsoft Edge Browser?
Windows Central Newsletter
Thank you for signing up to Windows Central. You will receive a verification email shortly.
There was a problem. Please refresh the page and try again.